The makers of Pirates of the Caribbean must have taken a leap of logic and assumed -- since many considered Johnny Depp's weird performance the best thing about 2003's surprise blockbuster The Curse of The Black Pearl -- that people like weird. That would explain why this year's sequel, Pirates of the Caribbean: Dead Man's Chest, is replete with weirdness that makes the ghoulish ghost pirates of Captain Barbossa's mutinous band seem tame.

I guess they were right, as Dead Man's Chest shattered a slew of box office records en route to becoming the Walt Disney Company's highest-grossing movie of all time, with worldwide earnings that exceeded one billion dollars and all but two films.

But the critics were also right; those who called this Jerry Bruckheimer-produced adventure a flawed follow-up had their reasons. Even if their words did little to discourage moviegoers, they ring true in assessing Dead Man's Chest as an entertaining movie but not an excellent one.

Some time has passed since we last saw the series' three leads, but when Dead Man's Chest opens, the actions at the end of the previous film are finally yielding consequences. Governor's daughter Elizabeth Swann (Keira Knightley) and blacksmith apprentice Will Turner (Orlando Bloom) find their wedding day ruined when both are arrested for aiding convicted pirate Captain Jack Sparrow (Johnny Depp) narrowly escape his death sentence. The executor of the arrest warrants, Lord Cutler Beckett (Tom Hollander, essentially assuming the young authority role left by Commodore Norrington), is willing to grant the betrothed couple freedom and immunity in exchange for Jack Sparrow's enchanted compass.
Taking up Beckett on his offer, Will alone tries to track down Captain Jack, a mission which leads him to an island of cannibals where, clearly, strangeness is in high supply. Quickly captured by the natives, Will is brought before the savages' leader -- Jack Sparrow, displaying a painted face and speaking in the nonsensical local language. One might assume a quick restoration of order. On the contrary, Will merely joins Jack's misfit band of pirates, including the muttonchopped Gibbs (Kevin R. McNally) and bald dwarf Marty (Martin Klebba), as prisoners in a pair of round "bone cages" implied to be made of the inedible parts of earlier captives. A few impressively elaborate sequences (involving swinging bone cages and a skewered Jack) do little to advance the story, but they do conclude the lengthy time on the island, clearing one of many obstacles to face the legally and morally questionable folks with whom our sympathies lie.

While the escape from the man-eating isle does not put an end to the strange things a-happenin', it does, however, put more important matters in the foreground. For Captain Jack, most pressing is the debt he owes

fabled devil of the seas Davy Jones (Bill Nighy via motion capture and expansive CGI) -- his soul -- which has given Sparrow a black mark on his palm. Jack and his faithful Black Pearl troop, which includes the comic relief duo of Pintel (Lee Arenberg) and glass-eye-chasing Ragetti (Mackenzie Crook), turn to Tia Dalma (Naomie Harris), a voodoo priestess, for her advice. With her gift (a jar of dirt), they set out to the sea and come into contact with Davy Jones' reputed ship, the Flying Dutchman.

In the process, Will ends up on the Dutchman, where he meets his mentioned but until now unseen father, "Bootstrap" Bill Turner (a decaying Stellan Skarsgård), who is subjected to serving the part-squid Jones while being cursed undead. Meanwhile, the determined Elizabeth has managed to escape from prison in an effort to reunite with her fiancé and their old allies. In the movie's third thread, Jack and his loyal shipmates head to Tortuga to round up a hundred lowlifes whose souls will substitute for Sparrow's as payment to Davy Jones.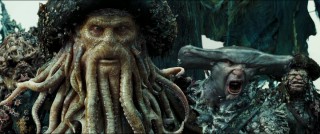 The three leads, whose faces again prominently adorn this movie's poster and DVD covers, weave in and out of one another's path, ensuring that there's a lot going on and not all of it may be easily followed in full. (That's one way to attract repeat visits to the theater.) Throw in the heavy influence of producer Jerry Bruckheimer and, inevitably, his largely-figuring style of few shots lasting longer than a few seconds. All of the facts add up to another overall busy atmosphere. There is a lot of tactful exposition, yet much is left unexplained as if to deliberately produce an air both confusing and intriguing.
Seemingly modeled after installments of the similarly embraced trilogies of Star Wars and Lord of the Rings, Dead Man's Chest has much of interest but not an overwhelming amount of it deserving of praise the way its predecessor did. Part of that might be attributed to freshness inorganically developing into a franchise, yet the characters and world resurfacing make a welcome return here. The blame must then to the treatment.
The movie's rocky, dark and unappealing start does give way to more compelling drama of conflicting personalities and clashing interests. Characters' ambiguities are among the most arresting weapon in the movie's vast arsenal. Though the film overcomes its early weaknesses, it develops some new ones in moving towards a conclusion. The open ending is certainly investable, but at the same time, it is transparently a sour gimmick meant to bring people back to theaters next May. Some closure would have been appreciated.
While credit feels due to the three marketable lead actors (who give solid turns),

complex web-weaving writers (who have undoubtedly invested time and interest into crafting a fairly fascinating universe), and director Gore Verbinski (a seemingly sensible glue), Dead Man's Chest remains Bruckheimer cinema through and through. If the man's movies are often lamented for their commercial nature and lack of intelligence, the producer continues to show an understanding of public tastes and a competence for action filmmaking. There are some standout sequences presented within, including a three-way sword fight scene and a suspenseful though unresolved climax. In turn, the movie is filled with action which can engage a captive audience once or twice in theaters, but proves less effective at sustaining interest in the home, where the majority of the movie's viewings will occur. Still, the visual challenges are expertly realized whether on the big or (the increasingly not so) small screen.

Darker it may be than The Curse of the Black Pearl, this sequel still maintains a sense of humor, whether in gags involving supporting characters or a generally goofiness that arises in the antics of the three leads. The light-hearted, not quite tongue-in-cheek nature really does add a lot to the proceedings and makes them easier to enjoy even when the comedic tone doesn't always jive with the darkly supernatural elements. The serious elements at work here owe much to pirate folklore: Davy Jones, his ship the Flying Dutchman, and the sea beast at his disposal (the Kraken) all have appeared elsewhere in nautical culture. That's to the movie's benefit, granting things a depth that wasn't inherent in the largely original (albeit familiar to the domain of pirates) aspects of The Curse of the Black Pearl and forgiving shortcomings for the traditions being dipped into.

Loosely based on one of Disney's most beloved rides, this movie series took on a life of its own and now has overtaken the ride as the chief owner of the phrase "Pirates of the Caribbean" in the public's consciousness, as evidenced by the changes given to the attraction in Florida and California to coincide with this film's release. One can only wonder whether Walt would be happy to see the new life granted to his park's mid-'60s creation, be shocked at how edgy fare bearing his name had become, or merely be concerned by how to best get the public excited about his studio's big new film. There is far less doubt regarding where Pirates stands with the Walt Disney Company and with the moviegoing public. Both parties seem pretty thrilled about this phenomenon of modern day cinema and its rare ability to unite groups with otherwise widely varying tastes.
Dead Man's Chest, which along with its predecessor, is the only "PG-13"-rated movie released under Walt Disney Pictures branding. It's also significant for being the first introduced by an elaborate new computer-animated studio logo.
As was the case for The Curse of The Black Pearl, Disney has gladly opted to altogether forgo offering a fullscreen version of Dead Man's Chest, a pretty bold move for such a popular film. The studio is, however, giving consumers a choice between a single-disc version and a two-disc Special Edition, a tactic that has become increasingly popular and one which was taken earlier this year for Disney's highest-grossing non-Pirates live action movie (The Chronicles of Narnia: The Lion, The Witch and The Wardrobe). While the difference in list price is just $5, retailers opt to heavily discount only the basic disc, which leads the bells-and-whistles to often feel like they cost a lot more.
DVD Details

2.35:1 Anamorphic Widescreen
Dolby Digital 5.1 (English, French, Spanish)
Subtitles: English, French, Spanish;
Closed Captioned
Release Date: December 5, 2006
Two single-sided, dual-layered discs (DVD-9s)
Suggested Retail Price: $34.99
Embossed Holographic, Reflective Cardboard Slipcover
VIDEO and AUDIO
As is usually the case for new studio films, the video quality of this 2.35:1 anamorphic widescreen transfer is pretty perfect. Like the first movie and most Jerry Bruckheimer productions, there are stylized hues and plenty of darkness, but the disc handles both capably. Some complained that the first film didn't look as great as it should have on DVD, but I imagine you'd have to have a screen the size of the Black Pearl to lodge similar complaints with this sequel's presentation, as it's pretty splendid.
Audiophiles may be disheartened by the lack of a DTS option, but the Dolby Digital 5.1 soundtrack is phenomenal nonetheless. The sound design manages to encompass you in the world of pirates at all times, without feeling gimmicky. Subtle ambient noises truly do enhance the feeling that you are present among these exciting and supernatural occurrences. While those with the highest of high-end setups may notice something lacking from the exclusion of the less-compressive DTS format, I personally cannot and on its own merits, this track stands out as one of the most active and involving that can be found on DVD.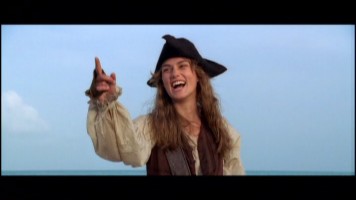 BONUS FEATURES

Those opting for the single-disc version get just two bonus features.

First, "Bloopers of the Caribbean" (3:50) is the typical collection of botched lines and general on-set hijinks. The reel is sporadically amusing, but cheapened by opening with a brief static ad.

The other and much more substantial Disc 1 bonus is a feature-length audio commentary with writers Ted Elliott and Terry Rossio. It's somewhat surprising that this track is asked to stand alone, seeing as how three accompanied the first film and how many of Disney's recent live action films have had two. Happily, Elliott and Rossio are candid and informative, making this a fairly easy listen for anyone with interest. They point out little things that bug them and the changes they would make, recount actors' demands as well as the cast's contributions to dialogue and their characters' development. The writing duo also addresses the decision to engineer the three movies as one big story and the constant challenge of giving viewers too much and not giving them enough. There are anecdotes about filming experiences, studio concerns (over teeth), and what footage that went into the closely-watched teaser trailer. Elliott and Rossio don't hesitate to celebrate their own work, admiring the crafty subtleties of the script, explaining the significance of objects and dialogue (like the doubly-accurate "cat's out of the bag" phrase), and emphasizing how different and more daring their film is next to other summer blockbusters. If you're an unquestioning fan, you won't mind, but more critical viewers may be slightly taken aback by the self-inflicted praise. While other perspectives would have been appreciated, this should suffice for those who are short on time or only moderate fans of commentaries. At least, the lively discussion is entertaining and insightful.

Disc 2 offers an abundance of additional features, most of them enhanced for widescreen displays. First up, "Charting the Return" (25:40) documents the unorthodox pre-production process in a somewhat unorthodox manner. At this point, with hundreds of making-of pieces turning up on DVD each year, departing from the norm is a good thing and the thorough, fly-on-the-wall approach here really succeeds. Stretching from October of 2004 through February 2005, this documentary offers uninhibited access to the variety of occurrences and obstacles leading up to the first days of filming Dead Man's Chest. There's stunt rehearsal footage, a pirates dice research meeting, a crew Christmas party, a tense casting session working from a subpar script placeholder, and the unveiling of a 200-day shooting schedule. Things turn grim near the end, as all try to keep to the budget by making tiny cuts to daily costs with large ramifications. The chaos depicted is probably inevitable on a production this huge, but it's very cool to get first-hand access to it.
"According to Plan: The Harrowing and True Story of Dead Man's Chest" (1:02:55) picks off where the previous piece left off, as it documents in detail the circus-like atmosphere of the vast crew arriving in St. Vincent and Dominica for island filming. There are sit-down interview comments from a number of crew and cast members here, but they are typically limited to one or two observations at a time, and scattered between voluminous amounts of candid set footage. I pity the editors who had to dig through everything and piece this together, as the sheer amount of content is daunting. Gladly, it's compiled in an organized and consistent manner.
The recurring theme is one of expansive challenges that constantly test the mammoth production. From immunizations to transporting everything by air and sea, from enduring hurricane season to filming on a beach that disappears during high tide, from the elaborate spinning wheel fight and bone cage sequences to the palpable heat and fatigue, all the while keeping things on schedule, making Dead Man's Chest looks like a lot more work than fun, to the degree that one hopes all these efforts are generously rewarded by the movie's massive box office intake. "According to Plan", which concludes with some spoken numbers that put the shoot in perspective, might be deemed a bit much by the casual fan. But for someone who loves the movie, this is a real treat, as thrilling as being there on the set each day, without that kind of time commitment and without any of the work that being part of the production requires.
"Captain Jack: From Head to Toe" is a series of vignettes dedicated to the unique look of everyone's favorite pirate, Jack Sparrow.

From the menu, you can select a part of an animated Johnny Depp (shoulder, foot, sword, belt buckle, etc.) for a brief piece on the corresponding wardrobe item or prop. There's also the easier way, a "Play All" button which runs through all 22 shorts in succession in 27½ minutes. Each segment runs 1-2 minutes and provides comments from either costume designer Penny Rose, make-up department head Ve Neill (with Depp adding slurred sentiments while being made up), or prop master Kristopher E. Peck. The inside stories describing Depp's tastes and the origins of his character's wares are supported by brief movie clips showing the relevant element in action.

Almost all the subjects are titled in a "Jack's X" format ("Jack's Hat", etc.). Those covered are Hat (and getting it to float), Pirate Coat, Shirt, Boots, Sword, Scarf & Wig, Eye Make-Up, Dingles (mentioning the Keith Richards-inspired headgear including a reindeer's shin bone), Beard, Trophy Lace, Rings, Rum Bottles, Pistol, Belt, Compass (explaining the different ways it is moved), Sash, Keys, Cannibal Make-Up, Cannibal Toe Necklace, and Cannibal Scepter. Rounding out the section are "Johnny Depp on Jack Sparrow" (on going in and out of characters like Willy Wonka and Captain Jack) and "Jack's Teeth / Johnny's Teeth."
"Mastering the Blade" dedicates three semi-disposable featurettes to Orlando Bloom (5:35), Keira Knightley (5:05), and Jack Davenport (5:15). These brief pieces depict the actors' work with stunt coordinator George Marshall Ruge in choreographing and rehearsing sequences from Bloom's fiery sword to Davenport's drunken fighting.
"Meet Davy Jones: Anatomy of a Legend" (12:25) explores how the villain of Dead Man's Chest came to life, from Bill Nighy's performance in gray pajamas to the character's final computer-generated look. The motion capture, computer body scans, animating, and long-distance collaboration that were required to realize this complex presence are all discussed as is the dramatic weight of the squid-like mariner. Sadly, there is no mention of the Monkee of the same name.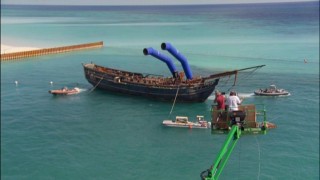 "Creating the Kraken" (9:55) discusses the gigantic sea monster that Davy Jones summons. Aside from a reference and brief excerpt from 20,000 Leagues Under the Sea, this is mostly a technical featurette, illustrating how the beast was created (whudda thunk computers?!) as well how its impact was simulated for a boat attack and a close call with Captain Jack (with footage of blowing slime-to-face trials).
"Dead Men Tell New Tales: Re-Imagineering the Attraction" (12:58) takes us behind the scenes of the ride to observe the changes that occurred at Disneyland and Disney World to coincide with Dead Man Chest's release. We see how Johnny Depp and Geoffrey Rush came to be a part of the attraction, as well as the other ways in which the ride was "enhanced." It's neat to get an Imagineer's view of this enduring boat ride and fans of Disney Parks should enjoy.
"Fly on the Set: The Bone Cage" (3:46) gives us an unnarrated all-access view of the filming of a single sequence for the movie. A staple of the DVDs for Bruckheimer-produced action flicks,

this is a very welcome alternative to praise-dispatching and "how we did it" pieces. It finds repeated takes of captured pirates swinging back and forth in front of a blue screen.

Like the piece on the first movie's DVDs, "Jerry Bruckheimer: A Producer's Photo Diary" (4:40) finds Bruckheimer sharing some of the pictures he took from the movie set, this time of Dead Man's Chest. He talks about his passion for photography and comments upon the various subjects depicted, namely the stars and director.

"Pirates on Main Street: The Dead Man's Chest Premiere" (3:59) is a montage of footage from the sequel's premiere at Disneyland last June. The cast and crew walk down the red carpet to screaming hordes of adoring fan, and it all leads to the beginning of an outdoor screening at Tom Sawyer Island.

The extras are rather encompassing, with the only things that are noticeably missing are the movie's trailers and deleted scenes, the latter of which (at least scene extensions) were in abundance on the previous film. In case it's not already apparent, I'm happy to declare that the bonus features are just voluminous, they're informative and candid rather than merely self-congratulatory or dryly technical.
EASTER EGGS
Around the chest-set menus of Disc 2, those handy with a remote control are able to unlock some unannounced bonus features. There are two on each page and to keep the hunt exciting, I won't reveal directions how to access them. For those, you can check out our recently-launched Disney DVD Easter Eggs page.
From Page 1, you can uncover a short (1:03) on the Siamese twin pirates in Davy Jones' crew and another (2:07) on catering for the large production. From Page 2, you'll find a short (1:07) on the crew's painters and another (1:35) on the "Coconut Man" and his job on the island location.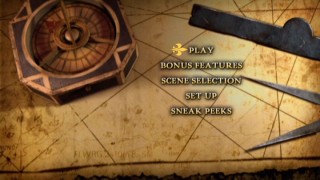 MENUS and PACKAGING

Like its predecessors, Dead Man's Chest comes to DVD with simple menus, though at least these ones have a bit more color to them.

Flickering candle light, spinning compasses, and ambient noise livens up Disc 1's basic selection screens. Disc 2, set on the climactic island, provides clanging swordplay and a subtle heartbeat. Each disc's menus have a brief but mood-setting intro. Runtimes are sadly missing from bonus features, so you could get anything from 3 minutes to an hour and 3 minutes depending on what you select.

The snazzy slipcover packaging reflects its holder in no less than three places. Supposedly this "3-D Packaging" is limited and judging from the scarcity of slipcovers found on The Little Mermaid (just two months after release), that's probably true, so do not hesitate if it's a big deal to you. Inside the standard-width keepcase, one finds two inserts: an 8-page, fold-open guide which lists scene selections and both describes and outlines bonus features on the two discs. The smaller booklet gives you ads, coupons, and a Disney Movie Rewards code.

Disc 1 opens with a still promo for the movie's official website plus sneak peeks for Peter Pan: Platinum Edition (a Pirates of the Caribbean-themed promo), The Chronicles of Narnia: The Lion, The Witch and The Wardrobe Extended Edition and Gift Set, Meet the Robinsons, and Ratatouille, plus a pirate-flavored promo for the Disney Movie Rewards program and a spot for Disney on Blu-ray. The menu holds additional previews for Invincible, The Guardian, and Disney Parks.
CLOSING THOUGHTS
It's a safe bet that this isn't the last time Dead Man's Chest will turn up on DVD; Disney's all-time top grosser seems likely to be revisited either next spring or next Christmas when the popular Pirates series comes to a close with a third installment. However, there seems to be little reason to wait for an upgrade, since this 2-Disc Special Edition is a pretty perfect package. The feature presentation is stellar and the bonus features are remarkable in both quantity and quality. While there's some room for improvement, this should satisfy even ardent Pirates fans for now.
In fact, the biggest question mark is the movie itself. Chances are, as one of the most-attended movies in cinema history, you've already seen this sequel and arrived at a judgment. If not, you probably won't be altogether disappointed. While it's not as unanimously praised at its predecessor, Dead Man's Chest has higher expectations to live up to. And though it has shortcomings and a weak opening hour, the movie bounces back enough to qualify as a good time. I'd be quicker to label it one of Disney's weirdest films than one of its best, but outside of the young (especially the easily frightened), this should please most viewers to some degree, meriting repeat viewings and a spot in your collection.
More on this DVD / Buy from Amazon: 2-Disc Special Edition DVD • Single-Disc DVD • Blu-ray Disc