Many consider Martin Scorsese one of the greatest filmmakers of all time, but few would name versatility among his strongest suits. In his more than forty years of directing, Scorsese has come to be identified with a certain kind of movie: a rich, gritty drama full of profanity, violence, and flavor specific to a time and place.

In fact, Scorsese has dabbled in many a genre over the years, from documentary (The Last Waltz) to musical (New York, New York) to romance (The Age of Innocence) to comedy (After Hours) to epic (Kundun). Still, when Hugo was announced, it sounded like the sexagenarian was entering new, uncharted waters. This was to be a family film in 3D with a cast that included Borat's Sacha Baron Cohen.

It all makes complete sense now how fitting a project Hugo was for its director and how perfect he was for it. Hugo competed in eleven categories at Sunday's Academy Awards, more than any other of last year's films, and it tied The Artist with five wins. It was heralded on countless top ten lists and was almost certainly the runner-up in the biggest Oscar categories it lost, recognition practically unheard of for something called a family film. Clearly, the list of what Scorsese cannot pull off cinematically has shrunk to almost non-existence. Having mastered a visual-driven, effects-laden drama here, even a summer blockbuster and animation probably aren't beyond his realm.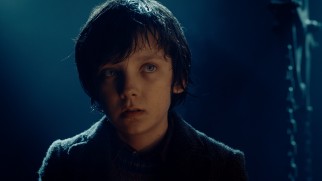 Adapted from Brian Selznick's Caldecott-winning 2007 children's book The Invention of Hugo Cabret (whose title was shortened for film in phases), Hugo is set in 1931 Paris. Twelve-year-old Hugo Cabret (Asa Butterfield) has been living inside the large train station Gare Montparnasse, where he alone keeps the clocks running. The blue-eyed lad is on his own, save for one nearly functional automaton. The lifelike mechanical being was rescued by Hugo's father (a brief but effective Jude Law), who vowed to restore it with his son before his premature passing. The machine now serves as Hugo's clearest link to his father and his only potential companion. For some time, the boy has been trying to get the automaton working again, believing whatever action it has been programmed to perform will have some special meaning.
Hugo's tinkering is fueled in part by the inner workings of mechanical toys stolen from a shop in the station. The shop's owner, Georges (an outstanding Ben Kingsley), catches Hugo in the act and confiscates his notebook of drawings and plans, intending to burn it as punishment for the petty thefts. Hugo follows Georges home that night and is introduced to the grouchy old man's goddaughter Isabelle (Chloë Grace Moretz). A bibliophile with a big vocabulary, Isabelle offers her assistance to Hugo for a chance to be part of a real adventure like the ones she's read about. Hugo reluctantly lets her inside his secret world and what they discover about the automaton has implications for both of them and for Papa Georges.
While piecing together this extraordinary puzzle, Hugo tries to avoid the notice of the Station Inspector (Sacha Baron Cohen, the funniest he has been in a very long time) and his Doberman, who are devoted to ridding the station of straggler orphans.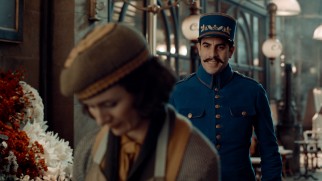 The word that springs to mind in describing Hugo is "magical", but surprisingly, it is no fantasy film. An air of enchantment pervades the production, but apart from one brief whimsical moment,

nothing defies the laws of our world. In fact, the more you look into Hugo, the more you discover the fascinating truth of this historical tale.

(NOTE: What I'm about to talk about could meet your definition of "spoiler"; feel free to skip ahead to the next paragraph if you haven't seen the movie yet.) Sure, Hugo Cabret is not approaching his 100th birthday, as he did not really exist. But that toy shop owner most certainly did and, despite the modest appearance of his existence, he was none other than filmmaking pioneer Georges Méliès. As the film progresses, it becomes more and more about the real Méliès, who was one of the first individuals to see cinema as a medium for imaginative storytelling. A former stage magician, Méliès' came to make fanciful fantasies like nothing the public had seen before and yet the allure of those ambitious shorts fell to the wayside during the Great War and Méliès' entertainment career ended more than a decade before the arrival of talking features.

Film preservation has been a subject long championed by Scorsese and it's tough to imagine any other novel or script celebrating that cause as extensively and tastefully as Hugo does. To an unprecedented degree, this brings out the love of film that has always been evident in Scorsese's work. The results are positively magical; one of cinema's greatest fans and masters approaches the earliest chapter in film history with reverence, understanding, and, above all else, passion.

And yet, this is no mere passion project. Hugo is marvelously entertaining. It is the best kind of family film: one which doesn't talk down to kids, but instead speaks to the child within all. It invites viewers of every age to experience the type of adventure associated with fairy tales and classic novels, with innocence and wonder, but also substance and humanity, not immature foolishness. The film does an exceptional job of establishing setting and character; the mostly wordless 13-minute pre-title opening synchronizes you to the pulse of the train station and its regular inhabitants, who are all put to perfect use (the uniformly excellent cast also includes fine turns from Scorsese alumni Michael Stuhlbarg and Emily Mortimer as well as living legend Christopher Lee). Other scenes do the same for Papa Georges' apartment, his street, and Hugo's breathtaking aerial view of Paris.

It is a timeless journey perhaps best appreciated by grown-ups and those versed in classic yarns. Though modern in its sensibilities and state-of-the-art in its execution, Hugo might not be something embraced by kids who have been taught that family entertainment is the stuff of wisecracking CGI animals and bathroom gags. It's not that there isn't value in such contemporary diversions, it's just that they do not speak to one's soul as Hugo does.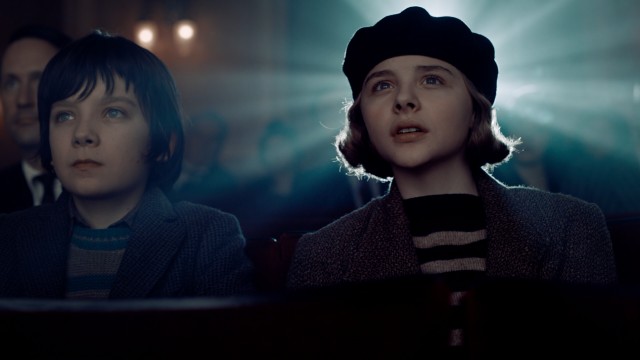 Such an uplifting achievement stands out so clearly for someone who's been seeing over a hundred new films a year. Old family adventures become dated by primitive effects and broad execution. New ones deliver the whiz-bang, but often lack the heart and distance to render them spectacular.

At first and second viewing, though, Hugo has none of those problems. It is premature to determine the status of this film, but my initial impression is that it belongs in the highest order of family classics, in the ranks of works like The Wizard of Oz, Mary Poppins, and Willy Wonka & the Chocolate Factory, which to this day seem incapable of improving. Time could easily change that perception and I'm not certain Hugo is making enough of an impact on young viewers whose voices will be loudest in the future. But you need not worry about such things now, only that a cinematic experience so rewarding is extremely hard to come by.

Perhaps the greatest cause for concern in the movie's development and production phases was the "3D." The format that had been groomed to become cinema's rebirth and likened to the advent of sound and color has quickly been downgraded by the American public to a ubiquitous cash grab, associated with gouged wallets and polarized glasses-induced headaches. What seemed to work very well on one major film and work out well for a few major studios just doesn't need to extend to a new standard, a belief strongly implied in declining domestic attendance rates.

Hugo, however, is the exception to the rule. Not only did Scorsese shoot this in 3D but he designed it wholeheartedly for it. While that doesn't mean comin'-at-ya theme park-type effects (though you will spot a couple of those), it does entail more than just the usual perceptible planes of depth. The impossible opening shot sweeps us through the station, whisking us past those boarding on a steamy platform. The station's clock, full of gears and wonderment, is another opportunity to really define the space and enhance the environment. Though I have been down on 3-D for years and have typically avoided it at all costs, I am glad that 2-D showings of Hugo were hard to find because Scorsese has managed to make artful use of the format, allowing it to complement the story, not distract from or cheapen it.

All the rave reviews and awards have helped Hugo sell tickets well into 2012, but it remains incredibly far from profitability. The production budget was estimated at $150-$170 million and holiday season marketing and Oscar campaigning costs have surely brought the expenses to well over $200 M. To date, though, Hugo is lingering just under $70 M both domestically and overseas, its $137 million worldwide gross keeping it in the red indefinitely. While the theatrical gains from its five Oscar wins are likely to be minimal, the film's home video debut two days later could not have been better timed. Paramount has released this decorated film in a single-disc DVD, a two-disc Blu-ray + DVD + Digital Copy combo pack, and the 3-disc Blu-ray 3D + Blu-ray + DVD + Digital Copy set we review here.
Blu-ray 3D, Blu-ray & DVD Details

1.78:1 Widescreen (DVD Anamorphic)
Blu-ray & Blu-ray 3D: 7.1 DTS-HD MA (English); DVD: Dolby Digital 5.1 (English)
All Formats: Dolby Digital 5.1 (French, Spanish, Portuguese, Descriptive Video Service)
Subtitles: English, French, Spanish, Portuguese; BD Film Only: English SDH
DVD Closed Captioned; Extras Subtitled
Release Date: February 28, 2012 / Suggested Retail Price: $54.99
Three single-sided, dual-layered discs (2 BD-50s & 1 DVD-9)
Blue Eco-Friendly Keepcase in Embossed Cardboard Slipcover
Also available in 2-Disc Blu-ray + DVD + Digital Copy combo ($44.99 SRP),
on DVD ($29.99 SRP) and on Amazon Instant Video
VIDEO and AUDIO
Hugo's Blu-ray presentation is nothing short of stunning. As its domination of the technical Oscars suggest, this is cinema at its most advanced. The pristine digital print and outstanding detail allow you to marvel at one of the most visually expressive films there has ever been. So much goes into every frame, from period production design to visual effects to appealing composition, that you can literally freeze any frame and have a piece of art on your screen. Some of the tiniest details (dust particles in sunlight, deliberate snow flurries) are among the film's most powerful elements and 1080p showcases them much more satisfyingly than standard definition. This is a movie that screams to be seen on a large screen at the highest resolution available.
The BD is equally potent aurally, its 7.1 DTS-HD master audio full of atmosphere, directional activity, and an active, winning Howard Shore score. This is the rare serious artistic film that also doubles as a knockout demo disc.
While clearly inferior to the Blu-ray, the DVD doesn't look bad by its format's standards. The picture is clean and colorful, but significantly less vibrant, a bit lacking in detail and subject to compression woes during the busier sequences. Likewise, the DVD's Dolby Digital 5.1 mix gets the job done perfectly well, just without as much impact as the Blu-ray's lossless equivalent.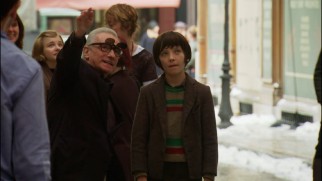 BONUS FEATURES, MENUS, PACKAGING and DESIGN

All of the combo pack's bonus features appear on Disc 2, the standard Blu-ray disc, where they are all presented in high definition.

They begin with "Shoot the Moon (The Making of Hugo)" (19:48),

a routine but good featurette that takes us inside production with sound bites, B-roll, and film clips. Befitting the film, the comments are a bit more substantial, shedding light on Scorsese's decision to film the story, the adaptation, the casting, working in 3-D, and the production's enormous undertakings.

Naturally, "The Cinemagician, Georges Méliès" (15:41) celebrates the ambitious real filmmaker depicted in Hugo. We hear from Méliès' great great granddaughter, film enthusiasts, and cast/crew members, who discuss his life and contributions to cinema. It's a worthy exploration of a fascinating subject.

This Blu-ray was a real missed opportunity to include A Trip to the Moon in full; the long in public domain 14-minute 1902 short will be released in April by a studio called Flicker Alley as a Blu-ray + DVD Combo with a new hour-long documentary on Méliès.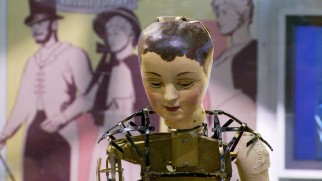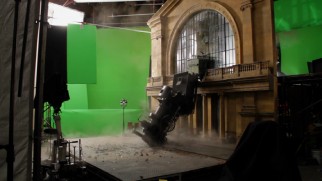 Rather than just delving into the technical design of the automaton created for the film, "The Mechanical Man at the Heart of Hugo" (12:45) devotes more time to considering the history and nature of automatons, quite compellingly. When it does get to the design, the piece briefly touches on the features and inspirations of the robot.
"Big Effects, Small Scale" (5:55) breaks down the film's miniature scale train crash sequence, which was inspired by a real historical event. It's too brisk and enthusiastic to have the "been there, done that" feel the title suggests.
"Sacha Baron Cohen: Role of a Lifetime" (3:33) is a short mockumentary on Cohen's transformation for his role as the station inspector. It's an opportunity for him to have fun with a character (in this case, a stuck-up, accented serious actor), and Scorsese and others play along. It's a bit cheesy, but tolerable.

The DVD in this combo pack drops the one bonus feature of the standalone DVD, "Shoot the Moon." I don't know why it does that. It is not to make room for transferrable digital copies in iTunes and Windows Media formats; those are relegated to an Internet download.

In addition to them, this set gives you the chance to stream the movie to your devices via UltraViolet.

Hugo's own trailers are frustratingly absent. The DVD opens with trailers for Titanic's 3D theatrical release, The Adventures of Tintin, and Footloose (2011), followed by the bubble-blowing anti-tobacco PSA. Its menu's "Previews" listing plays trailers for Like Crazy and Breakfast at Tiffany's: 50th Anniversary Blu-ray before repeating those auto-played promos. The Blu-ray and Blu-ray 3D simply stream previews (which right now means pulling from that same pool, but down the line presumably means other more timely ads).

The menu plays clips inside the gears of the train station clock. The standard Blu-ray case is topped by an embossed foil-faced slipcover and includes an insert with digital copy directions. The BDs do not resume playback, but they do support bookmarks on the film.
CLOSING THOUGHTS
Hugo is a masterpiece and Martin Scorsese's first that can be enjoyed by viewers of all ages. A love letter to cinema, an endorsement for film preservation, but, first and foremost, an enchanting, wondrous, and imaginative drama, this is something I highly recommend you seeing and fully anticipate myself revisiting. Paramount's Blu-ray is perhaps the best combination to date of sensory feast and first-rate modern filmmaking. The Blu-ray offers fewer bonus features than you'd expect for such an ambitious and significant film, but the hour of featurettes cover all the relevant ground in fine fashion and the omissions (trailer, deleted scenes, commentary) aren't terribly missed just yet. A winning presentation of an excellent movie, do not hesitate to pick up one of Hugo's combo packs today.
Support this site and great cinema when you buy Hugo now from Amazon.com:
Blu-ray 3D + Blu-ray + DVD + Digital Copy / Blu-ray + DVD + Digital Copy / DVD / Instant Video