Not long ago, successful movies almost always spawned Saturday morning cartoons. They didn't have to be animated movies. Although it helped, they didn't even have to be broadly appealing or family-friendly; R-rated action flicks RoboCop and Rambo became children's series. The movies didn't even have to be especially successful (see Return of the Killer Tomatoes). Somewhere around the turn of the millennium, though, networks moved to create more original and less commercial programming.

And so the world has been spared episodic animation from properties that no doubt would have been tapped a decade earlier; things like Night at the Museum and Pirates of the Caribbean.

Spider-Man is one notable exception to the rule, but that makes sense. After all, the web-shooting superhero has long been a television staple, getting a new cartoon series about every ten years since being first adapted from Stan Lee and Steve Ditko's Marvel comics in 1967. Shortly after Sam Raimi's 2002 blockbuster made the teenaged crime fighter relevant again in a huge way, "Spider-Man: The New Animated Series" hit the airwaves on MTV. It ran for just thirteen half-hour episodes. Now, with Spidey well established as one of the decade's biggest film franchises (second only to Harry Potter and untouched by per-film average gross), he has returned to television in "The Spectacular Spider-Man".

Originally a part of the Kids' WB block on The CW, "Spectacular" has since moved to digital cable's Disney XD, where its second season has been debuting this summer. Leaning on nearly fifty years of comic book storylines as well as Raimi's three films, "Spectacular" was developed by Victor Cook and Greg Weisman. Neither is a stranger to TV animation. Cook has twenty years of experience dating back to storyboard work on "The Smurfs" and Disney Afternoon fare. Weisman is revered for creating and producing the cult classic '90s series "Gargoyles."
"Spectacular" doesn't bother to retell the origin story all viewers should be familiar with now, opting instead for a brief flashback in its premiere episode. The series establishes that Peter Parker, a mole-cheeked 16-year-old high school junior, has only recently acquired his superpowers. Getting bit by a radioactive spider, as you know, has given Peter abilities comparable to an extraordinary arachnid: web fluid to thwart and swing high upon, fingers and legs that enable wall-climbing, fast reflexes, great force, and a strong leap. He's kept those talents under wraps, protecting New York City from the wide variety of resourceful villains in secret, wearing a stylish red and blue bodysuit during acts of heroism.
That big secret does little to ease Peter's reputation at school as a bit of nerd. From what we see of Midtown Manhattan Magnet High School (M³ for short), the student body isn't the most diverse; outside of Peter and his two best friends, fellow benign geeks Harry Osborn and Gwen Stacy, there seem to be only cheerleaders and big jocks. The latter group bullies Peter on a regular basis.
As the movies have clearly conveyed, life is a juggling act for Peter; fitting in at high school, helping his widowed Aunt May make ends meet, and dealing with aggressive oddities and small-time creeps alike is all in day's work. Plus he has to meet his nightly curfew, which moves back and forth from 9 to 10.
This series delighted me in just about every regard. That would be nice under any circumstances, but it was especially significant because lately I've found myself had trouble staying excited and invested in TV animation, even programs of clear worth and old childhood favorites. That a new show aimed at today's kids could hold my interest and consistently engage was a triumph pleasantly surprising.

Let me briefly analyze why the show succeeds as it does. The animation is very good. Famous New York locations are nicely rendered and imagined sites are more than overlooked backdrop. The visual style is appealing; more cartoony than comic book, the warm, big-eyed characters carry a humanity that makes them more than mere pawns in storyboarded showdowns. (One nitpick:

Aunt May looks like a young person with a wig; there's nothing else to her appearance and body language to reflect she is an elderly woman.)

The writing is terrific. There is of course a rich vault of story material from Marvel's publications to explore here. Not everything follows tradition to a T (what would be the point?), and it's really the presentation and pacing that allow the ideas to shine. The show's makers have a good understanding of what an episode should be; self-contained but with continuity, with developing arcs being resolved over the course of a few episodes rather than being drawn out.

The show's modern voice is compelling. Teen issues are presented in terms children can appreciate but without being dumbed down. Contemporary colloquialisms ("bro") and mannerisms (e-mail, texting) are tactfully incorporated without coming across as a plea for acceptance or a case for relevance.

There is also a winning sense of humor on display. Spider-Man's action quips tread the interesting line between corny and clever. They add spice to the one aspect of these kinds of series most likely to bore me: the fight sequences. Happily, those face-offs stay expansive and lively, never lulling to remind you that good always wins and kid toon fisticuffs rarely have consequences. Even the show's theme song, performed by California indie band The Tender Box, gets it right, setting the scene, reiterating the title, and sticking around in your mind in a non-annoying way.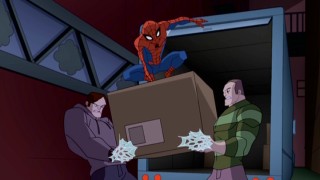 The characterizations are similar to those of the movies, but with a few notable exceptions. Gwen Stacy, introduced in Spider-Man 3 played by Bryce Dallas Howard, is prominent, a best friend and maybe more to our protagonist. On the other hand, Mary Jane Watson, the focal main squeeze portrayed by Kirsten Dunst, is absent until the final seconds of the sixth episode. Though she appears in all but one episode thenceforth, she is not depicted as "The One." Harry is far geekier than he is on film, while Eddie Brock is more like his brawny comic self and less like the lean Topher Grace. In addition to the well-known complex dual persona supervillains like the Green Goblin and Dr. Octopus, we get to see a number of sketchy characters not (yet) featured in Raimi's films. These include Vulture, Electro, Lizard, Rhino, Hammerhead, Shocker, Black Cat, and Tombstone (who assumes a Kingpin-type presence, with rights keeping that bald crime lord sidelined). As a rule of thumb, each of these episodes gives rise to a different villain, but that isn't too evident, limiting or rigid a formula.
"The Spectacular Spider-Man" is not new to DVD. The thirteen Season 1 episodes came to home video from last September to this past May in single discs. The first posed itself as a full-length animated adventure, but subsequent releases more accurately identified themselves as "Volumes" of 3-4 episodes. Now, with half of Season 2 aired in the U.S., Sony issues The Complete First Season, the kind of set that any fan interested in collecting no doubt wanted all along. This two-disc set gathers all thirteen episodes and adds two all-new featurettes.
Although its premiere airing came in the spring, Season 1 seems to have been designed for a fall season, with its episodes starting at the first day of school and covering Halloween and Thanksgiving. I've designated my five favorite episodes of the bunch with a star (

), although I feel obligated to point out that the uniform excellence of the lot made this a challenging task.
Disc 1

1. Survival of the Fittest (23:10) (Originally aired March 8, 2008)
Peter starts off the new school year with an unpaid internship in Dr. Connors' lab. As Spider-Man, he protects Dr. Osborn from the wronged inventor now called Vulture.

2. Interactions (23:10) (Originally aired March 8, 2008)


A mishap at Dr. Connors' lab turns an employee into Electro. Peter tutors Liz and tries to photograph Spider-Man in action.

3. Natural Selections (23:08) (Originally aired March 15, 2008)
Dr. Connors successfully regenerates his amputated arm with reptile DNA, but it soon turns him into the monstrous Lizard.
4. Market Forces (22:08) (Originally aired March 22, 2008)
Peter collects his first paycheck from The Daily Bugle, neglects helping Harry study calculus, and, as Spider-Man, wrangles with Shocker.

5. Competition (23:18) (Originally aired March 29, 2008)
Peter and Harry try out for open spots on the school football team. Experimentation turns Flint Marko into Sandman.
6. The Invisible Hand (23:07) (Originally aired April 12, 2008)
Osborne and Octavius' latest experiment transforms Alex O'Hirn into the impenetrable Rhino, giving Spider-Man another foe while he tries to identify the mastermind "Big Man." Aunt May has her reasons for hijacking Peter's Fall Formal plans.
7. Catalysts (23:09) (Originally aired April 26, 2008)
Peter is called away from the Fall Formal to deal with the Green Goblin, who's turned a Lincoln ball into a hostage situation and seemingly did so coming from the same school dance.

8. Reaction (23:09) (Originally aired May 3, 2008)
The Green Goblin changes timid Otto Octavius into destructive Dr. Octopus, who is determined to wipe out Spider-Man. Gwen grows concerned by Harry's behavior.
9. The Uncertainty Principle (23:09) (Originally aired May 10, 2008)
Spider-Man moves closer to learning the Green Goblin's identity, while Gobby uses Halloween to lure Spidey and the Big Man into a trap. Also, a meteor complicates the space mission of Jameson's astronaut son.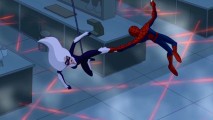 Disc 2
10. Persona (23:07) (Originally aired May 17, 2008)
Sought by Black Cat, alien life from a space shuttle attaches itself to Spider-Man, turning his suit black and giving him new strength. Meanwhile, an expert impostor damages the hero's reputation with a series of well-documented crimes.

11. Group Therapy (23:06) (Originally aired May 31, 2008)
Discharged from his institution, Electro helps Doc Ock, Rhino, Sandman, and Vulture escape from prison. Shocker makes six, the number of supervillains that square off with Spider-Man in his symbiotic alien suit.

12. Intervention (23:07) (Originally aired June 7, 2008)
As Aunt May's hospital bills mount, the symbiote tightens its grip on Spider-Man, spawning grayscale flashback of his first tastes of superpowers and a valuable visit from the late Uncle Ben.
13. Nature vs. Nurture (23:06) (Originally aired June 14, 2008)
Armed with the knowledge and power of the symbiote, Venom targets Spider-Man and his loved ones during the city's Thanksgiving Day Parade.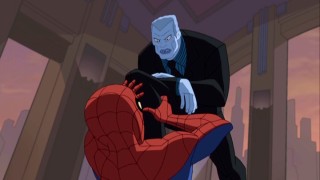 VIDEO and AUDIO
Like a good 21st century production, "Spectacular Spider-Man" is presented in 1.78:1 anamorphic widescreen and Dolby Digital 5.1 sound. The picture is clean, sharp, and free of any other problems bigger than one episode ("The Uncertainty Principle") looking a touch soft. The nice visuals exhibit a satisfactory range in color and rich contrast.
The 5.1 track is surprisingly impressive, with spacious, realistic sound field activity helping generate appropriate atmosphere throughout. This is, without a doubt, the most exciting TV show mix I've encountered; the bass and directionality really stand out. The audio is sensibly mixed louder on combat scenes and the opening credits, but the peaks aren't frustratingly extreme. Unfortunately, there are no subtitles in English or any other language, although a French Surround dub and English closed captions are offered.
BONUS FEATURES, MENUS and PACKAGING

In addition to price and comprehensiveness, this DVD betters its predecessors in the bonus features department. That isn't hard; the earlier DVDs didn't carry any, besides a basic music video on Volume 1.

Here, Disc 2 holds two featurettes. "Spider-Man Re-Animated" (14:05) gives us a general overview of production,

touching briefly on facets like writing, design, storyboarding, animation, and foley. Most of its time is spent on the voice cast and characters. It's always fun to see the faces that go with the vocals and that's especially true here, where most of the actors aren't exactly household names outside the voiceover industry. The hearty supply of cast/crew sound bites and relevant behind-the-scenes footage does well to satisfy interests.

"Stylizing Spidey" (8:18) fills the previous piece's one void, by going into detail on the series' guiding goals and principles. It explains how the stories and characters remain faithful to Stan Lee's comics while leaving room for contemporization and interpretation. As the title suggests, the show's visual flair is also considered.

That's all there is in the way of bonus features, which is too bad, because I really think an audio commentary or two would have been illuminative and easy to provide.

Disc One illogically opens with an ad for the Volume 1-4 "Spectacular Spider-Man" DVDs. The disc's Previews menu adds promos for Cloudy with a Chance of Meatballs, Planet 51, Open Season 2, The Water Horse: Legend of the Deep, Monster House, and Next Avengers: Heroes of Tomorrow.

The static silent menus opt for simplicity and a vaguely comic book look.

Shelf space conservation is another area where this set obvious improves upon the 3-4 episode discs. Its standard keepcase takes up only as much room as each of those did.
CLOSING THOUGHTS

"The Spectacular Spider-Man" might just be the best Saturday morning fare I've encountered since "Saved by the Bell." Don't think that's some kind of backhanded compliment (although I doubt the shows' fanbases have much overlap). This new animated series conveys the fun and challenges of superheroism

while exploring high school life of the titular teen and celebrating Marvel Comics' colorful, fascinating universe. Victor Cook and Greg Weisman's show is neither a feeble cash-in nor simply a routine revival. Remarkably, this should delight both the Marvel faithful and the typical kid who likes the Tobey Maguire movies. I highly recommend you check it out if you have any taste for kid-friendly action cartoons or Spider-Man lore.

And checking it out is much easier to do now that Sony has done what they probably should have from the start, compiling the thirteen Season 1 episodes into an appropriately-priced set with top-notch video/audio and a couple of neat extras. Serving up five hours of entertainment that a wide array of viewers would consider quality at the cost of a new movie, this two-disc DVD is a great value.