The role of Iron Man would be more than enough to qualify Robert Downey Jr. as a rags-to-riches story. Downey's days of persistent drug and legal problems seemed but a distant memory after starring in two of the biggest movies of modern times. Those troubles are even more distant now as Downey stands as the first-billed, highest-paid actor and de facto leader in the top-grossing superhero movie (and #3 movie overall) of all time, The Avengers.

But a key piece of Downey's unforeseen, middle-aged rise to superstardom is being able to fall back on a second iconic character around whom a popular film franchise is built. Not even Johnny Depp and Will Smith can claim two active personalities who have huge audiences consistently coming back for more.

You know your career is in good shape when Sherlock Holmes is your fallback signature role. Though Sir Arthur Conan Doyle's Victorian Era detective is as familiar and renowned as any literary protagonist, there was no guarantee that a new feature film adaptation would be either well-done or a solid commercial draw. Certainly, hopes for both of those qualities were implicit in Warner Bros. Pictures approving a $90 million production budget, casting Downey fresh off his Iron Man success, and picking a Christmas Day 2009 release. Happily, the Guy Ritchie-directed new interpretation was a hit on all fronts: approved by critics while well-attended and appreciated by audiences all over the globe. The results were favorable enough for Warner to schedule an even bigger budgeted sequel for Christmas 2011.

Opening nine days before the holiday, Sherlock Holmes: A Game of Shadows hit the studio's marks once again with nearly the same impact en route to clear public satisfaction and another worldwide gross of over $500 million.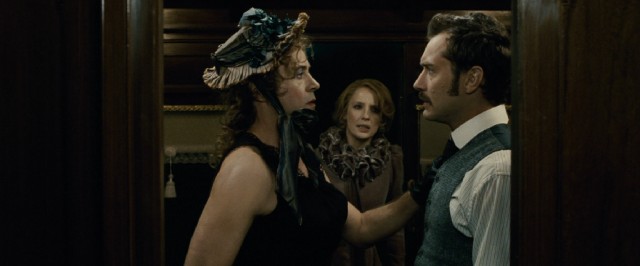 Game of Shadows brings back the most important personnel from the first film: director Ritchie, Downey as Holmes, and Jude Law as his loyal and more even-keeled sidekick Doctor John Watson. Also returning, though with a severe downgrade in screentime, is Rachel McAdams as Holmes' love interest/foil Irene. Even memorable supporting players from the first film reprise their relatively minor roles: Kelly Reilly as Watson's girlfriend Mary, Geraldine James as Holmes' maid Mrs. Hudson, and Eddie Marsan as Inspector Lestrade.
Remaining in 1891, this sequel finds Watson on the verge of marrying Mary. Holmes disapproves, but then matters of the heart come second for him as he immerses himself and all his idiosyncrasies into a variety of work, from sipping formaldehyde to testing urban camouflage. The brilliant Holmes directs most of his attention to a web of global disturbances he traces back to one Professor James Moriarty (Jared Harris), an accomplished educator and author Holmes is convinced is up to no good.
Once again, Holmes and Watson do far more than simple sleuthing. The windy plot leads them around the continent, taking them from their native England to Paris and Germany. The two buddies are every bit action heroes as gumshoes, with Holmes' powers of deduction allowing him to slow down time and plot an attack plan of punches, ducks, turns, and gunshots with pinpoint precision. Even if you come in expecting a lot more mystery and a lot less action, Holmes' derring-do is fun to watch, as cunningly crafted and stylishly staged by Ritchie.
Supplanting McAdams as leading lady is the original Girl with the Dragon Tattoo, Prometheus star Noomi Rapace, who plays Gypsy fortune teller Madame Simza Heron. Simza hasn't seen her brother in a long time and worries that he may be mixed up in grand-scale anarchy well beyond the socially conscious group they together signed up for.
As before, plot specifics are secondary to the rich, artful period atmosphere. Costume dramas are hardly a new phenomenon, but Game of Shadows relishes its Victorian setting with full force. Where others equate yesteryear with antiquity and tranquility, Ritchie and his skilled crew load the picture with flair and crank up the energy to align with contemporary moviegoer tastes. The results are quite pleasant, this being the rare blockbuster to appeal to virtually all ages with a winning blend of style and substance.

As with Ritchie's other films, including this one's predecessor, style seems to outrank substance narrowly. Accordingly, the story does not hold you as captive as you'd like, while twists and redirections seem basically incidental. Most would agree that a foot chase through woods with guns ablaze is more exciting than a man in a deerstalker hat and tweed coat with a pipe in his hand piecing together clues.

I think that Ritchie could stand to reel his vision in a bit and not stray as far from the conventional Holmes treatment. But the movies have been highly satisfying as is. This one may even best its forebear, adding a stronger story (courtesy of husband/wife Paper Man creators Michele and Kieran Mulroney) to the intoxicating flavor and chemistry.

I've forgotten some of the specifics of Ritchie's first Holmes and feel that unless I add additional viewings, the details of this one will elude me long before two years from now as well. Perhaps that is problematic, especially emanating from a series that is foremost literary. And yet, the exhilarating cinematic thrills, sharp and witty banter, inventive visuals, pitch-perfect performances, and impeccable production design all make it easy to overlook what ought to be critical storytelling shortcomings. A third movie was already being prepped before this one was released, with Iron Man 3 scribe Drew Pearce hired to pen the screenplay and Ritchie, Downey, and Law all expected to return. Bring it on, I say!

Yesterday, A Game of Shadows became one of 2011's final films to turn up on home video. Warner released this hit as a single-disc DVD, a single-disc Blu-ray, and the two-disc Blu-ray + DVD combo pack reviewed here, all of which are equipped with UltraViolet stream access.

Watch the Sherlock Holmes: A Game of Shadows trailer and clips from the film and Blu-ray:

Blu-ray & DVD Details

2.40:1 Widescreen (DVD Anamorphic)
Blu-ray: 5.1 DTS-HD MA (English), Dolby Digital 5.1 (French, Spanish, Thai)
DVD: Dolby Digital 5.1 (English, French, Spanish)
Subtitles: English SDH, French, Spanish; BD-Only: Chinese, Korean, Indonesian, Thai
Not Closed Captioned; Extras Subtitled
Release Date: June 12, 2012
Suggested Retail Price: $35.99
Two single-sided, dual-layered discs (BD-50 & DVD-9)
Blue Eco-Friendly Keepcase with Holographic Cardboard Slipcover
Also available as standalone DVD ($28.98 SRP), movie-only Blu-ray ($29.98 SRP), and Amazon Instant Video
VIDEO and AUDIO
This series has a lot going for it visually and the Blu-ray's 2.40:1 transfer does a good job of showing that off. Like its predecessor, the film favors a dark, foggy palette driven by shades of gray. The clean picture conveys the compelling filmic look nicely. Meanwhile, the 5.1 DTS-HD master audio is admirably potent, dispersing sound and music from all channels in engaging and delightful fashion.
BONUS FEATURES, MENUS, PACKAGING and DESIGN
A Game of Shadows' primary bonus feature is as big as extras get: Maximum Movie Mode. Following in its predecessor's footsteps, the film gets Warner's enhanced playback treatment. Whereas Guy Ritchie hosted this feature on the first film, Robert Downey Jr. does the honors here for an in-movie experience titled "Inside the Mind of Sherlock Holmes."
An amusingly quirky and translucent Downey pops up on screen from time to time to share candid thoughts and reflections alongside the film and behind-the-scenes footage. There is also the occasional picture-in-picture B-roll, storyboard, animatic, raw footage, and interview remark, plus the offer to go further with photo galleries and excerpted "Focus Points." The feature does not have enough content to meet the film's ample 129-minute runtime, meaning you're left simply watching the movie some of the time. Kindly, the skip button allows you to jump ahead to the next enhancement. The content covers a good amount of ground in a quality fashion.
The seven Focus Points can also be viewed on their own, totaling 34 minutes and 59 seconds with a "Play All" option.

Running 3 to 7 minutes each, these topical shorts cover Ritchie's directorial style, Holmes' archenemy Professor Moriarty and the game of chess, Jude Law's Dr. Watson, Sherlock Holmes' brother Mycroft (played by Stephen Fry), Noomi Rapace and her Gypsy heroine, the little things, and the sequel's European locales.

Then, there is the movie app, a free 523 MB download from iTunes or Amazon. From the promotional materials, this sounds identical to Disney's Second Screen, a feature that enhances playback of the movie by placing synchronized supplemental content on an iPad, Kindle, or mobile phone. I had no way to verify that, however, because I don't have the tablet or smart phone evidently needed to access this content. Based on my standard computer trials with Disney's Second Screen, I anticipate my reaction would be this: It's nice that studios are trying to come up with new bonus feature experiences, but two hours of computer browsing while the movie plays isn't really my idea of a good time.

The Blu-ray disc opens with promos for the film's app and the Blu-ray 3D format.

The DVD, the same one sold on its own, includes three shorts, two of them Focus Points -- "Sherlock Holmes and Dr. Watson: A Perfect Chemistry" (5:16), "Moriarty's Master Plan Unleashed" (7:06) -- and one just a Maximum Movie Mode clip on visualizing Holmes' foresight, "Holmesavision on Steroids" (3:59).

The DVD opens with an anti-tobacco ad, a Blu-ray promo, and trailers for Wrath of the Titans, Rock of Ages, and BBC's "Sherlock", and a spot for WB Insider Rewards.

Typical for Warner, the menus are nothing more than scored poster art. The Blu-ray doesn't support bookmarks, but it does resume playback of the film (or Maximum Movie Mode) should you not finish it or accidentally turn off your player.

Topped by a nicely holographic cardboard slipcover, the eco-friendly Blu-ray case is fitted with a print ad for the app and your unique UltraViolet/WB Insider Rewards redemption code.
CLOSING THOUGHTS
If you liked Guy Ritchie's Sherlock Holmes enough to want to spend more time in its world, then A Game of Shadows should be exactly what you're looking for. The design is similar and similarly satisfying, and no shortcoming is of any importance next to the movie's stylish and spirited fun.
Overlooking the lack of deleted scenes and trailers, Warner's Blu-ray combo pack should meet everyone's expectations with its first-rate feature presentation and robust collection of substantial extras. It's a set that is easy to recommend to anyone fond of the first outing.
Buy Sherlock Holmes: A Game of Shadows from Amazon.com:
Blu-ray + DVD + UV / DVD + UV / Movie-Only Blu-ray + UV / Instant Video