In terms of movie output, 1961 was one of the last really big years Walt Disney lived to see.

There was 101 Dalmatians, the most successful animated film in quite a while. There was also the hit Hayley Mills comedy The Parent Trap. The Absent-Minded Professor did well enough to receive a sequel. Closing out the year in Disney's traditional holiday season opening was the major live-action musical fantasy Babes in Toyland.

Somewhat surprisingly, the flop Babes has beaten all the rest of those to Blu-ray Disc, its thematic and thin temporal connection to Christmas allowing it to hit high definition last week, just ahead of the holiday. The disc makes Babes in Toyland by far the oldest all live-action film that Disney has released on the format.
Loosely adapted from the 1903 operetta by Victor Herbert and Glen MacDonough, the film opens in Mother Goose Village, a colorful land occupied by fairy tale characters. Mary Quite Contrary (Annette Funicello) is set to marry Tom Piper (Tommy Sands), an event that has everyone in town happy and excited. Well, almost everyone. On the outskirts, Mr. Barnaby (Ray Bolger, resembling a wicked Walt Disney) is aware that, unbeknownst to her, Mary is set to inherit loads of money when she gets married. So, Barnaby figures he can be the groom. He hires his two cheap henchmen -- the corpulent Gonzorgo (Henry Calvin) whose clothes are too small and the mute Roderigo (Gene Sheldon) whose clothes are too big -- to eliminate Tom, so that Barnaby can swoop in and make bank.
Gonzorgo and Roderigo do not have many bright ideas, so when one arises they act on it, deciding to sell a still living Tom to Gypsies, who will pay them in addition to their pittance from Barnaby. Needless to say, Barnaby is none too pleased when Tom resurfaces at a show by the traveling Gypsies and reunites with Mary. Meanwhile, Little Bo Peep (Ann Jillian) and her fellow youngsters (including brothers Kevin and Brian Corcoran) have gone off to find their missing sheep, taking them into the Forest of No Return.
From there, the young ones along with Mary and Tom are redirected to Toyland, where they encounter the scatterbrained Toymaker (Ed Wynn) and his hopeless apprentice Grumio (Tommy Kirk). Their efforts to make enough toys in time for Christmas have consequences for all, including Barnaby and his stooges, who are not far out of sight.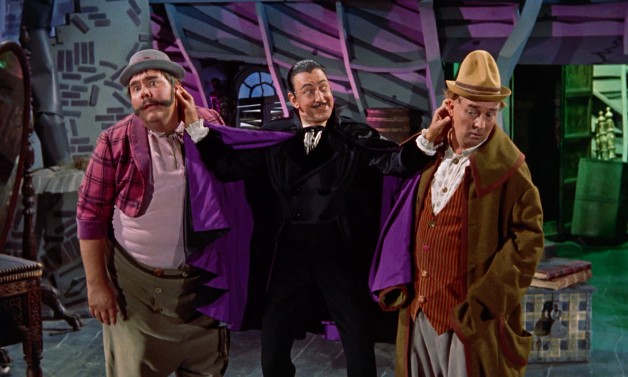 Walt Disney is quoted as saying that he made movies "for the child in all of us, whether we be six or sixty." But Babes in Toyland seems like one film that was strictly for the kids.

The movie is like a live-action cartoon and seems like a kind of paradise for young moviegoers of the early 1960s. Today, it holds up as an okay diversion, though one whose charms are most likely to be lost on children.

The film boasts many impressive visual effects, which are virtually all achieved practically for the first hour or so. These range from things as simple as a fake hand fixed onto Mother Goose's wise-cracking pet Sylvester J. Goose (an obvious puppet) to pies that seamlessly fall into place. Latter parts of the film rely more on process shots: stop-motion animation for toys come to life and perspective effects surrounding Grumio's disastrous shrinking ray gun. The latter bits are decidedly less enchanting and the climactic battle between Barnaby and an army of toy soldiers led by Tom is downright dull.

In fact, the whole movie is a tad on the slow side, as it devotes much time to sheer spectacle: dancing Gypsies, singing trees, marching toys. What feels like an eternity is spent on a water fountain that spouts in response to Barnaby's tap dance moves. All of it remains sort of fun half a century later, but not nearly as entrancing as it is designed to be. In its tone, settings, and illusions, Babes seems to aspire to The Wizard of Oz-type entertainment. The results aren't anywhere near as appealing as they were on Bolger's MGM musical.

Even in moments relying not on random diversion but on story and characters have their drawbacks. Tom and Mary make for boring heroes, with their mushy theoretical love and perfectly-coiffed hair. The closest we get to seeing any personality in either of them is in Mary's bizarre song about her deficient financial planning, a sequence that benefits from some psychedelic cloning.

The villains have more to them and more to do. Calvin and Sheldon essentially exaggerate aspects of their appealing "Zorro" characters, in a way channeling Laurel and Hardy whose 1934 version of this same operetta (often retitled March of the Wooden Soldiers) is better known and loved. Bolger, returning to the big screen after a nine-year hiatus, relishes the chance to go very big with his performance, which just barely stops short of mustache-twirling. Still, the antagonists' broad, gag-driven hijinks are not as amusing as intended. Ed Wynn's appearance late in the film adds a little life, but his shtick soon becomes secondary to those unremarkable size shift bits.
It's possible to see this film as laying some groundwork for the delight that would soon come in Disney's Mary Poppins. There aren't an overwhelming number of similarities between the two, but Babes was Disney's first live-action musical in a long time. Even if it didn't plant any seeds of interest in making Poppins as he would, it did provide a pretty solid blueprint for making a better musical. Where Babes asks its visuals to stand on their own, Poppins uses them to advance the plot. Where Babes is content to be light and fluffy, Poppins is full of substance and dramatic weight. Where Babes features singing and dancing just for kicks, Poppins uses them for unforgettable artistic expression.
Nonetheless, it is perfectly reasonable to enjoy watching Babes in Toyland on occasion. Sometimes, you're not in the mood for a three-course, five-star meal but just a piece of sugary candy.
Blu-ray Disc Details

1.66:1 Widescreen
Dolby Mono 2.0 (English, Spanish)
Subtitles: English for Hearing Impaired, French, Spanish, Portuguese
Not Closed Captioned; Extras Subtitled
Release Date: December 11, 2012
Suggested Retail Price: $20.00
Single-sided, single-layered disc (BD-25)
Blue Keepcase with Side Snap
Still available on DVD ($14.99 SRP; September 3, 2002) and Amazon Instant Video
Previously released on VHS
VIDEO and AUDIO

Despite the case's 1.33:1 "Full Screen" claim (an unfortunate misprint sure to cost Disney some sales), this Blu-ray in fact presents Babes in Toyland in widescreen for the first time on home video. The slightly pillarboxed transfer measures 1.66:1, which is a tad shy of what the 1.75:1 aspect ratio that the film's original pressbook made clear was intended. ("Mr. Exhibitor... Perfect projection will assure your audiences of getting all the wonderful pleasures of Babes in Toyland...so be sure to use ASPECT RATIO 1:75 to 1.")

Nonetheless, the difference is miniscule and the few pixels you might be missing would be lost to your television's overscan anyway.

The Blu-ray boasts wonderful picture quality almost all of the time. Very few brief shots looked less than stunning (e.g. post-production effects shots displaying grain). Most were terrific, though, showing off the film's colorful palette with impressive detail, sharpness, vibrancy, and clarity. It is tough to believe that the film looks this good. While older films have been treated to even more breathtaking restorations, this is from a studio that has shown little regard to its live-action catalog and it's not like Babes is one of their crown jewels.

Sound is presented in plain Dolby 2.0 mono. The DVD supposedly contained a Surround track, but I suspect it resembled this. It is a little surprising that the movie does not receive either a 5.1-channel remix or the mono mix in a lossless format like DTS-HD master audio or LPCM 2.0 (the menu uses the latter of those for its score excerpt and it is of a noticeably higher caliber). Despite the low bit rate, the mono mix is okay, remaining crisp and steady throughout. Though clearly not as impressive as the picture or as impressive as it could be, the soundtrack isn't weak enough to consider a disappointment. The Blu-ray includes a Spanish dub and unadvertised subtitles in Portuguese alongside the three standard sub options.
BONUS FEATURES, MENUS, PACKAGING and DESIGN

Like DVD, Blu-ray equips Babes in Toyland with absolutely no bonus features. One assumes it couldn't be that hard to dig up the film's original theatrical trailer, which holds obvious interest. It would have been easier still to dig up "Backstage Party", an hour-long 1961 episode of Walt Disney's long-running weekly anthology series, then called "Wonderful World of Color." That show, included on the 2006 Walt Disney Treasures tin Your Host, Walt Disney, is devoted to Babes' production and features a scripted cast and crew wrap party.

As that DVD is long out of print and only had a scant run of 65,000 copies to begin with, it would have been most wise to include it here and bolster a clearly tough sell disc (judging from the lack of catalog live-action family film Blu-rays Disney has released). Other worthwhile inclusions that could and should have been dragged and dropped from The Parent Trap's DVD: the "Titlemakers" excerpt featuring Tommy Sands and Annette Funicello and the "Disney Studio Album" reel that sampled the Disney works unveiled and developed in 1961. Consider this my application for that clearly open "DVD and Blu-ray Bonus Features Consultant" position, Disney!

The disc doesn't even feature previews for other properties. The menu adds score to a wide rendering of the simple cover art. Being a Disney BD, it doesn't support bookmarks, resume interrupted playback, or even remember where you left off, making this platter inferior to the DVD in those ways.

A Disney Movie Rewards code insert is found within the side-snapped, unslipcovered standard blue keepcase.
CLOSING THOUGHTS
Pay no attention to the rear cover's 1.33:1 claims; Babes in Toyland's Blu-ray is not the lump of coal you may fear. True, it is another missed opportunity to include some fine, obvious and relevant bonus features that Disney has released elsewhere. But the dazzling widescreen presentation finds this middling 1960s musical fantasy looking its very best. If you're a fan of this movie who collects Blu-rays, there is no reason to pass up this release. No better edition is coming anytime soon and hopefully reasonably strong sales numbers could encourage the studio to give more of its library the love it deserves and never got on DVD.
Buy Babes in Toyland from Amazon.com: Blu-ray / DVD / VHS / Instant Video