Review by Jason Seiver

The early live action films made by the Disney studio during the 1940s and early '50s always - even when being of the adventure genre - remained rather quaint pictures. But in 1954, a sprawling sci-fi epic based on a famous novel by Jules Verne hit theaters, employing the largest production budget in movie history up till that time. 20,000 Leagues Under the Sea was created with the kind of spectacle and grandeur that I find largely nonexistent in Hollywood anymore.

The sets make me feel like Iím really inside the Nautilus submarine, touring the ocean with a wonderful array of characters starring the likes of Kirk Douglas and Peter Lorre. The special effects, while dated, were nothing less than breakthrough, and are still profound when viewed in context.

However, the main reason I love this movie is not its legendary story, fantastic setting, or impressive visuals - although those are certainly stand-outs. I love it mainly because of the character Captain Nemo. He is brought from the page to the screen perfectly, with a great script and an actor who portrays him so superbly, I can't see anyone else fitting the bill but James Mason. He is a complex character who you can despise one minute, and feel sorry for the next. It's one of the few Disney films that really explored a personality like that. In addition, he utters on of my favorite movie lines: "Do you know the meaning of love, professor? What you fail to understand is the power of hate. It can fill the heart as surely as love can."
If thereís one thing 20,000 Leagues could definitely improve on, itís blending the light-hearted scenes with the relatively dark subject matter. In an effort to appeal to children and adults alike, musical numbers and comical incidents with a seal are thrown in with sometimes bad timing. It by no means ruins the movie Ė it just lifts the tension or emotion a little too much for my liking.
This doesnít change my humble opinion that 20,000 Leagues Under the Sea represents the highest caliber of Disneyís live-action titles and is one of the best films Walt ventured to make.
No wonder I was enthused that it got the premium treatment in May 2003 with a 2-Disc set packed to the hilt with outstanding extras. While labeled as a "Special Edition", this DVD doesnít deviate in the slightest from the "Vault Disney" line of 2-Disc sets Ė the presentation and organization of the material and the menus are exactly the same. Both discs are held in a white alpha keepcase that is double the thickness of the standard amaray cases. A single-page chapter listing and an advertisement for MSN internet service are also kept inside.
DVD Details

2.55:1 Anamorphic Widescreen
Dolby Digital 5.1 (English)
Subtitles: English
Closed Captioned
Release Date: May 20, 2003
Two single-sided, dual-layered discs (DVD-9s)
Suggested Retail Price: $14.99 (Originally $29.99)
White Double Alpha Keepcase

Disc 1: The Feature & Bonus Materials
The menu takes us inside the Nautilus as it cruises the deep sea, displaying the options on the submarineís fancy panels.
The first Disney movie made in Cinemascope widescreen, the film is represented in its original theatrical aspect ratio of about 2.55:1, and is enhanced for 16x9 televisions. This is a first-rate transfer for a movie that turns 50-years-old this year, in which detail and colors are sensational. Of course, there are some inconsistencies, but the age of the title readily excuses them. A Dolby Digital 5.1 track pleased me just as much. The audio coming from the rear speakers mainly supports whatís going on in the front channels, as I expected. Despite occasionally showing its age, the sound is very rich, with good handling of higher pitches and delivering exceptional response in the bass.
Though most bonuses reside on the second disc, there are two extras on the first plate that are available in conjunction with the playing of the feature.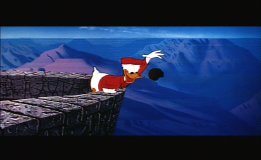 An audio commentary is provided by film historian Rudy Behlmer, who interviews the director, Richard Fleischer. Enlightening information on the nature of the project covers the constraints from shooting during the era of the '50s, the complicated special effects, and even the rivalry between Walt Disney and the

directorís father, Max Fleischer. While I dislike listening to commentaries, I found this one to be more compelling than most.

The cartoon short that originally played along with 20,000 Leagues in theaters, "Grand Canyonscope" (6:50) stars Donald Duck as he visits the famous national park, butts heads with whimsical park ranger, and ends up getting in over his head in mischief. While sharing the movieís ratio of 2.55:1, it is strangely not anamorphically enhanced. Besides the option of having "Grand Canyonscope" automatically play before the feature, the cartoon can also be accessed separately.

Skippable preview trailers play before the menu appears for the DVD releases of The Lion King: Special Edition, Atlantis II: Miloís Return, and X-Men: The Legend of Wolverine. These are also found under the "Sneak Peeks" heading on the main menu, next to trailers for the theatrical releases of Pirates of the Caribbean: The Curse of the Black Pearl and Finding Nemo, and the direct-to-video Stitch: The Movie and George of the Jungle 2. Also, a THX Optimizer lets one calibrate the audio and video of his or her home theater system specifically for this title.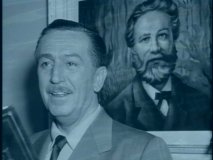 Disc 2: Bonus Materials
Off to the Disney vaults! No, not the vaults where they lock away their animated classics for years at a time to cruelly deprive children of important emotional milestones. (I added a little dramatic effect to spice things up.) Iím talking a virtual, old-fashioned building that houses a humungous archive of materials for vintage live-action Disney movies. An elevator takes the viewer into a vast 3-D hall, and a menu is presented specifically for 20,000 Leagues Under the Sea.
On the right side of this hall, there is a series of screens that play rolls of film. Through these, we gain access to three excellent documentaries.
"The Making of 20,000 Leagues Under the Sea" (87:37) is a mammoth, feature-length look at the production of this landmark motion picture. Rudy Behlmer and Richard Fleischer come back from the audio commentary, next to actor Kirk Douglas, Roy E. Disney, photographic effects man Bob Broughton, matte painter Peter Ellenshaw, Senior Vice President of the Creative Department John Hench, stuntmen Al Hansen and Bill Stropahl, set decorator Emile Kuriís son John Kuri, photographic techniques developer Ub Iwerksí daughter Leslie Iwerks, collector of movie memorabilia Bob Burns, and sci-fi illustrator Vincent Di Fate. Many documentaries claim to be in-depth, but this one truly is, spending a whopping amount of time discussing details on the script, the actors, the sets, the shoot, and the final release. Archival footage is always presented alongside corresponding topics. This is the most comprehensive making-of on any of the Vault Disney DVDs and is not to be missed.
"Jules Verne and Walt Disney: Explorers of the Imagination" (16:09) brings Rudy Behlmer, Vincent Di Fate, and Bob Burns back from the previous documentary, and further insights are given from sci-fi writers Samuel R. Delany and Gregory Benford, University of California Professor George A. Slusser, and collector & editor Forrest J. Ackerman. This is a comparison piece of both men, linking their careers, interests, and aspirations. While this is worthwhile and interesting, I wish the opportunity wouldíve been taken to focus solely on Jules Verne and uncover more details on his life.
"The Humboldt Squid: A Real Sea Monster" (7:07) takes a real-life look at the monster that attacks the Nautilus. Filmmaker Scott Cassell provides facts about the giant sea creature, and goes on to show real footage of the animal from the bottom of the beautiful briny sea. Cassell comments on how being amidst these creatures can be quite frightening. After seeing the way they bolt out of the darkness, I can only imagine the way it would feel actually being there. One complaint I have is that this short is presented in a circle, to seem as if the viewer is looking out of a porthole on a submarine. Itís not extremely annoying, but for a seven minute length, they shouldíve just shown it in full 1.33:1.
On the other side of the hall are three more selections.

"Lost Treasures: The Sunset Squid" (3:16) is a precious piece of material

that was long thought to be destroyed. After a scrolling text puts it into context, black-and-white behind-the-scenes footage of the original version of the squid attack scene is revealed. It is set at sunset, as the title says, making the squid appear less believable than the final nighttime version. This is definitely a valuable gem.

When Production Archives is selected, it takes us through another door and into another hall with a heck of a lot more to choose from.

First up is the "Galleries" section, which is divided into many more sub-sections. Each gallery is a marathon of flipping through full-screen stills, instead of the thumbnail presentation found on other Disney DVDs that I prefer. "Production Stills" (422 stills) has a humungous amount of photos of the cast and crew hard at work. Concept art, costumes, and storyboards are inside "Production Art" (253 stills). "Biographies" (70 screens) are provided for James Mason, Peter Lorre, Kirk Douglas, Paul Lukas, and Richard Fleischer. Posters, lobby cards, publicity posters, and merchandise are kept in "Advertising" (139 stills). "Documents" (244 stills) has shooting schedules, call sheets and notes on the movie from Harper Goff to a magazine editor. A "Screenplay Excerpt" (11 stills) is taken from the climax, and gives the option of viewing the completed scene after reading. All this adds up to over 1,100 stills. Whew!

"Production Gallery" (3:23) is a slideshow of select photos from the aforementioned still frame gallery. I suggest exploring the galleries instead, as they offer much more material, and allow you to view each still as long as you wish.

"The Musical Legacy of Paul Smith" (10:37) is a featurette on the composer for 20,000 Leagues I was very much interested in, since I love the movieís soundtrack. Composers Richard Sherman and Alexander Rannie shed light on Smithís career and the work he did for Disney, and give their thoughts on the music itself.

"Touring the Nautilus" (5:21) was a somewhat disappointing feature for me. I expected it to be a sort of 3-D tour of the vessel that you could navigate yourself, as is found on other Disney DVDs. Instead, this dissects a model of the submarine and uses photos of the actual set to show us around. Itís still cool, but it could have been cooler.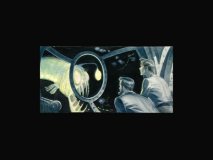 "Storyboard-to-Scene Comparison" (7:02) is self-explanatory, using a split screen to show storyboards next to segments from the film: particularly an underwater diving sequence and the squid attack.
A welcome addition is "Monsters of the Deep" (6:38), a clip from a 1955 episode of the Disneyland TV anthology series, in which Walt Disney introduces Kirk Douglas and Peter Lorre, who show off storyboards, sets, and some movie clips. Itís of course very promotional in nature, but itís a fun piece of nostalgia, as all these types of vignettes are.
One of my favorites, "Movie Merchandise" (9:05) features collectors Larry & Paul Brookes. Anyone who is a fan of movie memorabilia will love this: games, toys, books, and all types of odds and ends are displayed here, with explanations as to their background.
Something I didnít initially notice when watching 20,000 Leagues Unda Da Sea (as Sebastian would call it) was that animation was briefly used for portraying some of the fish swimming by the submarine. "Unused Animation" (3:02) exhibits a lot more material than what finally ended up in the movie. More footage shows up in "Trims" (8:59) - several silent, behind-the-scenes snippets that Walt was planning to show on his TV show, but were unused. Then, something that should be a standard inclusion on all DVDs is the lengthy original Theatrical Trailer (4:33).
The last option in this area is "Audio Archives", which takes us to a jukebox. Available for playing are three Radio Spots (2:37), looping session audio in "Peter Lorreís ADR Tracks" (6:13), and recordings for "Captian Nemoís Organ Music" (5:21).
Back to the main hall, where we find the last bonus, signature to all "Vault Disney" DVDs: "Disney Studio Album" (4:08) is a rapid-cut montage of the many events at the mouse house in 1954. Film, television, theme parks Ė you name it, it is glimpsed at in this closing featurette.
CLOSING THOUGHTS
Iím going to do something Iíve never done in a review before: recommend 20,000 Leagues Under the Sea as a blind buy to any Disney fan. Itís impeccably made, and itís a classic movie I can picture every member of the family enjoying. Besides that, thereís a whale of a second disc that has so many bonus materials, it took me days to get through them all. If thatís not enough for you, I should say that the list price is a meager $19.99. My final comment is simple: this is a must-own DVD.