and Kelvin Cedeno

Shortly after Bob Iger was announced as Michael Eisner's successor as The Walt Disney Company CEO, a once vocally dissatisfied Roy E. Disney patched things up with the company bearing his name. Shortly after that, the Disney Company saw to the DVD debuts of Walt Disney's True-Life Adventures, the award-winning documentaries of the 1950s on which Roy had cut his teeth and for which he still held a place in his heart.

Shortly after that, Disney announced the launch of Disneynature, a new division of nature films harking back to the True-Life Adventures. This progression of events seems to be one reasonable way to explain the Mouse keeping a spot for the nature documentary, not a traditionally lucrative genre, in its franchise-minded master plan.

With the major exception of March of the Penguins, nature documentaries had not generated significant amounts of profit in standard theaters. Several movies had done quite well in IMAX theaters, aided by class trips and museum mindsets. But Disneynature didn't have its sights set on the long-term, two-digit theater runs enjoyed by large-format films. It sought instead to give its productions what True-Life Adventures had been handed decades earlier: general release. The plan seemed to work quite well on the first movie carrying the banner stateside; Earth, released Earth Day 2009, grossed a solid $32 million in North America and localized versions earned an additional $75 million around the globe.

Sadly, Roy E. Disney passed away just before Christmas 2009, but the principles on which he had promoted the Disneynature brand lived on when Oceans, the line's second U.S. theatrical release, opened Earth Day 2010. Whereas Earth had been culled largely from footage that had aired in a widely-distributed BBC series, Oceans is an all-new original feature, this one helmed by Jacques Perrin and Jacques Cluzaud, two of the three French directors of the successful, Oscar-nominated Winged Migration (released to the US in 2003).
As the title strongly suggests, Oceans sets its sights on Earth's largest bodies of water, focusing on the diverse creatures that call them home. The film follows the established playbook for its class: provide stunning footage of a species, say a few things about it, and move onto something else. The vast underwater ecosystem contains enough volume and variety to sustain several feature films. But Oceans is just a single film, thereby limiting itself to the best of the best content that will fit into a standard feature runtime of around 90 minutes.
Actually, the US cut runs just 84 minutes with credits, a reported 20 minutes shorter than the original international cut that Perrin narrated (the accepted Wikipedia version says that it's "edited for a youth audience"). Pierce Brosnan handles those duties here. Letting an Irishman narrate for American audiences demonstrates the progress we've made as a people; just a year earlier, Disneynature had James Earl Jones re-record the voiceover originally supplied by Patrick Stewart.
Unsurprisingly, Oceans offers dazzling photography not entirely like anything we've seen before. In fact, it's almost too dazzling. The images are so clean, crisp, close, and fluid that a viewer of age can't help but wonder what kind of trickery is at work here. Several of the subjects have an artificial appearance that suggests even documentaries make use of today's commonplace digital enhancements. Such doubts, even if misplaced (as they may mostly be), take a small bite out of the film's visual power.
That power is quite comparable to what's offered by other high-class nature documentaries.

If you don't see many such films, as most people don't, then you'll be in awe of the beauty, intrigue, and drama that can be yielded from closely filming any living animal for extended periods of time. Oceans provides no shortage of this, showing us iguanas, dolphins, whales, sharks, ribbonfish, seals, crabs, walruses, sea otters, penguins, polar bears. Birds swoop down to casually put newborn sea turtles in their mouth. Crabs do battle on the ocean floor. Ugly Asian sheepshead fish exist. I don't know how anyone could think this stuff isn't interesting and immensely more interesting than, say, metal transforming robots clanging around, but whereas the Transformers movies are seen the world over, Oceans did only as much U.S. business as 2010 flops like Furry Vengeance, Remember Me, and Our Family Wedding.

Oceans' $19.4 million North American intake was not that terrible considering its unusual 1,200-theater distribution, which firmly placed it in between wide and limited release. Among films sent to fewer theaters this year, only one (critical darling The Kids Are All Right) has made more money. But Oceans, which cost an estimated $30 million to produce, made only a little more than half of what was grossed by Earth, something foreseen in scaling back from last year's 1,800-theater release. As on Earth, a substantial majority of the movie's earnings came from abroad; three-fourths of Oceans' worldwide grosses were in foreign markets. Even considering that global appeal, one has to wonder how much value Disney will continue to assign to Disneynature when the company's bigger film banners have disavowed mid-size movies in favor of massive tentpoles, adopting a billion-dollars-or-bust mentality.

With Roy Disney out of the picture, the division's one saving grace may now be its public relations value. On Earth, Disney vowed to plant a tree for every opening week ticket purchased. On Oceans, the studio made a coral reef-saving contribution to The Nature Conservancy for first-week moviegoers. They also mounted a "Save My Oceans" campaign, urging people to pledge to use paper bags instead of plastic ones, eat non-endangered seafood, and reduce their carbon footprint. The movie itself touches upon such environmental awareness, as any modern nature film must, with calls to "green" living so fashionable. We'll see if this aspect is enough for Disney to keep devoting money and resources to something with limited commercial prospects. Already, one Disneynature film (The Crimson Wing: Mystery of the Flamingos) has forewent theatrical release in the States. It will now arrive on DVD and Blu-ray + DVD Combo Pack alongside Oceans, both hitting stores on October 19th.
Blu-ray & DVD Details

2.40:1 (Anamorphic) Widescreen
Blu-ray: DTS-HD 5.1 (English), Dolby Digital 5.1 (French, Spanish)
DVD: Dolby Digital 5.1 (English, French, Spanish)
Subtitles: English for Hearing Impaired, French, Spanish
Closed Captioned; Most Extras Subtitled and Captioned
Release Date: October 19,, 2010
Two single-sided, dual-layered discs (1 BD-50 & 1 DVD-9)
Suggested Retail Price: $39.99
Blue Keepcase with side snap in Embossed, Holographic Cardboard Slipcover
Also available in standalone DVD ($29.99 SRP)
VIDEO and AUDIO
Even on old-fashioned DVD, Oceans looks and sounds amazing. The film is shot in 2.40:1, so its wide frames won't fill 16:9 screens as the genre is typically wont to do. There's something nice about making that decision and sticking to it for home video. There's plenty nice about the imagery, so colorful, clean, sharp, and detailed. Even the busiest of "mass transit" scenes, those most likely to trigger compression artifacts on any format, manage to hold up with few discernible woes. All of this is nearly a given on a film whose visuals are unquestionably its most important component, but it's still most appreciated nonetheless.
The DVD's Dolby Digital 5.1 soundtrack is as strong as the picture. Even with all the technological advances since the days of aurally manufactured True-Life Adventures, I still wonder how much of a nature film's audio is genuinely recorded and how much of it is faked. The latter seems predominant from just how clear and immediate all the animal noises sound. Documentary fakery might ordinarily be cause for concern, but here it's simply a sensory delight, as we're engulfed by the precisely delivered waves, moans, and squawks of the sea with delectable impact.
As expected after last year's Earth, the Blu-ray offers pretty spectacular results as well. While dealing with a blue scheme to a certain extent, the movie also provides a rich array of other color palettes that pop without oversaturation. Crispness and detail are exceptional throughout even in the murkier underwater sequences. There are no detectable print or digital flaws, and there's a healthy level of film grain throughout. This is another reference-quality disc from Disney.
The Blu-ray's DTS-HD 5.1 also impresses, providing, like the film's picture, more variety than expected. Pierce Brosnan's narration is rich and expansive, giving off an omnipresent feel. The natural sounds have been mixed in a manner that utilizes the sound field without being gimmicky. Ambience realistically envelops with directional sounds ranging from waves to animal cries. There's nothing to find fault with in this strong track.
BONUS FEATURES, MENUS and PACKAGING
The DVD provides three bonus features, the first of which is "Disney and Nature: Caring for the World We Share" (7:50). A far cry from the extensive "Earth Diaries" companion to Earth, this is a shameless electronic press kit video in which Disney celebrates Disney's environmental efforts. It provides a tiny bit of context on the historical foundation for Disneynature, but more so talks up the great things done from the aforementioned first-week ticket actions to other work by Disney's Worldwide Conservation Fund. The name "Disney" must be uttered at least 50 times in this saccharine, sultrily-narrated PR puff piece.
More pertinent to Oceans, "Deeper in the Ocean" is a series of five shorts on specific aspects of the film's creation. Using interviews with directors and videographers plus behind-the-scenes footage (though nothing as good as what's used in the end credits), the piece covers the general intentions, shooting methods, coral reef scene, torpedo camera (named "Jonas") work, and Great White Shark pecking order encountered. No substitute for a single making-of featurette, these clips run from 48 seconds to 2 minutes, 48 seconds for 10 minutes and 27 seconds of content overall.
Hidden away on a second page, the DVD's third and final extra is the music video for the end credits song "Make a Wave". Though credited to Disney's Friends for Change, that youth environmental movement isn't much of a band; it's just Joe Jonas and Demi Lovato of Disney Channel fame.

It's also more of a verse than a song; the video runs just 1 minute and 50 seconds and that's counting a 20-second introduction. Though the video has some cool ideas (namely photographing from above the title phrase written castaway-style in beach sand), this brief thing plays like a failed attempt to get young people excited about Oceans.

As on Earth, the Blu-ray adds exclusive filmmaker annotations. This picture-in-picture feature offers a mix of interviews, behind-the-scenes footage, and pop-up facts. The facts are a mixed bag of informative and rudimentary. More satisfying are the video clips, in which crew members (most prominently co-director Jacques Cluzaud and editor Vincent Schmitt) discuss the challenges of shooting and editing a documentary of this scale. Their stories are complemented by production clips. Also, oceanic experts occasionally come up to elaborate on what the movie is showing. This all makes for a substantial and satisfying bonus, with surprisingly little dead air.

The FastPlay DVD opens with ads for Disney Blu-ray...3D (the studio's standard Blu-ray promotion suddenly seems less futile), African Cats (Disneynature's next movie), The Crimson Wing: Mystery of the Flamingos, Disney Movie Rewards, and genuine Disney DVD, Blu-ray, etc. (a new promo featuring the Toy Story aliens). The menu's "Sneak Peeks" listing plays all those same things, followed by spots for Disney Friends for Change, A Christmas Carol, Tangled, The Lion King: Diamond Edition, The Search for Santa Paws, and Fantasia & Fantasia 2000: Two Movie Collection. The Blu-ray loses the Disney Movie Rewards spot, but keeps everything else in the same place.

The Blu-ray's "living" main menu duplicates the one found on Earth; an image of the planet features nine animated markers representing the settings of this documentary. Since more locales are used in this one, the menu allows you to rotate the Earth to view the other sides. Each marker is clickable, leading to facts about the oceans and animals based on recent weather conditions (provided by BD-Live). At the beginning of every month, these hot spots will be updated with relevant new forecasts. It's a nice feature that ensures that the disc will remain up to date oceanically until Disney stops maintaining it. The pop-up menu uses a blue map template with sound effects. BD-Live uses a small window to indicate date, time, and weather. The loading icon features a dimly lit Earth horizon.

The DVD's main menu runs a montage of clips in a wide band while the lower part of the screen simulates ocean waves. Its idea of "living" is bouncing you to the movie after about a minute.

The two discs fit into a standard slim blue keepcase along with a Disney Movie Rewards code and a booklet of Disney and environmental ads plus a "Go Green" checklist. There's nothing on that checklist about cardboard slipcovers, of which this receives one with an embossed front and holographic wave effects on all four sides.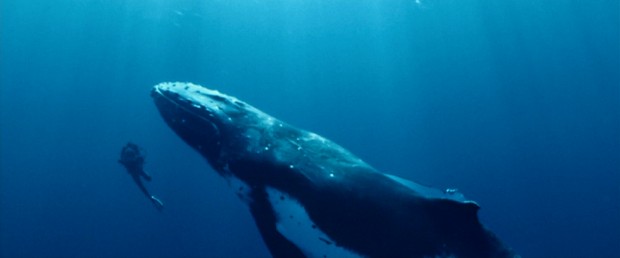 CLOSING THOUGHTS
I don't feel like I know enough about nature or nature documentaries to sufficiently gauge how well Oceans does by other, but I'm sure that most of the movie's potential audience is the same way. As with film in general, the less experience you bring to something like this, the more easily you'll be impressed. As fascinating as many of the sights and sounds are, unless you've never seen any aquatic documentary, you likely won't be blown away here. Oceans is well done; its pacing, narration, breadth, and, most importantly, photography is all up to par. The one thing it fails to do is make a lasting impact, at least on the small screen where it will do most of its business henceforth.
Though delivering practically flawless picture and sound, the DVD is embarrassingly light on bonus features for a project this vast. The Blu-ray somewhat corrects that with its annotated picture-in-picture playback. Still, a rental should be sufficient for those interested.
More on the Combo / Buy from Amazon.com / Buy the Standalone DVD