In 2002, Steven Spielberg and Tom Hanks reinforced their status as two of Hollywood's biggest draws. Leonardo DiCaprio joined their ranks, proving himself to be not just the heartthrob from Titanic, but also a talented adult actor and a bona fide movie star. Each of the three contributed two of the year's best-reviewed and most-attended films.

Unlike past Spielberg and Hanks efforts, where it was usually easy to distinguish a commercial crowd-pleaser (e.g. Spielberg's sequels and Hanks' Sleepless in Seattle) from a still commercially formidable prestige film (e.g. Saving Private Ryan), the lines were not clearly drawn on the 2002 movies.

Spielberg's Minority Report and Hanks' Road to Perdition were released during the height of the summer, when mindless popcorn fare flourishes, but the former was the thinking man's science fiction and the latter, though adapted from a graphic novel, was a classy crime drama challenging Hanks' reputation as America's favorite everyman. In late December, DiCaprio reminded us of his chops in Gangs of New York, his first collaboration with Martin Scorsese, a film intended to debut a year earlier. Then on Christmas Day opened the one and only film collecting the talents of Spielberg, Hanks, and DiCaprio. Catch Me If You Can drew raves as strong as or stronger than each of the trio's separate 2002 movies and it also grossed the most in the domestic market.

It is impossible to imagine this cat and mouse tale performing as well or satisfying as much without the participation of any of those three accomplished talents at the center. And yet, back then it wasn't a project that seemed like an obvious choice for any of the three. Ten years later, it only seems representative of DiCaprio's taste for multi-dimensional period entertainment.
Catch Me tells the improbably true story of Frank William Abagnale Jr. (DiCaprio), a man who forged millions of dollars' worth of checks, eluded federal authorities for years, and faked his way into various positions of power, all beginning when he was just sixteen years old. The son of a World War II veteran (a briefly-seen but Oscar-nominated Christopher Walken) and a French woman (Nathalie Baye) living in New York's Westchester County, Frank goes his own way after his parents announce plans to divorce in 1964. Seemingly inspired by his father, who is charming and respected but struggling financially under stifling scrutiny from the IRS, Frank decides to give himself everything he desires, starting with posing as a substitute French teacher instead of merely a transfer student at his high school.
Impersonation comes easy to Frank, who with minimal effort and first-rate forgery skills is accepted as an airline pilot, a doctor, and a lawyer. Moving from one place to another and always adopting a different surname, Frank exploits the trust of both institutions and the average person, picking up the right details to fool everyone, while meticulously doctoring checks to make himself a multimillionaire. Frank is not depicted as a hedonist, a brat, or a sociopath, just a young man who gets his kicks out of deception, adventure, and reinvention. One of the first things he does with his fraudulent wealth is to buy his father a Cadillac, which the old man cannot accept.
With his family ties cut off, Frank moves from one profession to another, duping and romancing one beautiful woman after another, all the while taking his greatest pleasure in staying one step ahead of Carl Hanratty (Hanks), the starchy, humorless FBI agent assigned to catch him.
This central pursuit is a delight, as is the entire film. Frank's are serious crimes with high costs and real consequences, but the movie so skillfully manages to make him our hero, not merely a smartass out for personal gain. We should sympathize with Hanratty, the hardworking lawman married to his job and liked by nobody. But we don't and Spielberg doesn't want us to.

There is no glamour in working weekends and Christmases. On the other hand, duping a high-class call girl into paying $400 cash in exchange for a $1,400 bad check simply impresses.

The film's excellence is its reluctance to paint in broad strokes. Hanratty isn't simply a bad guy any more than the fugitive Frank is an upstanding citizen. These are real people with flaws, damages, and conflicting determination. That the story is evidently true and with very few embellishments is nothing short of remarkable. This would seem as contrived a caper as any, if it wasn't backed up by a real person with a long criminal record and a perfectly satisfying happy ending.

Responsible for as much enchanting cinema as anyone, Spielberg probably should not have been able to surprise audiences in the 21st century, but he does just that here. Catch Me is funny, smart, poignant, and deftly staged. It's a little reminiscent of Martin Scorsese's work, not so much his subsequent DiCaprio films but films like Goodfellas and Casino. There isn't the constant profanity or really any violence (Catch earns a PG-13 with one memorable F-word and some unseen sexuality), but there is the investment in real human lives, the attention to period detail, and the fascination with an interesting interpretation of the American Dream.

Catch Me is light but substantial, full of images and emotions that resonate while its considerable 141-minute runtime stays absent of anything that doesn't work. Certain scenes, like Frank and Hanratty's deftly-played first meeting, brim with obvious entertainment value. Others find beauty in subtle humor, like a scene in which Hanratty's colleague weighs his eagerness to dig into a Sara Lee cake served with his reluctance to break professional decorum during this federal interrogation. This film is likely to be enjoyed by viewers of almost all ages, but is clearly more than just a straightforward crowd-pleaser.

It's no surprise that this stands as one of the most highly-regarded Spielberg-directed works of this century, lacking the divisiveness of something like A.I., the saccharinity of War Horse, the dreariness of Munich, the fanboy dissent of genre blockbusters War of the Worlds and Indiana Jones and the Kingdom of the Crystal Skull, the stupidity of The Terminal, and the questionable look and content of The Adventures of Tintin. Seen by the masses, each of those films has many fans and detractors. But this one offers all the thrills of cinema and polish of Spielberg without anything dubious, disappointing, or manipulative. While it's easy to imagine people preferring one of those other movies to this one, Catch seems most likely to win over the greatest amount of people.
Revisiting this film for the first time in a long time, per Tuesday's Blu-ray debut in the month of the theatrical release's tenth anniversary, three things command notice. Firstly, 27-year-old Leonardo DiCaprio does not make for a convincing teenager at all, but apparently, neither did the prematurely graying real Abagnale. Still, it's crazy to think of how barely removed from Titanic he was. His star had definitely begun to wane over the course of the three films released in the five years between his big openings of Decembers 1997 and 2002. And yet it's been smooth sailing ever since, as the former "Growing Pains" actor has wisely limited himself to working with great proven directors. We shall see if playing drastically against type in the supporting role of a villainous slave owner in Quentin Tarantino's Christmas Day opening Django Unchained lands him his first Oscar win. Even if it doesn't, DiCaprio is in no danger of disappearing or losing the respect of his peers or the public.
Secondly, John Williams' score is really quite terrific. Like just about any composer, you can make the argument that Williams' scores all sound the same. This one does not, though, its appealing themes doing much to establish the film's playful tone.
Finally, if you were an actress in your late twenties or early thirties back in 2002, this movie was something of a good luck charm. Making some of their earliest film appearances here are Amy Adams, Elizabeth Banks, Jennifer Garner, and "Grey's Anatomy"'s Ellen Pompeo. None of them was well-known then and all of them are now.
Blu-ray Disc Details

1.85:1 Widescreen
5.1 DTS-HD MA (English), Dolby Digital 5.1 (French, Spanish, Portuguese)
Subtitles: English, French, Spanish, Portuguese; Movie-only: English for Hearing Impaired
Not Closed Captioned; Extras Subtitled
Release Date: May 1, 2012
Suggested Retail Price: $22.99
Single-sided, dual-layered disc (BD-50)
Blue Keepcase
Still available as 2-Disc DVD in Widescreen and Fullscreen ($9.98 SRP; May 6, 2003)
VIDEO and AUDIO
Catch Me If You Can's 1.85:1 Blu-ray presentation is a bit grainy, but otherwise excellent. The image is clean, sharp, and nicely defined. Meanwhile, the 5.1 DTS-HD master audio has plenty to enjoy in its distribution of John Williams' strong score and often subtle ambient noise.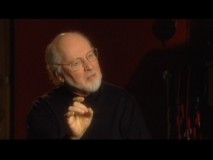 BONUS FEATURES, MENUS, PACKAGING and DESIGN

Unsurprisingly, Catch Me If You Can comes to Blu-ray with all of the bonus features from its two-disc DVD and nothing else, missing an opportunity to promote its Tony-winning musical that continues to tour the country after running just five months on Broadway.

Like most Spielberg films, this one lacks deleted scenes and audio commentary, but contains no shortage of featurettes, all of which remain in standard definition and sadly windowboxed.

"Catch Me If You Can: Behind the Camera" (17:09) is a general making-of piece that runs through the issues of production, from Spielberg deciding to direct out of an enjoyable table read to the period production design to the Janusz Kaminski's cinematography, with good interviews and B-roll.

CAST Me If You Can: The Casting of the Film gives us five shorts considering lead actors and the roles they play: "Leonardo DiCaprio as Frank Abagnale Jr." (6:07), "Tom Hanks as Carl Hanratty" (6:19), "Frank's Parents: Christopher Walken and Nathalie Baye" (7:22), "The Strong Family: Martin Sheen and Amy Adams" (5:30), and "Jennifer Garner as Cheryl Ann" (3:15). These bits are gladly do more than just pay lip service to the cast, really fleshing out the production more than the design would suggest with plenty of perspectives and more good behind-the-scenes. It lacks the "Play All" option it obviously should have, especially since the clips are authored as one big video file.

"Scoring: Catch Me If You Can" (5:25) collects thoughts from John Williams on his 20th Spielberg movie and shares some footage from orchestral recordings. Spielberg also comments on some of the period songs featured within.
Frank Abagnale: Between Reality and Fiction consists of four shorts (5:28, 4:07, 1:59, and 3:35) that delve into the real subject of the film with comments from Spielberg, the two stars, and, most interestingly and extensively, Abagnale himself. They clearly flow from one to the next, so, again, a "Play All" option really ought to have been added to make this the 15-minute featurette it should be.

"The FBI Perspective" (7:07) focuses on the input of William J. Rehder, who discusses both his work as an FBI agent and as technical advisor to this production,

whose period authenticity he exalts.

"Catch Me If You Can: In Closing" (4:59) gathers some final thoughts from cast, crew, and Abagnale as well as some more behind-the-scenes footage.

The extras draw to a close with three HD photo galleries: Cast (48 stills), Behind the Scenes (27 stills), and Costume (20 stills comparing drawings to the character's corresponding look in the film). They are a little slow to navigate and the pictures don't quite fill the screen, but they are bordered by the opening titles' artwork.

Sadly, the film's theatrical trailer is missing, DreamWorks seemingly more to blame for that omission than Paramount, who usually includes such a thing.

One of the rare Paramount Blu-rays to contain an animated menu, this one hangs onto the stylish animation of its incomparable opening titles. The disc supports placing bookmarks, but does not resume playback.

Catch gets no slipcover, but an insert advertising Paramount's centennial Delta Vacations sweepstakes.
CLOSING THOUGHTS
Catch Me If You Can demonstrates the power of Steven Spielberg. Without aliens or dinosaurs or history, he is able to captivate purely and efficiently with story and characters. Admittedly, this film benefits from a tremendously compelling foundation and a first-class cast, but Spielberg's practically flawless execution puts it on an entirely different level of enjoyment and art than a lesser filmmaker could.
Though it arrives years later than you would think, this Blu-ray is exactly what you expect it to be, delivering great picture and sound while simply dragging and dropping all of the strong extras from the 2-disc DVD in standard definition. That DVD has long been a steal at its low price, so it's easy to imagine this Blu-ray getting there soon. So, while you can probably go another year or so without picking this up, the disc will make a fine addition to any Blu-ray collection.
Support this site when you buy Catch Me If You Can now from Amazon.com:
Blu-ray / Widescreen DVD