By Kelvin Cedeno

Film sequels do not often best their predecessors financially. This rule has been broken quite a bit recently (from Shrek and Pirates of the Caribbean to The Dark Knight and this past weekend's hit The Twilight Saga: New Moon), but it still holds up historically.

The reason for this mostly stems from curiosity. Audiences walk into a first installment not really knowing what to expect. Even if it's based on a property they're familiar with, viewers don't know how this particular rendition will play out. Once it's over, the people who return for future entries obviously do so because they enjoyed the original.

Financial success should not be an indicator of quality, however, as even if the sequel is superior, those not enamored by the first probably won't give it a chance. Sequels that are widely regarded as equal to, if not better than, their predecessors include The Godfather: Part II, The Empire Strikes Back, and Spider-Man 2. None of these films grossed as much as their forerunners. Angels & Demons, the cinematic sequel (but literary prequel) to 2006's profitable The Da Vinci Code also falls into this category.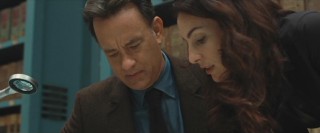 After the death of Pope Pius XVI, the Vatican uses papal conclave to elect a successor. Before they can properly get this ritual underway, the four potential candidates (known as preferiti) are kidnapped by someone claiming to represent the Illuminati. The Illuminati was once a group of Christians suppressed by the Catholic Church for their scientific methods and forward thinking. The kidnapper from this supposedly extinct secret society has also stolen a vial of antimatter, a substance believed to be the basis for all creation. Should this come into contact with actual matter, a cataclysmic explosion will emit, wiping out millions. The Illuminati member intends to kill one papal candidate at the top of every hour, climaxed with an antimatter eruption that would wipe out the entire city-state.
To piece together the clues the kidnapper has left behind, Vatican police turn to Professor Robert Langdon (Tom Hanks). Langdon's thorough knowledge of both history and zymology aid him in his search for both the preferiti and the antimatter vial. Four signs (earth, air, fire, and water) indicate the Roman landmarks in which the candidates are being held captive, and also how each is to perish. Vittoria Vetra (Ayelet Zurer), from the CERN research organization that harvested the antimatter, joins Langdon on his quest. As the clock ticks, the two run into various obstacles meant to stall their progress, some of which may be caused by supposed allies.
Despite being a global hit, The Da Vinci Code received very mixed reactions from both critics and audiences, and these sided more towards the negative end of the spectrum. The main criticisms were that it was tedious and long-winded. Indeed, regardless of being a technically proficient picture, the story was rather dull and meandering. Angels & Demons almost entirely fixes that problem. It has a clear-cut goal to which it always feels like it's progressing. The ticking clock aspect usually found in most narratives' final acts runs throughout the film and keeps things suspenseful.

At times, the characters do drop everything to offer exposition and explanation, but these instances are few and don't overwhelm the content the way most of The Da Vinci Code did.

While not an outright flaw, per say, it's worth noting that there's so much focus on story that the characters don't make much of an impression. Even without having read Dan Brown's bestselling novel, it seems safe to assume based on both this film and Da Vinci that the author is more at ease with plot technicalities than character development. Of course, in a story that takes place in a single day and is essentially one big chase, there isn't much opportunity for quiet character moments to emerge without screeching everything to a halt. Tom Hanks, though, does infuse Robert Langdon with humanity and prevents him from coming across as a walking plot device. The supporting cast also does well with what they're given, particularly Ewan McGregor as Camerlengo Patrick McKenna.

Angels & Demons is a sequel that certainly outshines its predecessor. Not only does it contain more action and suspense, but it features a more tightly-constructed storyline. On top of this, it's a film that can be seen and appreciated on its own without having any knowledge of what came before it. At times the characters feel like they're being controlled by the plot rather than vice versa, but the performances lift the material up a bit, especially Hanks'. It's a handsome and effective production, and those less than enthralled by The Da Vinci Code should certainly still give this one a chance.
DVD Details

2.40:1 Anamorphic Widescreen
Dolby Digital 5.1 Surround (English, French)
Subtitles: English, French; Closed Captioned; Extras Subtitled
Release Date: November 24, 2009
Single-sided, dual-layered disc (DVD-9)
Suggested Retail Price: $28.96
Black Eco-Friendly Keepcase
Also available in Two-Disc Extended Edition DVD
and on Blu-ray Disc
VIDEO and AUDIO
Angels & Demons comes to DVD in an anamorphic 2.40:1 aspect ratio. The results here are expectedly excellent. Shadows come into play often, but the transfer makes the darker sequences clear without losing out on the intended deep richness. Brighter colors appear accurately warm, and the image is consistently sharp and clean. No qualms are to be had with this exceptional transfer.
The Dolby Digital 5.1 surround soundtrack also excels. The sound design in this film is far more active than in the previous one, with effects ranging from heavy traffic and shouting mobs to crackling fire and crumbling walls. All of these utilize the surrounds and are mixed well. Dialogue is clear and natural, and the intense score sounds appropriately full. This track compliments the image well.
BONUS FEATURES, MENUS and PACKAGING

On DVD, Angels & Demons is released in a single-disc Theatrical Edition and a Two-Disc Extended Edition holding both the theatrical cut and one boasting eight minutes of additional footage.

Surprisingly, Sony sent the one-disc release for review.

The supplements start with "Rome Was Not Built in a Day" (17:29), which centers on replicating actual Roman landmarks to use as sets. Because the crew was not allowed to film principally on location, the iconic city had to be built both practically and digitally. Various crew members explain how this was accomplished and offer before-and-after comparisons. A great deal is covered in this informative piece.

"Writing Angels & Demons" (10:08) takes a look at the screenplay from two angles. First, it compares and contrasts the script with the original novel, then it compares this story to The Da Vinci Code. Author Dan Brown and the film's creative team explain some of the adaptation choices and how they took what they learned from the first film and applied it here. It's a surprisingly honest look at how this script and story came together.
"Characters in Search of the True Story" (17:09) spends time analyzing each of the film's personalities. Cast members give their own perspectives on their roles, explaining how they approached them and even how their characters compare to the literary counterparts. Dan Brown also offers his views on creating these personalities.

Considering how the film doesn't spend a great deal of time shaping its characters, this featurette proves useful.

"CERN: Pushing the Frontiers of Knowledge" (14:52) is about the actual CERN (European Organization for Nuclear Research) that specializes in particle physics. The creation of the lab is briefly recounted as are the goals of the scientists. The whole antimatter issue from the film and its accuracy are discussed by actual CERN members, and there's a focus on just how their research works. It's nice to have a piece like this for clarification, but it admittedly feels a bit dry.

Finally, "Angels & Demons Soundtrack" is a still promo advertising the score by Hans Zimmer.

The extended edition DVD contains all of the above supplements plus the featurettes "Handling Props," "Angels & Demons: The Full Story," and "This Is an Ambrigram."

The disc opens with several trailers, including promos against smoking and for Julie & Julia, 2012, and The Maiden Heist. Additional previews can be found within the bonus material menu for An Education, Year One, and The Da Vinci Code.

The main menu features a nicely edited montage of clips set to dramatic score. The submenus feature collages of still images and are unaccompanied by music. The disc comes in a black eco-friendly case that may be good for the environment but probably not for the disc inside it. A leaflet advertising both Angels & Demons and The Da Vinci Code collectibles from The Noble Collection is included.
CLOSING THOUGHTS
Angels & Demons may not have grossed as much as its predecessor, but it's certainly not due to a step down in quality. It provides some genuine drama and effective action sequences, all with striking production design and cinematography. All of these traits are enough to make up for the aloof nature of the characters. The DVD presents strong picture and sound and a small (but well made) collection of supplements. If the large price difference is not an issue, the extended edition is probably the best option. The feature itself earns a recommendation to fans of suspense, regardless of whether or not they cared for The Da Vinci Code.
More on the DVD / Buy from Amazon.com / Buy Two-Disc Extended Edition DVD / Buy on Blu-ray