When Spider-Man 4 wasn't coming together

quickly enough for their liking, Sony decided to retroactively end that Sam Raimi-directed Tobey Maguire franchise at three films and to move on to a reboot rather than another sequel. That decision seemed rash and premature. What could a Spider-Man origin film do in 2012 that it couldn't in 2002? As The Amazing Spider-Man demonstrated, not a whole lot.

Those disappointed by Spider-Man 3 may have held hope that an all-new cast and a mostly new creative team would put a distinct and original spin on the web-slinging superhero. Those hopes, however, didn't prove terribly well-founded. Sure, Amazing gave us a new principal love interest in Gwen Stacy and a new villain in The Lizard, but it could only depart from the original concept of Stan Lee and Steve Ditko's 1962 comic book so much. You still had to have a teenage boy lose his parents and his guardian uncle, get bitten by a radioactive spider, and take it upon himself to defend New York City against evil. It may have been in 3D and with actors slightly younger than their Raimi series counterparts, but the experience wasn't dramatically different. What on its own merits was fine suffered from a case of "too similar, too soon" and only kids coming of PG-13 viewing age right in the summer of 2012 would be able to appreciate Amazing without comparing it to 2002's Spider-Man.

Two years later, here is the inevitable sequel. Amazing's reviews were only marginally better than those of Spider-Man 3 and its domestic and worldwide grosses trailed all three of Raimi's films by a significant margin. Thus, The Amazing Spider-Man 2 is not born out of success or demand, but obligation. All the studios are making big tentpoles these days. With Raimi's trilogy occupying the top three slots in Sony's all-time box office records, the company had no better property on which to pin their hopes in the summer before The Avengers' return.

Amazing Spider-Man 2 brings back director Marc Webb, who landed the last film on the basis of his appealing feature debut (2009's (500) Days of Summer), but assembles a mostly new screenwriting team. From the previous installment, only James Vanderbilt returns to take a screen story credit, which he shares with the three attributed with the screenplay: Star Trek and Transformers duo Alex Kurtzman and Roberto Orci, plus their new partner and fellow "Alias" alumnus Jeff Pinkner.
Following an airborne flashback apparently designed to rival the opening sequence of The Dark Knight Rises, this sequel seems to pick up where its predecessor left off, though you may be very hard-pressed to remember where that was less than two years later. Spider-Man (Andrew Garfield) is widely known and loved by the people of New York City. His true identity, Peter Parker, is known only by his girlfriend, the aforementioned Gwen Stacy (Emma Stone). Gwen is the valedictorian of the graduating class at Middle Science High School, though costumed heroics nearly cause Peter to miss her speech and accepting his own diploma.
The main antagonist emerges in Max Dillon (Jamie Foxx), a nerdy, lonely, undervalued electrical engineer who becomes an obsessive Spider-Man fan after a brief, friendly encounter. An incident at his workplace, Oscorp, involving electric eels in water tanks turns Max blue and leaves him with electricity coursing through his veins. Renaming himself Electro, this once mild-mannered, now rumbly-voiced outcast can suddenly manipulate electricity to powerful effect, creating a scene in Times Square that requires Spider-Man's attention and costs the hero his once biggest fan.
Meanwhile, Peter reconnects with his old friend, Harry Osborn (Dane DeHaan), who returns home from boarding school for a painfully expositional chat with his dying father, Norman (Chris Cooper). If you're fearing you've forgotten this incarnation's interpretations of these characters, fear not. They are being introduced here less than gracefully. Wrestling with his own mortal affliction, Harry wants Spider-Man's blood, believing it will cure him. This puts Peter in an awkward place, wanting to help his friend but knowing such a transfusion is too dangerous and unpredictable to perform.
Haunted by visions of Gwen's late police chief father (Denis Leary), Peter is conflicted about making good on his promise to stay away from her. She breaks up with him, but their attempt at a friendship is clearly more than that. Not surprising given (500) Days, Webb is comfortable in depicting the ups and downs of Peter and Gwen's romance, which is good since he devotes a lot of time to it in this, the longest Spider-Man film to date. Peter also researches his parents' past, looking inside his father's work bag that has long been housed in his closet.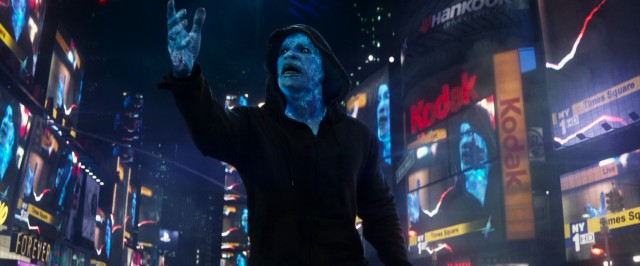 Ignoring the complaints that Spider-Man 3 juggled too many villains, Amazing 2 develops two others in addition to Electro, one of them an abrupt transformation that will only surprise

those unversed in the Raimi films and one of them (involving a bald, tattooed Russian madman played by Paul Giamatti) basically there to tease the next episode, one which may not proceed to plan following this one's commercial disappointments. That tease finale follows an unexpectedly sad development, a gutsy move few superhero films would attempt, and one that will probably divide viewers and anger some of them.

Amazing 2 is an improvement over the first film, but still not as good as any of Raimi's three films. It largely avoids retread, hitting only some of the same beats of before (e.g. Spider-Man getting worn out and receiving some criticism). There are fewer obligatory fight scenes than last time around, with physical conflict being delayed until the final half-hour. While I can't say those action scenes are riveting, they're not an invitation to check out as they were on the first Amazing.

Garfield, who turns 31 this week, grows less believable as a teenager by the day. His characterization seems overthought yet also weak and inconsistent. Our sympathy for Spider-Man is largely won by what we bring to this film, from comics to cartoons to Maguire. The supporting cast is a tad more commendable, with Foxx especially standing out for doing something we haven't quite seen before with his role. The film boasts some appealing visuals (save for the climactic Rhino, who hopefully is less of an eyesore in future outings) and a nice 1980s-sounding score born out of a collaboration between Hans Zimmer and pop musicians like Pharrell Williams.
Although he was the world's biggest box office draw in 2002 and 2007, Spider-Man is no longer an enormous attraction, at least in the country he calls home. The film's domestic tally, essentially finished at $203 million, is a steep drop from the previous installment and the three that came before it. That gross puts Spider-Man behind Maleficent, the X-Men, and the previously unknown Guardians of the Galaxy among summer releases. It also casts doubt over profitability, knowing that the film cost Sony $200 M to produce and another estimated $185 M to market.
A $10 million increase in international returns doesn't hurt, of course, but it only pushes the series further to foreign attraction status, with regions outside of North America now accounting for over 71% of the global earnings, a vast shift from the original 2002 film's roughly 50-50 split. Since Sony distributes the film in almost every part of the world, those foreign ticket sales should still help to keep Spidey swinging on the big screen for the foreseeable future.
As of now, Sony has plans to release spin-off movie Sinister Six (which may or may not feature Spider-Man) from Cabin in the Woods writer-director Drew Goddard in November 2016, while The Amazing Spider-Man 3 has its sights set on 2018, though it hasn't penciled in a date as dozens of vaguely-announced future Marvel and DC projects have. If you're among the many who took a pass on seeing Amazing 2 in theaters, you can catch it on disc today in a single-disc DVD, a two-disc Blu-ray combo pack, and the three-disc Blu-ray 3D + Blu-ray + DVD + Digital HD combo reviewed here.
Blu-ray 3D, Blu-ray & DVD Details

1.85:1 Widescreen (DVD Anamorphic)
Blu-rays: 5.1 DTS-HD MA (English, French), Dolby Digital 5.1 (Spanish, English DVS)
DVD: Dolby Digital 5.1 (English, French, Spanish), Dolby Surround 2.0 (English DVS)
Subtitles: English, English for Hearing Impaired, French, Spanish
Not Closed Captioned; Most Extras Subtitled in English and Spanish
Release Date: August 19, 2014 / Suggested Retail Price: $45.99
Three single-sided, dual-layered discs (2 BD-50s & 1 DVD-9)
Thick Clear Keepcase in Lenticular Cardboard Slipcover
Also available as Blu-ray Combo Pack ($40.99 SRP), standalone DVD ($30.99 SRP), Amazon.com-exclusive Blu-ray 3D Combo Collector's Edition with Electro Head ($149.99 SRP), and on Amazon Instant Video
VIDEO and AUDIO
In what should surprise no one, given Sony's typically first-rate Blu-ray output and Spider-Man being the company's flagship franchise, Amazing 2 showcases outstanding picture and sound in high definition. The 2.40:1 picture is basically flawless, while the 5.1 DTS-HD master audio consistently engages with potent effects and fitting directionality.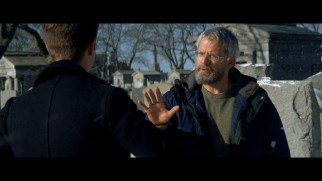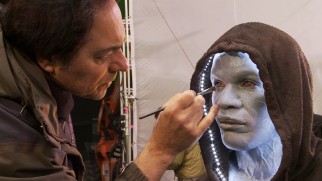 BONUS FEATURES, MENUS, PACKAGING and DESIGN

The bulk of extras are exclusive to the standard Blu-ray Disc. First up is a filmmakers' audio commentary recorded by writers Alex Kurtzman and Jeff Pinkner and producers Matt Tolmach and producer Avi Arad. Kurtzman, Pinkner, and Tolmach lead the track with filmmaking talk, while Arad speaks to the business side of things. While Arad gets our attention with his account of meeting Stan Lee, he seems to bow out in the middle without saying goodbye, leaving the others to fill the air to near the end of the long closing credits. They give serious thought to many topics, like upholding or departing from the comic book, the decision to kill off a major character,

wrestling with whether or not to end with the resurrectory first deleted scene, test screening comments, avoiding paparazzi leaks, converting to 3D, and the actors (whose looks and chemistry they regularly praise). It is a substantial track that fans of the film or of comic books in general ought to enjoy hearing.

On the video side, where all is encoded in HD, we begin with thirteen deleted and extended scenes (23:01). More remarkable than most cut bits, they include a bizarre, snowy graveyard visit from Peter's father (Campbell Scott), a graduation day appearance by Flash Thompson (Chris Zylka), a peek at Max's home life (where he waits on a sickly mother who forgets his birthday), Electro springing back to life before he can be cremated, a Harry-Peter meeting at Oscorp (with an appearance by the underused Felicity Jones), more of Gwen's application to Oxford and departure, an extended version of Harry's transformation, and some amusingly unfinished visual effects. These deletions can also be viewed with audio commentary by director Marc Webb, oddly a no-show on the feature commentary, who explains why they were shot yet cut. Not found here: scenes shot but unused of Divergent's Shailene Woodley playing Mary Jane Watson.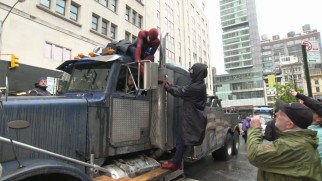 "The Wages of Heroism: Making The Amazing Spider-Man 2" can be viewed as one feature-length making-of documentary (1:43:42) or as the following six featurettes: "Lessons Learned: Development and Direction" (18:59), "Heart of the City: Shooting in New York" (12:34), "Triple Threat: Attack of the Villains" (20:56), "A More Dangerous World: Transforming Goblin and Electro" (10:10), "Bolt from the Blue: Visual Effects" (17:42), and "Spidey Gets His Groove Back: Music and Editing" (24:09). Those titles give you a pretty clear idea of how this takes a topical look at the film's production, covering virtually all the bases you can think of with cast and crew talking heads, concept art, and behind-the-scenes footage. As in the commentary, they address trying to right things from the first movie that fans didn't love. They also treat us to copious views of stunts, make-up, post-production effects, and New York location filming.
"The Music of The Amazing Spider-Man 2" (8:09) picks the director's mind on the film's themes, which blends Hans Zimmer score with the dubstep electronic sounds of a collective called The Magnificent Six. Webb's remarks are complemented by behind-the-scenes footage of collaboration and demonstrative film clips.
Finally, there is a music video for Alicia Keys' end credits song "It's On Again" (3:49), which sees the singer performing in city settings in between clips from the film following some Kendrick Lamar rap.

Though Sony doesn't treat Amazing Spider-Man 2 to the two-disc DVD it would have undoubtedly gotten in a world without Blu-ray,

that format doesn't completely strike out in the bonus features department. The DVD included here, the same one sold on its own separately, includes the commentary, the Alicia Keys music video, and four deleted/alternate scenes (8:19), leaving off most of the most noteworthy deletions.

Electro's electricity underlines the highlighted listing on a Blu-ray menu atop screen-filling clips. The Blu-rays support bookmarks and also allow you to resume playback.

Strangely, the 2D Blu-ray contains no trailers whatsoever for this or other Sony properties. The DVD opens with a superhero-themed promo for Worldwide Orphans and trailers for the upcoming Annie and When the Game Stands Tall. Its Previews menu holds the trailers plus ones for Think Like a Man Too, Moms' Night Out, and Appleseed: Alpha. The Blu-ray 3D includes a trailer for the original film.

The three discs are divided between two hubs in one of Sony's thick clear keepcases, which is topped by a slipcover with embossed designs and extensive holography. The three uniquely-labeled full-color discs are joined by a booklet of coupons (including a code for a free-plus-shipping 8" x 8" photo book from Shutterfly) and the insert holding your code for the included Digital HD UltraViolet stream or download.
CLOSING THOUGHTS
The Amazing Spider-Man 2 does not put an end to comparisons to the Sam Raimi trilogy nor does it quiet questions over the wisdom of Sony's hasty reboot. Still, it's slightly better than its predecessor and if only average as far as superhero movies go, this still manages to provide an entertaining time with bold characters, impressive visuals, and fun escapism.
Sony's Blu-ray 3D combo pack delivers a dynamite feature presentation plus a pretty terrific five hours of bonus features. While the film is one you might be on the fence about owning, this stellar set may be enough to get more than completists to hop that fence.
Buy The Amazing Spider-Man 2 from Amazon.com:
Blu-ray 3D Combo / Blu-ray 3D Combo Collector's Edition / Blu-ray Combo / DVD / Instant Video