DVDizzy.com | DVD and Blu-ray Reviews | New and Upcoming DVD & Blu-ray Schedule | Upcoming Cover Art | Search This Site
Platoon: Blu-ray + DVD Review
Platoon

Theatrical Release: December 19, 1986 / Running Time: 120 Minutes / Rating: R / Songs List

Writer/Director: Oliver Stone

Cast: Tom Berenger (Staff Sergeant Robert Barnes), Willem Dafoe (Sergeant Elias Grodin), Charlie Sheen (Private Chris Taylor), Forest Whitaker (Big Harold), Francesco Quinn (Rhah), John C. McGinley (Sergeant "Red" O'Neill), Richard Edson (Sal), Kevin Dillon (Bunny), Reggie Johnson (Junior Martin), Keith David (King), Johnny Depp (Specialist Four "Gator" Lerner), David Neidorf (Tex), Mark Moses (Lieutenant Wolfe), Chris Pederson (Crawford), Tony Todd (Sergeant Warren), Corkey Ford (Manny), Ivan Kane (Tony Hoyt), Paul Sanchez (Doc), J. Adam Glover (Sanderson), Corey Glover (Francis), Bob Orwig (Private Gardner), Dale Dye (Captain Harris)
Buy Platoon: Blu-ray + DVD from Amazon.com
World War II became the setting of many acclaimed films of the 1940s and 1950s. Unsurprisingly, the Vietnam War would follow suit. But just as the two wars were different in their outcome, support, and impact,

so too did their treatment on film diverge. World War II movies began being made with the war in its infancy and ranged from patriotic propaganda to morale-boosting fiction to simply contemporary drama. On Vietnam, the film world allowed time for that long, controversial conflict to be processed before dramatizing it. Major Vietnam movies started to crop up in the late 1970s, with The Deer Hunter, Coming Home, and Apocalypse Now winning notice and major awards.

Released just before Christmas 1986, Platoon was late to the scene, but it ushered in a second wave of Vietnam movies with one major distinction. Its writer/director Oliver Stone actually fought in Vietnam, as an American infantry soldier. Stone would use his personal experiences to provide authenticity and immediacy that perhaps have never been rivaled.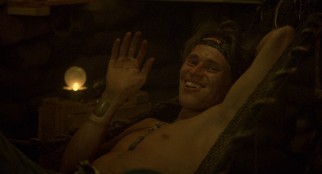 Platoon centers on Chris Taylor (Charlie Sheen), a young volunteer soldier who begins his year of combat near the border of Cambodia in September 1967. Taylor shares his thoughts and feelings with us in voiceover narration (recalling Sheen's father's work on Apocalypse Now), at least some of it comprising letters back home to his grandmother. Taylor and his fellow new replacements are barely settled in when they get their first taste of action. All are immediately aware of the risks and unpredictability of this jungle guerilla warfare.
The film is not interested in the tactical maneuvers of the unit, but in the experiences and interactions of the men. Of chief importance is the growing tension between two contrasting authority figures. Though Lieutenant Wolfe (Mark Moses) is supposed to be giving the orders, there is no question that Staff Sergeant Barnes (Tom Berenger) is calling the shots. Barnes is a serious leader, distinguished by prominent facial scarring, presumably from some of the seven times he is said to have been shot. At the other end of the spectrum is Sergeant Elias (Willem Dafoe), a more easygoing, level-headed, and compassionate individual who unwinds as one of the guys with marijuana and Motown music.
A visit to a village demonstrates just how easy it is for monsters to emerge in these conditions. Convinced that the Vietnamese farmer families are aiding the Viet Cong army and not fessing up, Barnes subjects them to heated interrogation that results in some clearly unwarranted casualties. Outraged, Elias objects to the excessive techniques and submits an official complaint to that effect that could lead to a court martial for Barnes. The bad blood between the two sergeants intensifies as they and the assortment of Bravo Company soldiers under their command continue to face fierce resistance.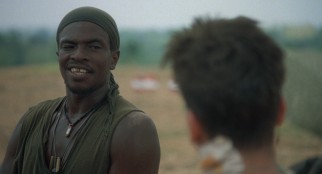 Platoon announced Oliver Stone as a powerful filmmaker and a voice of his generation. Stone had already attracted notice as a writer; his script for Midnight Express won him the adapted screenplay Oscar and he followed that up with the commercially strong Conan the Barbarian and Scarface. As writer-director, though, Stone had first made two horror movies (1974's Seizure and 1981's The Hand), neither well regarded today.

Platoon was a whole different beast. Filmed on the heels of his respectable photojournalist drama Salvador, Platoon tapped directly into Stone's formative memories, which evidently remained vivid eighteen years after completing his tour of duty.

What makes the film shine is the way it captures and presents sentiments too specific to be faked or imagined. There are unmistakable parallels between protagonist Taylor and Stone himself, which heightens the poignancy of the fresh-faced Sheen's observations, whether uttered in narration or conveyed in his face. For someone who has come to be known primarily for his strong (and sometimes conspiratorial) views, Stone surprisingly avoids overpoliticizing Platoon. Naturally, you don't watch the film thinking that Vietnam was a wise war fought sensibly and systematically. But thoughts to that effect aren't on the characters' minds or tongues; they are simply interested in staying alive for their required time and getting to go back home.

Stone doesn't seem to second-guess his decision to enlist after twice dropping out of Yale University. Nor does he regret the entire experience. The troops' camaraderie during their treasured downtime is fondly and unforgettably established with profane dialogue that isn't sugar-coated and a high, drunken group sing-along to Smokey Robinson and The Miracles' "The Tracks of My Tears." The conflict between Barnes and Elias has a timeless, almost Biblical feel to it (coincidentally, the film opens with a quote from Ecclesiastes). As Taylor recognizes in some of his closing remarks, their operatic dispute is a kind of tug of war for Taylor's impressionable soul and those of his fellow men. And though the lines of good and evil are drawn clearly, the struggle is treated with intelligence, complexity, and some ambiguity.

Stone's film does an admirable job of conveying characters, never an easy task in a 2-hour movie juggling a cast the size of a real Army platoon. It helps that many of the actors are recognizable, even if they might not have been a quarter-century ago. Among the more prominently featured soldiers are John C. McGinley (a Stone favorite who modern TV viewers will know as the ranting Dr. Cox of "Scrubs"), Kevin Dillon (of "Entourage" fame), and the often-great Keith David. Also seen here: a pre-"21 Jump Street" Johnny Depp playing interpreter Lerner, future Best Actor Oscar winner Forest Whitaker as teddy bearish Big Harold, and Francesco Quinn, the son of Anthony Quinn. You don't see any of these men as actors, but as a functioning unit tested by the hardships of unrelenting combat and unfamiliar elements. Part of that is the product of a demanding, authentic production process, which began with a 2-week boot camp and proceeded with military rations, jungle sleeps, and night watch rotations. That may sound extreme but somehow it comes across, selling you on all that transcends and making the film play like a look at a shared time in these individuals' lives, and not a conventional three-act Hollywood script.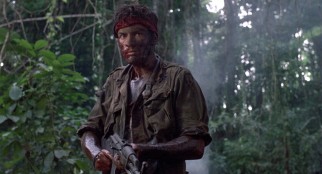 Platoon was met with the agreeable mix of critical and commercial success. Rolled out gradually in January and February 1987, the film dominated the box office that winter, buoyed by high acclaim and word of mouth. The movie had just passed the $100 million mark domestically (then, a tall and fairly rare achievement) when it won Oscars for Sound, Film Editing, Director, and Best Picture. It would finish with a $138.5 M North American take, ranking it third among 1986 releases behind Top Gun and "Crocodile" Dundee. The film's reputation has held up better than many other '80s Best Picture winners. In fact, it is the only one of the decade's ten to feature on both installments of the American Film Institute's widely recognized 100 Years... 100 Movies countdowns.
It's interesting to see all the different directions that careers have taken the individuals assembled here. For instance, Sheen would reteam with Stone on the following year's Wall Street. After that, the young actor would gravitate more to comedy, reuniting with two of his Platoon stars for some of his better movies (Tom Berenger on the two Major League films and Keith David on the underrated, hilarious Men at Work). While Sheen may finish this year with as many headlines as anyone, he is unlikely to again be taken seriously as a leading man of drama anytime soon.
Stone, meanwhile (who welcomed Sheen back for a cameo in last year's sequel Wall Street: Money Never Sleeps), would return to Vietnam twice more, picking up his second Best Director Oscar for 1989's Born on the Fourth of July. Though Stone remains one of the few directors that people know and respect by name, his creative output has unquestionably weakened over time; he hasn't had critics really agree on a film's worth since 1995's Nixon and his repeatedly recut Alexander (2004) stands as one of the biggest flops of all time.
Platoon is rivaled possibly only by JFK as the most significant achievement of Stone's career to date. For its 25th anniversary, the former made its Blu-ray debut this week in a Blu-ray + DVD combo pack from MGM and 20th Century Fox.
Watch a clip from the movie -- "This is hell":


Blu-ray & DVD Details

1.85:1 Widescreen (DVD Anamorphic)
Blu-ray: 5.1 DTS-HD MA (English), DTS 5.1 (French, German, Italian, Russian, Castilian Spanish),
Dolby Digital 5.1 (Spanish, Brazilian Portuguese), Dolby Surround 4.0 (English), Dolby Surround 2.0 (Czech, Hungarian)
DVD: Dolby Digital 5.1 (English), Dolby Surround 2.0 (Spanish)
Blu-ray Subtitles: English for Hearing Impaired, Spanish, French, Brazilian Portuguese, Danish, Finnish, German, Italian, Dutch, Norwegian, Russian, Castilian Spanish, Swedish, Czech, Greek, Mandarin Chinese, Hungarian, Korean, Polish, Portuguese, Traditional Chinese, Thai, Turkish
Blu-ray Not Closed Captioned; Blu-ray Extras Subtitled in English (Director's Commentary Subtitled in English, French, German, and Italian; Documentaries Subtitled in English, French, Danish, Finnish, German, Italian, Dutch, Norwegian, Spanish, Swedish)
DVD Subtitles: French, Spanish; DVD Closed Captioned; Extra Not Subtitled
Release Date: May 24, 2011 (DVD first released August 15, 2000)
Two single-sided, dual-layered discs (BD-50 & DVD-9)
Suggested Retail Price: $29.99
Blue Keepcase in Embossed Cardboard/Foil Slipcover
Also available on Amazon Instant Video
Previously released as DVD (2000), Special Edition DVD (2001), 20th Anniversary Edition DVD (2006), Steelbook DVD (2007)
VIDEO and AUDIO
For the most part, Platoon looks pretty good on Blu-ray. The transfer does have a fair amount of grain much of the time. It also has the occasional imperfection, like a speck that lingers on the screen through several early shots. There is less detail and clarity than many Blu-rays offer, but it's important to remember that the film is 25 years old and had a production budget of just $6 million (to put the latter number into context, fellow 1986 Charlie Sheen movie Ferris Bueller's Day Off cost the same amount). Though I suspect some may be disappointed by the picture quality here, their expectations are probably too high. While there is room for improvement (and this is a film major enough to see getting revisited down the road), the added resolution is appreciated and the video compares favorably to past DVDs.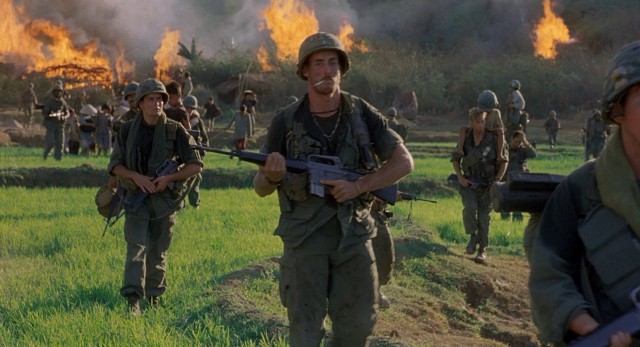 I don't believe I've ever seen quite as many different audio and subtitle options as what we get here. See the table above for the full list of native and foreign language choices, many of which don't even get mentioned on the package. There are languages obscure enough you won't even recognize them by their native name. Platoon's Oscar-winning sound was ahead of its time, with its setting lending itself to unusually engaging audio. The Blu-ray's default track, 5.1 DTS-HD master audio, offers a highly satisfactory rendering of it, making impact with everything from helicopters and gunfire to poignant music, rain, and tropical birds chirping from a distance. You can tell the recordings are slightly limited by their production era in how they move, but they are aptly brought to life here. An English Dolby Surround 4.0 mix, presumably more faithful to the film's original theatrical exhibition, is also offered alongside nine dubs.
Since it uses the film's 11-year-old first DVD transfer (and not the two superior ones that followed), the DVD included here pales pretty noticeably in comparison to the Blu-ray. It's a bit dark and obviously much less sharp. Still, it's not bad by the standards of 2000 DVDs, enhanced for 16:9 displays, and offering a pretty clean element. I have a similar opinion on the disc's Dolby Digital 5.1 soundtrack. It's definitely not the best the movie has sounded on DVD, but it should be considered fine by those only now discovering Platoon in standard definition in 2011.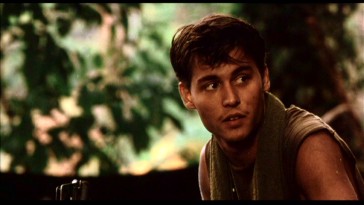 BONUS FEATURES, MENUS and PACKAGING

Platoon is joined by an abundance of bonus features here, all of them in standard definition and almost all of them items that have accompanied the film on one or both of its two most recent DVD releases.

The extras begin with two solo audio commentaries. First and more importantly is a track by writer/director Oliver Stone.

Naturally, he has much to share both about his experiences in Vietnam and making this film. His revelations of parts in the movie taken from his real infantry trials (like villager killings) are interesting, but beyond those, Stone is a bit dry, prone to lulls, and reduced to narrating during ambush scenes. You expect more of the man behind one of the most significant American films of the past 30 years. Smokey Robinson may be intrigued to check out the "Tracks of My Tears" segment, over which Stone expresses sorrow at the singer's death.

The second commentary is provided by military advisor Dale Dye. He more or less performs the same duties he did on the film, serving as an authority on the reality of what's dramatized. He points out many details he supervised, a few he disagreed with, and elaborates on the measures taken in the name of realism. Closing with his ideas for a sequel, it's a pretty good track that those fascinated by military minutiae should especially enjoy.

A reel of Deleted & Extended Scenes runs 11 minutes and 30 seconds and can be viewed with or without Stone commentary. It includes more scenes of the grunts talking (one prominently featuring Johnny Depp's character, another Forest Whitaker's), Keith David reprising "Tracks of My Tears" and adding to his departure, a nightmare, an unsettling appearance by Defoe's Sgt. Elias, and an alternate ending. Uncovered for the 2006 DVD, these are quite interesting.

"Flashback to Platoon" can be viewed as a documentary (48:38), but it plays more like three distinct featurettes.

"Snapshot in Time: 1967-'68" (19:15) discusses the history of the Vietnam War in the period dramatized in the film with comments from Stone, historians, and an assortment of military veterans. They address the unusual nature of the war and its media coverage with valuable archival footage and the occasional movie clip.

"Creating the 'Nam" (12:04) turns our attentions to the making of Platoon in the Philippines with reflections from Stone, hi crew members, and a noticeably younger, saner Charlie Sheen. The remarks deal largely with the location and production design of the film.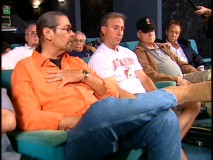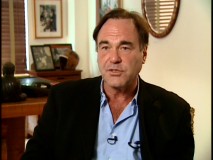 "Raw Wounds: The Legacy of Platoon" (17:19) is a more general and detailed retrospective. Veterans including disabled U.S. Senator Max Cleland recall what the movie meant to them, while Sheen and crew recall the filmmaking experience and the reaction to the work, which critics, professors, and historians seek to put into perspective.
Two items seem arbitrarily classified as Documentaries. "One War, Many Stories" (25:32) collects a mix of colorful and emotional remarks from veterans following a 2005 screening of the movie. These comments, speaking to the film's authenticity, are complemented by Stone's separately-recorded own memories and Platoon clips. It's a good piece that serves a unique purpose.
"Preparing for the 'Nam" (6:36) collects recollections from vets about their arrival, the night before leaving, boot camp and military life.
Under Vignettes, we get three shorts created for but evidently not used on the 20th Anniversary Edition DVD released in 2006. In "Caputo & the 7th Fleet" (1:38), author and Vietnam vet Philip Caputo recalls getting on one of the last choppers out of Saigon. "Dye Training Method" (3:23) has the military advisor explain his ability to draw war authenticity from civilian actors.

"Gordon Gekko" (1:05) explains how Michael Douglas' iconic Wall Street character got his name from sound editor Gordon Daniel's struggle to find a sufficient sound for a gecko (a silent lizard) in Platoon.

The disc winds down with three 30-second TV spots (frustratingly still without a "Play All") and Platoon's great original theatrical trailer (1:44), all of which are most welcome.

As loaded as this set is, it does not include all of the bonus features from Platoon's numerous DVD releases. Found on my 2001 Special Edition DVD and apparently the 2-disc 20th Anniversary Edition but not here are a 27-still production photo gallery (mostly depicting Stone directing), a 4-still poster art gallery, and, most significantly, the great 53-minute documentary "A Tour of the Inferno: Revisiting Platoon" which features screen tests, production footage, and major cast participation (including Berenger, Depp, Defoe, McGinley, and Whitaker). Also missed is the Special Edition's 8-page booklet, supplying information on production and training, with press quotes from cast and crew. I don't know why the studios have become so opposed to the inserts that used to be standard inclusion. Even a simple effort like Platoon's added value at minimal cost.

Instead of the loaded 2001 Special Edition disc (which would have retained "Tour of the Inferno") or Disc 1 of the 2-disc 2006 20th Anniversary DVD (which would have held onto the commentaries), the DVD provided in this combo pack is a newly-labeled version of the movie's lightweight original 2000 disc, whose only bonus feature is a letterboxed trailer. That's a terrible decision, particularly since this now becomes the only DVD of the film in print.
A slight update on my 2001 DVD's main menu, the Blu-ray's menu plays clips on swinging dog tags against black and white atmosphere while the haunting "Adagio for Strings" plays along with the sounds of explosions and gunfire. In a user-unfriendly way, no runtimes are listed and the extras are displayed one at a time, requiring you to toggle the commentaries, for instance, before even seeing what there is in the way of bonus videos. The disc supports the use of bookmarks and, not using BD-J, is also able to resume playback of the menu, movie, and bonus features.
The DVD's main menu dissolves through a looped 45-second montage of widely-matted footage from the film to tender score excerpts.
The two discs are packaged on opposite sides of a standard Blu-ray case and topped by a stylish cardboard slipcover, of whose foil faces the front is embossed.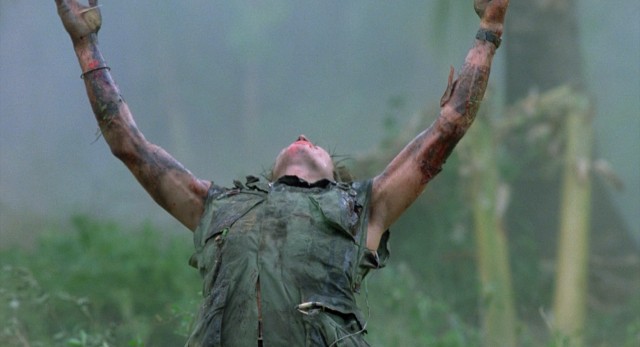 CLOSING THOUGHTS

A highlight of 1980s cinema, Platoon stands as Oliver Stone's best movie and second only to Francis Ford Coppola's Apocalypse Now among films dramatizing the Vietnam War.

MGM's Blu-ray + DVD combo offers a very good but not quite perfect way to own this powerful drama. The feature presentation delivers moderately good picture and terrific sound.

There are minimal new bonus features, but the hours of recycled extras hold up well, adding to one's appreciation of the film and nicely covering both its making and its historical subject matter.

It is puzzling and disappointing, however, that the fine hour-long retrospective "Tour of the Inferno" is missing; it's absolutely not rendered superfluous by the rest of the contents. It's also stupid that the DVD in this set is the movie's first and worst release on that format; is that supposed to make the Blu-ray seem like more of an improvement than it is? Compounding that bad decision is the final downside to this release, that for Fox a Blu-ray combo pack debut is reason to discontinue all DVD editions, effectively making that documentary rare and all other extras (besides the trailer) unplayable to DVD viewers who don't already own one of the movie's packed past editions and don't wish to bother with the secondhand market.

Still, even an imperfect release of such a great movie earns a recommendation.

Support great cinema and this site -- Buy Platoon from Amazon.com:
Blu-ray + DVD / 2-Disc 20th Anniversary Edition DVD / Instant Video


Related Reviews:
New to Blu-ray: The Terminator (Blu-ray Book) • Taxi Driver• Fear and Loathing in Las Vegas (Criterion Collection)
Written and Directed by Oliver Stone: Wall Street (20th Anniversary Edition) • Nixon (Election Year Edition)
Vietnam War: Full Metal Jacket • Hearts of Darkness: A Filmmaker's Apocalypse • Good Morning, Vietnam • Forrest Gump
War: Paths of Glory • Red Dawn • The Thin Red Line • Tropic Thunder • Miracle at St. Anna • The Hurt Locker
New to DVD: The Murder of Mary Phagan • A Thousand Clowns • Growing Pains: The Complete Second Season

Platoon Music List (in order of use): George Delerue - "Adagio for Strings", Jefferson Airplane - "White Rabbit",
Merle Haggard - "Okie from Muskogee", Smokey Robinson and The Miracles - "Tracks of My Tears"

Platoon: Original Motion Picture Soundtrack and Songs from the Era:
Buy CD from Amazon.com • Download MP3s from Amazon.com • Download on iTunes
DVDizzy.com | DVD and Blu-ray Reviews | New and Upcoming DVD & Blu-ray Schedule | Upcoming Cover Art | Search This Site
Search This Site:
DVDizzy.com Top Stories:
Reviewed May 25, 2011.


Text copyright 2011 DVDizzy.com. Images copyright 1986 Orion Pictures, Hemdale Film Corporation, 2000-11 Metro Goldwyn Mayer/MGM Home Entertainment,
2006 Sony Pictures Home Entertainment, and 2011 20th Century Fox Home Entertainment. Unauthorized reproduction prohibited.