The first day of high school can be a pretty stressful experience for anyone -- the prospect of going from adored 8th grader to lowly freshman in a new place is bound to create some unease for most. For Will Stronghold (Michael Angarano), the young protagonist of Disney's Sky High, the new school is an institution for gifted adolescents, those who possess some superpower that most people could only dream of. There's even more anxiety for Will than your average teen because he is the son of two of the world's greatest superheroes and because he has yet to discover any powers of his own.

Though their cover is being a successful pair of real estate brokers, Will's parents are far more renowned for their secret identities, being the Commander (Kurt Russell) and Jetstream (Kelly Preston). For years, the pair have pooled their extraordinary strength and ability to fly, respectively, to ward off supervillains and save humanity whenever needed. They, especially the Commander, are excited for Will to attend their alma mater and to soon become

a part of their legacy as the greatest family of superheroes the world has ever known. But September has arrived, and teenaged Will has yet to inherit either one of his parents' superpowers, raising anxiety to high levels even for someone in the puberty demographic.

While it resides in the sky and accepts only students who boast some kind of powers, Sky High is a lot like any high school. There are cliques, bullies, and gym class is every bit as uncomfortable as many might remember it. Will has a couple of familiar faces in the freshman student body: Earth-conscious Layla (Danielle Panabaker) has been his best friend since childhood, and pseudo-homeboy Zach (Nicholas Braun) knows him as well. As things would have it, the three of them and their two new acquaintances -- the melting Ethan (Dee-Jay Daniels) and Magenta (Kelly Vitz), who can transform into a guinea pig -- are all deemed sidekicks by the tough-talking Coach Boomer (Bruce Campbell). The official term for their tract is "hero support", but there seems no question that this is the less desired of two routes Sky High students can take.
As if being labeled a sidekick and told by the school nurse (Cloris Leachman) that he might never develop any special powers weren't bad enough, Will's first day is further marked by scowls from a long-haired, leather-jacket wearing freshman named Warren Peace (Steven Strait), whose name underscores his complicated origins as the son of a superhero mother and a supervillain father. The fact that his father was put in jail by the Commander has the fire-throwing Warren taking an immediate disliking to Will.
With its somewhat awkward lead character balancing typical teenager problems with larger-than-life flare-ups, Sky High delivers a surprisingly effective marriage of the high school film with the superhero spectacle. It is consistently clever, regularly funny, and ceaselessly entertaining, avoiding its share of formulas while embracing plenty of others in a good-natured, tongue-in-cheek fashion. Such praise is about the last thing I expected to dish out for this film in seeing its trailer and Internet ad campaign, which made it look both shamelessly derivative and helplessly cheesy. What's odd is I can't fault the trailer for misrepresenting the film, merely for failing to showcase its originality and winning design. Unappealing marketing did not dissuade moveigoing audiences, as the Sky High boasted strong legs at the box office, turning it into a nice mid-sized hit which outperformed a number of summer releases that held far higher hopes, such as Cinderella Man, Bewitched, and Kingdom of Heaven.
To be fair, Sky High's premise isn't brimming with originality. The academy calls to mind the setting for J.K. Rowling's Harry Potter books and their beloved big screen adaptations, while the superhero comedy angle comes much in the vein of Pixar's blockbuster The Incredibles. The DVD cover suggests Disney is embracing both of these connections by quoting a New York Times critic's assessment: "A clever hybrid of Harry Potter and The Incredibles!" The titular institution even more closely calls to mind X-Men's school operated by Professor Xavier. All these parallels remarkably do not hinder Sky High, which really plays its setting for laughs while avoiding parody almost altogether.
The cast of Sky High is, with little exception, superb. It is comprised of an unusual mix. Half of it is mostly newcomer young actors. The other half is an impressively large roster of well-known adults, including some cult icons. They mesh perfectly and the sharp division that should be present never emerges. With this, his 11th theatrically-released Disney movie, Kurt Russell one-ups Dean Jones as the studio's most frequently appearing live action male lead. Thematically, Sky High is about as close to the wacky Disney comedies he made in the '60s and '70s (resilient light-hearted works

like The Barefoot Executive and The Strongest Man in the World, a title which can be applied to his character here) as he has come and his skillful performance makes it a happy return to humor.

Other standout turns from the more experienced portion of the cast come from Bruce Campbell (the Evil Dead trilogy) as the realistic brutish gym teacher, Dave Foley ("NewsRadio", A Bug's Life) as the peppy sidekick teacher Mr. Boy, Lynda Carter ("Wonder Woman") as Principal Powers, and Cloris Leachman as the goofy Nurse Spex. Of the younger actors, Michael Angarano makes for a sympathetic protagonist even when his character errs, Mary Elizabeth Winstead aptly plays an upperclassman dream girl, Steven Strait makes his conflicted Warren Peace more than a one-note villain, and Nicholas Braun shows off some fine comedic timing as lightly-glowing Zach. And somewhere in between, Kevin Heffernan makes school bus driver Ron Wilson a fun underdog.

Sky High's problems are few and infrequent. The film does usher in more than a little predictability; the clues to its twists could use a bit more subtlety for adult viewers. These hints, however, should successfully lead on younger viewers without giving any late-movie surprises away. Ultimately, knowing Sky High's climactic reveals ahead of time only robs the climactic sequences of potency and it does so minimally. As far as action film finales go, this is neither overly contrived nor painful, which is nice, since Disney's three previous live action releases of 2005 (The Pacifier, Ice Princess, and Herbie: Fully Loaded) all left a fair amount to be desired in their big concluding numbers.
Overall, Sky High offers a generally good time. It may consistently remind you of films which made a greater first impression, but give it a few years to age and I think it could be remembered nearly as fondly as those, even becoming a cult hit the way something like The Goonies did. Though Richard Donner's adolescent adventure is distant thematically, its decade of origin is constantly summoned due to a soundtrack comprised of covers of 1980s songs. In turn, that seems to inevitably trigger an angst-y John Hughes feel which is quite welcome. Sky High also calls to mind those much-appreciated Hughes comedies with its depiction of high school: not realistic but far from phony. Aside from a few noteworthy exceptions, it seems like a long time since such an earnest approach was taken for a high school film's setting and Sky High's posters and promos probably make you think it'd be the last place you'd find it. But that's not true, and this nature of the film ensures that even if colorful superheroes and effects-laced action aren't your thing, you'll probably still enjoy Sky High quite a bit.
DVD Details

2.35:1 Anamorphic Widescreen
Dolby Digital 5.1 (English, French, Spanish)
Subtitles: English, French; Closed Captioned
Release Date: November 29, 2005
Single-sided, dual-layered disc (DVD-9)
Suggested Retail Price: $29.99
White Keepcase
VIDEO and AUDIO
Sky High is still playing in theaters, so it's not terribly surprising that it looks fantastic on DVD. The colorful but not oversaturated palette is perfectly displayed in this completely satisfying 2.35:1 anamorphic widescreen presentation, which matches the aspect ratio of its cinematic presentation. The element is clean, the picture is finely detailed, edge enhancement and any other artifacts are absent, contrast is good. In short, there's positively no reason to complain or for me to keep writing. (A sure-to-be-unsightly 1.33:1 compromised version of the film is sold separately, marked by a blue bordered cover.)
Audio is offered in Dolby Digital 5.1 and it mostly delivers the potent superhero experience you'd expect. The aforementioned soundtrack of '80s covers is capably delivered, as is the fine score by Michael Giacchino (The Incredibles). There's a solid amount of bass and some stellar directionality to the sound design. Some may be disappointed that DTS has not been offered - it's the rare live action film Disney treats to the less compressive format - and such an inclusion may have amounted to an even more robust presentation. But this Dolby Digital track is outstanding on its own merits and doesn't disappoint in any way.
BONUS FEATURES
Coming in the wake of the only slightly better performing Herbie: Fully Loaded, Sky High pales to its fellow Disney summer comedy in the bonus features department.
An alternate opening (3:20) shows the Commander and Jetstream in action in 1985, reuniting for the first time since Sky High and facing off with Royal Pain. Excerpted as a flashback in the actual film, it's fun to see in full (who doesn't want to watch Dave Foley functioning as costumed sidekick?), but probably not the best way to open the film as it would only telegraph all the more where the film is ultimately heading.
"Super Bloopers" (4:19) offers a fair share of amusing outtakes, including Michael Angarano's post-kiss antics, and Kurt Russell's infectious scene-stopping laughter. Like most blooper reels, it's worth a viewing.
As has often been the case lately, "Music & More" provides just music. Specifically, it's a music video (4:00) of Bowling for Soup's "I Melt With You", the end credits cover of the early-'80s tune made famous by Modern English. The band's rendition and music video are fine though unspectacular. The latter features a fair amount of clips from the film and a bit of tryout scenes inspired by Sky High's gym class scenes and/or Back to the Future. Kelly Vitz (Magenta) appears near the end.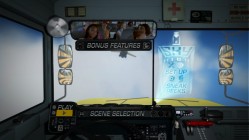 As usual, the most substantial supplements reside in the "Backstage Disney" section. "Welcome to Sky High" (15:19) is a general production featurette, which is slightly funnier than most and includes some interesting behind-the-scenes footage, primarily of the young cast (including their time in the lunch tent and school trailer) and bald director Mike Mitchell. Less compelling is "Breaking Down Walls: The Stunts of Sky High" (7:00) which illustrates how a number of key action sequences for the film were pulled off, occasionally with stunt men but more often with the young actors themselves.
Sneak peeks play at the beginning of the disc for the upcoming Lady and the Tramp DVD re-release, plus theatrical sports dramas Glory Road and The Greatest Game Ever Played. The Sneak Peeks menu holds additional promos for Once Upon a Mattress, The Proud Family Movie/"That's So Raven": Raven's House Party, Toy Story 2: 2-Disc Special Edition, and "Kim Possible" on the Disney Channel.
The 16x9-enhanced menus aren't as clever or eye-catching as they could have been, but they are fully serviceable and elaborate enough. The animated Main Menu showcases the front windshield of the airborne Sky High school bus. The Bonus Features menu is animated with flames; the rest are merely static but accompanied by a single portion of Michael Giacchino's score. There's not much particularly special about the DVD's packaging - Sky High comes in a white keepcase with only a double-sided insert (half scene selections and extras listing, half advertisements for other Disney DVDs). At least the disc boasts a sort of a holographic blue background.
CLOSING THOUGHTS
Though fans will likely wish there was more in the way of bonus features, Sky High garners a recommendation on the strengths of the fun film at the disc's center. Against my expectations, I found it to be the best movie Disney has released in 2005 thus far, with appeal far beyond the comic/superhero fan and teenage-and-under audiences one might perceive it being tailored to. Clever, funny, highly entertaining, and terrifically presented on disc, Sky High will please most who like watching movies and makes for a nice addition to any DVD collection.