Wild Hearts Can't Be Broken is a movie which had it been condensed at the good-for-giggles website Movie-A-Minute would seem especially outlandish. In fact, even by a lengthier account of its premise, this 1991 live action Disney film would not sound very appealing to most people, including myself. Somehow, though, its restrained, inviting execution conquers most viewers in a more than satisfactory fashion.

Proving that real life can often be stranger and more compelling than fiction, Wild Hearts is actually based on the true story of Sonora Webster. Disney's version begins in 1932, with the world in the midst of the Great Depression and an orphaned, seemingly teenaged Sonora (played by Gabrielle Anwar) experiencing an adolescence of little glee. Having an unfriendly aunt as her guardian, mean-spirited children as her schoolmates, and a strong will

to stand up for herself, the only joy Sonora finds in her small town Texas life is from a horse named Lightning. A school suspension and sale of Lightning later, Aunt Helen (Lisa Norman) announces that she is ready to free herself from responsibility and turn Sonora over to the state. Harboring a mutual sentiment, Sonora beats her aunt to the punch and runs away.

Like any good orphaned runaway in the olden days, Sonora finds her way to the circus, with her intention being to apply for the position of "horse diver" that she learned about from a magazine ad. Her plans hit a snag when the man filling the position, Dr. Carver (Cliff Robertson), turns her down as being too small and lacking what it takes, so to speak. But Sonora's persistence proves too much for an altogether dismissal, and Carver hires her in an unglamorous assistant role. Sonora gets to be one of a handful people in Carver's party who follow the circus around to put on the unique show of an equine plunging into a pool of water from a high altitude platform. Meanwhile, on the downlow, Carver's good-looking, underappreciated son Al (Michael Schoeffling, best known as Jake Ryan of Sixteen Candles) begins training Sonora for the lead human role in the act, one already held by the semi-conceited Marie (Kathleen York).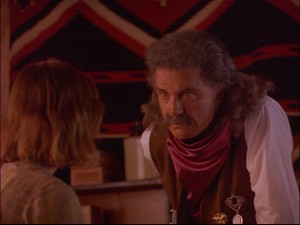 What emerges more than just a typical individual-training-for-sport movie is an interesting human drama, one with an effectiveness that is hard to pinpoint and a magnetism that is undeniable. Being structured as an inspirational story, there is little surprise that the likable protagonist does indeed secure a chance to shine, but this knowledge does not render her journey any less enjoyable for the viewer. Meanwhile, there is a budding romance, a strained father/son relationship, tragedy, and more tragedy. Along the way, of course, there are triumphs, ones which rarely register as huge and which offer the most joy when experienced without foreknowledge. So, I'll keep those, most of which are foreshadowed plenty, unrevealed in the event that the reader has yet to see the movie and wants to celebrate as if they had no idea what was to happen next.
A simple, low-key drama such as Wild Hearts which is designed to have you merely invest in characters and absorb yourself in their trials is hard to dislike when done right. That is the case here. There is not too much that is exceptional about the script, direction, or efforts to convey Depression Era America. They are all up to par, but not particularly worth singling out as integral to the film's skill. While the nature of the proceedings (which some may label "formulaic") makes the movie more apt to be labeled one's "favorite" than "an outstanding piece of cinema", it truly does succeed in one of the most basic ways that film can, by hooking you in emotionally with tact, not force.
Wild Hearts is not without its flaws, to be sure. Perhaps the most offensive trait of the movie is its frustrating reliance on dramatic irony. It effectively leaves the characters stones the audience anticipates to be turned over, but outside of fleshing out the appropriately brief 89-minute running time, this does not seem to serve any greater good. Others may see the film's employment of this device as part of a greater manipulation on the heartstrings, but you would have to be extremely cynical to register that point. I found it to be one of the more adept family-oriented dramas at respecting its audience's agency and intelligence.
Deserving credit for keeping the movie light on its feet and easy to root for are a couple of standouts in the small serviceable cast. In the lead role, Gabrielle Anwar delivers what is needed and underscores her character's drive without coming off as a carbon copy of any girl protagonist. Unfortunately, the promising young British actress has never quite "made it" in Hollywood terms, despite remaining active in the fifteen years since, albeit predominantly in television movies, series, and miniseries. That is more than what can be said about male lead Michael Schoeffling, who gives Al a sincerity and, I think, a deliberate stiffness. Schoeffling made this the final performance of a noteworthy 10-film, 7-year career and is reportedly leading a quiet life as a Pennsylvanian carpenter to rampant Internet speculation over his disappearance. Oscar winner Cliff Robertson does fine, but his full mustache and mullet look are about the most remarkable things about his gruff role. On the other hand, Dylan Kussman and Kathleen York get decent mileage out of their small supporting performances.
The real Sonora Webster, who really did pursue her career beyond suffering the tragedy depicted in the film's near-climax, died just a couple of years ago in September 2003, at the age of 99. Her 1961 autobiography is not credited as a source but surely it must have guided a film on her story more than anything else. Unfortunately, it has long gone out of print, has yet to see a second edition, and fetches ridiculous prices on the second-hand market. As is to be expected, the film takes some liberties in telling Sonora's tale, namely by condensing events that took place over several years into a productive span at the budding of her womanhood.
DVD Details

1.33:1 Reformatted Fullscreen
Dolby Surround 2.0 (English)
Subtitles: English; Closed Captioned
Release Date: January 17, 2006
Single-sided, single-layered disc (DVD-5)
Suggested Retail Price: $19.99
White Keepcase with Side Snaps
VIDEO and AUDIO

Wild Hearts Can't Be Broken is presented not in anamorphic widescreen like it was in the parts of the world where it was released to DVD first, but in a reformatted 1.33:1 fullscreen transfer as it was for its Disney Movie Club DVD debut last year. As this film was in theaters a mere fifteen years ago, there is no element of uncertainty as there is on some older live action films; the film was shot for the 1.85:1 widescreen aspect ratio and thus exhibited that way in cinemas. A comparison

with screencaps from the 16x9 Region 2 DVD reveals that this Region 1 transfer is actually open matte. You're missing a bit of picture on the sides, and gaining a bit more than intended at the top and bottom. Most of the time, this yields an excess of space vertically. Other times, the action is close enough to the edges that you suspect cropping of the width had to be done to obtain the frame. Either way, it's darn depressing when movies don't get to come to DVD in the dimensions they were carefully framed for and that's especially true when the subject is nicely photographed, as this one is.

Picture quality isn't too bad aside from the poor framing. There are some scratches and other marks which mar the print from time to time, but only to a minor degree. A bigger issue seems to be the film's softness, which could well be a stylistic choice. It's likely that so is the golden-tinted, sun-drenched photography, which leaves colors looking unnatural but nice. While I'm sure that the filmmakers intentionally sought out a highlight-heavy nostalgic touch to the visuals, I'm not convinced the transfer perfectly achieves it, which isn't a big surprise based on the thrifty treatment.

As far as sound goes, the disc is equipped with merely a Dolby Surround track in the English language. Fortunately, there's less to lament here. The vintage-esque score and period-style music effectively contribute to the movie's setting of simpler (and somewhat attractive, despite that whole Depression thing) times. The rear channel capitalizes upon those aspects as well as atmospheric effects in this predominantly outdoors-set production. Dialogue is usually quite discernible and if you find that not to be the case, English subtitles are there for your aid. Maybe it's simply because aural shortcomings aren't as easy to pinpoint, but I found the sound presentation to be quite dandy.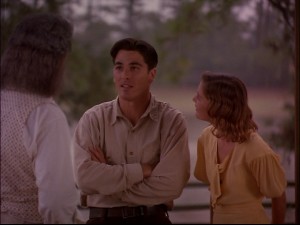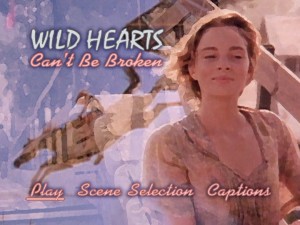 BONUS FEATURES, MENUS and DESIGN
There are no bonus features to be found, not even previews of other Disney properties. Nor is there colorful disc art, leading me to suspect that this disc is identical to the Disney Movie Club Exclusive DVD made available last March, simply packaged in a standardized Disney DVD keepcase with slightly different cover art. At least there are a chapter insert and menu, luxuries not afforded to subsequent DMC exclusives. The menus are about as basic as possible, a straightforward cropping of the International DVD menus, boasting a small excerpt of the old fashioned score and imagery that has been inexplicably "enhanced" by a basic Photoshop effect filter.
The movie would have really benefited from some bonus material, even old, easily-obtainable stuff like the original trailer, an EPK featurette for the theatrical release, or deleted scenes (if they exist, and I get the feeling they do). New retrospection would have been welcome as well, and clearly, fifteen years is enough distance to introduce nostalgia from the cast participants. I particularly would have liked to learn more about the real life Sonora Webster, which is not something easily achieved otherwise. Do an Internet search and you'll find her obituary and the odd article, but little more and unless you feel like parting with several hundred dollars, that out-of-print autobiography is no easy read.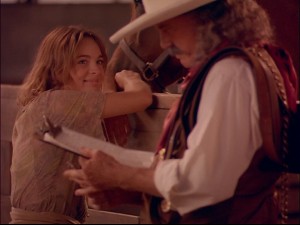 CLOSING THOUGHTS
Though it doesn't have the flashiness or high box office gross that Disney's more marketable live action films may have, Wild Hearts Can't Be Broken has won over a remarkable number of people with its simple but heartfelt grounded-in-reality character drama. That's not bad for a movie that feels like it could have been made for television. Unfortunately, the film's long-awaited American retail DVD debut offers no justice for this respectable movie celebrating its fifteenth anniversary. Not only is there neither a bell nor whistle in sight, but the lackluster transfer reformats the movie to fill 4x3 televisions (an unacceptable practice most studios have wisely put to rest) and the $19.99 list price is high by today's standards for a 15-year-old movie on a vanilla disc.
With a 16x9 transfer and some supplements on the film and/or its real life inspirations, I'd have recommended anyone to go out of their way and pick this up, especially fans of live action Disney films. Instead, I'll have to remain split, encouraging those who haven't seen it to check out this movie, while suggesting those who are among its fans to either import a widescreen disc from overseas or hold off purchasing until better treatment arrives. If you've waited this long for it to come to DVD, you'd be just as apt to wait for the next home video format to pose an opportunity for the worthier presentation this film deserves.