For four seasons in the mid-1990s, the hit sitcom "Seinfeld" ranked either first or second in viewership among all television programs. For Jerry Seinfeld, playing a character modeled after himself on this namesake show he co-created surely translated to plenty of money, power, and job offers. Like his fellow stand-up comedians-turned-'90s TV stars Tim Allen and Paul Reiser, Seinfeld got a swell salary, a producer's credit, and a chance to pen a bestselling nonfiction book. Unlike those two, though, Seinfeld never pursued a movie career.

That's putting it lightly. Jerry's three leading "Seinfeld" co-stars got some notable roles here and there, mostly in forgettable comic fare. But the eponymous middle-aged everyman did nothing for film or television where he wasn't playing himself.

That changed last year, when finally the "Actor" section of the 53-year-old Seinfeld's IMDb profile gained a finished project. His post-"Seinfeld" items include his important role as "Prison Man #2" in a direct-to-video Larry Miller movie and guest voice-over in a 2000 "Dilbert" episode. But, for all intents and purposes, Bee Movie marks Jerry Seinfeld's long-overdue return to the industry that made him a household name.

Arriving at a time when "Seinfeld" is still rampantly syndicated, Bee Movie is the ninth computer-animated comedy released by DreamWorks. Star voice talent is nothing new for the studio, but Seinfeld's participation on Bee Movie is unique; he is the top-billed writer and producer as well. That may be lost on the average credit-ignoring viewer. But even members of that class who somehow missed one of the most extensive advertising campaigns of all-time (certainly the most celebrity-oriented for an animated film) would be sure to recognize the voice and stylings behind the film's lead character; Barry B. Benson is essentially Jerry Seinfeld, if Seinfeld were a talking honey bee.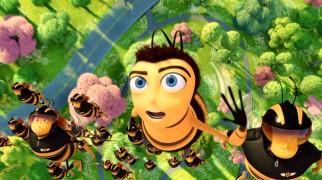 Bee Movie feels like it could so easily be a 4-episode television series. That is not because of low production values or inferior quality, but because structurally it is comprised of four distinct parts, roughly 20 minutes each, which take the film in different directions. The pieces fit together well enough for a cohesive single narrative, but the odd shifts of interest lead one to imagine that DreamWorks split their resources into four groups and each were responsible for making an entertaining quarter-film. There's no basis whatsoever to suggest that's how Bee Movie was made, but most viewers are likely to detect the fragmented manner of storytelling.

The film's opening introduces us to Barry, on what is college graduation day for him and his friend/cousin Adam Flayman (Matthew Broderick). These early sequences suggest that we're going to see a lot of bee equivalents of human phenomena, much like Shark Tale did for underwater creatures,

Pixar's A Bug's Life did for insects, and Blue Sky's Robots did for mechanical beings. Fresh out of school, Barry, Adam, and their fellow graduates seem able to choose from many paths, all of them at honey manufacturing corporation Honex, whose orientation looks and sounds a lot like a theme park ride. Pressured with having to choose a single job that he'll have to do every day for the rest of his life, Barry decides to wander off and join the "Pollen Jocks" on one of their exciting runs outside the hive.

Their routine adventure takes Barry to New York City, where an errant tennis ball and some sudden chaos lead him inside an apartment. There, after the human resident Vanessa (Renιe Zellweger) spares his life, Barry feels indebted to thank her. He breaks a cardinal rule for his kind by talking to a human, but soon Vanessa and he are bonding. Cleverly recalling The Graduate, the movie watches Barry revel in this new relationship as the worries of uncertainty fade away.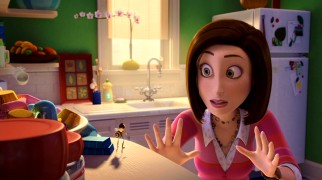 A visit to the grocery store moves the film to change gears again. Upon learning that humans consume honey, Barry is determined to put a stop to a practice he finds reprehensible. He decides to do a modern thing: sue. The third act becomes a courtroom drama (in the loosest sense), as Barry, Adam, and Vanessa team up against a bombastic Southern lawyer (John Goodman). Tactical questioning, celebrity witnesses, and media attention add up to closely-watched trial with big consequences.
Once the decision is reached, we enter the fourth and final stage. Here, the film becomes rather educational as it questions the very nature of bees and their function on Earth. Though excitement inevitably arises, Bee Movie doesn't force an obligatory action climax upon us, instead maintaining the light and pleasant tone held throughout regardless of its varying focus.
Most critics weren't too crazy about Bee Movie, but I'd be lying if I joined them and claimed I didn't like it. Through every one of its phases, the film is diverting and witty. Like many a DreamWorks cartoon, the humor often has adults in mind, but there isn't an uneasy divide among target audience. While most kids won't understand the animated appearances of Ray Liotta, Sting, and "Bee" Larry King, adults will and they're mined for bigger laughs than, say, the innuendo in Shrek films. The comedy has some of Jerry Seinfeld's imprint on it, but not to excess; fans will notice his mark (and might even see Elaine, George, and Newman in some of the parts), while those who aren't won't be shut out. In short, the film is funny without consciously trying to be safe for children and edgy for grownups.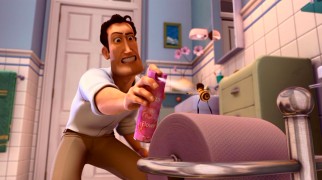 In addition, the movie is appealing visually. There's warmth to the bright, cartoony designs, the various environments are impressively realized, and one finds a number of inspired framing choices. I also feel that the movie does an impressive job of incorporating real aspects of bee life into the plot in a way that disperses scientific knowledge without feeling anything like a lesson.

My post-viewing research discovered that certain experts (most notably, a Pulitzer Prize-winning entomologist) took issue with the liberties taken. That doesn't really change my view on the film's value in this regard.

Despite the colossal marketing budget, Bee Movie added to the downward slide in attendance that CG-animated films have been experiencing over the past three years. Its $126 million domestic gross placed it 21st among all 2007 releases and the earnings more than doubled when foreign markets are counted. Consider the $150 million production costs and the fact that Bee's intake pales to comparable DreamWorks hits like Over the Hedge and Shark Tale and you'll see the movie wasn't quite the popular success it hoped to be.

After four months in theaters, Bee Movie came to DVD this week in three separate flavors. (A fourth release was cancelled just a few weeks ago when it became clear that DreamWorks/Paramount's preferred next-generation format HD DVD had no future.) Most readily found is a single-disc version released in Full Screen and Widescreen formats. Then, there is A Very Jerry 2-Disc Edition, the subject of this review which carries a list price $7 higher. Read on to find out what's gained and retained in this double-disc set.
DVD Details

1.78:1 Anamorphic Widescreen
Dolby Digital 5.1 Surround (English, French),
Dolby Digital Surround (English, Spanish)
Subtitles: English, French, Spanish
Closed Captioned; Most Extras Subtitled
Release Date: March 11, 2008
Two single-sided discs (DVD-9 & DVD-5)
Suggested Retail Price: $36.98
Black Keepcase
Also available in 1-Disc Widescreen Edition and Fullscreen Edition DVDs and on Blu-ray
VIDEO and AUDIO
Like your typical 21st century animated feature, Bee Movie comes to DVD directly from computers. The digital transfer is, by definition, flawless. The 1.78:1 16x9-enhanced widescreen transfer indeed dazzles and while the film's visuals aren't as stunning as some other CGI cartoons, they're easy on the eyes and filled with vivid, pleasing colors.
A quartet of audio options is provided (see the table above). The default and most important one is a Dolby Digital 5.1 English track which definitely meets one's expectations with crisp sounds and an appropriately engulfing design. A DTS track might have been a nice addition, but it's not overly missed as the film's mix isn't the most aggressive or demanding.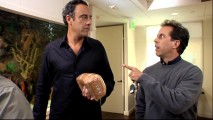 BONUS FEATURES

Nowadays, when a movie debuts simultaneously in 1-disc and 2-disc versions, the 2-disc often merely tacks on a bonus disc.

That is not the case for Bee Movie, which puts its exclusive supplements on Disc 1. Aside from the "Inside the Hive" voice cast featurette and the "Previews" section, everything on Disc 1 is only available on this 2-Disc DVD.

Disc 1's extras begin with a feature audio commentary by Jerry Seinfeld, co-writer Barry Marder, co-producer Christina Steinberg, directors Simon J. Smith & Steven Hickner, and editor Nick Fletcher. Like most big group commentaries, this one is active and jovial. There's a lot of information given about the movie's creation and development (many abandoned concepts are discussed), though there are a number of interesting detours too (on subjects like autobiography titles and great food combinations). In all, it's a pretty fun listen, though one which stops abruptly before the 8-minute end credits scroll.

Three "Lost Scenes" (5:00) are edited together from enough storyboards to feel animated. An alternate opening finds Barry given an interview and tour at Honex. In the second deletion, Barry meets with the Queen Bee (voiced by Megan Mullally), who has plans for him. The third cut brings back Ray Liotta, thinly disguised as a stewardess, to serve as another in-flight obstacle. The scenes are preceded by audio introductions from Seinfeld.

A whopping six Alternate Endings (14:35) follow. These are presented in the same live storyboard format with Seinfeld intros. All six consider the leads' romantic futures, with variations on the final destination. In assessing the "love triangle" of Barry, Vanessa, and Ken, one sends Barry into outer space, two set up a wedding, and most agree that Barry and Vanessa are right for each other in some way.

Next come 16 "TV Juniors" (23:20), Seinfeld-hosted interstitials that are a lot more enjoyable when they're not turning up every commercial break on NBC. Each spot runs about 90 seconds and takes a soft sell approach. Among the more inspired random topics: Jerry's first meeting at DreamWorks, Brad Garrett discussing his pitch for a bread movie, cracking down on bootlegs, making voice acting easy for Patrick Warburton and Ray Liotta, and discussing similar projects at competing studios. Clearly intended for adult viewers, these promos contain good-natured ribs at the expense of DreamWorks, animation clichιs, and the movie industry.
Under "Live-Action Trailers", we get two amusing Bee Movie previews with Jerry Seinfeld costumed as a bee. In "Windshield" (1:50), he is joined by Chris Rock and other actors in taking direction from Eddie Izzard. In "Steven" (2:15), Jerry pleads with producer Steven Spielberg for help after struggling on a solo scene.
"Jerry's Flight Over Cannes" (3:00) documents the publicity stunt Seinfeld made at the French film festival last May, with a pulley system, giant bee costume, and some help from Chris Rock.
The title "Inside the Hive: The Cast of Bee Movie" (14:40) suggests a name-dropping compilation of the celebrity voice actors. The featurette is that (overemphasizing some minor contributions), but there are also some interesting grander observations made about the film.
Closing the first disc, "Previews" gives us a trailer for Kung Fu Panda, a short Ben Stiller-hosted look at sequel Madagascar: The Crate Escape, and promos for The Spiderwick Chronicles and Activision's Kung Fu Panda video game. The first three play automatically when the disc is loaded.
Disc 2's bonuses, all of which are found on the single-disc versions, are divided into two areas. Plain ole' Special Features gives us four items.
"Tech of Bee Movie" (7:30) lives up to its name with a brisk look at the technique and technology behind the film. Attention is given to certain production achievements (like Jerry Seinfeld being able to participate from New York via the magic of complex video conferencing) and animation challenges (depicting honey, rendering "bum fur") experienced on the film, though the citations of corporate partners feels forced.
"Meet Barry B. Benson" is an interactive feature in which you can choose from eleven questions to ask the film's protagonist, which he answers in 15-30 seconds mixing unique interview animation with movie clips.
The "We Got the Bee" (2:10) music video is a fairly odd thing. It features dozens of young bee enthusiasts painting Manhattan yellow & back, spreading the word, and briefly joining Jerry Seinfeld at Shea Stadium. Though the song, a cover of the early-'80s Go-Go's hit "We Got the Beat", is unattributed, a Google search revealed it's performed by Alice Cohen with Hudson Soundlab NYC.
The DreamWorks Animation Jukebox is nearly identical to its appearance on Shrek the Third's DVD, only adding a song from that movie. Those who don't own that disc and the other sampled films may be pleased to get 1-2-minute musical numbers from all three Shrek films, Flushed Away, Over the Hedge, Madagascar, and Shark Tale. I'm sure the studio hopes this encourages rentals and purchases of the featured films.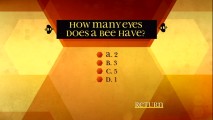 DreamWorks Kids holds the remaining extras, which as you'd guess, are aimed primarily at the young'uns.
The 7-minute featurette "The Buzz About Bees" dispatches facts and figures about honey bees, including tips and a project to make life better for them.
The Ow! Meter discusses 5 types of bees and rates the pain humans feel getting stung by each. It also discusses and rates the pain bees feel from human devices like boots and magazines. The section wraps with a trio of tips to avoid a stinging incident.
"That's Un-Bee-lievable!" is a lengthy game of bee trivia which is sure to teach you a few things, no matter how old you are.
The tedious quiz "Be a Bee" asks about a dozen multiple choice questions on your hobbies and interests. It uses your answers to tell you your perfect match of a job at Honex, without much evident logic.
The challenging "Pollination Practice" game lets you specify the aim and power of your weapon as you try to hit flowers with pollen. It requires patience and guesswork.
Lastly, there is a fair amount of DVD-ROM content, which gladly doesn't require one to fuss with Interactual Player. Instead, upon inserting the disc into an able computer, a webpage loads letting you choose from four options. As far as printable PDF files, there are six bee character Coloring Pages, five Honey Recipes (for sweet snacks like ice pops, smoothies, and dips), and three colorful Sudoku Game grids. PC users can also enjoy a Bee Movie Activision game demo, which treats you to a fun, exciting level guiding Barry through close calls with city street and sidewalk traffic.
MENUS and PACKAGING
The animated menus feature nice stylized 2-D imagery of busy bees inspired by the zigzagging end credits. Spinning honeycomb cells move, while bees float here and there. Aside from the listings offered, the two discs' menus are identical.
With a disc claiming each side of the inner keepcase, there's not any good place for an insert, but the only thing found is a couple of coupons for token/food deals at Chuck E. Cheese's.
CLOSING THOUGHTS

Bee Movie doesn't depart from too many DreamWorks conventions; there are jokes aimed at adults, pop culture references, and star voice casting where it's not needed. Nevertheless, it's a fun, funny, and pleasant movie which stands strongly enough to distinguish itself from lesser CG-animated comedies. I'd rank this in the mid-to-high range of the studio's canon. It's no classic and would have seemed more remarkable before CGI comedies were everywhere, but it's definitely still entertaining enough to check out.

Despite the silly moniker, DreamWorks has put together a pretty nice 2-disc DVD for Bee Movie. Unfortunately, you'll either have to pay about $10 (post-price cut, $20) more than you should

or settle for the single-disc version that drops nearly all the best bonus features. For anyone old enough to read this review, the "TV Juniors" shorts, audio commentary, deleted scenes, and alternate endings all certainly hold more value than the single-disc's slate of predominantly kid-friendly games and activities.

It's tough to recommend the 2-disc edition in light of the considerable price difference. Those who must have it all will go this way, whereas those less enamored with bonus features might be fine to buy the standard DVD and rent the 2-disc. It's nice of the studio to give the customer a choice for a better DVD (something Disney and Fox didn't do for Ratatouille and The Simpsons Movie, respectively), but the days when two-disc sets didn't fetch premium prices are certainly missed. No matter what way you go, Bee Movie deserves to be seen and, perhaps, purchased.

Buy Bee Movie on DVD from Amazon.com:
A Very Jerry 2-Disc Edition / 1-Disc Widescreen Edition / 1-Disc Fullscreen Edition / Blu-ray