Though they didn't make their debut until three years after Toy Story premiered, DreamWorks Animation has now produced two movies for every one by Pixar.

The gap widened last year when DreamWorks put out a record three movies in eight months; Pixar has yet to release two films in the same year, although that is their plan for 2012.

Megamind, DreamWorks' latest film, takes us to Metro City, a place protected by superhero Metro Man (voiced by Brad Pitt) and threatened by the titular supervillain (voiced by Will Ferrell). These two have a long-standing rivalry. As a baby, bald blue alien Megamind was narrowly saved from his planet's destruction and sent to Earth. The infant was bumped off his course to a wealthy nurturing family, who instead wound up adopting more anthropomorphic child Metro Man. Megamind is raised inside a prison, where his fellow inmates scramble his moral code. As classmates in school, Megamind and Metro Man clash, with the brawny hero's powers always triumphing over the scrawny villain's showy but unthreatening displays.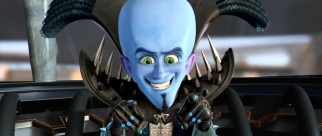 Now in adulthood, Metro Man's temples may be graying, but he still rules the town, keeping citizens safe from oft-incarcerated Megamind's half-baked plans and happily accepting public adoration. But, on the day of a Metro Man museum dedication ceremony, Megamind uses his powers of disguise to escape prison, kidnap ace TV reporter Roxanne Ritchi (Tina Fey) and hold her hostage in his evil lair. Flying off to save the day as usual, Metro Man is surprised to discover copper, his secret kryptonite, a part of Megamind's mispronounced mayhem. Against all expectation, Metro Man is eliminated and Metro City suddenly belongs to Megamind.
Such an outcome has never been seriously considered by the villain and he is at a loss to govern the dejected people. Laying bigger issues aside, Megamind stumbles on a way to woo Roxanne, by assuming the appearance of a nerdy museum curator named Bernard (briefly voiced by Ben Stiller). As their romance begins to bloom, Megamind finds himself having to do double duty, assuming the dastardly airs of himself and the charming ones of his "Bernard." In the process, Roxanne's infatuated cameraman Hal (Jonah Hill) gets injected with a serum, going from schlub to superhero. The plan for Hal to be a formidable foe for Megamind to conquer backfires when the cameraman's new persona Titan/Tighten proves unexpectedly powerful.
You may be tempted to compare Megamind to Pixar's The Incredibles. After all, despite the differences in turnaround time and accolades, the rival studios have found common ground in commercial success and the ability to entertain audiences beyond the children for whom cartoons are ostensibly made. The similarities between Megamind and The Incredibles are not all that great; the settings are about as alike as those of Antz and A Bug's Life and those of Shark Tale and Finding Nemo.

Even while sharing a visual style and some character design (inevitably, since The Incredibles leaned heavily on a long tradition of comic book superheroes and villains), Megamind diverges from Pixar's film narratively as drastically as those earlier counterparts did.

Nevertheless, it's a fascinating exercise to line one up against the other, to demonstrate just how fundamentally different the two companies at the forefront of the ongoing computer animation boom operate. The Incredibles, written and directed by Brad Bird, served up something of a definitive superhero tale, using an average family with extraordinary gifts to comment on modern standards and mining the rich history of superhero fiction for endless laughs and excitement. It has unforgettable characters, a dynamic design, an exuberant score, sharp dialogue, and a mature, complex story. I don't hesitate to call it one of the greatest films of this young century.

Megamind's ambitions are nowhere near as lofty. It sets out to supply an hour and a half that will be deemed enjoyable by most viewers of any age. Per DreamWorks' methods, the characters are voiced by A-list movie stars, the kind that would be welcome on any late night talk show couch to promote the film. The comedy neatly falls into two classes: broad antics that the young won't miss (and others too might enjoy) and gags aimed at teens and adults who will appreciate being kept in mind. Shepard Fairey's iconic Barack Obama poster is parodied along with an amusing twist on the president's campaign slogan. Mr. Miyagi makes an appearance. The soundtrack relies heavily on parent-friendly tunes from pop music's past; George Thorogood & the Destroyers' "Bad to the Bone", AC/DC's "Highway to Hell" and "Back in Black", ELO's "Mr. Blue Sky", Guns N' Roses' "Welcome to the Jungle", and Michael Jackson's "Bad" all feature prominently and meaningfully.

Sure, this film can be accused of pandering and short-sightedness as almost every DreamWorks Animation film can be; Kung Fu Panda and How to Train Your Dragon, two of the least chargeable of such qualities, have been elevated as the studio's most artistic works and most able to stand up to Pixar's fare. For now at least, it doesn't matter, because Megamind provides a good time with its winning humor, fine visuals, and satisfactory storytelling. In none of those areas does this film compare favorably to Pixar (and the scattershot storytelling in particular reveals the lack of laborious self-inspection), but that doesn't seem to be too pressing a concern to DreamWorks as they continue to churn out profitable and crowd-pleasing movies that are enjoyed the world over. Could Megamind have been better with, say, an additional year of fine-tuning? Sure. But it's good enough as is, and if it were being measured against all of cinema in a Pixar-less world, it'd attract a lot more praise.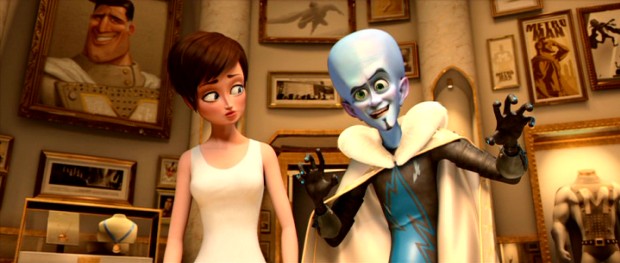 The first screenplay by comedy performer Brent Simons and Coen Brothers collaborator Alan J. Schoolcraft, Megamind is directed by Tom McGrath, one of the writers and directors of both Madagascar movies. This improves upon those zoo animal comedies and upon the most recent Shrek installments. Within DreamWorks' 21-film canon, I'd rank Megamind in the upper portion, although the studio's output is so generally and reliably middling, that it's tough to establish a really clear range of high and low points. On the similarities of their supervillain leads, I can state unequivocally that I found Megamind much more entertaining and sincere than Despicable Me, the debut release of Universal's Illumination Entertainment outfit that earned marginally better critical marks and considerably higher box office returns.

Those who had been following Megamind know that the film underwent some major changes in the years since it was first announced. It was once titled Oobermind and, before that, Master Mind. Before Will Ferrell was signed, Robert Downey Jr. was scheduled to voice the title character and had to drop out due to suspect "scheduling conflicts."

Along with Downey, Ben Stiller was in talks to play the hero that would come to be called Metro Man; as the film's executive producer, he instead settled for the small supporting role of Bernard.

Megamind performed at the lower end of DreamWorks' CGI films' box office range, grossing $148 million domestically, the studio's lowest number since Bee Movie's $127 M three years earlier. Looking over the records, the early November opening hasn't always been kind to the studio; in addition to the soft-performing Megamind and Bee Movie, that was also when Aardman mega-bomb Flushed Away debuted. While Madagascar: Escape 2 Africa fared alright there in 2008, it failed to match its predecessor's earnings despite a robust start. DreamWorks isn't giving up on November just yet; though the much-anticipated Kung Fu Panda 2 is opening on the more historically proven Memorial Day weekend, the Shrek spin-off Puss in Boots is slated to hit theaters on November 4th.

As they've been doing off and on for over six years now, DreamWorks avoids the typical Tuesday home video debut in favor of a less conventional weekend launch. Megamind hits stores today, Friday, February 25th, in three different versions: a standard single-disc DVD ($29.99 SRP), a two-disc Blu-ray + DVD combo Mega Double Pack ($49.99 SRP), and a Mega Double DVD Pack ($36.98 SRP). We take a look at the lattermost here. Though theatrically released in 3D and boasting plenty of effects designed for that, the movie is not being made available on the marginal Blu-ray 3D format at this time.
DVD Details

2.40:1 Anamorphic Widescreen
Dolby Digital 5.1 (English, French, Spanish, Descriptive Video Service),
Dolby Surround 2.0 (English)
Subtitles: English for Hearing Impaired, French, Spanish
Closed Captioned; Extras Captioned and Subtitled
Release Date: February 25, 2011
Two single-sided discs (1 DVD-9 & 1 DVD-5)
Suggested Retail Price: $36.98
Two Black Keepcases
Also available in Single-Disc DVD ($29.99 SRP)
and Blu-ray + DVD Mega Double Pack ($49.99 SRP)
VIDEO and AUDIO
Made in the 2.40:1 aspect ratio, Megamind won't fill any screens, but it will delight them. The picture is perfection, even on standard DVD. While that isn't remotely surprising in 2011, when studios have been comfortable doing direct digital transfers on computer-animated films for over a decade, it still is supremely satisfying, especially since the movie is one of the nicer-looking cartoons to hail from DreamWorks (or any non-Pixar studio). The colors are bright, the element is spotless, and compression artifacts are just about non-existent.
The DVD's Dolby Digital 5.1 soundtrack impresses even more than the visuals. Megamind has an appropriately dynamic sound mix, which calls for plenty of tasteful directional effects that are wonderfully realized. Throughout, the dialogue remains crisp and perfectly synched to the animation no matter how frantic the pace gets. This is definitely a demo-material track, in the unlikely event that you are demonstrating your home theater in (perfectly satisfactory) standard DVD.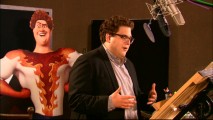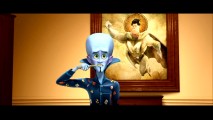 BONUS FEATURES, MENUS and PACKAGING

The paltry single-disc DVD/Disc 1 bonus features begin with "Meet the Cast of Megamind" (9:22), a standard promotional voice cast featurette. The leading characters and their celebrity vocalists are each celebrated with talking head comments and staged recording studio footage. Every animated film benefits from such a look at the people behind the personalities, but this loses points for being entirely about selling the movie and for oddly excluding Brad Pitt.

A fully-animated deleted scene finds Megamind gloomily brushing his teeth.

It runs 1 minute and 33 seconds including the introduction by producer Lara Breay.

A filmmakers' audio commentary gathers director Tom McGrath, producers Lara Breay and Denise Nolan Cascino, and writers Alan Schoolcraft and Brent Simons. The large group lends itself to a full discussion, which remains plenty engaging throughout. Among the topics covered are the project's live-action origins, technical challenges, 3D effects, cut and revised bits, tiny details, music selection, Hans Zimmer's score, and input from Guillermo Del Toro and Ben Stiller. Informative but good-humored, this enjoyable track reminds me of the ones Pixar did years ago.

World of DreamWorks Animation SKG offers a twist on the studio's much-used jukebox feature. Four active or recent franchises -- Kung Fu Panda, Madagascar, Shrek, How to Train Your Dragon -- are promoted with music videos and ads. It's shrewd, transparent marketing, with annoying trilingual availability screens playing after each item. But at least you can't claim DreamWorks misses an opportunity to emphasize its brand.

For Kung Fu Panda, there is the music video for Cee-Lo Green's "Kung Fu Fighting" (2:35), a Kung Fu Panda 2 teaser (1:08), a promo for the official Kung Fu Panda World website (1:22), and a Secrets of the Furious Five ad (1:02). For Madagascar, an "I Like to Move It (Move It)" music video (1:03) and "Penguins of Madagascar" DVDs commercial (0:53). Shrek is represented by an "I'm a Believer" music clip (1:16) plus ads for The Whole Story box set (1:44) and Shrek: The Musical (1:07). Finally, Dragon has a montage set to The DNC's "Fly High" (1:50) and a home video ad (1:00).

Disc One opens with that same Kung Fu Panda 2 teaser. It is also accessible from a Previews menu, along with ads for Nickelodeon's Rango and THQ's Megamind video game.
As on the bonus discs afforded Kung Fu Panda, Monsters vs. Aliens, How to Train Your Dragon, and Shrek Forever After, the title attraction of Disc 2 is an all-new spin-off short retaining the film's original voice cast (well, two members of it). In Megamind: The Button of Doom (15:47, counting three minutes of end credits), Megamind and his fish/robot/gorilla sidekick Minion (David Cross) hold a yard sale to rid themselves of their evil devices. The titular button does not sell and when pushed it launches a giant robotic Megamind with whom battle must done. It is not like this short exists out of necessity or a really good idea, but spending more time in this universe is pleasant enough. Though boasting the creativity of a television episode, the short is presented in full Dolby 5.1 sound (with all the language options of the feature film, minus DVS) and cinema-ready 16:9 animation.
Disc 2's remaining extras fall under the header of "Mega Mega Features." They begin with "Inside Megamind's Lair" (7:15), a featurette on the design of the villain and his mechanisms. "Animatorman" (1:57) shows us some footage of animators acting out scenes on which they'll model the movement.
As you can guess, "You Can Draw Megamind" (13:13) is a detailed lesson on drawing the character, conducted by story artist Andy Schuhler with the camera largely fixed on his drawing board. It's a nice inclusion for the artistically inclined.
"Mega Rap" is a 1-minute promo for the film that lays some unimaginative rap lyrics from an uncredited performer over clips from the film. I imagine other trailers for the film were as worthy of inclusion as this.
"The Reign of Megamind" is a "video comic book", which you use your remote to navigate, prompting different text bubbles. Spruced up by minor animation and transitional sound effects, it's a long but nifty presentation of an amusing Roxanne/Megamind news interview seguing into some cornily-bantered Megamind/Metro Man action. And reading is fun-damental.

"Can You Spot the Differences?" places character pictures side-by-side, giving you half a minute to spot the subtle differences while concentration-throwing score plays. There are three different pictures in three different difficulty levels followed by a short video mega-challenge, all of which are the same on every visit. It's kind of a fun and plenty challenging activity, which benefits from not requiring much remote use.
Finally, for you DVD-ROM enthusiasts out there, we get Minion's Zone Printables, exclusive to this set. The PDF files include 3 coloring pages, an (almost) "life-sized" cast poster (measuring 6' x 4'), 5 mirror pin-ups for putting your face on Megamind's head, directions and supplies for dressing up a potato like Megamind, 4 party invitation designs, 4 character thumb (war) puppets, and a deck of cards numbered 1-12 for playing "war." Some of these are sure to be fun and useful, provided you've got the color printer and ink required.
The DVD's menus assume a comic book look with their four-panel design. They are enlivened by cool animation, nice transitions, and score excerpts.
The Mega Double DVD Pack looks for special retail attention by placing each disc in its own keepcase, arranged side-by-side. The set's wide, sturdy cardboard front probably invites disposal, but it's the most notable packaging flourish. The keepcases, black Eco-Boxes with the usually cut-out portions intact, are topped by no slipcovers. The movie disc's case includes an insert in the form of two unimpressive Chuck E. Cheese's coupons.
CLOSING THOUGHTS
With laughs, irreverence, action, and wit, Megamind offers a typically good DreamWorks movie with some of the studio's better animation and characterization to date. No, it's not Pixar and doesn't pack the emotion, heart and humanity that remains in mind long after their films' end credits wrap up. But Megamind is entertaining and might have deserved an Oscar nomination in a five-deep Animated Feature category. While DreamWorks may not be the best or most reliable animation studio out there and some of their methods are questionable, they are good enough not to dismiss or avoid.
The Double DVD Pack offers an expectedly superb feature presentation, but a pretty modest collection of bonus features, which could easily have fit on one disc (not to mention, one case). You'd have to be pretty crazy about extras to want to pay up to $9 more for this 2-disc edition over the light standard disc that still supplies a worthwhile audio commentary. The bonus short seems to be the real selling point and its costs explain the premium price. I wasn't too impressed by it or the other Disc 2 exclusives. Right now, the Blu-ray + DVD combo pack is selling for a few dollars less than the Double DVD and it may be the better buy if you have Blu-ray or plan on upgrading soon and can go without the Disc 2 extras until then. (The Blu-ray disc also adds a picture-in-picture commentary, a trivia track, a photo gallery, and a comic creator activity.) Whichever way you go, Megamind is a fun movie worth seeing.
Support this site when you buy Megamind from Amazon.com:
Mega Double DVD Pack / Blu-ray + DVD Mega Double Pack / 1-Disc DVD