The film Puss in Boots was conceived in the wake of Shrek 2's phenomenal box office success, one of the ways DreamWorks Animation thought to expand and extend its prosperous flagship franchise.

In the years since, the public's love of all things Shrek dried up, making the fourth and final movie's reception less a goodbye and more a "good riddance."

Probably a result of that, Puss makes no effort to connect this one-off to the series from which it spun. The title character is the same one who prominently featured in all three Shrek sequels: the gallant Latin orange tabby cat, voiced as always by Antonio Banderas in Zorro mode. And Puss' own film makes use of a few other famous fairy tale characters. In genre and tone, though, this represents a departure from the jokey ogre comedies.

Pop culture references are virtually nonexistent. There is very little send-up of fairy tale conventions, Disney, or Hollywood. The celebrity voice cast is on the small side, both in number and stature. This is actually about as straight and irony-free of an adventure film as you could get from this studio and this character. That doesn't appear to be a bad thing. Puss in Boots received better reviews than the last two Shrek chapters and the Best Animated Feature Oscar nomination that they did not.
Puss takes place before Shrek 2. The feline Don Juan is a wanted outlaw in the village of San Ricardo. He is in pursuit of magical beans held by murderous human couple Jack (voiced by Billy Bob Thornton) and Jill (Amy Sedaris). The mission brings Puss face-to-masked face with a mysterious, nimble stranger, who is revealed, after a prolonged dance fight, to be Kitty Softpaws (Salma Hayek), a declawed street-smart gray cat.
Kitty is working in tandem with Puss' estranged friend Humpty Alexander Dumpty (Zach Galifianakis). Puss objects to reteaming with the egghead and we get the detailed explanation why. Backstory reveals that Puss and Humpty grew up in an orphanage as brothers and were torn apart when their mischievous adventures turned into crime (hence, Puss' fugitive status). Fresh out of jail, Humpty is both apologetic and forgiving, and with a little encouragement, Puss is as well.
Thus, the scene is set for the three allies to swipe the glowing beans from Jack and Jill and await a giant beanstalk that will lead them to the riches of a goose that lays golden eggs.
Once a studio known for derivation, innuendo, and fart jokes, DreamWorks has matured, now placing storytelling and animation high on their priority list. As always, the character of Puss lends to comedic uses of recognizable cat behavior. Those earn the biggest laughs, but the movie is willing to put humor on the back burner to tell its surprisingly sophisticated swashbuckling tale of betrayal, deception, and danger. You don't expect to invest dramatically in a booted cat primarily used as comic relief in the wink/nod-filled Shrek films, but you do and are more than willing to forgive the long stretches without even mild hilarity.

Computer animation has been getting darker in recent years. Pixar has made intense emotional response part of the family moviegoing experience and DreamWorks has followed suit in their most recent efforts,

which have raised tension and stakes to an increase in dramatic payoff and critical favor. And yet, Puss in Boots is far from a joyless experience. It is willing to follow its impulses, as in an all-out Puss/Kitty bar dance-off, and successfully deliver a quick joke, e.g. Puss' unfailingly funny big-eyed sympathy ploy, without undermining its focused vision and taut structure.

Furthermore, Puss may be its hero's fourth film, but it largely feels like it's covering new ground, not adhering to Shrek's tired playbook or other DreamWorks formula in any way. Originality remains highly welcome in a medium that so quickly became ubiquitous and homogenous. Puss may not be the most entertaining animated film of all time, but it is nonetheless distinctive enough to stand out and be appreciated as more than just another page in the always-growing DreamWorks catalog.
If you were comparing its box office performance to the Shrek films, Puss in Boots would look like unequivocal confirmation that people have tired of the franchise, with its $149 million domestic gross almost $90 M less than that of series-worst Shrek Forever After a year earlier. But Puss did much of its business (over 70% in fact) overseas. Judged on its own merits and not against the impossibly high standards of Shrek, Puss' over $520 M worldwide draw is plenty respectable, especially in a year that saw a sharp drop in attendance for CG franchise family films with their 3D surcharges. Despite a slower start on the weekend before Halloween, Puss wound up with nearly identical domestic numbers to fall 2010's Megamind and a lot more overseas.
There has already been talk of a Puss sequel, but I would hope that the studio doesn't feel obligated to make a follow-up with or without actual demand and creativity. No one can dispute that DreamWorks Animation has been improving and that quality suddenly seems to be an important factor in the company's strategy. I only hope that they don't forget the lesson learned on Shrek and avoid taking the similar "too much, too soon" approach that they seem to be simultaneously using on Kung Fu Panda and How to Train Your Dragon.
On Friday, two days before it competes at the Oscars, where it is widely expected to lose to Rango, Puss in Boots comes to DVD, Blu-ray, and Blu-ray 3D. We look at the two-disc Blu-ray + DVD + Digital Copy combo pack here.
Blu-ray & DVD Details

2.40:1 Widescreen (DVD Anamorphic)
Blu-ray: Dolby TrueHD 7.1 (English), Dolby Digital 5.1 (French, Spanish, English DVS)
DVD: Dolby Digital 5.1 (English)
Subtitles: English, French, Spanish; Blu-ray Film only: English for Hearing Impaired
DVD Closed Captioned; Extras Subtitled except for Animators' Corner
Release Date: February 24, 2012 / Suggested Retail Price: $39.99
Two single-sided, dual-layered discs (BD-50 & DVD-9)
Blue Keepcase in Cardboard Slipcover
Also available in 1-Disc DVD ($29.99 SRP), The Purrrfect Double DVD Pack ($34.98 SRP), 3-Disc Blu-ray 3D + Blu-ray + DVD + Digital Copy ($54.99 SRP), and Amazon Instant Video
VIDEO and AUDIO
Unsurprisingly, Puss in Boots looks fantastic on Blu-ray. The movie adds to computer animation's ever-increasing refinement and the 2.40:1 direct digital transfer is naturally flawless, boasting vibrant, sharp visuals and nary a flaw throughout. The Dolby TrueHD 7.1 soundtrack is equally delightful, serving up plenty of atmosphere and activity in every channel, with perfect clarity and much impact.
The DVD is essentially as perfect as standard definition allows, boasting an immaculate element but far less detail than its HD counterpart. Likewise, the Dolby Digital 5.1 soundtrack is good, but nowhere near as dynamic as the BD's lossless mix.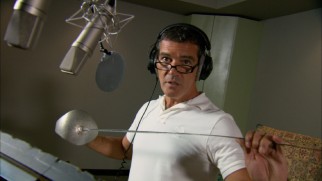 BONUS FEATURES, MENUS, PACKAGING and DESIGN

The Blu-ray's all-HD extras begin with Puss in Boots: The Three Diablos (13:05), the highly-billed DreamWorks short created for this release.

In it, Princess Alessandra hires Puss to retrieve the stolen Heart of Fire ruby from The Whisperer. Doing so, he must get information from three adorably mischievous kittens who witnessed the theft. It's a sweet and funny cartoon that is every bit as polished technically as the film itself, even boasting Dolby TrueHD 7.1 sound.

Four Blu-ray exclusives are separated from the rest.

"A DreamWorks Fairytale" allows you to construct a rarely rhyming rhyme choosing characters, objects, and actions from three options. It's basically like a clean, uncreative Mad Libs whose results, which are read to you, aren't likely to make anyone but the very young laugh.

"Puss' Paw Pouncing Challenge" is a fun, clever little game in which you move a paw target to catch colorful lights, just like Puss would. The lights increase and move faster with each level, making it more challenging and fun as you progress. It's nothing that you'll want to play for more than a few minutes, but it does best DVD's limited set-top games.

The final two exclusives are applied to playback and gladly can be enjoyed in tandem. The Animators' Corner is a picture-in-picture mode, which uses a window to feature comments from director Chris Miller, producers, writers, animators, and voice cast members. They are a mix of observations and interviews, and also feature storyboard, concept, and development art. The Trivia Track places screen-specific fun facts throughout in clean scroll graphics, while also counting meows in a Meow Meter. The two enhancements offer a wealth of information, the picture-in-picture speaking to the technical side (from visuals to storytelling) and the trivia being more of general audience interest.

Extras not exclusive to Blu-ray begin with "Purr-fect Pairing: The Voices Behind the Legend" (9:21), a somewhat general making-of featurette that pays special notice to the five lead characters and the actors who voice them. The voice cast featurette is a DreamWorks standard and an especially welcome one here since the piece isn't especially promotional (in fact, it contains a pretty huge spoiler) and because the cast wasn't assembled so much for big celebrity names.
Three deleted scenes (7:27) are introduced by producer Latifa Ouaou and presented in story reel form with temp track recordings. Most notable is the one featuring a human giant who is shown up in a traditional, heroic fashion.
"Kitten to Cat" (12:00) celebrates the film's hero, reflecting on his appearance in the Shrek movies, considering how to spin the character off here, pondering what he makes him tick, and looking at the dance choreography done for this film.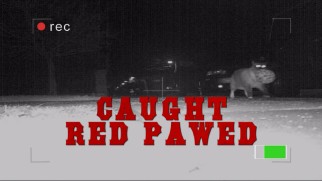 "Glitter Box Dance Off!" (5:00) teaches you the choreography employed for the movie's two dance sequences.
"Klepto Kitty" (3:42) profiles Dusty, a California cat who steals items from neighbors' yards, some of it captured on night vision camera. It doesn't really relate to the movie (though a few clips try to make a connection), but I'm all for cat shorts, when the cat is this compelling.
"Kitty Keyboard" treats you to four cute, creative animated shorts depicting musical interpretations of nursery rhymes "performed by cats."
"Fairytale Pop-Up Book" devotes a section to each of the following: Puss in Boots, Kitty Softpaws, Humpty Dumpty, and Jack and Jill. Each gets a montage of "Memorable Moments", a "Favorite Line", a descriptive paragraph, and a light gallery of concept art. Fashioned like a pop-up book, this kid-oriented content is good and nicely presented.
"Kitty Strikes Again" treats you to five split-screen image comparisons in which you've got to find what Kitty Softpaws has stolen (i.e. what is different between the two pics). Each level asks you to find more differences. It's adequately executed and reasonably challenging.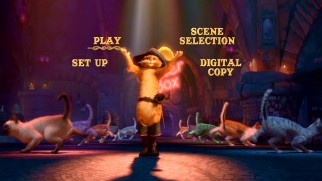 The extras conclude with the long-standard World of DreamWorks Animation section, which serves up ads and promotional music videos for Megamind and the Shrek, Kung Fu Panda, Madagascar, and How to Train Your Dragon franchises. It's a good use of otherwise unused disc space, both for the studio and those compelled to sample their other series.

The Blu-ray opens with a trailer for Madagascar 3: Europe's Most Wanted (sigh) and a promo for How to Train Your Dragon: Arena Spectacular. Those same two spots can be accessed by the Previews menu, which also contains ads for the upcoming "Dragons" TV series, the Puss in Boots THQ video game, and The Adventures of Tintin.

The arena spectacular gets another shout-out in the main menu's "See Dragons Live" listing. Looks like DreamWorks wants this costly investment to pay off more than the Shrek Broadway musical did.

The Previews submenu is where you'll find an Easter egg (indicated, appropriately enough, by a Humpty silhouette). It is a 30-second animated poster which finds Puss distracted. Whilst digging around the disc's files, I did locate two additional items that I could not find from the disc's menus. They are a 1-minute, 12-second Puss in Boots teaser trailer (00976.m2ts) and an awesome 1-minute short (00977.m2ts) on the film's red carpet cat premiere attended by Antonio Banderas and numerous felines. Hopefully you're able to find these without a BD-ROM drive.

The DVD included in this combo pack is not the one sold on its own, but a vanilla barebones disc stripped of foreign dubs and traditional extras and given instead three digital copies in iTunes and Windows Media formats. Although Paramount is jumping on the UltraViolet stream bandwagon (in addition to, not in lieu, of transferrable files), no such option is available on this title.

The plain-looking gray DVD and blue Blu-ray are held on opposite sides of a standard BD case. The DVD is covered by a digital copy code/instructions sheet, a couple of meager Chuck E. Cheese coupons, and a double-sided ad for that Dragon spectacular. Naturally, the case is topped by a cardboard slipcover, but a redundant one.

The Blu-ray menu takes its dance club animation from the film's closing sequence. Inactivity prompts playback The Blu-ray supports bookmarks, but does not resume playback after powering down. Conserving its disc space, the DVD offers static, silent menu screens from the same sequence.
CLOSING THOUGHTS
Puss in Boots is yet another good effort from DreamWorks Animation, doing its part to distance the studio from its old reputation as a crass Pixar knock-off and reinforce its new one as one of the most reliably entertaining and increasingly sophisticated makers of family films. DreamWorks has yet to have a film reach the same magical heights as most of Pixar, but their non-sequels are consistently three-star quality or better (and so, for that matter, are some of their sequels).
The studio continues to load up their films with fun and substantial bonus features. Puss' combo pack offers plenty of each and truly adds value and enjoyment. Plus, it nearly goes without saying that the movie itself looks and sounds positively amazing in high definition. The film certainly merits a look and this utterly satisfying presentation of it is one you're not likely to regret buying.
Support this site when you buy Puss in Boots now from Amazon.com:
Blu-ray + DVD + Digital Copy / DVD / Double DVD Pack / Blu-ray 3D Combo Pack / Instant Video