By Kelvin Cedeno

DreamWorks Animation has had more than their fair share of box office hits this decade. After a string of films making less than expected, 2001's Shrek (the company's second CG feature) grossed an impressive $267 million domestically alone. Since then, only one of the studio's CG features (2006's Flushed Away) has failed to break the $100 million mark stateside. When DreamWorks' Madagascar finished with $193 M in 2005, a sequel seemed inevitable. Such expectations were met in November of 2008 with the arrival of Madagascar: Escape 2 Africa.

After a prologue that mixes new material with recaps of the original, the movie starts with our four leads -- Alex the lion (voiced by Ben Stiller), Marty the zebra (Chris Rock), Melman the giraffe (David Schwimmer), and Gloria the hippo (Jada Pinkett Smith) -- heading on a refurbished plane back home to New York. Unfortunately, the penguin crew that restored the rusty aircraft did a somewhat haphazard job,

resulting in a crash on the African savannah. While the protagonists wait for the plane to be repaired, they meet other animals of their own kind.

Alex discovers that his father Zuba (Bernie Mac) is king of the pride. Rejoining the pride is not so easy for Alex, though, as the scheming Makunga (Alec Baldwin) reminds Zuba that all lions must win a rite of passage match or else be banished. This causes just the father-son rift Makunga needs to steal the throne, as Zuba can't accept the fact that his spawn is a performing lion, not a fighting one.

Meanwhile, Marty has an identity crisis upon noticing every other zebra in Africa looks, sounds, and acts like him, even learning his special performance tricks. Melman has been hired as a witch doctor, but when he catches a fatal disease that has affected previous applicants, he begins to sort out his priorities. Gloria faces problems of her own when the hippo she was falling for, Moto Moto (will.i.am), appreciates her for nothing more than her sex appeal.
With the exception of some hand-drawn features, DreamWorks' animated output has largely been comedic in nature. The same holds true for Madagascar: Escape 2 Africa. Nary a minute goes by without a gag of some sort. Even more serious moments are book-ended with jokes. The question, of course, is whether or not a feature with such one-sided intentions is able to meet its goal. The answer, in general, is yes. This second Madagascar outing amuses more than the first one did, though it's not necessarily as hilarious as Pixar's efforts.
In terms of comedic style, the film sits in the middle of the DreamWorks scale. It neither sinks to the abysmal lows of Shark Tale (which was so narrow-minded that its pop culture references only spanned what was "fresh" in audience minds), nor does it rise to the timeless and gentler tone of Kung Fu Panda. At least the references on board here span all sorts of decades and genres, from Planet of the Apes to Barry Manilow. Most of these inspire smiles not outright laughs, but that's more than most animated features can claim.
The story in this installment feels more substantial than the obviously-padded original, but it still doesn't quite excel. The theme of acceptance has been done to death not just in animation, but in film, period. It's also been done better. As such, the filmmakers create a curious feat. On one hand, the characters are given more development than in the first one. On the other, this feels less like an ensemble piece. There's no denying that Alex is essentially the main character of the franchise, but the supporting cast seemed like it was given more satisfying screen time the first time around. Perhaps the minimal screen time in that feature seemed more acceptable with less meat to chew on. Here, the subplots seem to underutilize Alex's fellow animals. It's all just as well, though, since the already present familiarity probably would've been less tolerable had the story been stretched out.
A staple of DreamWorks animation is casting celebrities to do voice work, regardless of whether or not they suit the roles. This often serves as a distraction since the viewer will keep thinking of the actor rather than the character. The casting works surprisingly well here, however. Only Chris Rock and David Schwimmer (both of whom return from the original) call to mind their live-action selves. The rest of the cast blends in better than expected. In one of his last roles, Bernie Mac does a remarkable job of infusing warmth and dimensionality into Zuba.

Black Eyed Peas frontman will.i.am is completely unrecognizable as the Barry White-sounding Moto Moto, and Alec Baldwin has fun chewing up the scenery in his limited role. The rest of the returning cast also contributes solid vocal work, especially Sacha Baron Cohen as the offbeat lemur king Julien.

Overall, Madagascar: Escape 2 Africa is a satisfactory film. Its tale echoes those of superior features, and there are more characters than the filmmakers know how to handle, but it provides a bit more laughs and character development than its predecessor. As long as one goes in with expectations in check, this sequel is an enjoyable (if not particularly memorable) ride.

Following in the tradition of releases like Shrek 2 and Kung Fu Panda, Madagascar: Escape 2 Africa has been released in a 2-DVD pack alongside a standard single-disc edition. The second platter of this reviewed Move It, Move It Double Pack is The Penguins of Madagascar, which features two episodes of the upcoming Nickelodeon series along with some bonus material. Unlike Panda, however, the bonus disc's contents have also made their way to the concurrent Blu-ray.
DVD Details

1.78:1 Anamorphic Widescreen
Dolby Digital 5.1 Surround (English, French, Spanish),
Dolby Digital Surround (English)
Subtitles: English, French, Spanish
Closed Captioned; Most Extras Subtitled
Release Date: February 6, 2009
Suggested Retail Price: $34.98
Two single-sided discs (DVD-9 & DVD-5); Two Black Keepcases
Also available in Single-Disc DVD: Widescreen, Fullscreen, Spanish Full Screen, Wrapped & Ready for Valentine's Day Full Screen; Full Screen Move It, Move It DVD Double Pack; 3-Disc Complete Collection Gift Set; and on Blu-ray Disc
VIDEO and AUDIO
Madagascar: Escape 2 Africa comes to DVD in separate widescreen and fullscreen releases. The former, reviewed here, presents the film approximately in its 1.85:1 theatrical aspect ratio. DVDs have essentially been pushed as far as they can go, and as such, this transfer holds little surprises. A computer-animated film with a lavish budget is sure to produce pleasing results, and that's precisely the case here. The tiniest bit of edge enhancement and jagged edges appear in a couple of wide shots, but these are minor and do not deter an otherwise flawless image.
The Dolby Digital 5.1 surround sound track also delivers. Animated features tend to offer some of the best audio quality due to the studio-recorded dialogue and created-from-scratch effects. This track is no exception. Dialogue is clear, music is robust, and the effects make good use of the surrounds. There are no complaints to be found here.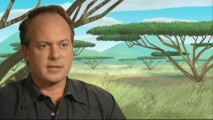 BONUS FEATURES

Madagascar 2 bears a collection of extras that's remarkably lightweight for a title that grossed nearly $200 million domestically. The first feature is an audio commentary by directors Eric Darnell and Tom McGrath along with producers Mireille Soria and Mark Swift. It's difficult to discern who exactly is speaking since Darnell, McGrath, and Swift have similar voices. There's also a bit more dead air than should be expected of four participants. When they do speak, however, good factoids pop up.

Abandoned story ideas, references to the original film, and animation challenges are among the topics covered. It's not a very strong commentary, but like the feature it's for, it gets the job done and pleases.

Next comes "It's A Family Affair: The Cast of Escape 2 Africa" (9:09). This is quite obviously an EPK featurette that boasts about how all of the talented cast members onboard. Some good shots of the actors recording their lines are shown, but these are infrequent. This piece does little other than promote the film.

"The Making of Escape 2 Africa" (11:02) fares much better. Acting as a general, all-purpose featurette, it goes through different stages of production, interviewing cast and crew members and splicing together behind-the-scenes footage. Despite its brevity, a lot of good information is crammed into this satisfying feature.

Even better is "Crash Landing" (3:36). The sequence of the plane crashing into Africa is broken down and explored from various production angles. A particular emphasis is placed on the live-action reference footage used, offering some amusement. It may be the shortest of the featurettes, but it's arguably the strongest.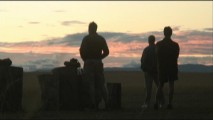 "African Adventure" (7:15) discusses the research trip Africa taken by the filmmakers. Different crew members lend insight into what they took away from the experience,

and plenty of on-site footage is shown. Like "Crash Landing," there's no promotional pretext here, and as such, it packs in a good deal of information.

"Jambo Jambo: Swahili Speak" (1:41) translates general terms used in the film into Swahili. After the clip is over, the viewer can choose eight slightly more difficult phrases to translate. It's cute, but little more than that.

"Test Flight of the Air Penguin" is a set-top game featuring the original voices of the memorable penguins. That's about the only thing that makes it somewhat bearable as the player must select random, everyday objects that offer a good replacement for the airplane's parts. A couple of these don't quite make sense, and gameplay as a whole is slow and monotonous. No reward whatsoever is offered for successful completion.

"Mad Music" branches off into a submenu featuring three music videos and a sing-along by will.i.am. These are "Move It, Move It" (2:46), "Big and Chunky" (1:04), "She Loves Me" (1:22), and "Traveling Song" (1:29). None of these clips actually show the performer himself. The first three extract character animation from the film and place them on different backgrounds. The sing-along just sets actual film clips to on-screen lyrics. They're enjoyable while listening to but aren't particularly memorable outside of the franchise's signature song, originally titled "I Like to Move It".

The DreamWorks Animation Jukebox features musical clips from most of the studio's CG features. These include "I'm a Believer" (Shrek), "Livin' La Vida Loca" (Shrek 2), "Car Wash" (Shark Tale), "I Like to Move It" (Madagascar), "Rockin' the Suburbs" (Over the Hedge), "Dancing with Myself" (Flushed Away), "Losing Streak" (Shrek the Third), "Here Comes the Sun" (Bee Movie), and "Kung Fu Fighting" (Kung Fu Panda). It's an effective method of self-promotion, though one can't help but wonder when the stopping point will be as each DreamWorks release adds another clip to the roster.

The feature disc opens up with trailers for Monsters vs. Aliens, Secrets of the Furious Five, "The Penguins of Madagascar", and the original Madagascar. All of these are accessible via the "Trailers" menu along with ads for the Madagascar: Escape 2 Africa Activision video game and Hotel for Dogs.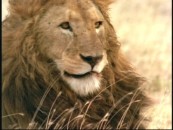 THE PENGUINS OF MADAGASCAR

Based on DreamWorks' other bonus discs, one might think "The Penguins of Madagascar" is a made-for-DVD short, but this isn't the case. Instead, it's comprised of two episodes from the upcoming Nickelodeon series of the same name.

The first, "Popcorn Panic" (12:04), has Skipper and Julien facing off in a power struggle. When the zoo policy of not feeding the animals is enforced, each leader goes off hunting with his team in search of popcorn. In the second episode, "Gone in a Flash" (12:06), Julien thinks he has trapped Maurice inside of a digital camera. The penguins conduct a search and rescue for the real Maurice.

It helps that the original penguin (and Mort) voice actors make a return here. While Julien and Maurice are understandably recast, their new performers are quite convincing. The plastic look of the animation can be a bit jolting at first after watching the feature film, but it's actually quite detailed for a television series. Both episodes offer some mild amusement, "Gone in a Flash" being the stronger of the two. It's unclear how exactly this series relates to the two feature films, though.

Some minor supplements also show up on this disc, the first of which is "The Heart of a Lion" (11:56). Unexpectedly serious considering the tone of the film and other supplements, this featurette acts as a mini nature documentary. Comprised of stock footage, it follows a pride of lions throughout the course of several months. It's too short to really dig deeply into the topic, but it's interesting all the same.
"The Bronx Zoo: Madagascar" (8:13) returns to the more irreverent tone found elsewhere. Here, Bronx Zoo director Jim Breheny takes viewers on a tour of the new Madagascar exhibit.

He points out the different animals contained there, spouting off general facts while pop-up trivia bubbles tout even more. It is clearly promotional, but entertains regardless, even if the pop-up facts distract.

"Mad Activities" contains DVD-ROM content. These include Printables & Weblinks, Madagascar: Escape 2 Africa Activision PC Flash Mini-Game, and Madagascar: Escape 2 Africa Activision Video Game Demo. Unfortunately, none of these features worked on any of the DVD-ROM programs used to open them.

"Alex's Dance Off" (3:17) sounds like another set-top game, but it really is just a collage of his various dance moves. Each one is labeled and played back at varying speeds. Since the steps aren't broken down for the sake of imitation, the clip ends up being more useless than it should be.

The disc also includes several Easter eggs. Six of these are located on the "Penguins of Madagascar" menu featuring the two episodes. Each of these clips offers what appears to be a little interstitial involving the penguins, Julien, Maurice, and Mort. Another Easter egg, located on the "Mad Activities" menu, features a cheat code to make Marty invincible in the video game.

MENUS and PACKAGING

All the menus of both discs feature looped animation and score. The main menu of each has the four protagonists dancing to upbeat music. The submenus all feature different characters with their own little animations and pieces of score.

Both discs come in their own individual black Amaray cases. Packaged together with shrinkwrap, the covers stand side by side to form a larger mural image. As usual for distributor Paramount, no inserts or disc art is included, though a small coupon booklet is found inside.
CLOSING THOUGHTS

Madagascar: Escape 2 Africa isn't quite deserving of its financial success, but it pleases for the most part. It contains some very beautiful animation and decent entertainment value.

The story seems to bite off more than it can handle, and what's been bitten tastes like dιjΰ vu. That said, this is still slightly stronger than its predecessor and a harmless if forgettable diversion.

There are no qualms to be had with the image or sound quality on this release, both of which are top-notch. The supplements are a mixed bag, but there's solid content overall. Is it worth springing for the "Move It, Move It" Double Pack? While the two "Penguins of Madagascar" episodes offer breezy entertainment, they're not really a necessity, especially since a DVD release of future episodes is logical. Blu-ray fans won't have to fret over this decision since the high-def release contains all of the material from both DVDs. Madagascar 2 earns a recommendation to those who are fans of the first film. For those more indifferent, a rental of just the standard disc is encouraged.

Buy Madagascar: Escape 2 Africa from Amazon.com:
Double Pack DVD / Single-Disc DVD / 3-Disc Complete Collection DVD /Blu-ray Disc