and Kelvin Cedeno

It's impossible not to notice the patterns in Wes Anderson's filmmaking career. Since his debut feature Bottle Rocket opened early in 1996, writer/director Anderson has created an original film every three years. Each has been a quirky comedy-drama, made semi-independently with an unusual attention to detail and a stable of credible actors including co-writer-turned-movie star Owen Wilson and Bill Murray. Anderson's sixth movie would seem to be a departure.

Fantastic Mr. Fox has a source text in Roald Dahl's 1970 novel and a family-friendly PG rating distanced from the director's soft R comfort zone. Oh yes, and it is a product of stop-motion animation.

And yet, Fantastic Mr. Fox is distinctly the work of Wes Anderson. It is witty, offbeat, and full of the director's signature touches, like yellow on-screen text and 1960s rock music. Even many of the vocal parts in the animal-heavy cast are filled by returning Anderson favorites such as Murray, Wilson, Jason Schwartzman, Michael Gambon, and Willem Dafoe.

Father, husband, and newspaper columnist Mr. Fox (voiced by George Clooney) has denied his passion for harmless farm thievery. At least that's what he's still telling Mrs. Fox (Meryl Streep), the wife that he went straight for. Lately, though, Mr. Fox has been sneaking out with his opossum superintendent Kylie (Wally Wolodarsky), swiping some food and drink for his family, and pretending it's store-bought. The obvious targets are the heavily-guarded nearby farms owned by a trio of unsavory men: thin cider-drinker Bean (Michael Gambon), fat chicken-eater Boggis (Robin Hurlstone), and stubby goose-filled doughnut fan Bunce (Hugo Guinness). After successive nights of noticeable burglaries, the three farmers wise to their foe, joining forces and cornering him in his newly-purchased tree abode.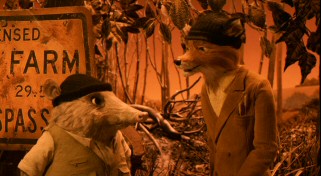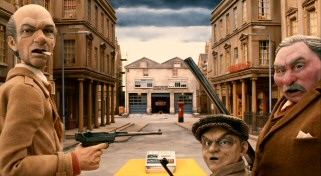 Mr. Fox loses his advantage and his tail, as the farmers turn up efforts to force the thief and his family out of their lives. While Mr. Fox has been slipping back into old ways, his moody little son Ash (Schwartzman) is struggling to be noticed. It doesn't help that his cousin Kristofferson (Eric Chase Anderson, Wes's younger brother), a houseguest while his father battles "double pneumonia", seems to be gifted in every way, especially athletically, Ash's area of aspiration.
Fantastic Mr. Fox represents Wes Anderson's first adaptation, but those familiar with Mr. Dahl's book will recognize how much of the film is the invention of Anderson and his accomplished Life Aquatic with Steve Zissou co-writer Noah Baumbach. The slight source novel needed fleshing out to sustain feature-film length; Anderson and Baumbach are more than happy to provide it. Their creativity serves the film well; while remaining true to the basic plot, they elaborate on everything, taking efforts to convey a distinct lifestyle for this universe of assorted anthropomorphic animals.
The stop-motion visuals look as they might have had Dahl's book been put on film shortly after publication. That is far from criticism. It is all too refreshing to encounter an animated film that isn't interested in raising any kind of technological bar. Sure, pretty pictures are pretty and capturing the subtler nuances of humanity is an artistic challenge worth pursuing for animators and audiences alike. With its interests clearly elsewhere, Fantastic Mr. Fox still manages to provide a delightful aesthetic. Its simple, old-fashioned production design oozes with unique charm that's in tune with the medium and the film's storytelling sensibilities.
Those sensibilities haven't been altered to attract or appease young viewers. While embracing a different palette, Anderson still uses the winning style and humor of his enjoyable past efforts. Certain aspects even recall those previously explored. The furry characters look directly into the camera on many occasions. And instead of spelling out jokes, the film entertains with odd exchanges, precisely awkward moments, and amusing anomalies.

Characters substitute the word "cuss" for any number of verbs, nouns, and suffixes, partly as a workaround for profanity and partly to be clever and different. Anderson's modus operandi isn't everyone's cup of tea and many viewers anticipating a routine family film may be confused and disappointed.

My reactions couldn't be further from those. Having appreciated each of the director's five live-action films to a large degree, I looked forward to this project for the several years since it was announced. Something about Anderson's stylings seemed appropriate for stop-motion (a medium he briefly had Henry Selick provide in Life Aquatic) and that suspicion is confirmed in the bliss this offbeat gem generates. At a time when every movie studio seems convinced that the unimaginative gimmickry of 3D is the new standard, this movie pins all its hopes on character and story and supplies immense payoff.

As far as the voice cast goes, both the Anderson regulars and their big-name guest stars give their parts what is needed. They're not just speaking for clothed, upright mammals, but for flawed Wes Anderson characters. The few reminders of the gap between those two things (as when the foxes devour food) are comically incongruous. Clooney brings a little bit of Danny Ocean with him, but his first leading animation role finds its own success. Streep infuses her supportive lightning storm-painting wife with sympathy. Schwartzman is quite humorous as the boy repeatedly acknowledged as "different." Murray and Dafoe have fun with their small parts as a badger lawyer and drunk nightwatchman rat, respectively. As gym teacher Coach Skip, Owen Wilson is present for the movie's whimsical baseball-inspired sport "whack-bat." And the two ordinarily non-actors (Wolodarsky and the younger Mr. Anderson) are every bit as perfect as their castmates.
The overwhelming majority of critics found Wes Anderson and stop-motion to be a fruitful pairing; Fantastic Mr. Fox became his most acclaimed film since 2001's The Royal Tenenbaums. Unfortunately, it didn't manage to recreate another achievement of Tenenbaums, which was supplying the director with theatrical profitability. Despite the buzz, a wide Thanksgiving week release, and later two Academy Award nominations (for Best Animated Feature and Alexandre Desplat's score), Mr. Fox was barely able to earn back half the $40 million production budget that a bigger, richer Fox had shelled out for it. (Foreign grosses narrowly surpassed the film's still-tallying $21 M domestic take.) Chalk up the underperformance to conventional wisdom that says kids don't care for different, intelligent cinema and childless adults won't be caught buying tickets to animation, or something marketed to kids. (Spike Jonze and Warner Bros. got the same lesson on last fall's Where the Wild Things Are.) I think part of it is that not many people were willing to give something not in-your-face a real chance.
I hope and think Fantastic will find more of an audience on home video, where Fox released it last week in a single-disc DVD and a 3-disc Blu-ray/DVD/Digital Copy combo. We review the latter below.
Blu-ray & DVD Details

BD: 1.85:1 Widescreen; DVD: 1.85:1 Anamorphic Widescreen
BD: DTS-HD 5.1 (English), Dolby Digital 5.1 (Spanish, French, Portuguese)
DVD: Dolby Digital 5.1 (English), Dolby Surround (Spanish, French)
BD Subtitles: English SDH, Spanish, French, Portuguese, Cantonese, Mandarin
DVD Subtitles: English for Hearing Impaired, French, Spanish
Closed Captioned; Extras Not Subtitled
Release Date: March 23, 2010
Three single-sided discs (BD-50, DVD-9 & DVD-5 DVD-ROM)
Suggested Retail Price: $39.99
Blue Keepcase
Also available in Standalone DVD ($29.98 SRP)
VIDEO and AUDIO
Aided no doubt by the medium and the high-resolution digital cameras that captured the animation, Fantastic Mr. Fox looks absolutely delightful in the DVD's 1.85:1 anamorphic widescreen transfer. There is nary a concern, as the clean visuals appear with amazing clarity and detail. Per the film's design, the Dolby 5.1 soundtrack is fairly serene and front-oriented. In addition to a couple of Disney nods, a Rolling Stones song and some Burl Ives, Anderson tactfully employs three upbeat tunes ("Heroes and Villains", "I Get Around", and "Ol' Man River") by The Beach Boys, a band he previously struggled to sample in the end to Royal Tenenbaums. The film also provides two original songs, one a guitar ditty co-written and performed in character by Jarvis Cocker and the other an English choral villains' theme adapted from Dahl's text.
The Blu-ray also preserves the 1.85:1 aspect ratio and is expectedly excellent. The level of detail and sharpness present truly impress, allowing one to admire all of the intricate details of the animation. Every hair, leaf, and prop is rendered with perfect clarity. The warm, autumn color palette also pleases and doesn't succumb to the bleeding associated with such hot colors. No noticeable print or digital artifacts are to be found in this beautiful transfer. The Blu-ray's DTS-HD MA 5.1 track is more subdued than most other animated film tracks, but it fits with Anderson's quiet style. Dialogue is clear and understandable, which is all the more impressive when one discovers just how this film's audio was recorded. Music comes across robustly and is mostly what emits from the surrounds. A few notable action scenes give some extra life to these with effects, but these are otherwise are pretty mild. It's a fine track for what it sets out to do.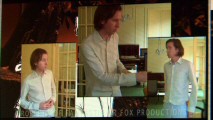 BONUS FEATURES, MENUS and PACKAGING

About half of Fantastic Mr. Fox's extras appear on both the Blu-ray and DVD discs of its combo pack. (Aside from disc art, the latter is presumably identical to the DVD sold on its own.)

"From Script to Screen" (6:50) details the adaptation process and the path to filming. The videos of Wes Anderson acting out parts for animators don't exactly dispel the claims that he directed from a distance.

"Still Life (Puppet Animation)" (7:20) gives us looks at the painstaking stop-motion process, complete with interesting time-lapse production photography.

While we're spared the routine description of frame-by-frame filmmaking, we are directed to some aspects ordinarily not considered (like weather and atmospheric pressure's effects on sets that stay "hot" overnight).

These universal inclusions are just two of the six featurettes comprising the Blu-ray's 45-minute "Making Mr. Fox Fantastic" (HD) documentary. "The Look of Fantastic Mr. Fox" (8:11) has various crew members showing how much of the film's design was inspired by items in Roald Dahl's home. The creation of these miniature versions is explored along with the difficulties of lighting and shooting them, visual effects (such as smoke), and the warm color palette.

"The Puppet Makers" (8:20) focuses on the creation of character figures, primarily with comments by puppet fabrication supervisor Andy Gent. The process is detailed from conception and wire-frame skeletons to final hair and wardrobe. Some visual trickery regarding character sizes and camera distance is revealed.
"The Cast" (6:34) offers remarks from the crew about working with a few key voice actors. We learn that, rather than the usual sound booths, actors recorded most of their dialogue outdoors or inside someone's home, to ensure a kind of authenticity to the performances. Footage shows this, plus Bill Murray and Jason Schwartzman briefly reflect on the experience.
The Blu-ray's documentary segments end with "Bill and His Badger" (7:36). Bill Murray takes a tour of the studio, visiting different departments and having their staff explain their work. Along the way, he gives insight into his character, admitting his approach in the final film was not what he had envisioned. This and the other parts of "Making Mr. Fox Fantastic" are informative, substantial pieces lending insight into this unique production.
Available on both Blu-ray and DVD, "A Beginner's Guide to Whack-Bat" (1:10) is narrated and aged to look like an old British educational video, but its instructions and visuals are almost identical to the corresponding scene in the film.
The last Blu-ray-exclusive, the promotional 3-minute featurette "Fantastic Mr. Fox: The World of Roald Dahl", consists mainly of an interview with Felicity Dahl, the author's widow. She tells of how Wes Anderson wrote the screenplay in her home to take in the atmosphere and how he implemented what he saw into the film. It's a sweet short on its own, but its overlap with "The Look..." makes it less valuable.
Both discs also get the original theatrical trailer for Fantastic Mr. Fox (2:25), a nice and compelling preview if ineffective based on the film's returns. Are more studios remembering that the feature presentation's trailer is a no-brainer inclusion? That makes me happy, especially on a film and a trailer as pleasant as these.
The third disc is simply the digital copy of the film, available in iTunes and Windows Media formats. Fox apparently is giving you at least two years to transfer this to your computer/preferred portable device or find someone who cares to.
The Blu-ray and DVD open with trailers for Date Night, Alvin and the Chipmunks: The Squeakquel, and the unfortunate Marley & Me: Terrible 2's. From the "Sneak Peek" (sic) menu, we get promos for Whip It and Fox family "favorites".
It's a bit ironic that the DVD's silent, static menus feature boring stills, considering Anderson's live-action movies have generally been treated to illustrated and animated screens. At least these ones make good use of characters and locations. The Blu-ray's menus are the same, with black and orange pop-up menus.
The combo pack holds its three discs in a standard-sized Blu-ray case. The only insert of note is the unique code for accessing the digital copy. All three discs boast full-color artwork.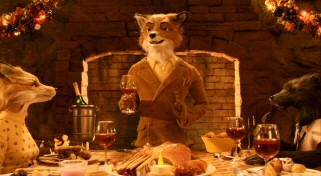 CLOSING THOUGHTS

I think by law I'm required to tell you that Fantastic Mr. Fox lives up to its titular adjective, but if not, I'd still sing this film's praises. Wes Anderson's latest manages to delight more on its own quirky charms than those of the fine Roald Dahl story it loosely adapts.

Despite my immense personal appreciation for this animated triumph and critics' practical consensus of its merit, even I can see that not everyone will enjoy this so-called "hipster" thing. I'm pretty sure you might, though, and that alone is enough to recommend you give it a chance.

The movie's Blu-ray combo pack delivers knockout picture and fine sound on two formats. It's somewhat less than satisfying supplementally, with its glaring absences of audio commentary and deleted scenes (even though Jarvis Cocker's character was originally supposed to appear throughout) disappointing. The DVD is especially weak, as the withholding of Blu-ray extras (despite plenty of free space) gives it a severely incomplete making-of experience. Maybe one day this will join the four Anderson comedies that have entered the Criterion Collection. If not, this will have to do, which it does on the ample charms of the film.

More on the Blu-ray Combo / Buy from Amazon.com / Buy on DVD / The Book by Roald Dahl