From sunset to sunrise, when the people have gone home, the exhibits of New York City's Museum of Natural History come to life.

This is the central revelation of Night at the Museum and nearly the entire plot of this blockbuster 2006 family comedy-adventure.

Ben Stiller plays Larry Daley, a divorced man whose erratic employment record has lessened him in the eyes of his grade school son Nick (Jake Cherry). With eviction threatening and his custody rights in question, Larry gets a much-needed stroke of luck when he is hired as the new night watchman at the upper Manhattan museum. However, keeping guard of the landmark's spacious halls quickly proves far more demanding than just staying awake. Due to an ancient Egyptian curse, when night falls, everything at the museum awakens, from the colossal welcoming Tyrannosaurus Rex skeleton to stuffed wild animals, from miniature cowboy and Roman soldier figures to an immobile Easter Island head. The vast roster of wax figures brought to life includes former U.S. president Theodore Roosevelt (Robin Williams), Lewis & Clark expedition guide Sacajawea (Mizuo Peck), and limb-ripper Attila the Hun (Patrick Gallagher).
Such a promising concept, loosely adapted and heavily expanded from Milan Trenc's 1993 children's book, would seem nearly enough to sustain this film. It's not, but to ensure this is more than mere spectacle, Stiller has surrounded himself with friends and formidable comic actors of whom he's a fan. Museum often succeeds in the humor department, and not necessarily in all the ways you'd expect. Some of the biggest laughs come from Mickey Rooney, who, with fellow octogenarian Dick Van Dyke and Bill Cobbs, plays one of three old museum guards passing the torch to Stiller. Rooney hurls insults like "snack shack" and "butterscotch" with enough vitality that it's tough to believe this guy, who makes Robin Williams seem subdued here, was making movies 80 years ago.
Noteworthy contributions are also made by Ricky Gervais (as a sentence-unfinishing museum manager slightly reminiscent of his "Office" persona), Stiller's frequent "Frat Pack" co-star Owen Wilson (as a tiny but hostile diorama cowboy) and Steve Coogan (as Wilson's Roman nemesis). It's one of the most remarkable and bizarre casts ever assembled, though the plot-oriented nature of the film ensures that screen time is fairly limited for all but Stiller, who is reliably identifiable and garners some big guffaws even as the straight man. Unfamiliar actors get to feature in some of the movie's funniest moments, which typically contrast modern life with the archaic ways of the historical figures. There is also a bit of bathroom and low-brow humor following Dexter, a key-swiping monkey, which manages to elicit audience response without wrecking the atmosphere or dominating the proceedings.
There is somewhat of a mid-1990s feel, which coincidentally or not, was when Night at the Museum began being developed. Some of last decade's biggest mainstream audience draws are evoked in either the central concept (Jumanji, Jurassic Park)

or in the sympathetic single father plight (The Santa Clause, Mrs. Doubtfire). Still, Museum takes full advantage of the past dozen years of technological advances, as its visual effects are terrific. The film was criminally overlooked, or perhaps inadequately campaigned, in the Visual Effects category of the Oscars. Its assortment of illusions are never less than fully convincing.

Museum does a nice job of celebrating its location, even if the actual American Museum of Natural History is only seen in exterior shots. The indoor set commendably replicates the look of its inspiration while taking many liberties with the content and layout. The artistic license exhibited is not bold enough to stand out to someone with only foggy childhood memories of the museum, but those who have recently visited -- and that number has understandably been growing since the movie's Christmastime release -- are bound to wish the real museum was as cool as its big screen counterpart. One must approve of the way the film effortlessly makes history sound interesting.
The movie is not without some shortcomings. There is a standard-issue romance with a museum docent (played by Carla Gugino), which is unrealized and not interesting enough to crave more of. The single father trying to win child's approval aspect briefly wanders into sentimentality. There are quite a few plot holes, most of which seem easily avoidable. And the reliance on convention in the final act renders the conclusion a bit less inspired than what proceeds it. Nevertheless, Museum is a lot of fun and easily entertaining enough to overlook the few flaws.
The combination of Ben Stiller's consistently-attended brand of comedy with family appeal helped make Night at the Museum the second highest-earning film of 2006 domestically and one of cinema's all-time biggest hits. Foreign grosses have accounted for well over half the movie's intake, demonstrating the worldwide, universal allure of a film that fires on all cylinders, delighting young ones and appeasing older viewers too.
DVD Details

1.85:1 Anamorphic Widescreen
DTS 5.1 (English), Dolby Digital 5.1 (English),
Dolby Surround (French, Spanish)
Subtitles: English, Spanish;
Closed Captioned
Release Date: April 24, 2007
Two single-sided, dual-layered discs (DVD-9s)
Suggested Retail Price: $34.99
Black Keepcase with Lenticular Cardboard Slipcover
Also available in Single-Disc DVD and on Blu-ray Disc
VIDEO and AUDIO
As you'd expect of a recent $100 million-budgeted film, Night at the Museum dazzles the senses on DVD. Picture is perfect in ordinary viewing conditions and the soundtrack, offered in both DTS and Dolby Digital 5.1, serves up an active aural experience that's rarely rivaled. Neither merits any complaints whatsoever.
BONUS FEATURES

Disc 1 contains the single-disc version's only bonuses, two feature-length audio commentaries. In the first, director Shawn Levy is serious and seriously full of information. He has an observation or anecdote for every scene and aspect of the film.

While proud, full of praise and not reluctant to take credit, Levy never reduces the discussion to unadulterated love or name-dropping. He also never runs out of things to acknowledge, from his cinematic inspirations to the challenges and catalysts to shooting certain sequences. This track is both highly insightful and quite easy to listen to, making it somewhat a rarity among solo commentaries.

The second commentary, by writers Ben Garant and Thomas Lennon (creators/stars of "Reno 911!"), takes a more random, entertaining approach. On their first time watching the completed movie, much of what they say isn't to be taken seriously. They do reveal changes from the book, liberties taken with the actual museum, and the fact that they nearly played Lewis and Clark. These truths, however, are buried among such sarcastic and frequently funny topics as the dark nature of chimney sweeps, the logic behind who speaks English (and with an English accent), using "Sacagawea" as a verb, computer-generated mustaches, and the Mickey Rooney float in Macy's Thanksgiving Day Parade. While those wanting real tidbits may be disappointed, this pair's scattered thoughts -- including theories on why you might be listening to a screenwriters' commentary -- are rewarding enough to consider unexpected laughs a valid reason to tune in.

Disc 2's bonus features are divided into five categories. Loading Dock holds a collection of eight deleted and extended scenes. Altogether, they run just over 17 minutes and are presented polished, in 16x9, and with earnest optional commentary from the director. The deletions offer more of Larry's pre-Museum life, including his pitch to three dentists (one played by "The Daily Show"'s Ed Helms) for opening a shabu shabu restaurant. There is also a funny scene involving Lewis and Clark outside the museum, a lengthy extension of Attila's therapy, and an unnecessary plot turn set at Rebecca's apartment.

The Hall of Biodiversity offers five video extras. "Bringing the Museum to Life" (6:18) covers visual effects with cast/crew comments and looks at greenscreen shoots and off-camera director antics that required all to imagine. "Directing 101" (4:11) showcases more of Shawn Levy's off-camera assistance, as the director stands in/acts out the T-Rex, Neanderthals, Mickey Rooney, and more. A Blooper Reel (5:45) offers a collection of outtakes funnier than usual thanks to the amusing cast's reactions to botched lines, uncontrolled laughter, and animal excretions. "Monkey Business" (5:00) allows the filmmakers and trainers to sing the praises of Crystal, the capuchin monkey who plays Dexter, along with some behind-the-scenes footage of the animal actor.
"Comedy Central's Reel Comedy: Night at the Museum" (21:11) is hosted by Patton Oswalt ("King of Queens", Ratatouille). Like any release-time TV special, it's heavy on clips and describing the movie; and therefore fairly promotional. Nevertheless, the original material -- interviews with the director and three actors around the museum set -- is funny enough to make this a worthy inclusion.
Within The Security Office, one finds three features. "Building the Museum" (7:28) details the movie's production design, specifically the elaborate museum set created, which is toured and deservedly admired here. "Historical Threads: The Costumes of Night at the Museum" (5:10) covers the filmmakers' efforts for an historically accurate but fun wardrobe. Introduced by Shawn Levy, "The Director's Vision Come Alive" (10:31) provides split-screen storyboard-to-film comparisons of three effects-intense scenes, confirming yet again that movies are planned out.
Stage Coach begins with "The Making of Night at the Museum" (11:43), a fine but generic featurette which fuses together clips, interview comments, and behind-the-scenes footage to document production. Among chief focuses are the movie's concept, the esteemed cast, and the improvisational nature of certain scenes.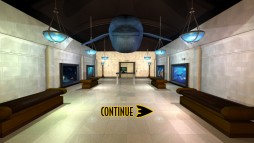 A pair of Fox Movie Channel Presents pieces -- "Making a Scene" (10:08) and "Life After Film School" (25:20) -- follow. The former dissects the effects-heavy initial Larry/T-Rex encounter from storyboard to realization.

In the latter, director Shawn Levy fields questions from three film students, speaking candidly about his rise from Disney Channel/Nickelodeon fare to the big leagues. He also discusses working with studios, actors, and improvisation. While not all of it deals with Museum, it's a very interesting and revealing episode/series for those who care about filmmaking.

Rounding out the set-top extras, the teaser (1:44) and trailer (2:25) for Night at the Museum are included, as are theatrical trailers for Robots (2:24) and 1998's Dr. Dolittle (1:06).

Finally, Rexy offers merely the "Reunite with Rexy" DVD-ROM game. A self-sufficient Shockwave application, this fun activity requires you to track down the film's skeletal Tyrannosaurus Rex by completing a few tasks around different parts of the museum. Decent computer animation, fresh and fluid gameplay, and even some educational value make this worth playing for anyone with an interest in games.

Most of the extras are enhanced for 16x9 televisions, though none are subtitled. Disc 1 opens with a promo for recent family-friendly Fox DVDs which showcases Everyone's Hero, Flicka, and Eragon.
MENUS, PACKAGING and DESIGN
Both disc's menus are cleverly presented as a three-dimensional, computer-animated tour of the Museum of Natural History. With Disc 1, you enter the museum and begin a tour; Disc 2 takes you to different halls and sites featured prominently in the film.
Inspiration is also witnessed in the lenticular slipcover which, based on the viewing angle, alternates between an image of flashlight-wielding Ben Stiller in a quiet, dark hall (replicated on the DVD cover itself) and the standard DVD's cover imagery that depicts the same area fully-lit and filled with the awakened museum characters. Inside the keepcase, a single insert doubles as promotion and scene selection index.
CLOSING THOUGHTS
Night at the Museum is a movie which many people across the globe have seen and most would deem quite good, not great. This Ben Stiller family comedy boasts a clever concept, which an esteemed cast does a fine job of bringing to life. The execution is for the most part praiseworthy, though it is hindered by some questionable plot elements and reliance on obligatory formulas. The end result is something that's a lot of fun, but could have been even better without conformance to certain cinematic standards. Still, there are enough laughs and exciting moments to satisfy an unusually wide audience (parents and grandparents should echo kid approvals), as reflected in the movie's phenomenal box office run and soon-to-impress DVD sales numbers.
Fox does the film plenty of justice in the supplements department with this fine 2-Disc Special Edition. Those who have had their fill of bonus features can save by opting for the single-disc release, which still delivers a solid feature presentation and two commentaries, one informative and one funny. While it will almost certainly set them back more than the reasonable $5 list price difference, the 2-Disc Special Edition should surely delight extras enthusiasts with its jam-packed menu of largely worthwhile material. Either way, most home video collections should have room for one version of this modern crowd-pleaser.
Buy Night at the Museum from Amazon.com:
2-Disc Special Edition DVD / Single-Disc DVD / Blu-ray Disc