It took Pixar fifteen years after the original Toy Story to release a third movie in that series. It took Fox just four after Alvin and the Chipmunks to get us to Chipwrecked, the threequel in a franchise increasingly reviled critically.

For the third Christmas in five years, the squeaky-voiced musical rodents infested theaters around the world to modest artistic hopes and high commercial expectations. Each installment has had a distinct story and setting. The original 2007 movie's music industry plot paralleled the "group"'s chart-climbing rise with real-life Dave Seville, Ross Bagdasarian Sr., in the late 1950s.

2009's The Squeakquel introduced the distaff mirror image Chipettes, created in the 1980s by Bagdasarian's daughter-in-law Janice Karman, and sent the gang to high school.

Chipwrecked, as the punny subtitle implies, finds the gang stranded on a desert island. The premise seems like a brazen challenge to anyone who found the first two films a chore to get through. Now you're stuck on an island, where it's all Chipmunks (and Chipettes) all the time. It's tough to imagine a concept less appealing to holdouts. At the same time, there's a luxury cruise and Hawaiian vacation in it for the crew and the few non-CGI cast members.

Mike Mitchell (Deuce Bigalow: Male Gigolo, Sky High, Shrek Forever After) assumes directing duties previously held by Tim Hill and Betty Thomas, but with Squeakquel's screenwriters Jonathan Aibel and Glenn Berger returning, we expectedly get more of the same simply relocated to a tropical setting. The relatively harmless first film gave way to indefensible obnoxiousness in Squeakquel and while Chipwrecked doesn't bring us any lower, it also doesn't lift us up to an agreeable level of family entertainment.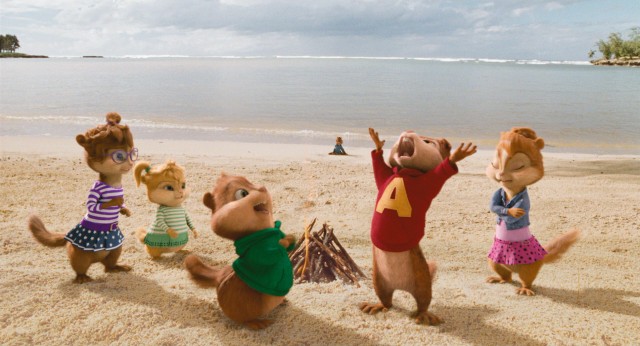 The film opens with Dave (Jason Lee, back in the lead, without "My Name is Earl" restricting his schedule), the Chipmunks, and Chipettes boarding a cruise liner for the famed International Music Awards. Why they are on a ship is anybody's guess, but it gives us a chance for Alvin (voiced unrecognizably as always by Justin Long) to get mischievous and Dave to scream his name as he is wont to. At the advice of Simon (Matthew Gray Gubler), Dave decides to give his sons and their female friends a little more responsibility while he apologizes to the ship's captain (Andy Buckley), a Captain Correlli (the movie's biggest chuckle), on their behalf.
Of course, that is a terrible idea and before long a kite-flying incident has endangered Alvin, Simon, Theodore, Brittany, Jeanette, and Eleanor. They reach safety on an island, whose only inhabitants are former UPS cargo plane pilot Zoe (Jenny Slate), a loopy castaway of ten years, and her assortment of sporting balls (naturally named Spalding, Dunlop, and the such).
Island living brings change to our furry sextet. A spider bite turns nerdy Simon into Simone, a brave and suave Frenchman (Chipwrecked's answer to Buzz Lightyear's Spanish mode). A zip line accident injures Eleanor (Amy Poehler). And for reasons that remain unclear, self-centered Brittany (Christina Applegate) gets smart.
While the 'Munks are starting fires and singing "I'm a survivor", Dave is on their trail along with disgraced former record executive Ian (David Cross), who has been reduced to wearing a pelican costume on the cruise. It must be noted just how huge a sellout David Cross is, returning after he made disparaging comments about the series and Lee. How many actors would have appreciated this kind of exposure and could have developed a new character serving the same purpose as Ian here? In keeping with tradition, Cross trashed the series yet again, this time on opening day, calling Chipwrecked "the most unpleasant experience" of his professional life. Shame on the studio for coming back to such an ungrateful presence who brings little to the table here.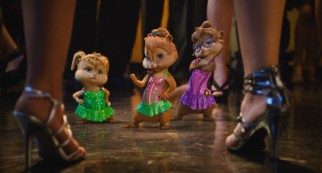 That rant may have derailed my synopsis, but I think you have all you need. The franchise has largely devolved into little more than a parade of pop covers. The Chipmunks and Chipettes bring their distinct sound to the songs of Lady Gaga, P!nk, LMFAO, Katy Perry, Willow Smith, and Rihanna,

sometimes in mash-ups and once in a dance-off but rarely in a way that doesn't feel like a disjointed music video with little regard for advancing story.

No need to feel left out, parents who have stopped caring about contemporary pop. If Destiny's Child is too recent for you, then the interpretations of The Go-Go's, Gloria Estefan, McFadden & Whitehead, and "Kumbaya" might be right in your comfort zone. Adults are also targeted by most of the forced pop culture references too current to have used on the last movie: nods to Charlie Sheen, Sarah Palin, a double rainbow, and The Most Interesting Man in the World.

As someone with genuine affection for the 1980s incarnation of the Chipmunks, I should be pretty disheartened by Chipwrecked, but I've been far too numbed by the first two films and the various dumb imitations (G-Force, The Smurfs, etc.) lobbed at the same demographic to be surprised or bothered by this chapter's failings. This is a purely commercial enterprise, designed to generate a lot of money in a short amount of time. No thought is given to long-term value or brand strength. It seems like a really sweet deal for anyone looking for fast financial gain. And if you're in comedy filmmaking to begin with, artistic integrity is a relative value easy to disregard.

To its makers, the most troubling thing about Chipwrecked would have to be its box office performance, which was quite good, but not nearly as good as its blockbuster predecessors. The $133 M domestic take marked a steep decline from the $220 M of Squeakquel and even trailed The Smurfs' haul from earlier in the year. But, we all knew this couldn't last forever. Three films in, the franchise has now grossed over $1 billion worldwide. Compare that to the $6.8 M earned by The Chipmunk Adventure in 1987, and you realize Alvin and his 54-year-old brothers have made the people and companies behind their revival rich beyond their wildest dreams. And all it really took was some savvy music licensing, commonplace CGI technology, and a handful of TV actors willing to perform with placeholders.

In keeping with tradition, Fox followed the Chipmunks' Christmastime theatrical release with an Easter home video debut. Chipwrecked was issued in a single-disc DVD, a Double DVD Pack, and, the subject of this review, a two-disc Blu-ray + DVD + Digital Copy combo pack.
Blu-ray & DVD Details

1.85:1 Widescreen (DVD Anamorphic)
Blu-ray: 5.1 DTS-HD MA (English), Dolby Digital 5.1 (French, Spanish, English DVS)
DVD: Dolby Digital 5.1 (English, English DVS), Dolby Surround (French, Spanish)
Subtitles: English for Hearing Impaired, Spanish
DVD Closed Captioned; Extras Not Subtitled
Release Date: March 27, 2012
Suggested Retail Price: $39.99
Two single-sided, dual-layered discs (BD-50 & DVD-9)
Blue Eco-Friendly Keepcase in Cardboard Slipcover
Also available in standalone DVD ($29.98 SRP), Double DVD Pack ($34.99 SRP), and on Amazon Instant Video
VIDEO and AUDIO
Fox's Blu-ray presents Chipwrecked with top-notch picture and sound. There is no reason for the movie to be any less than perfect visually and aurally. Fortunately, it's not, as the 1.85:1 transfer boasts a sharp, pristine element and vibrant colors while the 5.1 DTS-HD master audio is appropriately brimming with life musically.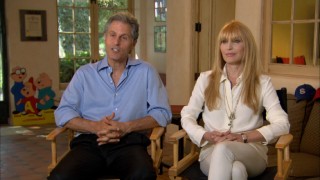 BONUS FEATURES, MENUS, PACKAGING and DESIGN

The Blu-ray's extras (all HD, unless otherwise noted) begin with "Munk Music & Dance Machine", which lets you view

the film's seventeen musical sequences on their own, in succession (19:13), or in a continuous repeat mode. Colorful animated graphics of dancing chipettes are laid over the clips from the film, to help you dance along or something. At other times, the Chipmunks or Chipettes simply randomly pop up. It's a standard feature, but a good one.

"Going Overboard with the Chipmunks" (7:50) gets comments from Ross Bagdasarian Jr. and Janice Karman. It's good to see that the franchise-owning husband and wife are back on board after suing Fox for Squeakquel profits. They share vacation clips from the Chipmunks' animated series of the '60s and '80s and The Chipmunk Adventure, discussing how the trips compare and relate to Chipwrecked. It's one of the coolest things on the disc.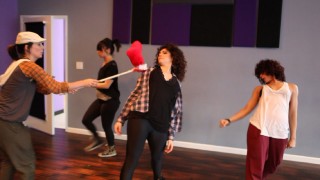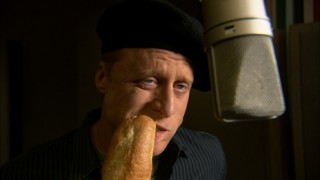 "Munking Movies in Paradise" (6:43) discusses the Hawaii production, with cast and crew pretending that the Chipmunks and Chipettes are real. And difficult and unpredictable, requiring the shoot to move to a soundstage in Vancouver. Who won't think this is stupid?
"Everybody Munk Now!" (7:39) takes us behind-the-scenes of the dance battle sequence, with choreographer reflections, studio rehearsal, storyboards, and stuffed animal passes.
"Alan Tudyk, Chipmunk Apprentice" (6:39) is another tongue-in-cheek featurette. This one is a little more enjoyable, as Matthew Gray Gubler (the voice of Simon) trains Alan Tudyk (the voice of Simone) on how to be a chipmunk with nuts and twigs.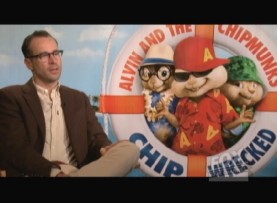 Music videos consisting exclusively of film clips are offered for three songs: "Vacation" (3:01), "Survivor" (4:09), and "Bad Romance" (4:38). Extended well beyond their film versions, these presumably soundtrack versions of the squeaky tunes can be enjoyed with or without animated lyrics that are colored in sync with their delivery.
Next up come two "Fox Movie Channel Presents" specials in letterboxed standard definition. "Growing Up Alvin" (10:12) is a great piece on the Chipmunks' history, which Bagdasarian Jr. and Karman supply with family stories and their twentysomething kids Michael and Vanessa also sounding off. It establishes the family business angle that is so easily missed in just watching these glossy films. "In Character with Jason Lee" (5:12) has the Kevin Smith alumnus (looking older than he is; he turned 42 yesterday) talking about Dave Seville's qualities and how he performs the signature yell. It's good to see one live actor who doesn't have contempt for the franchise.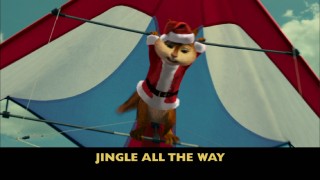 Eight short extended scenes (5:11) don't provide much of note storywise, but it is fun to see the Chipmunks and Chipettes in a crude, unfinished animation state.
A few steps above the standard trailer inclusion, Promotional Fun serves up a collection of marketing shorts: "Survival Guide" (2:00) tips, Dave Seville's "Rules" (1:50), a sing-along "Jingle Bells" music video (0:34) that CGIs holiday elements into Chipwrecked scenes, the Titanic-flavored teaser trailer (0:30), and two full theatrical trailers (1:10 & 1:34).
The Blu-ray opens with the Ice Age short film Scrat's Continental Crack-Up Part 2, a promo for digital copies, and a We Bought a Zoo trailer. The same things can individually and collectively be accessed in a Sneak Peek menu that also holds a Mirror Mirror trailer.
The combo pack's DVD is not the same one sold on its own, but a disc stripped of bonus features, save for transferrable digital copies of the film in two formats.
The colorful Blu-ray and main DVD menu alternate between film clips and character animation, with Alvin providing occasional voiceover on BD. The BD supports both bookmarks, resuming, and pop-up menus all around, Fox being the rare studio to master all those things.
The standard slim eco-friendly Blu-ray case is snugly topped by a stickered, cardboard slipcover. Three inserts direct you to redeeming your digital copy, advertise Chipwrecked video games and h2O water, and inform you about accessing a coloring app, which the case counts among the set's supplements.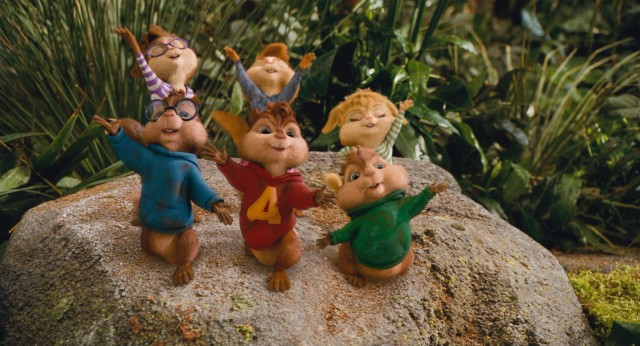 CLOSING THOUGHTS

If getting stuck on a desert island with Alvin and the Chipmunks sounds like a cruel sentence to you, you almost certainly will not enjoy Chipwrecked.

This third movie sticks to the series' lucrative and oft-emulated formula with a barrage of pop songs and short-sighted pop references. Toning down some of the sarcasm and cruder material to a G rating, this offers a slight improvement over Squeakquel, but not enough to make anyone sickened by this rapidly-growing franchise suddenly warm to it.

Fox's Blu-ray combo pack offers a dynamite presentation of the film and an unusually entertaining and comprehensive collection of bonus features including some paying homage to the characters' legacy as the film does not. While I can't in good faith recommend anything about this set to anyone, those who have enjoyed the movies or this one in particular should not be disappointed by this strong release.

Buy Alvin and the Chipmunks: Chipwrecked from Amazon.com:
Blu-ray + DVD + Digital Copy / 1-Disc DVD / 2-Disc DVD / Instant Video