Although an ending filmed for National Treasure went unused because it unintentionally hinted at a sequel, such a follow-up became inevitable from the very nature of the 2004 movie and its phenomenal $350 million worldwide reception. Three years after enjoying career high grosses on Treasure, director Jon Turteltaub and star Nicolas Cage reunited with Jerry Bruckheimer, the man who has earned an industry title of "mega-producer" for his uncommonly golden touch.

Also re-enlisted were most major supporting players, including Hollywood legends Jon Voight and Harvey Keitel, and the husband-wife screenwriting team of Cormac and Marianne Wibberley.

With public acclaim surpassing all expectations, the original film ranked as one of Disney's all-time biggest live-action hits. Its success surely factored into the studio's decisions to concentrate on more family entertainment through its namesake brand, Walt Disney Pictures, and to explore franchise possibilities at every opportunity.

Released just days before Christmas in nearly 4,000 North American theaters, National Treasure: Book of Sequels entered the crowded holiday marketplace practically guaranteed to draw crowds. Remaining more in question: would the crowds be pleased with the largely returning filmmakers' efforts to both recreate the original's appealing blend and offer something new?
When we last saw Benjamin Franklin Gates (Nicolas Cage), he had just beaten long odds and considerable opposition to find the tremendous treasure that for generations had intrigued the men of his family. Like any good adventurer, he did this with help from a comic sidekick and a pretty love interest. The sidekick, Riley Poole (Justin Bartha), and love interest, Abigail Chase (Diane Kruger), are back, though life for them hasn't been as dandy as they envisioned. Tech expert Riley's book on the hunt for the Knights Templar gold (and assorted conspiracy theories) is a dud, costing him his flashy new sports car. And Abigail, your typically stunning National Archives administrator, is dating again after asking Ben to move out of their stately riches-funded residence.
Financial and romantic woes are minor compared to the news dropped on Ben and his father Patrick (Jon Voight) at a lecture. An apparently authentic page from John Wilkes Booth's diary produced by Mitch Wilkinson (Ed Harris) implicates direct ancestor Thomas Gates as the mastermind in Abraham Lincoln's assassination. Compelled to clear his great-great-grandfather's name, Ben hatches a plan that coincidentally sets him off on an international treasure hunt. Paris and London are the first stops, but the fabled city of gold Cνbola somehow emerges as the ultimate destination to solving the mystery, again shrouded by puzzling ciphers, enigmatic symbols, and obscure facts.
The original film's dynamic of Benjamin, Riley, and Abigail resurfaces, as clues come into focus and obstacles are encountered. Serving as adversary is black market dealer Wilkinson, who operates with unscrupulous tactics, gun-toting henchmen, and an immense interest in the actions of Gates' group. Also figuring into the twisty plot are Benjamin's mother (Helen Mirren), linguistics expert and weary ex-wife of Patrick; old FBI agent Peter Sadusky (Harvey Keitel) whose part is considerably reduced in lack of real pursuit; and the President of the United States (Bruce Greenwood), who is unbelievably accessible and adventurous at his birthday party.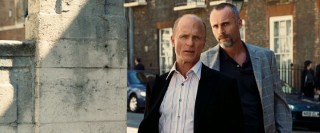 Even more than its predecessor, Book of Secrets asks its audience to disconnect all their disbelief circuits from the start. In my review of the first film, I called it preposterous while singing its praises. "Preposterous" seems too gentle a charge for this sequel, and yet the movie rightfully assumes that with enough engulfing action and excitement, viewers will be able to overlook the extreme distance from reality.

For that matter, the Wibberleys' script has us bouncing around in location and focus without adequate coherency. Right after wrapping up the film, I had trouble figuring out how the Lincoln assassination and a long-lost Native American golden city connect at all.

The link is practically irrelevant, for we never feel as directly involved or personally affected by the many turns as we were in the comparable instances of the original. In Treasure, we were along for the ride as participant. In Treasure 2, it's nearly forgotten we're tagging along, with showy plot specifics and imaginative historical fiction being of more concern.

In spite of the convoluted storyline and far-fetched scenarios, Book of Secrets does a fine job of keeping one entertained. That's especially true in the first 90 minutes, which remind us what made the first film stand out: interesting concepts, likable characters, and sharp execution. It is a rarity among contemporary productions: fast-moving cinema which invites some thought (historical, no less) and neither excludes young viewers nor dumbs things down for them. For this kind of exhilaration, children may be able to forgive the faults, though whether they're more or less likely to separate the fiction from fact seems up to debate, preferably not by Jeff Foxworthy and those showbiz kids.
The movie fizzles in its final half-hour, taking us on a prolonged climax involving wet scenery and dry dramatic devices. That's playing it close to the original, which had a lengthy last act that didn't quite stand up to the more memorable preceding fare. In the end, this second National Treasure adventure may not be a great film or as enjoyable as the first, but it is a fun movie. It provides more delights than many action and family films, bridging that normally vast gap in a way that just feels right, at least right now.
Though critics were even less impressed with Book of Secrets than they were with its predecessor, audiences indeed flocked to the film, making it one of four major Hollywood hits released theatrically last December. Of those, only Will Smith's I Am Legend earned more. Secrets' $219 M domestic and $457 M worldwide tallies ensure that the high production and marketing budgets were handily recouped.
Having mixed up-and-coming 20-year-olds with established Oscar winners, questioned the validity of the widely-held PG-13 mentality, and made Nicolas Cage reconsider his aversion to sequels, the National Treasure film series is sure to continue. In response to my question at a recent online press junket, director Jon Turteltaub says a third National Treasure movie "should be three years away." That gives all plenty of time to revisit or discover the entertaining universe of these two major blockbusters.
Next week, Disney brings Book of Secrets to DVD and Blu-ray (with a "2" making the covers' title). DVD customers can choose between a single-disc version and a 2-Disc Collector's Edition, the latter carrying a list price $5 higher and being the subject of this review.
DVD Details

2.35:1 Anamorphic Widescreen
Dolby Digital 5.1 (English, French, Spanish)
Subtitles: English, French, Spanish;
Closed Captioned; Extras Subtitled
Release Date: May 20, 2008
Two single-sided discs (DVD-9 & DVD-5)
Suggested Retail Price: $19.99 (Reduced from $34.99)
Black Dual Amaray Keepcase housed
in Embossed Holographic Cardboard Slipcover
Also available in Single-Disc DVD and on Blu-ray Disc
VIDEO and AUDIO
Forsaking fullscreen fans and following a rare precedent set by Disney and Bruckheimer's tremendously popular Pirates of the Caribbean films, National Treasure: Book of Secrets comes to DVD exclusively in its original 2.35:1 widescreen theatrical aspect ratio. As you'd expect of something estimated to cost $130 M to produce, the film looks pretty outstanding. It would take standards and equipment way higher than mine to muster some complaints.
The Dolby Digital 5.1 soundtrack is also satisfactory. The mix is ever so slightly less active than I expected, but dialogue, effects, and Trevor Rabin's much-employed score are all nicely rendered in a crisp and consistent way.
BONUS FEATURES, MENUS and PACKAGING

Disc One's only bonus feature is an audio commentary by director Jon Turteltaub and actor Jon Voight. It is a pretty easy listen. Turteltaub does more of the talking and touches on a wide range of subjects,

providing a pleasing mix of factual moviemaking information and dramatic intention discussion. The track gets a little too goofy by the end, but there are more than enough revelations and diverting production anecdotes to justify fans giving it a spin.

If you choose the more easily found standard single-disc DVD, the commentary represents all you get supplementally. Those opting to spend a few dollars more for the 2-Disc Collector's Edition have many more bonus features (adding up to over 80 minutes of video) to enjoy.

First up are five Deleted Scenes, which are individually and collectively introduced by Turteltaub with savvy. The most substantial deletion is dubbed "Pursuit at Rushmore: The Unseen Chapter"; the 7-minute sequence employs Harvey Keitel at length while also giving the primary cast more puzzle-solving and plotting before moving inside the South Dakota monument. Running 1Ό-2½ minutes each, three other scenes depict some palatial Riley hacking, Benjamin's glass rooftop getaway (with more Keitel), and the parents "playing" with skeletal limbs. The final item is a very short racy comment made by Emily to Patrick.

Altogether, the section runs just over 17 minutes, 13½ of which are deleted footage. While I wouldn't necessary argue for any of the cuts to have been left in the film, I did enjoy what was here. Credit goes to Turteltaub's candid intros and the presentation that grants the scenes the same look as the film in full Dolby 5.1 with scoring. (But why are they the only thing on the set not 16x9-enhanced?)

Though short and promotional, the featurette "Secrets of a Sequel" (6:45) engages with an abundance of cast/crew comments on making a sequel and light-hearted movie set footage.

"The Book of Secrets: On Location" (9:45) documents the film's interesting experiences shooting in France, England, Washington, D.C., and South Dakota.
Confirming that they're not merely welcome on pure comedies, "The Treasure Reel: Bloopers & Outtakes" (5:00) entertains with cast cut-ups, awkward line deliveries, and assorted production hijinks.
"Street Stunts: Creating the London Chase" (9:40) details the rehearsal and staging of the film's key automotive set piece with a mix of set footage and British crew member interviews.
"Underground Action" (6:45) focuses on the mechanics behind the sequels' elaborate action sequences, specifically the cavernous climax material of blue/green screen work and wobbly platforms.
"Evolution of a Golden City" (10:18) balances tours of the expansive Cνbola set on Universal's Stage 12 with filmmaker reflections on the taxing experiences shooting the effects-heavy bits.
"Knights of the Golden Circle" (2:35) discusses briefly the southern U.S. secret society that figures briefly into Book of Secrets' plot. History buffs are sure to be disappointed by the thrift treatment given the fact-inspired plot point.
"Cover Story: Crafting the Presidents' Book" (4:30) centers on the convenient and alluring item which supplies Treasure 2's subtitle. The first half discusses the book and the possibility it exists, the second provides a short overview of the surprisingly detailed process of designing the prop.
Finally, "Inside the Library of Congress" (8:40) lives up to its title with a survey of the national library, its extraordinary collection, and its driving philosophies.
I found two Easter Eggs, both from Disc 2's bonus feature menus. A 70-second one discusses a challenging stunt involving an idol and a jump; the other (0:11) briefly illustrates a blue screen White House.
Trying as always to manufacture incentive for upgrading to Blu-ray, Disney keeps a couple of extras exclusive to Secrets' concurrent release on the high-definition format: two deleted scenes and an interactive pop-up trivia track on "The Fact and Fiction of NT2."

Disc 1 opens with a Disney company promo (that's already been updated) and a long commercial for Blu-ray. After those, we're treated to previews for Sleeping Beauty: Platinum Edition, WALL-E,

and a 2-Disc DVD rerelease/Blu-ray debut of Tim Burton's The Nightmare Before Christmas as well as a Disney Movie Rewards commercial. Save for the general company spot, all are available on the Sneak Peeks menu, where they're joined by ads for The Little Mermaid: Ariel's Beginning, Minutemen, "The Muppet Show": Season 3, Tinker Bell, The Jungle Book 2: Special Edition, and Disney Parks.

In both of its DVD incarnations, the original National Treasure employed a creative but slightly laborious code-protected, multi-level arrangement of bonus features. That technique is not replicated here, where the closest we get to being a treasure hunter is realizing you have to select the seal on Disc 2's home menu to bring up the listings. However, the movie's unique themes are still upheld in the animated menus. Disc 1's screens delve into the old cursive world of the Book of Secrets as depicted in the end credits, whereas the more exciting and colorful Disc 2 takes us into the City of Gold.

Three inserts are waiting for you inside the standard black keepcase. There is a pamphlet for Disney Blu-ray, while another holds coupons (for NT2 on Blu-ray... and soap) plus a Disney Movie Rewards sweepstakes information and code. Finally, there is a six-page booklet listing scene titles and bonus features, then detailing the layout of the latter with a chart filled with tiny photos. Naturally, the case slides into an embossed cardboard slipcover, which is selectively and stylishly holographic.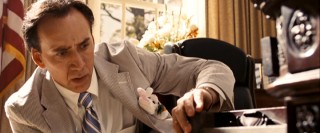 CLOSING THOUGHTS
National Treasure: Book of Secrets proves to be a fairly organic and original sequel. Though it requires complete suspension of disbelief and some leeway in having its busy, loopy plot accepted, such actions are rewarded with an entertaining and very fun ride. While not quite as solid as the first movie, this one delivers a similarly pleasing experience with enough history, humor, and hijinks to overlook the occasional shortcoming (like a dull finale). If you enjoyed the original, chances are you'll also appreciate this one. It's an adventure which lends itself to multiple viewings, to make full sense out of all that's crammed in.
Secrets' DVD release gives another reason to miss the days when packed sets didn't cost a premium. Alas, Disney has made the choice pretty easy. If you like bonus features, the 2-Disc Collector's Edition is clearly the way to go, serving up worthy deleted scenes, outtakes, and plenty of good making-of material in small doses. If you don't have the time or interest for supplements, then the single-disc should suit you fine and even wields a diverting commentary should you change your mind.
Buy National Treasure: Book of Secrets from Amazon: 2-Disc CE DVD / 1-Disc DVD / Blu-ray Disc