and Kelvin Cedeno

Fiction's best-known private detective received a prominent update in 2009's Sherlock Holmes, the Guy Ritchie-directed global blockbuster. Played by Robert Downey Jr., the Victorian English sleuth retains the talents that Arthur Conan Doyle gave him in books and short stories.

Holmes' attention to detail and powers of deduction are unparalleled. Here, he is also quite the fist fighter and a bit of a drinker.

At the film's start, the ingenious Holmes is visibly hurt to see Dr. John Watson (Jude Law) leaving. The two's storied relationship as roommates, friends, and partners in crime-solving is threatened by Watson's plans to move out and marry his girlfriend (Kelly Reilly). Watson turns up to see their final case together closed, as narrowly-captured Satanist killer Lord Blackwood (Mark Strong) is set to be hanged.

While tension remains thick between Holmes and Watson, their planned separation gets put on hold when the Blackwood case gets reopened. Somehow, the criminal has been spotted alive days after Watson pronounced him dead. A search of Blackwood's desecrated burial site reveals someone else's corpse in his coffin. Now it is up to the two to figure out how the executed dark magician could have escaped death and what it could mean for a secret society devoted to similar sorcery. Adding intrigue to the investigation is the involvement of Holmes' on-and-off girlfriend, American swindler Irene Adler (Rachel McAdams).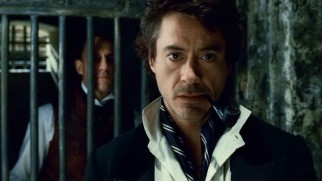 Guy Ritchie (Snatch, Lock, Stock and Two Smoking Barrels) and Robert Downey Jr. may not have been the safe or obvious choices to direct and star in a Sherlock Holmes movie, but they prove to be wise ones for this inspired reinvention. The logic behind this project -- reconceiving Holmes as a man of action -- sounds questionable, but this production pulls off an unlikely feat of being both hip and populist. Only the most close-minded fans of Conan Doyle's protagonist are likely to be really bothered by this treatment.
The film's handsome, expansive production design dares you not to be impressed with the turn-of-the-century period setting of top hats, heavy coats, thick sideburns, and lingering fog. One could regularly marvel at the amount of work put into turning back the clock on London and other parts of England. But this Sherlock Holmes doesn't slow to let you notice the acute details and nods to authenticity. It keeps the pace moving on the complex central puzzle that never feels like a simple mystery you can even attempt to solve.
Despite an abundance of tales to cull from, the story told here is largely an original one. It draws upon an enduringly fascinating subject (the occult) that plays to modern sensibilities without greatly betraying the spirit of the source material. It is as twisty as it has to be, while remaining clear enough to comprehend and appreciate. As his hiring no doubt called for, Ritchie showcases his leanings toward action filmmaking. We get a number of combat-driven set pieces that display creativity, confidence, and plenty of energy. Despite that, such fight and chase scenes never feel entirely at peace with their surrounding sections. As is, those looking for thrills may not be satiated by the staggered jolts offered here, while those preferring subtlety and character may find the diversions slightly burdensome.
Each of those flashy action stretches seems to contribute to the feel that the film slightly overstays its welcome even at a reasonably modest two hours plus credits. But while the story may not need that much time to feel sufficiently resolved, the ample appeal to this universe helps us not mind sticking around as long as we do. The setting compels, the hero amuses, and his dynamic with Watson greatly endears. All of that makes it easy

to overlook aspects that aren't realized as well, like the generic opposing forces and the unremarkable Holmes-Adler romance.

Although it squared off against the highest-grossing film of all-time and those crowd-drawing Chipmunks, Sherlock Holmes had no trouble becoming the third of the Christmas season's massive hit movies. Its hearty earnings (to date, $208 million stateside and $514 M worldwide) handily made it the biggest film in Ritchie's career; his first wide and PG-13 rated release, this also represents a needed comeback for Madonna's ex-husband.

Its success also ensures Downey headlining one of the world's top-grossing films for three years in a row. How unusual for the actor to find himself a sudden A-list movie star after 25 years of critically acclaimed but generally offbeat, off-radar work and a host of legal and drug problems. Before this and Iron Man, Downey's most-attended films were things like U.S. Marshals and The Shaggy Dog remake, in which he gave supporting turns. The career turnaround and newfound stardom couldn't happen to a more deserving talent; few performers would be able to render this reimagined Sherlock Holmes as charismatic and convincingly quirky, not to mention doing it while adopting an unassailable English accent.

Spared the fuss that preceded the theatrical release of Tim Burton's Alice in Wonderland, Sherlock Holmes moved quickly from the big screen to smaller ones, arriving last Tuesday on DVD and Blu-ray, thirteen and a half weeks after its Christmas Day opening.
Blu-ray & DVD Details

BD: 1.78:1 Widescreen
BD: DTS-HD 5.1 (English), Dolby Digital 5.1 (French, Spanish)
DVD: 1.78:1 Anamorphic Widescreen, Dolby Digital 5.1 (English)
Subtitles (BD & DVD): English for Hearing Impaired, French, Spanish
Not Closed Captioned; Extras Not Subtitled
Release Date: March 30, 2010
Two single-sided, dual-layered discs (1 BD-50 & 1 DVD-9)
Suggested Retail Price: $35.99
Blue Keepcase with Holographic Cardboard Slipcover
Also available in Standalone DVD ($29.98 SRP)
ON WARNER'S COMBO PACKS...
In the hopes of increasing Blu-ray adoption rates and customer satisfaction levels, many studios have been packaging Blu-rays and standard DVDs together on family films. Warner's gone one step further, including a DVD with nearly every major new film's Blu-ray release. There's a big catch, however. Only a limited number of the studio's copies are combo packs; they're generally designated such by a sticker and a slipcover. Since the product retains the same UPC whether or not the standard DVD is included, buying such a thing online has become a real crapshoot; maybe you'll get the combo and maybe you'll just get the Blu-ray disc.
Another difference between Warner's combo packs and those from other studios is that the DVD included in the Warner set is not identical to the one released separately. The upside of that is that the digital copy of the film (a now standard inclusion on just about every combo) is included on the same DVD as the film itself. This practice saves the studio additional disc mastering and printing costs (which are almost always factored into the retail price) and saves the Earth soon-worthless plastic coasters. The only ones to be disappointed by that are those apt to pass a digital copy-only disc along to someone who would use it; a demographic -- based on low digital copy redemption statistics -- I imagine to be in the low four figures.
The downside of the Blu-ray combos' unique DVD edition is that, aside from the DVD-ROM digital copy files, it provides the bare essentials: only the feature film, subtitles, and a couple of static menus. No trailers, no extras, no scene selection menu. Some may not mind or notice. And the way Warner has pared down new movie DVDs lately, the losses of the standalone DVD tend not to be substantial. Still, the combo pack is a purchase-only product and those DVD customers looking to collect and future-proof (assuming they can even easily find and identify these combos) aren't likely to be too satisfied until they upgrade all their players and TVs to Blu-ray and high-def, respectively.
VIDEO and AUDIO
Sherlock Holmes is accurately replicated in its 1.78:1 Blu-ray transfer. The color scheme is intentionally drab and dour, consisting of a great deal of blacks and shadows. Some of these look a bit too inky and without clear delineations, but that appears to be an artistic choice. Detail is excellent and the picture is consistently sharp, revealing a nice texture of fine film grain. No noticeable digital or print defects are found, making this a highly pleasing transfer.
Even better is the DTS-HD MA 5.1 track. Modern action films have often been the means of testing out a surround sound system, and Sherlock Holmes does not disappoint in that regard. Each of its many action sequences offers a unique aural experience ranging from smashed wood and meat grinders to speeding carriages and engulfing explosives. All of these are rich and effective and are complimented well by the unconventional score. Dialogue is perfectly clear and is remarkably never drowned out by the other layers. This is an excellent track.
The combo's DVD provides a similarly pleasing experience. There's nothing suspect or troubling about the anamorphic widescreen picture. Only upon close or computer viewing do you notice the video isn't quite as solid as it looks, with some splotches and other compression woes arising, perhaps expectedly on a disc devoting half its space to the digital copies. The sound engulfs consistently and thoughtfully in the Dolby 5.1 mix.
BONUS FEATURES, MENUS and PACKAGING

All of the Blu-ray's extras are presented in HD and all but one are offered via Warner's "Maximum Movie Mode", an innovative experience first seen on the hi-def releases of Watchmen and Terminator Salvation. Director Guy Ritchie hosts, appearing twelve times throughout feature film playback to explain key sequences as they arise. Ritchie illustrates the topics at hand by means of two large screens on either side of him: one of which continues playing the movie, the other showcasing behind-the-scenes footage.

At times, one of these screens will take up the entire frame, and Ritchie even occasionally rewinds and pauses the film to point out specific details.

In between these branching appearances, a picture-in-picture window on the lower right hand side consistently displays storyboard art and cast/crew interviews usually running under a minute each. The latter are not to be confused with the eight "focus points" dispersed throughout. Those points are optional branching featurettes that deal with particular themes. More optional branching features come in the way of full-frame still galleries including concept art, props, and production stills. These total 137 frames which, sadly, aren't easily accessible outside Maximum Movie Mode. A timeline of different events in Holmes-lore also periodically pops up among all these different supplements. The entire experience is remarkably smooth and seamless, with Ritchie's clear enthusiasm keeping things fresh and immersive. In a nice touch, the viewer can skip directly to each segment the director comes in to host.

The aforementioned "Focus Points" (31:17) are thankfully available to view on their own and can be strung together to form a documentary of sorts. "Drawbridges & Doilies: Designing a Late Victorian London" takes a look at the production design and the challenge of fusing a realistic 1895 London with Ritchie's signature edge. "Not a Deerstalker Cap in Sight" focuses on the costume design, particularly the avoidance of iconic, Holmes-related attire. For a breakdown of Holmes' fighting style, there's "Ba-Ritsu: A Tutorial", about an art form conceived by Doyle and taken further by the filmmakers. Robert Downey Jr.'s convincing British accent and his dialect coaching are given the spotlight in "Elementary English: Perfecting Sherlock's Accent".
"The One That Got Away" gives the character of Irene Adler a look, especially at how distinctive she is from the rest of the cast. "Powers of Observation and Deduction" looks at the various nods to Doyle's original stories both in this new story and in the production design.

Experts at a conference devoted to the books tell of why these stories and characters have lasted so long in "The Sherlockians." Finally, the extensive digital effects and green screen work are broken down in "Future Past." All of these focus points offer a satisfying amount of information and substance without ever becoming too dry or technical.

Also available on the standalone DVD, the final featurette "Sherlock Holmes: Reinvented" (14:06) uses the same interview sessions sampled in the Maximum Movie Mode. Because of this, there's a fair bit of overlap, and the piece has a distinctly more promotional feel to it. The cast and crew mostly discuss how much different this take is from previous interpretations, and the casting of Downey is also heavily touted. Some nice behind-the-scenes bits are found here, but for the most part, it's superfluous after watching either the Maximum Movie Mode or just the focus points.

WB seems to have done away with its early BD practice of starting the feature film as soon as the disc loads. Instead, it opens with trailers for WB Digital Copy, the Clint Eastwood: Warner Bros. Pictures - 35 Films, 35 Years boxed set, and Invictus.

The Blu-ray's static main menu image replicates the Holmes and Watson package key art. The pop-up menus match the steely color scheme of that art and open from the bottom up. The Special Feature menu actually opens to a full-screen image of Irene Adler alongside supplement choices. These are all accompanied by descriptions, running times, and thumbnails. Unlike the main menu, this menu is also scored. The standard spinning disc loading icon from other WB titles also makes an appearance, but for the Maximum Movie Mode, the loading screen becomes Holmes' pocket watch.

As discussed above, the second disc of this limited set, the DVD, contains only the feature film itself, both in the traditional sense and in digital copy form. The latter can be transferred in iTunes and Windows Media formats.

The combo pack features a subtly holographic cardboard slipcover that largely reproduces the artwork below. The standard slim blue keepcase places a disc on either side. A couple of inserts explain BD-Live requirements and the possibility you'll need to update your Blu-ray player's firmware. The third supplies the code for unlocking the digital copy and for participating in Warner's Buy 5, Get 1 Free Blu-ray promotion. (The latter part is reportedly not working.)
CLOSING THOUGHTS

Between Iron Man and Sherlock Holmes, Robert Downey Jr. has moved quickly from acclaimed indie bad boy to big budget movie star. Amazingly, the 45-year-old actor has done it without selling out or disheartening critics. After the former's swiftly-made follow-up opens,

Downey and director Guy Ritchie are set to fast-track a sequel to Sherlock. Will the good will follow Downey into the typically icy domain of sequels? Many will be all too happy to see.

I'll include myself in that group, especially here. Ritchie's film is definitely not your pep-pep's Sherlock Holmes. But its edgy approach to this universe somehow feels right and keeps us abundantly entertained even with a middling story and elements. Between the performances, production design, and direction that balances style and substance, there is a great deal to admire about this ambitious and satisfying filming.

Warner's Blu-ray delivers a first-rate presentation and a host of bonus features, but the combo will be of modest use to those who aren't already equipped for high-def or expecting to be very soon.

More on the Blu-ray / Buy from Amazon.com / Buy the standalone DVD