Disney's test panels must have been proud of their work earlier this year when Eight Below was released to theaters. More descriptive and conventional titles like Antarctica and Antarctica: The Journey Home had been used in the film's pre-release literature and promos, but the name settled upon deserves some praise for hooking audiences onto an unlikely hit. Whether it conjures up a Fahrenheit or Celsius measurement, the title suggests a cold temperature (though fairly mild for the southernmost part of the globe, in which the movie is set), while actually referring to an octet of snow dogs left to fend for themselves.

Of course, a title alone never makes or breaks a movie (one can hardly credit consistent surname spelling or the addition of an extra article for the blockbuster statuses of Meet the Fockers and The Passion of the Christ), so obviously, Eight Below had something else going for it to make it the first box office success of the year for Disney and one of the first for any studio.

Eight Below prominently touts that it is "Inspired By a True Story", but a bit of research reveals that the phrase "inspired by" is being used in one of the loosest senses possible. Disney's version begins in early 1993, when passionate expedition guide Jerry Shepard (Paul Walker) reluctantly leads his fellow American, geologist Davis McClaren (Bruce Greenwood), to the site of where a meteorite from Mercury is believed to have landed. While their home nation may be in the midst of winter, Jerry and Davis are literally treading on thin ice on the world's coldest continent and they have only the former's expertise and eight faithful sled dogs to protect them from peril. Along the way, neither the canines nor Jerry can altogether prevent trouble, as an accident and stormy conditions soon have them back at base and homeward bound. For a few reasons, the dogs cannot board the plane, but the group's bush pilot (and Jerry's ex) Katie (Moon Bloodgood) intends to return immediately and bring them back to the States.
As you probably already know, that does not happen. With Antarctica dealt the worst winter in twenty-five years, all potentially interested parties express regret but offer no financial support, leaving the resourceful guide dogs stranded and their owner Jerry extremely concerned. The movie proceeds to follow both the affected humans -- chiefly Jerry, but also Davis, Katie, and goofy cartographer Coop (American Pie's Jason Biggs as the light comic relief) -- and the eight dogs (six Siberian Huskies and two Alaskan Malamutes) whose survival would defy all odds. As days turn to weeks and then months, the hope for a miracle in the face of such blustery extremes only partially fades for Jerry, who cannot stop thinking about his furry friends.

Unlike Jerry, who has nothing but blind, distanced faith to go on, the viewer is privy to the dogs' adventurous trials. They settle for makeshift shelter in the snow and find tempting birds who might just cure hunger. They are enchanted by the nighttime glow of aurora australis (Southern lights) and have a close call with a leopard seal. And so on.

As far as plot particulars, that is really all there is and all that is needed to sustain two well-paced hours. In only his fourth directorial outing, longtime producer/Steven Spielberg collaborator Frank Marshall (Arachnophobia, Alive, Congo) again proves capable at establishing a tone and holding one's interest with it. The film never approaches excellence, but it falls comfortably into the class of engaging entertainment, rarely underestimating the intelligence of its audience. It doesn't resort to a Snow Dogs-type dream sequence or even inject excess anthropomorphism into its canine heroes. The oft-noticeable score, briskly-edited photography, and human cast do not really ascend beyond sufficient, but the movie as a whole is hard to dislike, even when severe logic questions arise or one wonders why the occasionally-summoned on-screen "Days on their own" counter is so slowly faded (it certainly doesn't heighten drama).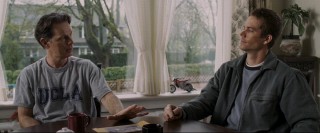 Curiously, the real-life story that inspired Eight Below took place in 1958 and involved Japanese scientists. The events were dramatized in the 1983 Japanese film Nankyoku monogatari (credited as "suggested by"), which in America was released under this loose remake's working title, Antarctica. The fate of the true canine cluster was far more bleak than that of the pack in Disney's incarnation, though not enough to eliminate "inspiring" from the picture. In reality, there were fifteen dogs left "below" and the number surviving matched the number depicted as not making it here. Sadly, the decorated Japanese filming has not made it to DVD in any part of the world.
Grounded in fact or not, moviegoers found Eight Below pretty compelling fare. Backed by warm reviews, the film went on to gross over $81 million domestically, far more than even the cheeriest estimates had it destined for and enough to make it one of 2006's top-earning works through the recently-launched summer movie season.
DVD Details

2.40:1 Anamorphic Widescreen
(Reformatted Fullscreen Available Separately)
Dolby Digital 5.1 (English, French, Spanish)
Subtitles: English, French, Spanish; Closed Captioned
Release Date: June 20, 2006
Single-sided, dual-layered disc (DVD-9)
Suggested Retail Price: $14.99 (Reduced from $29.99)
White Keepcase
Also available on Blu-ray Disc
VIDEO and AUDIO

For a film that had its box office tracking stopped just weeks ago, it almost goes without saying that the DVD looks good. Eight Below is offered in separate 2.40:1 anamorphic widescreen (seems like Disney is moving towards accuracy, since 2.39:1 films have long been inaccurately rounded to 2.35:1) and 1.33:1 reformatted fullscreen. The former was sent for review and is the only one you should consider getting.

The arctic setting ensures that there is a lot of white on display. It also dictates that the colors can seem muted or overly bright, depending on how much or little sun is present (and how much digital tweaking was done). While the visuals can't be billed as reference quality, they serve the film as well as can be expected from the DVD format and well enough to please the overwhelming majority of viewers. No specific issues hinder the proceedings.

Though the movie can be accurately be classified as an adventure, the Dolby Digital 5.1 audio presentation doesn't live up to the genre's expectations. But that's primarily because there isn't a lot of life in Antarctica. Thus, the primarily outdoor scenery is rendered into a fairly subdued environmental soundtrack. Of course, there are a few potent instances of directionality, the score is trumped up and engulfing at the right moments, and all dialogue is utterly discernible. Once again, that's merely par for a new film.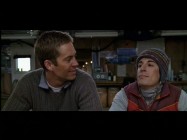 BONUS FEATURES, MENUS and PACKAGING

First among bonus features are five finished-looking deleted scenes, which total 9½ minutes. A couple of these are disposable (the aptly-titled "Cooper Throws Up" most of all), but they're all fairly interesting to see and provide some amusing or worthwhile human interaction. (As you might expect, there is very little of the dogs in these.) Director Frank Marshall provides optional audio commentary explaining the deletions (while leaving most stretches quiet) and also introduces the section in audio that overlays the menu.

Next up is the disc's lone featurette, "Running with the Dogs: The Making of Eight Below" (10:40). If you only have 11 minutes and want to learn more about the film, this brisk piece does a good job of covering the bases that many will deem most interesting. Between a lot of short interview clips with cast/crew and a fair amount of on-set footage,

there's talk about the trying weather, filming locations, and most significantly, the large cast of canines (each part was played by at least four dogs) and the tricks that inspired them.

Last but certainly not least are a pair of audio commentaries, something that the studio has lately been providing for all of its live action Disney movies (though the 4-DVD trend will come to an end in August). In the first of these, director Frank Marshall and producer Pat Crowley team up to talk about a wide range of subjects pertaining to production. There's more extemporization about the weather conditions and plenty about the dogs, from their casting to the trainers and performances. Film buffs may more appreciate learning of homages to The Goonies and Seabiscuit or that some footage was leased from the IMAX film Antarctica. While the track is full of information (the brunt of which is provided by Marshall), it's not the most exciting, so only certified fans of the film and commentaries will probably want to find the two hours to listen.

The second commentary finds Marshall joined by actor Paul Walker, who is a little more enthusiastic a speaker. Their discussions tilt more to an actor's point of view, with dramatic intent becoming a recurring theme. At 35 minutes in, Walker is replaced by director of photography Don Burgess and the conversation shifts to the technical (and dry) side of filmmaking. With a little bit of overlap eventually giving way to rampant praise-dropping, Walker returns after an hour away and things pick up a little. Much like the first track, this okay but unspectacular session requires a lot of patience and doesn't necessarily pay off for anyone who isn't really into the film and the commentary format.

One topic disappointingly goes unaddressed in the commentaries and featurette: the true story that "inspired" this movie. I suppose the absence is understandable based on how loosely the historical elements are employed, but surely if the front cover is going to boast this as a true tale and the back is going to compare it to March of the Penguins, then the audience is owed an apology for being a bit deceived.

Opening the disc are the usual Buena Vista sneak peeks, which promote The Little Mermaid: Platinum Edition, Pirates of the Caribbean: Dead Man's Chest, The Shaggy Dog (2006), and AirBuddies. The dedicated menu also offers looks at Leroy & Stitch, Brother Bear 2, High School Musical, and The Fox and the Hound: 25th Anniversary Edition.

The snowy menus aspire to be an animated map, with dotted lines charting progress, the listings scattered around location points, and imagery of the dogs complementing the main menu's selections. Naturally, selections of Mark Isham's score (which, despite what the end credits say, was not released to CD) accompany most of the menus.

Inside the standard white keepcase, the two-sided insert offers the typical scene selections and bonus features overview on one side and promotes four dog-centric Disney movies recently come or soon coming to DVD. To clear the studio's collective conscience of inspiring another unintended 101 Dalmatians-type effect, a small insert from the American Kennel Club talks about Siberian Huskies, basically discouraging potentially irresponsible owners from buying members of this needy, "unreliable" breed.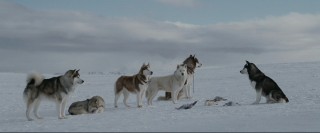 CLOSING THOUGHTS
Eight Below is a fine movie which steadily melds the animal-driven works of Walt Disney's time with modern cinematic sensibilities, without any clashes or complications. While this adventure never elevates beyond merely good and involving, that was enough for audiences that made it a surprise hit in theaters and should be sufficient to keep audiences young and old entertained on a smaller screen for years to come. The DVD offers a benign feature presentation and a fairly robust slate of extras which only disappoint in their avoidance of the true story (and Japanese film) that very loosely inspired this outing. Still, it merits a recommendation for fans of dogs and those who have seen and enjoyed the movie.
More on the DVD / Buy from Amazon.com / Buy on Blu-ray from Amazon.com