and Kelvin Cedeno

Though he died eight years before English photographer Eadweard Muybridge produced the first motion picture, Charles Dickens has over 400 credits to his name on the Internet Movie Database. More than half of them, it would appear, can be traced back to a holiday novella he wrote in 1843. A Christmas Carol is easily one of the most adapted pieces of literature of the past two centuries.

The redemption tale of a miser who's shown the error of his ways by time-traveling ghosts has become nearly as integral to Christmas celebrations as the story of Christ's birth.

Filmmakers wasted no time before dramatizing Dickens' writings. The first filming of A Christmas Carol occurred all the way back in 1901, when R.W. Paul produced and Walter R. Booth directed the 11-minute silent black & white short Scrooge, or, Marley's Ghost. While Dickens' less seasonal texts were favored in those early days of the 20th Century, A Christmas Carol had already been put on film ten times before synchronized sound was invented and first used in parts of the lost 1928 short Scrooge. The story would first be adapted as a feature-length film in 1935's Scrooge. Since Alastair Sim portrayed the antihero in 1951's highly-regarded drama, hardly a year has gone by without Dickens' novella being tapped at least on television.

Besides that Sim film, some of the better-known versions include a 1938 film starring Reginald Owen, the 1970 Albert Finney musical Scrooge, the 1983 animated featurette Mickey's Christmas Carol (starring Scrooge McDuck), the 1988 Bill Murray comedy Scrooged, and 1992's The Muppet Christmas Carol. In addition to those cinematic adaptations, television has given us Mister Magoo's Christmas Carol (1962), Blackadder's Christmas Carol (1988), and faithfully-titled movies starring George C. Scott (1984) and Patrick Stewart (1999). With so many of these versions etched into the cultural consciousness and at least a few of them probably occupying places in your heart, was another filming needed? Perhaps not. But director Robert Zemeckis felt he had something new to offer the story and if you've been following Zemeckis' career in recent years, then you know that something was motion capture animation.

Zemeckis had ventured into blending live-action with animation in 1988's blockbuster Who Framed Roger Rabbit, but it was The Polar Express (2004) that provided a career-changing experience for the Back to the Future and Forrest Gump helmer. Since that slowly profitable filming of Chris Van Allsburg's award-winning book, Zemeckis has been in love with motion capture animation, more than many critics and much of the general public feels he should be. Zemeckis' 2009 A Christmas Carol followed Beowulf and Zemeckis-produced Monster House down the mocap trail, getting released a month and a half before the entire industry seemed to recognize and acknowledge the medium by way of James Cameron's innovative Avatar.

Rather than attesting to the medium's potential, Cameron's effects-loaded epic seemed to uncover the ways in which Zemeckis was falling short, at least with audiences. Because whereas the essentially animated Avatar cost somewhere in the neighborhood of $300 million and grossed a record $2.8 billion (and counting) worldwide, A Christmas Carol spent $200 million on production and needed foreign grosses to even approach recouping those costs. Shortly after Carol's theatrical run had ended, Disney announced it was closing the Zemeckis-led ImageMovers Digital studio just three years and one finished film after acquiring it. A second effort, Mars Needs Moms, will be released next March. It's not yet clear where the Disney-produced, Zemeckis-directed mocap Yellow Submarine remake, scheduled for 2012 release, will be made. It sounds like it will take more than a studio closing to get Zemeckis to again shoot actors without body suits and sensors.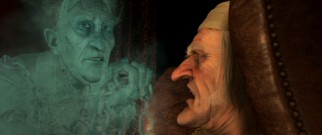 Despite Jim Carrey being cast to an extent comparable to Tom Hanks' Polar Express contributions, Zemeckis' A Christmas Carol proves to be a surprisingly faithful and shockingly dark filming of Dickens' tale. I know you know the story, but I'll synopsize it less to recall it and more to reveal how it's told here.
The film opens on Christmas Eve 1836, as bony, pointy-nosed miser Ebenezer Scrooge (Carrey) signs the death certificate of his newly-deceased business partner Jacob Marley. We jump ahead precisely seven years and find Scrooge as cold and heartless as ever, brushing off solicitors, sidewalk carolers, and his nephew Fred (Colin Firth). That night, Scrooge is visited by the shackled ghost of Marley (Gary Oldman), who issues a ghastly warning and advises him to expect three more spirits to illustrate just how wrong a life placing money above mankind is.
Scrooge, of course, is visited by the Ghosts of Christmas Past, Christmas Present, and Christmas Yet to Come (all Carrey). Fiery, innocent Past shows him and us the lonely childhood and abandoned romance that shaped him. Jovial giant Present points out the impoverished but warm family of his overworked clerk Bob Cratchit (also Oldman). And the silent shadow Yet to Come reveals the dark fates that lay ahead should ways not be changed.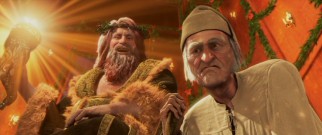 The film stays remarkably true to Dickens' text, leaving a substantial amount of the original prose intact and even retaining a scene as rarely touched as the beggar children Ignorance and Want appearing as the final warning of the expiring Ghost of Christmas Present. That is one of several frightening moments that aren't softened here as they usually are.

Bearing the Disney name and an affable comedian as leading man, you'd expect the director of The Polar Express to have family audiences and holiday cheer in mind. Not so. Zemeckis revels in the horror that dominates the source tale, taking deliberate efforts to scare the hell out of viewers. But then, isn't that what the ghosts do for Scrooge, replacing the evicted hell with kindness and goodwill?

This A Christmas Carol succeeds at not sugarcoating or taming the message, instead emphasizing the urgency with which it should be heeded. It is effective at conveying the notion every bit as relevant everywhere today as it was in Victorian England. To get to the ten minutes of happy ending you know is in store, you must first endure eighty of sadness, solitude, and disregard. For some, the gleeful redemption won't be a sufficient reward for the grim hardship that far outweighs it. I suspect that is why the movie didn't do as much business as Zemeckis' far less poignant prior Christmas movie or Carrey's wretched record-setting How the Grinch Stole Christmas.

In a movie that respects and upholds the letter of Dickens' text, one lapse in judgment is glaring. It is the most prominent departure from the book, an invented scene which shrinks Scrooge down while an ominous black horse-drawn carriage pursues him. It comes out of nowhere and adds nothing, but it is over soon enough. One suspects it was written to add some action (in Disney Digital 3D!) and humor (i.e. a squeaky chipmunk voice) in a movie rather light on both for how expensive it is.

The expense is tied to the one aspect that will most easily distinguish this version of the story from all the other tellings: the animation method. It raises questions and concerns. Zemeckis' motion capture seems to strive for a reality that other animators tend to avoid. ImageMovers' work is based on computer readings of actors' actual movements and that lends a creepy, jarring video game quality to the human characters. Not helping matters is casting famous actors in the parts. Carrey is rendered less than recognizable as Scrooge, but his first two ghosts distractingly bear his likeness and they're not alone. If you've ever wanted to see a pudgy Colin Firth, an obese Cary Elwes, or a tiny simian Gary Oldman, this is the movie for you. Why? I haven't the foggiest idea. Sure, these performers are known more for their talents than their box office appeal, but then why infuse the characters with physical attributes distinctly theirs? Perhaps this is not an issue for those who don't notice or care, but even these people will find it hard to warm to the cast, with their startlingly human movements in clearly artificial bodies. Crowd scenes particularly stand out for the insufficient design of human characters.

With that said, the technique is an inspired choice for the locations and effects. Swooping above snowy rooftops and sweeping down bustling streets, the film's opening is like nothing you've seen before. The stylings prove equally excellent when applied to the first two ghosts' tours, one being flight-based and the other able to peel through roofs and other layers. Such knockout visuals had to be what Zemeckis had in mind when choosing this project and they do add more than the uncomfortable human characters subtract. If only there was a way for the humans to catch up to the rest, Zemeckis' studio would really be onto something. But I think the trick, as illustrated by Avatar, Pixar, and competitors, is to not even bother aiming for realistic humans. Personalities provide more flesh and blood than digital skeletons and extracted gaits ever can.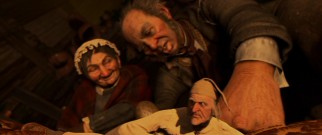 Attention: the following paragraph is presented with high levels of sarcasm. Please turn on your sarcasm detectors before proceeding. Thank you.
A Christmas Carol is Disney's first general retail release in the exciting new format that everyone's been clamoring for: Blu-ray 3D. Since Blu-ray 3D wouldn't sell without regular 2D Blu-ray and regular 2D Blu-ray apparently doesn't sell without including a DVD, A Christmas Carol winds up in four-disc 3D Blu-ray + Blu-ray + DVD + Digital Copy combo (what, you didn't think the digital copy demographic was going to get snubbed, did you?) with a $50 list price.
Strangely, though, Disney has pushed their premium combo packs and exclusively sent them out for review, they've only sent out the two-disc Blu-ray + DVD combo ($39.99 SRP) of Carol. This Blu-ray + DVD arrangement, used before on Disneynature, catalog Pixar, and Studio Ghibli titles, is not only being offered here as a more manageable alternative to the 4-format combo. Presumably a way to see if digital copies are in demand at a cost, the upcoming release of The Sorcerer's Apprentice will also be made available as either a Blu-ray + DVD or a Blu-ray + DVD + Digital Copy (with $5 list price and $3 in out-of-pocket costs distinguishing the two). Multiple combo packs... what will they think of next?
Blu-ray & DVD Details

2.40:1 (Anamorphic) Widescreen
Blu-ray only: DTS-HD 5.1 (English); DVD only: Dolby Digital 5.1 (English)
Both: Dolby Digital 5.1 (French, Spanish), Dolby Surround (Descriptive Video Service)
Subtitles: English for Hearing Impaired, French, Spanish
Closed Captioned; Extras Subtitled and Captioned
Release Date: November 16, 2010 / Suggested Retail Price: $45.99
Two single-sided, dual-layered discs (1 BD-50 & 1 DVD-9)
Blue Keepcase in Embossed, Holographic Cardboard Slipcover
Also available in DVD ($29.99 SRP)
and 4-Disc Blu-ray 3D + Blu-ray + DVD + Digital Copy Combo ($49.99 SRP)
VIDEO and AUDIO

A Christmas Carol had different aspect ratios for standard, 3-D, and IMAX 3-D theatrical exhibitions. Both Blu-ray and DVD opt for the wide 2.40:1 of general release.

It should surprise no one that the Blu-ray's image is as flawless as a computer-animated film ought to be. The amount of detail allows for great appreciation of all the work that went into the film as everything from hair and burlap to freckles and cinders is clearly visible. At times, the image feels practically three-dimensional, especially in the many London camera sweeps. Colors alternate when they have to, sometimes being warm and inviting and other times cold and distant. There are absolutely no digital defects found in this reference quality transfer.

The Blu-ray's DTS-HD 5.1 track is equally impressive. This is a film that deliberately heightens sound design for dramatic value. Every scene mixes effects realistically to an almost startling degree. Whether it's the merrymaking at Fezziwig's party or the carriage chase, the listener is completely immersed in the world created. The always crisp and clear dialogue doesn't fight to be heard as it's dispersed throughout the soundfield. Alan Silvestri's festive score is also presented with astounding richness and clarity. This mix is ripe for home theater demonstrations.

The DVD is also predictably without issue, its dark as-intended picture and aggressive soundtrack delighting in a way that the disc's bonus features do not.
BONUS FEATURES, MENUS and PACKAGING

A Christmas Carol is treated to a pretty pitiful collection of DVD extras. You'd think spending $200 million to make and seemingly almost that much to market a movie using a not widely-employed technique would be enough to warrant a director's audio commentary and substantial making-of documentary, but you'll find neither of those things here, at least not on standard DVD.

Those viewers have to settle for "Capturing Dickens: A Novel Retelling" (14:42), a decent featurette on the production process. It shows us parts of the performance stage as well as Zemeckis' "filming" stage, while gathering enthusiastic comments from cast and crew, including multiple bit part player Jacquie Barnbrook, who jokingly hosts.

"On Set with Sammi" (1:52) gives us a brief look at a production day from the point of view of child actress Sammi Hanratty.

The DVD's movie-specific extras conclude with a trio of deleted scenes (4:00) presented in crude but interesting computer animation (sometimes with actor performance video trippily laid over character faces). The inessential moments include a stairway scare, a look at the family of the briefly-seen Belle, and a clothesline gag. The bits are collectively introduced by Robert Zemeckis.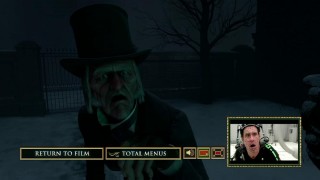 Unadvertised and a heck of a lot cooler than the Sprouse Brothers' ubiquitous infomercial is a new animated Timon & Pumbaa short promoting Disney Blu-ray 3D (4:24). I probably should be bothered by characters from my favorite Disney movie being used to shill what is probably the least necessary video format ever, but The Lion King sidekicks never cease to entertain and I look forward to revisiting it after the format completely crashes and burns.
The Blu-ray comes with a few exclusives, the first and largest of which is "Behind the Carol: The Full Motion Capture Experience." This fascinating viewing mode lets you watch the entire film in its original motion capture performance state. This means we see exactly how the actors (complete in full capture suits and helmets) performed on their empty sound stage. It can be enjoyed either in a picture-in-picture window or, in a Disney first, full-sized standard definition.
The experience is complimented by an optional audio commentary by director Robert Zemeckis. Zemeckis explains the raw footage onscreen and how those actions are translated to CGI. Thankfully, his commentary isn't just technical. He also addresses story points and themes, often comparing some of his adaptation choices to what Dickens originally wrote. Zemeckis is an engaging speaker, and both his commentary and the motion-capture footage add a great deal of value to this set.
The Blu-ray also adds three additional deleted scenes (4:39) to the DVD's three.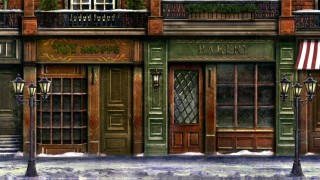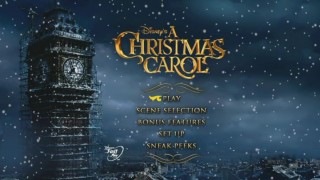 The final 2-disc exclusive is the "Countdown to Christmas Interactive Calendar."

Here, we're presented with an image of a toy shop and bakery on a Victorian street corner. The image is filled with numbers that are to be selected one day at a time leading until December 25th. Each number holds a piece of animation representing a gift of some sort. The closer one gets to Christmas, the more decorative the shop fronts become, even the window displays. In a nice touch, the disc keeps track of what's been selected even upon disc removal, making this a rather nice substitute for a real Advent calendar.

Besides the Blu-ray 3D feature presentation and digital copy, the 4-disc combo includes something called "Mr. Scrooge's Wild Ride (in 3D!)". Neither the game nor short you might expect, it's apparently a featurette on the use of 3D in the film. But I couldn't tell you any more than that!

The Blu-ray and FastPlay-equipped DVD open with promos for Disney Blu-ray, Bambi: Diamond Edition, Tron Legacy, and The Sorcerer's Apprentice. Second string/menu-only DVD sneak peeks tout Disney Movie Rewards, Oceans, ABC Family's 25 Days of Christmas, The Search for Santa Paws, Beverly Hills Chihuahua 2, Fantasia & Fantasia 2000: 2 Movie Collection, "Phineas and Ferb": A Very Perry Christmas, and The Incredibles Blu-ray. The Blu-ray disc curiously loses the Oceans, Fantasia, and Incredibles ads, and more understandably the "Phineas" promo. The DVD also includes the now-standard Disneyfile (1:00) and Sprouse Brothers' Blu-ray (4:45) promos.

On both DVD and Blu-ray, the simple but sweet main menu shows snow falling on an under-construction Big Ben. The static submenus take us to other settings with further excerpts of the charming Alan Silvestri score. The Blu-ray's pop-up menus open in a picture-in-picture window, while its loading icon features gold coins stacking.

Inside the standard slim side-snapped blue case, which is topped by an embossed and highly holographic cardboard slipcover, are a book of product ads, a pamphlet touting 3D Blu-ray and combo packs, and a Disney Movie Rewards code.
CLOSING THOUGHTS

Not the kid-oriented version that "Disney's A Christmas Carol" suggests, Robert Zemeckis' 2009 film is an unexpectedly faithful, dark, atmospheric, and humorless telling of Charles Dickens' immortal tale. Its motion capture animation achieves amazing things but also stumbles on some basics. All in all, this version does far more right than wrong but doesn't quite deliver the definitive adaptation it strives for.

Still, it's the best Zemeckis has done in the medium and leagues better than The Polar Express.

For such an epic production, the underperforming film gets a disappointing DVD that's well under capacity yet needlessly deprived of the audio commentary, three deleted scenes, and Advent calendar found on the Blu-ray. It's just the latest sign that Disney doesn't care about satisfying your supplemental cravings unless you buy Blu-ray. Speaking of which, fun fact: 100% of A Christmas Carol's first-hand customers will buy it on DVD.

Even with its exclusive inclusions, the Blu-ray isn't all it can be, overlooking things like the big nationwide train tour conducted (in vain?) under the Dick Cook administration to promote the film. This should have been the year's must-own holiday release, but in light of the shortcomings, you're probably just as well to wait until next Thanksgiving or Christmas to pick this up cheap, especially if you're still fine with DVD.

Buy A Christmas Carol from Amazon.com:
Blu-ray + DVD / DVD / 3D Blu-ray + Blu-ray + DVD + Digital Copy / The Book by Charles Dickens