Steven Soderbergh was in Oscar mode at the turn of the millennium. In early 2001, he became the first person in over sixty years to receive two Academy Award nominations for Best Director in the same year. One of those came for the peppy, offbeat true drama Erin Brockovich, a rare Julia Roberts vehicle of substance. The other and ultimately winning bid was for Traffic, a style-heavy ensemble drama that took a good, hard look at the War on Drugs from both sides of the U.S./Mexico border.
Adapted from the six-episode 1989 British Channel 4 TV series "Traffik", which examined the subject in Western Europe, Stephen Gaghan's sophomore feature screenplay narrows its focus onto four distinct worlds, most of them presenting the perspective of law enforcement.
Down in Tijuana, plainclothes police officer Javier Rodriguez (an Oscar-winning Benicio Del Toro) is approached by General Salazar (Tomás Milián), the head of Mexico's strict anti-drug military regiment, to work with him in attacking the problem. Over in Washington, D.C., Ohio judge Robert Wakefield (Michael Douglas) is in the process of being appointed by the President as America's new drug czar.

While he is being prepped for that powerful position, his own 16-year-old honor student daughter Caroline (Erika Christensen) and her prep schoolmates are experimenting with hard drugs.

In San Diego, a playful pair of DEA agents (Don Cheadle and Luis Guzmán) get an arrested businessman (Miguel Ferrer) with his hands in drugs to testify against his more influential boss. That boss, Carlos Ayala (Scarface's Steven Bauer), is taken into custody, casting doubt over the luxurious lifestyle of his naďve wife Helena (Catherine Zeta-Jones), their young son, and forthcoming child. While the best lawyers that money can buy defend Ayala and one (Dennis Quaid) consoles Helena that all will be alright, she starts getting pressured to repay her husband's outstanding debts and, fearing her son's safety, considers taking desperate measures.

There is a tiny bit of overlap to these three and a half storylines, each of which has its own bold color palette. But the material is compatible and complementary enough for this not to ever feel like disjointed short films. The remaining two of Traffic's four Oscar victories were for adapted screenplay and editing, two areas where the film excels at making its absorbing plots easily followed and distinguished.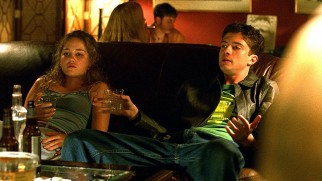 Soderbergh establishes and maintains a documentary style with jerky handheld camera and jump cut editing. Traffic has a feel all its own and its raw, unflinching methods render it extremely distinctive and haunting.

This much is evident to me, having just rewatched the film for the first time since a theatrical viewing eleven years ago and remembering almost every scene in a good amount of detail.

The writing of reformed heroin addict Gaghan, which struck my younger self as so brilliant and mature, does seem a bit contrived in certain places now. Frankly, the drug czar with a teenaged daughter battling addiction is a bit much to swallow on a film oozing authenticity (complete with substantial chunks of subtitled Spanish). Other scenes, like the well-reasoned rants of Caroline's fellow druggie boyfriend (Topher Grace in his film debut) and a press conference that her father struggles to get through, are also tinged with false notes. I've also heard but can't confirm that Puerto Rican Del Toro's Mexican accent is unconvincing (the Academy didn't seem to mind). But it's impossible to deny the film's ample dramatic power and the amount of real thought it gives its subject from many relevant angles.

The dark, moody content can be difficult to handle, but its gritty atmospheric treatment by Soderbergh amounts to something of a cinematic feast, one much more sumptuous and meaningful than Gladiator, which the Academy chose to recognize with the Best Picture award, a rare instance where that top honor aligned neither with the Best Director nor the Best Editing winner. While Del Toro was the only actor repeatedly singled out in awards, the cast is uniformly excellent here.

Though the Oscars seem like an exclusive club, where admitted once, you're sure to be reinvited (e.g. modern fixtures the Coens, Danny Boyle, David Fincher, Ron Howard, Clint Eastwood, and Martin Scorsese), Soderbergh has not, in the eleven years since his twin nominations/Traffic win, received a single nod. Admittedly, we can't say he's been snubbed; his best film, the delightful Ocean's Eleven, is not the kind the Academy recognizes and his more artistic-minded ventures (Solaris, The Good German, Che) have fallen flat with audiences and, for the most part, critics as well.

Last fall's well-received and profitable (but probably not Oscar-bound) Contagion can hardly be viewed as a return to form, since Soderbergh vows he'll make good on his premature retirement plans after two 2012 theatrical releases (the first, Haywire, opens on Friday), one recently-announced 2013 pharmaceutical thriller, and an HBO Liberace biopic starring Douglas. Assuming the director truly resigns himself to a life of painting, at least we'll have an impressive body of cinema to admire, among which Traffic ranks highly.

Admiring Traffic is done more easily than ever before with this week's Blu-ray debut of the movie's 2002 Criterion Collection edition, spine number 151.
Blu-ray Details

1.78:1 Widescreen
5.1 DTS-HD MA (English/Spanish), 2.0 DTS-HD MA (English/Spanish)
Subtitles: English
Not Closed Captioned; Extras Not Subtitled
Release Date: January 17, 2012
Single-sided, dual-layered disc (BD-50)
Suggested Retail Price: $39.95
Clear Keepcase
Still available on DVD ($39.95 SRP; 2002, repackaged 2006)
Also available from Universal: Blu-ray + DVD + Digital Copy ($14.98 SRP), Blu-ray/DVD Flipper ($19.98 SRP), DVD ($14.99 SRP), and Instant Video
VIDEO and AUDIO
Perhaps the most memorable characteristic of Traffic is its savvy decision to assign the separate threads their own color palette. The scenes in Mexico are tinged with yellow and drained nearly of all color. Those in Washington and Ohio are usually bathed in a steely blue. The rest of the scenes fall somewhere in between, with a warm, soft, and occasionally lush look to them. Through each phase, Traffic remains gritty and grainy. The director-approved 1.78:1 Blu-ray transfer maintains that, becoming clean and clear only when it wants to be (which isn't much more often than the closing credits scroll). It's pretty absurd that despite such originality and evident visual acumen Soderbergh has never received an Oscar nomination for cinematography, which he handles under the pseudonym Peter Andrews (a tribute to his father). This is not the movie you'd use to show how stunning 1080p presentations can look, but I trust that Criterion's much-documented efforts give this transfer precisely the distinct appearance desired.
The 5.1 DTS-HD master audio is largely restrained, with the monaurally-recorded dialogue remaining clear in the front channels and being surrounded and complemented by Cliff Martinez's ethereal, understated score. There are certainly moments where the track bursts to life and with the impact one expects of Blu-ray's lossless sound. A 2.0 surround DTS-HD track is also offered and though the menu makes it look like it is chosen by default, it's not.

BONUS FEATURES, MENUS, PACKAGING and DESIGN

Criterion's full supply of bonus features begins with a whopping three audio commentaries. The first and most essential features director Steven Soderbergh and screenwriter Stephen Gaghan. Talking without lull, they are full of reflections and observations, touching on casting motivations, filming experiences, and discarded ideas. They also retain some humor through the dark content.

The second commentary, "Producers and Consultants", records producers Laura Bickford, Marshall Herskovitz, and Edward Zwick, and former DEA chief of intelligence Craig Chetien, with journalist Tim Golden announcing the speakers. Naturally, the producers speak to the filmmaking side, while Chetien vouches for the authenticity and occasional lack thereof.

Bickford has some interesting stories regarding Albert Finney's secret casting, finding financing and distribution, and the challenge of getting the film released by and recognized in the awards season. There is surprisingly little overlap between this track and Soderbergh's.

The third and final commentary features composer Cliff Martinez by himself, his remarks sharing the track with welcome isolated score of his ambient music and some of the few needle drops (full list at bottom of review). He has a surprisingly lot to say about his low-key work here (which found him collaborating with Herbie Hancock and Flea), Traffic's use of sound and source music, his influences and career (from the Red Hot Chili Peppers to movies), putting the soundtrack album together, and film scoring at large.

Included on the composer's commentary menu is an alternate end cue by Martinez (3:00), which, while nice, doesn't pack the same subtle transcendence as the temp track piece ultimately chosen to close the film (Brian Eno's "An Ending (Ascent)").
The all-HD video supplements begin with a massive collection of 24 deleted scenes and one outtake (26:54). These lack the clarity, coloring, and power of the film itself, but they reveal new layers and connections in the ensemble cast. We get quite a bit more of Catherine Zeta-Jones, more of Topher Grace and Michael Douglas, and scenes between characters who otherwise do not cross paths in the film. The scenes can also be viewed with commentary by Soderbergh and Gaghan, who explain having to cut these, primarily for timing.
Next up come Demonstrations. The five technical steps of film processing on the desaturated Mexico scenes (5:50) are detailed via narration and a repeated establishing clip.
Editor Stephen Mirrione takes us through his process by showing us the different layers he put together for four scenes (6:00, 4:58, 1:49, 4:33) and talking over them. You can toggle between his remarks and the movie's soundtrack, and the 2-4 different layers of footage and the final scene. The default visuals of Avid system and timeline are unfortunately composed for 1.33:1 and the experience is less revealing than it ought to be. Still, it's out of the ordinary and appropriate for such a sharply-edited film.
The dialogue editing section begins with two text screens describing that art and how Traffic challenged it. Then, supervising sound editor and rerecording mixer Larry Blake takes us through the different channels recorded on four different scenes (13:21), paying notice to how such things as confounding music, lip smacks, and sibilance were addressed and how foley and ADR were implemented. It's a fascinating topic rarely explored, let alone with such attention to detail.
Additional Footage provides raw footage of four additional unused scenes. There is a presentation at El Paso Intelligence Center (3:04) which you can use the angle feature to toggle between three views of. There are strolls down the aisles of the Costco-like warehouse (7:10) holding seized drugs as evidence with commentary by former DEA chief of intelligence Craig Chretien. The film's cocktail party is extended (30:48) with three angles of Michael Douglas' character getting mostly improvised/sincere advice and wisdom from dozens of additional politicians, journalists (including longtime White House reporter Helen Thomas), and lobbyists. Finally, there are three takes (0:41, 1:15, 0:42) of Topher Grace and Erika Christensen walking in the bad West End drug neighborhood of Cincinnati and discussing the history of narcotics.
A Trailers section kindly serves up the U.S. teaser (1:05) and full trailer (2:18) as well as five 30-second TV spots emphasizing the rave reviews, accolades and, in one teen-oriented oddity, the youth angle. They are compelling ads which took the film to an unlikely $124 million at the domestic box office.
Finally, Trading Cards is a gallery of fifteen 1999 cards featuring the drug-sniffing dogs of the Canine Enforcement Training Center. The photo on front and facts on back share the screen at the highest resolution possible. This is as wonderfully random as bonus features get. Oddly, the gallery is trimmed from the DVD's 100-card equivalent.

Criterion does not include two of the bonus features from USA Films' original DVD that have subsequently featured on Universal's releases: the 19-minute behind-the-scenes featurette "Inside Traffic" and a 40-still photo gallery (which hasn't shown up since the original DVD).

A general making-of featurette or retrospective, even the EPK type that sounds like, is one thing that is noticeably missing from Criterion's platter.

The moody menu plays grimy clips in the style of the cover art with some music and audio laid over it. Another area where Criterion has other studios beat is in authoring: the disc both supports bookmarks and quick chapter jumps and also resumes play even more reliably than a DVD.

The clear Blu-ray-sized, DVD-style keepcase includes a booklet that's light by current Criterion standards. Most of the eight pages go to disc credits/acknowledgements, transfer information, and chapters and cast lists. That leaves just two pages for "Border Wars", an essay by New York Times film critic Manohla Dargis. It is primarily a reading and dissection of Traffic, a solid appraisal that testifies to the film's impact and touches on its production history.
CLOSING THOUGHTS
Traffic isn't without some problems, but it remains a powerful, thoughtful, and highly cinematic exploration of an issue that isn't going away anytime soon. Dark and emotionally draining, this is likely not a film you'll want or need to revisit on a regular basis. If you do, however, decide the many achievements are worthy of a spot in your collection, then no doubt Criterion's exhaustive Blu-ray stands as the film's definitive release. It will probably cost you over twice as much as Universal's Blu-ray combo packs and without the flashiest of exclusive bonus features. Depending on the quality of Universal's feature presentation, that may be food for thought if you're not a big fan of audio commentaries and isolated scores. On its own merits, though, Criterion's comprehensive edition will satisfy most, especially if found at a good price.
Support this site when you buy Traffic now from Amazon.com:
Criterion Collection: Blu-ray • DVD / Universal: Blu-ray/DVD • Blu-ray + DVD + DC / Instant Video