Two things about Dinner for Schmucks had me excited to see it as soon as possible. The first was that it was an American remake of a French comedy. I don't know if you can find anyone out there who considers themselves a remake fan and I definitely don't. But two 1997 films, Tim Allen's Jungle 2 Jungle and the Robin Williams/Billy Crystal vehicle Fathers' Day, rank as favorites for me and long ago DVD purchases I don't regret making. Most of the world has a lower regard for these two movies, each a remake of a French farce. There's also the 1987 blockbuster Three Men and a Baby, which I'm convinced I would appreciate if I ever saw in full instead of just catching bits on TBS. Clearly, I must have a soft spot for this small class of cinema.

The far more significant source of attraction to Schmucks was that it assembled perhaps the most impressive comedic cast imaginable. The two marquee names are Steve Carell and Paul Rudd, who parlayed their roles in the much-celebrated Anchorman (2004) into two of the more reliable and prominent acts in comedy today.

Carell has been the bright center of NBC's once-great, still-enjoyable "The Office" and everything featuring Rudd (beginning with other romps directed and/or produced by Judd Apatow) has been the better for his involvement.

It wasn't just the reunion of Channel 4's field reporter and weatherman (or, if you prefer, two Smart Tech salesmen) that had me stoked, though. Supporting them is a wealth of talent from around the globe that had featured in some of the most hilarious modern television series around. From "Flight of the Conchords", there are Jemaine Clement and Kristen Schaal. From "The IT Crowd", there is Ireland's Chris O'Dowd. From the briefly riotous "Little Britain", David Walliams. And one can't overlook funnyman Zach Galifianakis, who everyone knows as the fat, bearded guy from The Hangover and whom I had previously enjoyed from his appearances on "Tim and Eric Awesome Show, Great Job!" With all these humorous performers on board, who could mind ventriloquist Jeff Dunham being in the ranks? If you recognize these actors from the fun TV series many have missed, you too will appreciate this veritable dream team of amusing eccentrics.
Such a dream team sounded befitting of the premise for Schmucks, in which a boss (Bruce Greenwood) hosts a monthly dinner party attended by the oddest oddballs that his favorite employees can find, accompany, and (secretly) ridicule. That may sound like a mean-spirited tradition and that is certainly how it strikes Tim Conrad (Rudd, playing the straight man) upon learning of it. But Tim, an analyst at the financial corporation, is itching for a promotion to the seventh floor, something he thinks might change the answer of his longtime girlfriend Julie (Stephanie Szostak) to his marriage proposals. Julie vehemently disapproves participating in the dinner and Tim is about to decline the chance to advance himself professionally. Then, he runs into Barry Speck (Carell).
Bespectacled ginger Barry immediately reveals himself to be a world-class idiot. He misquotes John Lennon, misreads Tim's concerns over hitting him with his car, and has a terrible reason for being in the middle of the road. Barry was pursuing a dead mouse to include in his series of taxidermical dioramas recreating famous pieces of art, a hobby that supplements his IRS job. Unable to resist extending an invitation to his boss' dinner, Tim soon finds his world turned upside down by Barry.
Julie walks out and in comes Darla (Lucy Punch), a regretted one-night stand-turned-stalker who lays waste to Tim's apartment. A critical brunch with a rich Swiss businessman (Walliams) goes disastrously when Barry tries to help. Barry also convinces Tim that Julie must be finding comfort in the arms of the animalistic artist (Clement) she has been curating.
Eventually, we get to the titular feast, the only thing really marketed in the movie's ads. It collects an eclectic bunch of misfits, from a blind fencer (O'Dowd) to a ventriloquist (Dunham) to Barry's dickey-wearing, mind-controlling IRS colleague (Galifianakis). The calamities expectedly keep coming until the film finds a way to make peace with its seemingly decent protagonist partaking in a condescending corporate rite and taking down a well-intentioned simpleton with him.
Schmucks is directed by Jay Roach, who helmed Meet the Parents and its hugely profitable sequel Meet the Fockers,

but opted to merely produce Little Fockers and be more directly involved here. Parents is given mention in the theatrical ad materials and on the DVD cover, and with good reason, because it represents a successful model for the PG-13 comedy of errors that Schmucks aspires to. Schmucks plays more like Meet the Fockers, though, favoring broad gags over a less polarizing, more accessible atmosphere of awkwardness. Roach's newest movie gives us a little bit of both, but clearly tries to keep being bigger and bolder, moving from shattering hurled wine bottles to demolishing a Porsche to setting curtains ablaze.

Much of it is entertaining, so long as you can appreciate Carell's did-I-do-that "tornado of destruction." Rudd merely reacts, getting peeved in smaller increments than any reasonable person would be. The film piles on a lot of damage in its ample 114-minute runtime, rarely stopping to take a breath and hardly grounding its out-of-this-world hijinks in an identifiable reality. It will surely lose many viewers' support on account of this. It will lose others with its graphic sexual talk, which is somewhat surprising in light of its rating.

In their second produced script, David Guion and Michael Handelman find more success than they did on Zach Braff and Jason Bateman's The Ex. It is unclear how much of that is due to the original French film, 1998's Le dξner de cons (titled The Dinner Game for English audiences), written and directed by the oft-translated Francis Veber (who is also responsible for the movies that became Fathers' Day, The Birdcage, The Toy, and Three Fugitives). Reading about The Dinner Game, it sounds like some, but not very much, Americanization has been done here.

While not one of the big hits of summer, Schmucks just about met box office expectations, narrowly clearing its $69 million budget with a $73 M domestic gross. That was very much in line with Rudd's R-rated but comparable previous buddy comedies Role Models and I Love You, Man. The earnings were a bit less than Carell's recent star projects. On the plus side, I would say (having not yet seen Date Night) that Schmucks is the actor's best live-action movie since Little Miss Sunshine. That is less an exaltation than a wish that Carell could find film projects that reveal his talents as strongly as "The Office" has, particularly as he transitions from that show to full-time movie stardom. But, while perhaps not being the ultimate laughfest I had hoped for, Schmucks is definitely a good time.
DVD Details

1.78:1 Anamorphic Widescreen
Dolby Digital 5.1 (English, French, Spanish, Descriptive Video Service)
Subtitles: English, French, Spanish
Closed Captioned; Extras Captioned and Subtitled
Release Date: January 4, 2011
Single-sided, dual-layered disc (DVD-9)
Suggested Retail Price: $29.98
Black Eco-Friendly Keepcase
Also available on Blu-ray Disc ($34.99 SRP)
VIDEO and AUDIO
Dinner for Schmucks looks amazing in its 1.78:1 widescreen DVD presentation. Visuals are not something that people will leave the film talking about, but they are so clean, sharp, detailed, and pleasant that a DVD critic feels obligated to sing their praises loudly. While the Dolby Digital 5.1 soundtrack is fairly subdued, it makes occasional nice use of the field to deliver atmosphere and more often handles the prevailing dialogue with the utmost crispness and clarity. Paramount nicely covers all bases with dubs and subtitles in French and Spanish plus a descriptive track for the blind.
BONUS FEATURES, MENUS and PACKAGING

A far cry from the bountiful sets given to some of the Apatow comedies for which the stars are known,

Dinner for Schmucks is joined by just three bonus features on DVD.

"The Biggest Schmucks in the World" (15:04) is a making-of featurette. It devotes almost all of its attentions to the cast, singing the actors' praises individually and collectively. Most of the comments are earnest and positive, but some of the comedians inject levity, such as Carell riffing on the name "Jemaine" and Walliams going on about craft services.

"Schmuck Ups" (8:16) is a long, amusing gag reel. While much of it is the usual crack-ups, it also contains a fair amount of unused jokes and improvisations. Fans of Galifianakis, Clement, and Schaal (who plays Rudd's assistant) will enjoy seeing more of them here.
Finally, there are six deleted scenes (9:12), which include a longer version of Barry's apartment break-in, Tim trying to explain his job to Barry, and extended moments with Darla (Lucy Punch). Based on the movie's length and design plus the nature of comedy, I'm surprised there aren't more and more substantial deletions here.
No cut scenes are gained on Blu-ray, but the hi-def disc does add the featurettes "The Men Behind the Mouseterpieces", "Meet the Winners", and the LeBron James-inspired "Paul and Steve: The Decision."
The DVD opens with trailers for Rango, Jackass 3, Morning Glory, and Mean Girls 2, followed by an anti-smoking spot. The menu's "Previews" listing plays a trailer for The Fighter and a promo for Paramount's Sapphire Series Blu-rays before repeating the disc-opening movie ads.
The main menu takes us around the miniature worlds of Barry's hobby, with clips from the film playing in frames.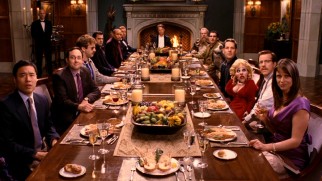 CLOSING THOUGHTS
I am definitely adding Dinner for Schmucks to my short list of American remakes of French comedies that I enjoy, although the general public shouldn't be much less appreciative of this film than I am. Not the constant uproar it may strive for but quite a bit funnier than many critics gave it credit for, Schmucks is generally diverting and easy to like, and not overly crude. Paramount hasn't given the movie a heavyweight disc, but the flawless feature presentation and entertaining half-hour of extras are quite satisfactory. This is worth a spin.
More on the DVD / Buy from Amazon.com / Buy on Blu-ray from Amazon.com