DVDizzy.com | DVD and Blu-ray Reviews | New and Upcoming DVD & Blu-ray Schedule | Upcoming Cover Art | Search This Site
Brooklyn's Finest DVD Review
Brooklyn's Finest

Theatrical Release: March 5, 2010 / Running Time: 133 Minutes / Rating: R / Songs List

Director: Antoine Fuqua / Writer: Michael C. Martin

Cast: Richard Gere (Eddie Dugan), Don Cheadle (Clarence "Tango" Butler), Ethan Hawke (Sal Procida), Wesley Snipes (Casanova "Caz" Phillips), Will Patton (Lt. Bill Hobarts), Lili Taylor (Angela Procida), Michael Kenneth Williams (Red), Brνan F. O'Byrne (Ronny Rosario), Shannon Kane (Chantel), Ellen Barkin (Federal Agent Smith), Wass Stevens (Det. Patrick Leary), Logan Marshall Green (Melvin Panton), Armando Riesco (Det. George Montress), Jesse Williams (Eddie Quinlan), Vincent D'Onofrio (Carlo)
Buy on DVD from Amazon.com • Buy on Blu-ray from Amazon.com
In his seventh narrative film, director Antoine Fuqua returns to the genre where he made his name on 2001's Training Day. Brooklyn's Finest, penned by first-time screenwriter Michael C. Martin, takes Fuqua back to the world of tough urban cops and the fuzzy moral scale they must tread.

The film primarily focuses on three archetypal civil servants with different notions of good. There is Eddie (Richard Gere), the alcoholic veteran who is counting down the days until his pension-earning retirement.

Tango (Don Cheadle) is an undercover narcotics officer begging to leave the dangerous thug life for a desk job. And Sal (Ethan Hawke) is a Catholic man, who is racked with guilt and taking desperate measures to provide for his family, which includes a wife pregnant with two more kids and troubled by house mold.

The movie alternates between the worlds of these three police officers, who share a high-crime precinct but rarely a perspective or the screen. In his last week on the job, Eddie finds his head-down, turn-a-blind-eye approach questioned by a young rookie he's paired with. Tango is promised the promotion he craves, so long as he can send his recently released friend and partner in crime Caz (Wesley Snipes, making a comeback while appealing his income tax conviction) right back to prison. Sal considers pocketing drug money to ease his family's financial problems.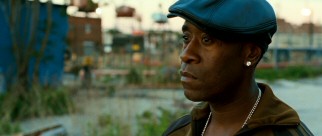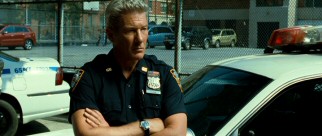 Though it's filled to the brim with profanity and doesn't shy from sex and nudity, Brooklyn's Finest is surprisingly not violent for most of its runtime. You're right, however, in presuming that the film is building to a deadly climax. Our three ambiguous leads each pursue separate calls to action at a common site for a final act that packs a punch (and several casualties).
Aspects of the film will inevitably remind you of almost every hard-edged police drama you've seen, from Narc and Crash to The Departed and even The French Connection. And yet, Brooklyn's Finest isn't borrowing from these works, but recalling what from them made a lasting impression.
The film opens with a jarring shotgun blast to the face. After that, the biggest surprise may be that there are no rappers acting here, something that's become a requisite for contemporary crime drama (thanks in part to Fuqua's breakout hit).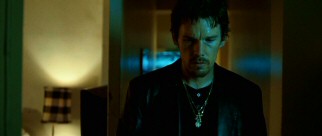 Brooklyn's Finest is engrossing, structurally sound, and nicely shot and scored. It is also well-acted. Perhaps unsurprisingly, Cheadle most elevates the material, convincingly speaking in street talk while tactfully walking the mole line. Hawke is better here than I've seen him in anything in a while.

Even Gere brings something interesting to the table while taking to a hooker like he hasn't since Pretty Woman. The supporting cast includes nice turns from Will Patton as Tango's boss and Brian F. O'Byrne as Sal's righteous friend, cameos from Vincent D'Onofrio and Lili Taylor, and Ellen Barkin living up to her surname.

Fuqua has improved. This is much better and more story-driven than his inexplicably decorated Training Day (that is the movie you pick to honor Denzel Washington for, world?). Race is handled tastefully, even in a relatively minor subplot involving a fatal police shooting of a black civilian. I can think of another famous black director who would probably develop this angle further by dragging out some racist white characters. Fuqua doesn't bother going there and he also doesn't overthink minority portrayals. Casting and directing with storytelling in mind does wonders for the film's striking realism.

Following a short-winded and ordinary spring box office run, Brooklyn's Finest comes to DVD and Blu-ray next week from Overture Films and Anchor Bay Entertainment.
DVD Details

2.40:1 Anamorphic Widescreen
Dolby Digital 5.1 Surround (English)
Subtitles: English for Hearing Impaired, Spanish
Not Closed Captioned; Extras Not Subtitled
Release Date: July 6, 2010
Suggested Retail Price: $29.98
Single-sided, dual-layered disc (DVD-9)
Black Eco-Friendly Keepcase in Embossed Cardboard Slipcover
Also available on Blu-ray Disc with Digital Copy ($39.98 SRP)
VIDEO and AUDIO
Brooklyn's Finest looks and sounds terrific on DVD. The dark 2.40:1 anamorphic widescreen picture is free of problems and the indistinctive visual style is rather a breath of fresh air. The Dolby 5.1 soundtrack aptly conveys atmosphere and does a fine job of presenting Marcelo Zarvos' instrumentals and a more diverse than expected collection of sampled songs (list here). The occasional gun shot mixes things up, but not to an unreasonable jump in dynamics.
BONUS FEATURES, MENUS and PACKAGING

Easily overlooked is an audio commentary by director Antoine Fuqua. More interested in reading his film than sharing routine production anecdotes, he points out subtexts and religious symbolism.

He provides some inside information as well, but he still treats the track like an annotated viewing. That makes it a little different, but not necessarily more valuable than usual.

Next up come four featurettes, all of which are short and slickly promotional but worthwhile. "Chaos & Conflict: The Life of a New York Cop" (6:50) discusses the project in general terms and the leading characters. "Boyz n the Real Hood" (5:47) covers filming in one of the titular borough's rough neighborhoods and the authenticity and positive experience that provided. "An Eye for Detail: Director Featurette" (6:35) praises the vision and determination of Antoine Fuqua, who in turns praises his leading cast members. "From the MTA to the WGA: Writer Featurette" (5:15) explains how Michael C. Martin quickly went from a subway construction flagger to Hollywood player partly by winning a screenplay contest.

A massive collection of seven lengthy deleted scenes (31:17) extends existing scenes and supplies context for other cuts. Extended: Cheadle's tense highway police stop and Gere's embarrassing opening up and eruption while being pleasured by his favorite prostitute. Deleted: two talks between Tango & Caz (I feel like there's an homage to a Sylvester Stallone/Kurt Russell film in those names) and a dramatic scene with Hawke's family (including another Lili Taylor appearance). Finally, we get two extended endings, neither of which carries remotely the impact of the existing conclusion.

The theatrical trailer for Brooklyn's Finest (2:32), which culminates with a use of Jay-Z, Rihanna and Kanye West's "Run This Town", is preserved. I wish all the studios would do the same for their films.

"Also on DVD" holds the disc-opening trailers for "Spartacus: Blood and Sand" and The Crazies, plus promos for Pandorum, Law Abiding Citizen, and UFC DVDs.

The disc's static main menu attaches score to the poster/cover art; others employ generic cityscapes and publicity images. The DVD includes a faintly embossed cardboard slipcover which grants its second spine to a deserving Cheadle and Hawke (Snipes questionably shares the first with Gere). A lone insert promotes "Spartacus" and other Starz shows.
CLOSING THOUGHTS
Brooklyn's Finest is neither great nor entirely different from movies that have come before it. But it's a passable police drama that puts complex, compromised characters ahead of procedure and never stops being interesting. Anchor Bay's DVD delivers a great feature presentation, an okay commentary, and a solid hour of video extras. While it's probably best suited for a single viewing by fans of the gritty genre, those who enjoyed it and would want to revisit it should be satisfied by the nice package it's treated to.
More on the DVD / Buy from Amazon.com / Buy on Blu-ray from Amazon.com


Related Reviews:
New: The Crazies • Night Train to Munich (Criterion) • A Star is Born (Deluxe Edition) • Percy Jackson & the Olympians: The Lightning Thief
Bad Lieutenant: Port of Call - New Orleans • Miracle at St. Anna • Gone Baby Gone • Edge of Darkness
No Country for Old Men (Collector's Edition) • The Road • Zodiac (2-Disc Director's Cut)
Directed by Antoine Fuqua: Shooter • King Arthur (Director's Cut) | Produced by John Langley: COPS: 20th Anniversary Edition
Starring Richard Gere: Primal Fear (Hard Evidence Edition) • The Hoax • Chicago (Razzle-Dazzle Edition) • Amelia (Blu-ray) • Shall We Dance? (2004)
Featuring Ethan Hawke: New York, I Love You • Dead Poets Society (Special Edition) • White Fang
Don Cheadle & Ellen Barkin: Ocean's Thirteen | Brian F. O'Byrne: FlashForward: Part One | Vincent D'Onofrio: Full Metal Jacket
Will Patton: Remember the Titans (Director's Cut) • Armageddon (Blu-ray) | Lili Taylor: Say Anything... (20th Anniversary Edition)
Brooklyn's Finest Songs List (in order of use): Malcolm Kirby Jr. and James H. Martin - "Murder", The Platters - "The Great Pretender", Fogg Horn - "The Champ", The Evil Genius DJ Green Lantern - "NYDP", Jefferson Airplane - "White Rabbit", Papoose - "Stylin'", Uncle Murda - "Bullet Bullet", Harvey and the Moonglows - "Sincerely", Deep Purple - "Hush", "Si Si Puede", Uncle Murda featuring Wyclef Jean and Movado - "Informer", Isaac Hayes - "Hyperbolicsyllabicsesquedalymistic", "Sea of Love", "Time (Clock of the Heart)", Sound Experience - "You Don't Know What You're Doing", The Evil Genius DJ Green Lantern featuring Busta Rhymes - "Where's My Money", The Delfonics - "Hey Love", "Lovin' You Tonight"
DVDizzy.com | DVD and Blu-ray Reviews | New and Upcoming DVD & Blu-ray Schedule | Upcoming Cover Art | Search This Site
Search This Site:
DVDizzy.com Top Stories:
Reviewed July 3, 2010.


Text copyright 2010 DVDizzy.com. Images copyright 2010 Overture Films, Millennium Films, and Anchor Bay Entertainment. Unauthorized reproduction prohibited.