Tom Cruise's rise to fame and glory was like nothing else in 1980s cinema. Cruise got his first supporting role credits in 1981's Endless Love and Taps. Then, 1983 looked to be the actor's breakthrough year, as he appeared in Francis Ford Coppola's The Outsiders and starred in a trio of teen films.

One of those films, Risky Business, was a hit and a star was born with the iconic image of him sliding around his parent-free house in socks and underwear to the sound of Bob Seger's "Old Time Rock and Roll." Cruise didn't have a single film open in 1984 or 1985, but 1986 would prove he was far from idle.

Among that year's wider releases were three headlined by Cruise. First, April brought Legend. This sword and sandal fantasy would halt director Ridley Scott's streak of landmark genre films at two (Alien and, years away from such recognition, Blade Runner). It grossed a dismal $15 million, barely half its budget, but its reputation seems to improve all the time. In October, Cruise played protιgι to an Oscar-winning Paul Newman in The Color of Money, Martin Scorsese's sequel to The Hustler. In between those, Top Gun opened, directed by Ridley's younger brother Tony Scott. It would end up the highest grossing film of 1986 and cement Cruise's status as a marquee idol, status only recently called into question after a long, productive run as the world's biggest movie star.

Post-Top Gun, Cruise had his pick of virtually every major Hollywood film and for the most part, he chose wisely. Of his next ten movies, four were nominated for the Best Picture Oscar and six eclipsed the then meaningful $100 M mark domestically. Cruise wasn't the only one whose career took off following Top Gun. The producing team of Jerry Bruckheimer and Don Simpson had already had success on Flashdance and Beverly Hills Cop; their output would slow as they moved from Paramount to Disney, but their crowd-drawing abilities would not soon be forgotten, at least Bruckheimer's (Simpson died in 1996). Top Gun launched a fruitful collaboration between Bruckheimer and Tony Scott, who has since helmed five other action films for the mega-producer, beginning with Beverly Hills Cop II. And Cruise's supporting cast, including Val Kilmer, Meg Ryan, and Tim Robbins, soon found themselves in demand as lead actors.
"Top Gun" is the colloquial name given to the US Navy Strike Fighter Tactics Instructor program. The Miramar, California station is where the best of the best Navy pilots go to train. That includes cocksure Lieutenant Pete "Maverick" Mitchell (Cruise) and his jocular mate Nick "Goose" Bradshaw (Anthony Edwards), after a close call causes the only pilot ranking above them to bow out. Manning a fighter jet is not for the faint-hearted and the men of Top Gun have more than enough arrogance to reflect their achievement. Showboating Maverick is considered a real wild card by his commanding officers (Tom Skerritt and Michael Ironside).
There isn't an abundance of plot found here. Maverick competes to be recognized as the top pilot of his class, a position that Lt. Tom "Iceman" Kazansky (Kilmer) also has his sights set on. Maverick hits on a woman in a bar who he later discovers is one of his instructors, respected high-clearance government astrophysicist Charlotte Blackwood (Kelly McGillis). Though Charlie resists Maverick's first few advances, claiming that she doesn't date students, she can't help but make an exception for the short, unibrowed, motorcycle-riding dreamboat.
Maverick's two months at Top Gun proceed with a setback (the unexpected death of a dear one) and an illumination (the previously undisclosed story about his storied pilot father's mysterious 1965 disappearance).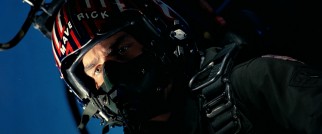 The box office success and ongoing familiarity make it nearly impossible to treat Top Gun as a mere movie. It is more like a cultural hallmark, the 110 minutes that best reflect the tastes of moviegoers around the world as they stood in 1986. That is to the film's advantage, because taken merely at face worth, it is none too spectacular.
If you look over a list of the highest-grossing movies of calendar years, you notice certain things. It's impossible to miss that this young century has been driven by sequels, which have topped the box office all but one year since 2003 (Avatar being the gargantuan exception). Go back further and what you should notice is that it's typically not hard to understand why yearly champions won over audiences. Most of them boast imagination and fun, and most provide a reasonable amount of quality, often both technically and artistically. You will be able to point out an exception (for me, it's clearly How the Grinch Stole Christmas), but there is almost nothing in that list that you would cringe at someone making you watch right now.
Top Gun is one of the modern box office champs that comes closest to failing that test. The film remains entertaining, but far less so than many other '80s blockbusters. A major reason for that seems to be that it doesn't have a strong script at its foundation. The feature debut of Jim Cash and Jack Epps, Jr., a pair that would go on to contribute to Turner & Hooch, Dick Tracy, Anaconda, and The Flintstones in Viva Rock Vegas, Top Gun's screenplay strings together flight sequences with standard-issue material linking them.
I imagine that the flight sequences might have been the main attraction in 1986, but they have not aged well at all. It is nice that Scott, Bruckheimer, et al. made a point to shoot these scenes with actors truly up in the air. And maybe seeing them on the big screen was like experiencing a thrill ride back then.

But they're kind of unwatchable now. First of all, much of the time, it isn't even clear whether our fighters are simply doing training exercises (as they are most of the time) or actually engaged with a dangerous enemy (as they only are in the climax). In fact, very little is clear. The helmets have the pilots' call names on them, but their hair, mouths, and personalities are often obscured. And that is the view we most frequently get, rather than the first-person perspective you would expect. These scenes are neither thrilling nor easily followed.

Top Gun is easier to like when it's on the ground. Sure, the characters are one-dimensional, if that. Their banter is short on wit. Even the moments and exchanges you enjoy you do so in spite of yourself, putting your heart before your head. It's not hard to do. Cruise is a charismatic leading man and that affords the film a lot of slack. "I feel the need... the need for speed!", the rampant high-fiving, the reliance on nicknames... it's very cheesy, but sort of endearing. The film's simple takes on heroism, love, and legacy are sweet and innocent, qualities that are magnified by the fact that so much of the general public was able to buy into them. There's some profanity and sex that would never fly in a PG-rated movie today (PG-13 remained something of a novelty in '86), but there isn't the edge, humor, or sheer adventure that lets better '80s movies retain their appeal.

Top Gun is the rare entity where other cultural references to it are actually more memorable and enjoyable than the original thing. Revisiting this now, Top Gun jokes and mentions from Meet the Parents, "I Love the '80s", Going the Distance, "Flight of the Conchords", Ocean's Eleven, and even real life anecdotes kept popping in my head and doing more for me than the movie itself. I guess that testifies to the film being more of a cultural icon and career launchpad than a great piece of cinema. Which is just fine, because icon status is rare and special, requiring external factors, an intrinsic laughability, and the right timing to be the one movie of the season everyone sees and discusses.

Believe it or not, Top Gun's season was twenty-five years ago this summer. To celebrate that milestone, Paramount Home Entertainment has reissued the movie's original 2008 Blu-ray Disc with a new digital copy and slipcover. Since we weren't reviewing Blu-rays when the disc was originally released and since, great or not, the movie is significant enough to warrant a review, we do so now with a look at this loaded set, whose value is mostly limited to the previously released single Blu-ray.
Blu-ray Disc Details

2.35:1 Widescreen
6.1 DTS-HD MA (English), Dolby TrueHD 5.1 (English), Dolby Digital 5.1 (French, Spanish)
Subtitles: English, English for Hearing Impaired, French, Spanish, Portuguese
Not Closed Captioned; Video Extras Subtitled
Release Date: August 30, 2011 (Blu-ray first released July 29, 2008)
Two single-sided discs (BD-50 & DVD-5 DVD-ROM)
Suggested Retail Price: $24.99
Blue Keepcase in Embossed Cardboard Slipcover
Also available as 2-Disc DVD ($12.98 SRP) and Amazon Instant Video
Previously released as standalone Blu-ray and "I love the 80's" DVD + CD
VIDEO and AUDIO
Top Gun looks quite good on Blu-ray, which translates to an okay catalog transfer considering the format's high standards. This big budget production hides its age better than many of its contemporaries. The element remains fairly clean throughout with adequate sharpness and detail. The colors appeared to be a little bit off, but perhaps this is the infancy of highly stylized Bruckheimer productions. There is some grain, which adds to the presentation's filmic quality. In short, there's nothing too troubling, but I suspect that there's already some room for improvement within 1080p.
By default, the English soundtrack is offered in Dolby TrueHD 5.1, but you can also choose 6.1 DTS-HD master audio. I opted for the latter and had one big complaint about it: volume range. The mix varies between very loud fighter jet noises and quiet dialogue. I know that sound designers and apparently some viewers value varying levels, but I doubt many if any people have a setup that doesn't require frequent tinkering to render the dialogue audible and the jets not so deafening. It must be pointed out that the end credits only cite Dolby Stereo, meaning neither of these choices is especially faithful to original sound format (although bonus feature comments suggest a forceful design). On a modern movie whose elements are easily adjustable, aural fidelity isn't a huge issue to me (and judging from the frequent lack of original soundtrack formats, I seem to be in the majority). But the overly wide volume range is something I would look at and fix when the movie gets a full-fledged new edition. Other than that, the mix is lively and broad, making use of the whole soundfield with plenty of directionality.
BONUS FEATURES, MENUS and PACKAGING

The hearty menu of extras kicks off with an audio commentary by director Tony Scott, producer Jerry Bruckheimer, co-screenwriter Jack Epps, Jr., Captain Mike Galpin, technical advisor Pete Pettigrew, and Vice Admiral Mike McCabe. As you'd expect from a group of that size and stature, they are not all recorded together; the three military advisors are, while everyone else is on their own.

That patch job spares us lulls and gives us a variety of angles for observation. Bruckheimer tackles the business side, the military guys testify to the authenticity or lack thereof, and Scott supplies the most practical making-of, from casting it to getting "fired" three times. It's an above average commentary.

On the video front, all of which is presented in standard definition, things begin with "Danger Zone: The Making of Top Gun", which can be viewed as one epic documentary (2:27:42) or as six long featurettes. Among those newly interviewed for this 2004 debut are Tony Scott, Jerry Bruckheimer, Jack Epps, Jr., and actors Tom Cruise, Val Kilmer, Rick Rossovich, Michael Ironside, and Barry Tubb. That leaves Kelly McGillis, Anthony Edwards, Tom Skerritt, and Meg Ryan as the more notable no-shows (plus Tim Robbins, if his barely identifiable part qualifies).

The components of "Danger Zone" are as follows...

"From the Ground Up: Pre-Production" (29:59) deals with the script and development. Epps leads the conversation, recalling studio hesitance, Navy notes, and his intentions, while Scott touches upon casting the movie. "Playing with the Boys: Production: Land and Sea" (26:40) might be the section most appealing to the general public. It recalls the party atmosphere of production, with the actors sharing lots of good stories. It's not all sugar-coated, either; Peter "Viper" Pettigrew recalls the frustration with which inaccuracies were condoned to win over "Mom and Pop in Oklahoma."

Your interest may start to flag with "The Need for Speed: Production: Air" (28:27), the most technical portion. The pilots recall their maneuvers, challenges, and limitations, which are spiced up with some production footage. This stretch concludes remembering Art Scholl, the accomplished pilot who died shooting background plates. "Back to Basics: Visual Effects" (17:09) is another one that might bore the general public, with special photographic effects supervisor Gary Gutierrez leading talk of shooting conditions and such.

Things pick up with "Combat Rock: The Music of Top Gun" (21:32), which recalls the competitive cattle call through which artists were to submit potential soundtrack entries. We get backstories to the more memorable songs, placing them into context for the musicians. Kenny Loggins shares his plan to sneak in through the volleyball scene (before later getting tapped to do "Danger Zone"). Berlin's lead singer Terri Nunn cites the song's success as a reason of the band's break-up and expresses regret at refusing to perform it as part of the Academy Awards' medley. The documentary draws to a close with "Afterburn: Release and Impact" (23:55, with the collective end credits), which entertainingly details reshoots, test screenings, and the film's general reception.

This frivolous movie is kind of a weird choice to get such a comprehensive retrospective, but fans should get a kick out of it to varying degrees. Though the piece(s) could have easily been trimmed down to around an hour, most of the material is pretty solid and well worth hearing. Maybe the only thing missing is a reel of Top Gun references in other media.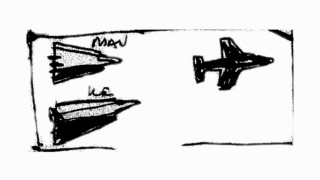 Two sequences -- "Flat Spin" (4:02) and "Jester's Dead" (2:53) -- are given multi-angle storyboard treatment, allowing you to compare the crude pre-production drawings to the corresponding shot from the film, or just view the former at full screen. Without an angle button, it's not so easy to toggle between the two, but the experience isn't all that different. You can watch these with either score or audio commentary (which Tony Scott has no trouble providing) over them.
"Best of the Best: Inside the Real Top Gun" (28:46) is the one item unique to Blu-ray. It deals with the real institution dramatized in the film. Pilots and staff talk about life, clothing, tools, etc. It's great information... if you're considering attending there. Everyone else will find it an endurance challenge (or just something that's not for them).
Last but not least is the Vintage Gallery, which holds a number of treats from the time of production and release.

Four songs written for the film are treated to music videos from the format's creative heyday. Kenny Loggins' "Danger Zone" (3:55) finds the singer/songwriter, sweaty and sunglassed, passionately lying in bed with a ceiling fan prominently above. Berlin's "Take My Breath Away" (4:30) makes use of grounded airplanes, as Terri Nunn sings the Oscar-winning ballad on, in, and around them. "Heaven in Your Eyes" by Loverboy (4:05) shows the band performing the song live in concert to an adoring audience.

Finally, Harold Faltermeyer and Steve Stevens perform the instrumental "Top Gun Anthem" (4:25) in an airplane hangar, with spacesuited guitarist Stevens rocking hard and pianist Faltermeyer hardly rocking.

Naturally, all four employ clips from the movie befitting their tone, with Loverboy occasionally, unconvincingly placing them on the large stage screens behind the band. Needless to say, these awesomely cheesy videos are more memorable than most extras and probably the highlight of the disc.

Seven 30-second TV spots (3:46) emphasize different aspects and songs of the film. Individually accessible but best consumed collectively, these ads are cool to see; too few discs think to provide them. They also make up for the glaring absence of Top Gun's full theatrical trailer.
A behind-the-scenes featurette (5:30) offers crew interview sound bites, clips/montages prominently featuring the film's soundtrack, and some on-set footage. The survival training Featurette (7:30) focuses on the actors' flight training with comments from them and clips of them being prepped to go up in the air.
"Tom Cruise Interviews" (6:42) is really just one piece, which has the actor in his young, likable days talking on a variety of topics set up by title cards. The remarks on production and flying are pretty predictable and Cruise remains seated on this couch.
Despite all that's here, the Blu-ray misses one minor bonus feature from the film's two-disc DVD: a 167-image production photo gallery.
After a parade of the lead characters, the suitably high-octane menu shows narrow film clips amidst aviation imagery while a good chunk of "Danger Zone" plays. Menus expand logically, with a winning themed design. The disc resumes movie and extra playback to a degree, until your player powers down. After that, you're left relying on the film's ability to support bookmarks.
Disc 2 is nothing more than a digital copy disc, holding two Windows Media and one iTunes file you can transfer to your computers and portable devices. I suspect there is more demand for Top Gun on DVD than digital copy, so it's mildly surprising that Paramount didn't offer one of their hybrid discs instead. I guess that was more effort than seen fit for this edition.
Also updated for this release is the packaging. Top Gun receives slightly new cover art, dropping the "Special Collector's Edition" moniker (which the colorless disc retains) and enlarging the stars. An insert supplies directions for transferring the digital copy, using the reverse not to promote anything else but to display the rear cover artwork accompanied only by title and star credits. Interestingly, the digital copy is only mentioned on the obligatory, otherwise redundant, embossed cardboard slipcover, meaning Paramount will probably drop both some point down the line.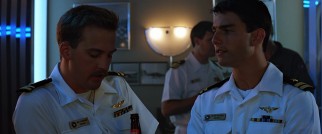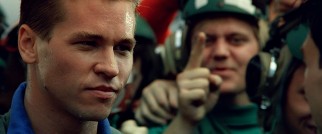 CLOSING THOUGHTS
Twenty-five years after release, Top Gun is silly and far less exciting than it wants to be. Still, the character material and cultural significance are enough to keep the movie appealing and appealing enough to claim a place in more home video collections than the vast majority of '80s films.
If you already own Top Gun on Blu-ray, the addition of a digital copy shouldn't be enough to sway you to rebuy it. If you don't, the wealth of extras offered here offer significant improvement over the movie's original DVD but practically no improvement over the 2-Disc Special Collector's Edition (which has a photo gallery but not the real Top Gun academy profile). Though there is no reason to think this is the film's be-all, end-all Blu-ray release, it is a highly satisfying set and one that Amazon is currently selling for under $10.
Support this site when you buy Top Gun now from Amazon.com:
Blu-ray + Digital Copy / 2-Disc DVD / Instant Video