The film Speed Racer earned nearly $44 million domestically.

Had it done that in the late 1960s when its source Japanese animated television series was introduced and popularly exported to the United States, it would have been a tremendous success and one of the decade's highest-grossing films.

In 2008, though, that sum qualified it as one of the biggest box office flops of the summer movie season. A live-action film with copious amounts of CGI flourish, Speed Racer boasted a noteworthy cast, the writing and direction of the Wachowski Brothers (who delivered the landmark Matrix trilogy and the profitable V for Vendetta), name recognition, international appeal, and a desirable May opening in 3,600 North American theaters. All that added up to was an underperforming third place debut. Coupled with unusually feeble legs and a fairly lackluster reception overseas, the movie didn't come very close to earning back its reported $120 M budget. Financially, it was a definite dud and the critical reaction suggested that was no tragedy.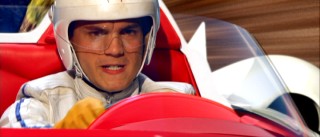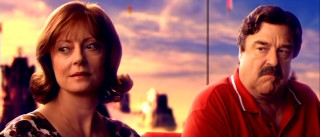 Is it any surprise that a character named Speed Racer would be drawn to life as a race car driver? No, and that's the predictable path our hero takes. Not even the death of his idol and older brother Rex (Scott Porter) can discourage Speed from pursuing the race track. As a young man, Speed (Emile Hirsch) is both passionate and skilled at racing. That combination attracts the attention of many potential sponsors, none more aggressive than E.P. Arnold Royalton (Roger Allam). In an effort to woo Speed to join his wealthy empire, Royalton invites the boy and his family (parents played by Susan Sarandon and a mustachioed John Goodman) for a tour of the state-of-the-art facilities. Behind his confident smile, one detects an evil air, which rears its head when Speed declines signing with him.
Depicted at length, the extensive pitch and rejection is more than just a missed opportunity for Speed, it's a sobering revelation that the World Racing League is largely fixed, with results reflecting major corporate interests.
Rather than simply throwing in the towel, Speed sees a chance to both satisfy and purify his calling. At the encouragement of his chaste girlfriend Trixie (Christina Ricci), Speed sneaks off to join forces with the masked, mysterious Racer X (Matthew Fox) and entrenched racer Taejo (Korean pop star Rain). Together, the trio enters a cutthroat competition in the hopes of winning and exposing widespread corruption.
I don't remember too much about the cartoon "Speed Racer" beyond its catchy theme song and evidently translated culture. Still, I knew enough to enter the film expecting something colorful, nostalgic, and light. The Wachowskis provide only the first of those three elements. The kaleidoscopic visuals of the film make a large impression. A clear style is instantly established and mostly adhered to.
It consists of high contrasts and applying every shade of the rainbow to a section of any given frame. I suspect that, in theaters, the palette could have had a sickening effect. On DVD, it's easier to bear and the film seems to deserve some creativity points, if not unanimous aesthetic ones. In particular, the driving sequences on neon, topsy-turvy, reality-defying circuits make your regulation NASCAR track look dull even from the driver's seat.

It is intriguing that a bright, mainstream PG-rated film would opt for such mature themes. Those expecting a children's film may be surprised by the heavy action and ongoing use of mostly tame profanity. And yet those fond of the Wachowskis' R-rated sensibilities of the past may be far too wary of the rating and title to even give this one a shot. The movie does try to bridge the gap between those two demographics by providing something serious and thoughtful while still accessible. It doesn't quite succeed. For comic relief, there is Speed's sweets-craving young brother Spritle (Paulie Litt) and his pet chimpanzee Chim Chim. After featuring largely early on, the two are then disregarded for long stretches. When they resurface at the end, you may have even forgotten they were in this movie before. Though this pair doesn't achieve it, the film could probably use some lightening up.

Instead, the straight-faced drama is bolstered by some elaborate fight sequences. Like other aspects, this may be true to the Saturday morning inspiration, but it doesn't work well with real people. It also doesn't help any argument that the unusual 135-minute runtime is justified.

Warner Home Video recently released Speed Racer to DVD and Blu-ray. We take a look at the former below.
DVD Details

2.35:1 Anamorphic Widescreen
Dolby Digital 5.1 Surround (English, French, Spanish),
Subtitles: English, French, Spanish
Not Closed Captioned; Video Extras Subtitled
Release Date: September 23, 2008
Single-sided, dual-layered disc (DVD-9)
Suggested Retail Price: $14.98 (Reduced from $27.98)
Black Keepcase with Cardboard Slipcover
Also available in Reformatted Full-Screen Edition DVD
and on Blu-ray Disc
VIDEO and AUDIO
As you can probably gather from above, the colors of Speed Racer will give your display more of a workout than most entities. Gladly, Warner's 2.35:1 anamorphic widescreen transfer conveys the busy, innovative visuals with nary a problem in sight. The pristine element conveys the wealth of information with satisfactory sharpness, brightness, and clarity. A pan & scan edition is sold separately, but I can't imagine why anyone without some kind of rare medical condition should care.
The Dolby Digital 5.1 soundtrack is no slouch either. It is expectedly active and dynamic, particularly in the fast-paced driving sequences.
BONUS FEATURES, MENUS and PACKAGING

Two featurettes stand as video supplements to the film.

"Spritle in the Big Leagues" (14:32) follows child actor Paulie Litt as he wanders around the set.

In the process, he and we learn about previsualizations, stunt choreography, set dressing, graphic work, costumes, chimpanzees, filming with a gimbal and green screen, and so on. Pop-up facts add another layer. Having Litt act as host keeps this overview of production straightforward and accessible.

Less gripping, "Speed Racer: Supercharged" (15:38) goes into detail on the film's various race car manufacturers, the special design features of their vehicles, and the challenging tracks they endure. There are lots of looks at computer-animated blueprints and the primary goal seems to be familiarizing young viewers with the various fake brands of the movie.

Launching the disc are a Casablanca anti-piracy spot; previews for Fred Claus, Another Cinderella Story, Speed Racer: The Videogame, and Beetlejuice: 20th Anniversary Deluxe Edition; and an anti-smoking ad (what is it with DVDs and those?). None are accessible from the menu, and no trailer for Speed Racer is included.

The static menus evoke the movie's race car motif with a "5" circle cursor (of Speed's signature Mach 5) and backgrounds of checked patterns of various colors. The main menu plays Michael Giacchino's movie score instrumental version of the old "Speed Racer" theme tune.

In its initial pressing, Speed Racer's standard black keepcase slides into a cardboard slipcover which replicates the artwork below but adds a touch of catchy foil effects. Two in-case inserts are found. One is a sheet holding a code to download a digital copy from Warner's website (which makes more sense than wasting a disc or disc space). The other is a poster which showcases (and lets you check off) over 30 available Speed Racer Hot Wheels cars.

As a title whose distinct presentation should attract the niche high definition market, Warner has treated Speed Racer to a 3-disc Blu-ray with some exclusives. Alas, one of those discs is a game (Speed Racer Crucible Challenge) and the other is the digital copy (savvy enough to adopt Blu-ray but not savvy enough to download?). The only remaining exclusive on the feature disc is the kid-oriented half-hour technical featurette "Car Fu Cinema." While it sounds like they help ease the $7 premium the Blu-ray set carries, I doubt they're enough to make an ordinary DVD buyer change his or her preferred format here.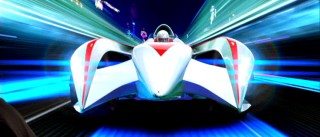 CLOSING THOUGHTS
Speed Racer is a pretty mediocre film that shouldn't have tanked in theaters as hard it as did. But I blame that more on an inflated budget than poor audience taste or even summertime competition. Although the Wachowski Brothers have employed a style that's appealingly different, the substance isn't enough to win over. Though the two featurettes aren't much, Warner's DVD supplies high quality picture and sound. A rental is encouraged and should suffice for most.
More on the DVD / Buy from Amazon.com / Buy on Blu-ray from Amazon.com