This year will go down in film history for giving us the "summer of threes". Most responsible for that label was May, which over the course of four weeks provided Spider-Man 3, Shrek the Third, and Pirates of the Caribbean: At World's End (a third installment). June soon continued that trend with the release of Ocean's Thirteen. To the unacquainted, Thirteen may sound a great deal ahead of the curve, but it too is one of the so-called "threequels."

Steven Soderbergh's crime action-comedies began in December of 2001 with Ocean's Eleven, the warmly-received, well-attended loose remake of the Rat Pack's so-so 1960 musical. The unique, charming caper centered on a newly-assembled band of utterly likable criminals who schemed to knock over three Las Vegas casinos in one night. It was followed three years later by Ocean's Twelve, a less profitable and less esteemed sequel which relocated the group to Europe and was widely deemed indulgent.

I had instantly adopted Eleven as one of my favorite and most-watched films of the new millennium, but bad buzz had kept me away from Twelve until I got around to seeing it and agreeing with the disappointed. Would Thirteen be able to recapture the fun of the hip, spirited original that clearly improved upon its inspiration? It was with some skepticism I approached this third entry to the series.

One of the first things you'll notice about Thirteen, long before you realize that the title's number holds no significance, is the cast changes. Gone are Julia Roberts and Catherine Zeta-Jones, who previously served as the requisite love interests. The guys, however, are still on hand; all eleven actors from the original team have returned again. They include mega movie stars George Clooney (as suave eponymous leader Danny Ocean), Brad Pitt (as his sarcastic right-hand man Rusty Ryan), and Matt Damon (as the promising protιgι Linus Caldwell). Joining them as always are an assortment of specialists: Don Cheadle as Cockney explosives expert Basher Tarr, Casey Affleck and Scott Caan as goofy Mormon brothers, Bernie Mac as a persuasive card dealer, Eddie Jemison as technical geek, Shaobo Qin as the not-so-needed acrobat who speaks in Chinese to everyone's understanding, and 85-year-old comedy legend Carl Reiner as a veteran impostor. Also back are once-nemesis Terry Benedict (Andy Garcia) and English ally Roman Nagel (Eddie Izzard).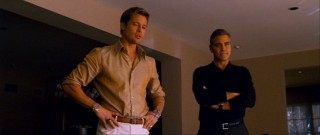 The film's plot involves an extremely significant cast addition: Oscar winner Al Pacino joins the fray as shrewd, very powerful Las Vegas hotel owner Willy Bank. Bank entered into a partnership with Reuben Tishkoff (Elliot Gould), the financial backer in Ocean's gang, for an ambitious new hotel. But as he has been known to do, Bank screws Reuben on the deal, forcing him to sign away his entire stake in what's now called The Bank Hotel. Not only is Reuben financially stiffed, but a heart attack renders him immobile and speechless. The gut reaction of Danny and his gang of skilled thieves is revenge. The remainder of the film deals with their efforts to rob Bank for his misdeed toward their friend.

As has always been the case for the Ocean's series and much of director-producer Steven Soderbergh's filmography (which includes serious Oscar winners Traffic and Erin Brockovich), style is easily as important as substance. Like on the past two films, Soderbergh serves as cinematographer (under the pseudonym Peter Andrews) and he brings distinct sensibilities to the visuals, their framing, and the entire film's design. The Ocean's movies are reliably coy in what they tell us, making sure to leave some mystery to the heist attempt even while constantly introducing us to strategies, devices, and techniques.

We know the goal: to rip off the bad guy. We know some of the seemingly thwart-proof security measures in place at the lavish Bank, such as a computer which reads winners' faces to spot frauds. We know some of the plans of our quirky heroes, including a manufactured earthquake, rigged dice, and acquired access. But vagaries abound as to how it will all unfold. While not as convoluted as the misguided Twelve, this third film plays out with viewers accepting what they're shown and occasionally getting answers to questions they didn't think to ask.

Whether you're thinking and following specifics or not, the experience appears to be the same and that is one of excitement, generated from the high-tech planning, clever crime choreography, and a light-hearted tone. In all three of these areas, Thirteen approaches Eleven's levels of superb tact. Most of the time, the film is treading thin ground like its con men characters; it's got to be smart but not overly confusing, slick but not fake, sincere but humorous. Consistent with the first film, it skews more toward action than comedy, though always maintaining a jocularity to it. It has the unenviable task of sensibly dividing activity and lines more than a dozen ways. Not every turn works brilliantly; we're deliberately left guessing on a few occasions, a romance between Matt Damon's character (in prosthetic nose) and Bank's "cougar" assistant Abigail (Ellen Barkin) is kind of silly, and there's a Mexican factory revolt subplot which isn't as funny as it thinks.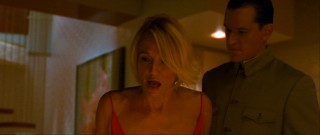 Few can claim that errors weren't made in Ocean's Twelve, which got mixed up in international espionage, reduced Julia Roberts to self-imitation, put its own personal interests above audiences', and generally came across as sour self-parody. Thirteen gets back on the right track by playing closer to the first film, from its setting to its plot. In fact, it seems the biggest argument one can make against it is that it's too much like Eleven, which would be terrific if Eleven hadn't already existed. Short of reintroducing us to the characters, this nearly qualifies as a remake of the first film. Without the luxury of being fresh, Thirteen feels a little like old hat and, while plenty bouncy, it also comes across a bit safe, calculated, and even slightly somber and subdued.
Even so, Thirteen offers a pretty good time. Once again, the cast seems to be having a great time, which must be true considering how they all continue to return to the franchise from Oscar bait and credible indie projects like The Departed, Syriana, Babel, Hotel Rwanda, Good Night and Good Luck. Though cutting-edge in its arsenal and substantial in its budget (certainly over $100 million), the series' moviemaking style is somehow delightfully old-fashioned as well. Maybe it's the lack of sex, violence, and hard profanity, which again keep this soft PG-13 territory (PG in most parts of the world). Or perhaps it's the camaraderie, which recalls the companionship of the original Ocean's cast of Frank Sinatra, Dean Martin, and Sammy Davis, Jr. It's sweet to see this gang gather together, especially since their latest union diverts much more than the last attempt. The film even manages to get fun out of Pacino's villain and underrated actors David Paymer and Julian Sands in well-cast parts.
Late last month, George Clooney was quoted in Entertainment Weekly as saying "The door is absolutely without question closed" with regards to making more Ocean's films. Though I don't hold the ill will towards sequels that other movie critics do, I'm not sad to hear Clooney rule out follow-ups. The series feels like it has run its natural course, with this satisfactory third installment reminding us how great the original film was and proving that the weak sequel was a fluke. Besides, part of me suspects we haven't seen the last of these characters. I doubt the entire group can or will reunite, but if these films are as fun to make as they look and guaranteed not to lose money, somewhere down the line, I think there's potential for another run, even if the leading man doesn't recognize it now.
DVD Details

2.35:1 Anamorphic Widescreen
Dolby Digital 5.1 (English, French, Spanish),
Dolby Surround (English),
Subtitles: English, English for Hearing Impaired, Spanish, French;
Closed Captioned; Extras Subtitled
Release Date: November 13, 2007
Suggested Retail Price: $12.98 (Reduced from $28.98)
Single-sided, dual-layered disc (DVD-9); Black Keepcase
Also available in Fullscreen Edition DVD, on Blu-ray and HD DVD / DVD Combo
and in Ocean's Trilogy Gift Set: DVD, Blu-ray Disc, and HD DVD
VIDEO and AUDIO
Ocean's Thirteen is a movie that demands a grand, properly-calibrated home theater system with its dark, stylized palette, wide 2.40:1 aspect ratio, and frequent use of long shots. This sequel was also released in a fullscreen edition, which brings you closer to the action (a tempting prospect for those without massive TVs) but at the unreasonable price of losing roughly significant chunks of picture width, even through the Super 35 process that sometimes adds height. The picture is generally clean and highly detailed, though there is a noticeable and constant degree of grain that's probably intended.
Unable to evaluate the film on a full 5.1-channel Dolby Digital surround sound system, I had to settle for two-channel stereo presentation. Dynamically, the track is marked by many peaks and valleys, with another unconventional David Holmes score featuring prominently throughout. Subtitles in English, French, and Spanish are happily provided not just for the feature but for all bonus features as well.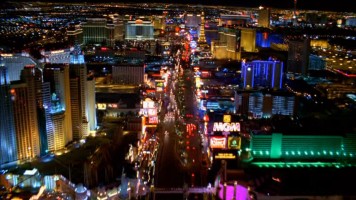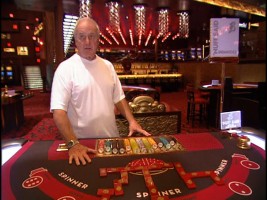 BONUS FEATURES, MENUS and PACKAGING

Like its two predecessors, Ocean's Thirteen is treated to a lighter than expected slate of extras, to the point where multiple English tracks are touted on the case back. Matching the quality of the films,

its modest supplemental offerings place it in between Eleven's 2 commentary-2 featurette platter and Twelve's trailer-only menu.

"Vegas: An Opulent Illusion" (22:45) is a documentary on the film's setting, covering the city's history, casino design, and hotels' treatment towards high-rollers and even higher "whales." The piece is narrated by D.B. Sweeney and features comments from a number of Las Vegas authorities, from architects to gamblers. While Thirteen doesn't figure any greater than some aptly-placed clips, Vegas is practically as big a character as any human in the film, making this informative, well-produced, and atypical bonus welcome.

"Jerry Weintraub Walk and Talk" (2:24) lets the 3-time Ocean's producer (and supporting actor) take us on a tour of the Bank Casino created for the film. Short and made shorter by some curious speed-ups, the piece is still appreciated for letting us observe and appreciate the elaborate working casino in detail.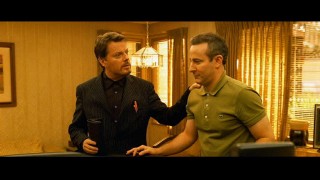 Finally, we get four Additional Scenes (4:30) which all hold some value. There's the arrest of a contact that Rusty and incognito Danny are about to meet, a foretelling covert encounter between Benedict and a shrouded driver, Eddie Izzard's character's assistance of Livingston, and a disposable joke involving Turk's employment at the Asian restaurant. They're definitely worth watching as a group, the only way they're offered.
Previews play at the start of the disc for Lucky You, the Ocean's Thirteen soundtrack, P.S. I Love You, "Seinfeld": Season 9, Rush Hour 3, and Steve Carell's upcoming Get Smart movie. Trailers and teasers for Ocean's Thirteen are absent, breaking the series' tradition of including those.
Frustratingly, an audio commentary by director Steven Soderbergh and writers Brian Koppelman and David Levien is withheld from the DVD but included on the pricier, concurrently-issued Blu-ray Disc and HD DVD/Standard DVD combo versions. Those both also carry the 44-minute documentary "Masters of the Heist" on real life acts of major thievery, which is available on DVD exclusively at Target stores on a bonus disc that also provides a pointless free downloadable version of the film for PCs.
The disc's menus opt for a motif of yellow, red, black, and white circles. Set to score, the lively animated main menu bounces its balls around while featuring character imagery. Submenus are silent and static. There are no inserts inside the case.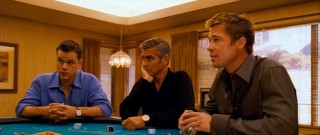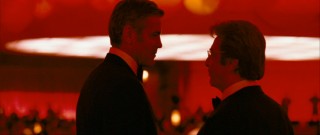 CLOSING THOUGHTS
Ocean's Thirteen rebounds from the disappointing Ocean's Twelve to provide an experience closer to the delightful first installment. It's not as original or enjoyable as Eleven, but Thirteen still delivers a mostly winning heist flick with its mix of guys, gadgets, and gambling presented in a slick and stylish manner by Steven Soderbergh and the talent-filled cast.
Warner's DVD is sufficient and an improvement over the second film's barren disc, though it's unfortunate that you'll have to choose high-definition to get extras that could have easily been included here. If you loved the first Ocean's but felt burned by the second, give this one a try with at least a rental. It doesn't scream for a spot in your collection, but if you don't already own the must-have first film, the 3-disc Trilogy DVD set is quite appealing at its low price. If you get that and George Clooney keeps to his word, you'll have the entire saga of his Danny Ocean. And, while there's been a few bumps in the road, it's generally been a fun ride.
More on the DVD / Buy from Amazon.com: DVD • Blu-ray Disc • HD DVD/DVD Combo

Buy the Ocean's Trilogy Set: DVD • Blu-ray Disc • HD DVD