International flights often call for excitement, especially when they are taking a parent and child to a place that is not home. In Flightplan, however, high spirits are not to be found among Kyle Pratt (Jodie Foster) and her six-year-old daughter Julia (Marlene Lawston), who are traveling from Berlin to New York with the third member of their family, Kyle's husband and Julia's father, checked as cargo in a casket. At least the Pratts are journeying in style, on an elite, double-decker Aalto E-474 jet for which Kyle helped design the engines.

What begins as series of events that may seem unremarkable to anyone familiar with air travel (passengers are welcomed on board, an obnoxiously loud family snags the row in front of the Pratts) turns catastrophic when Kyle awakens from a nap and can't find Julia anywhere. Lights and seatbelt signs are turned on, both levels of the aircraft are thoroughly scoured, and the captain (Sean Bean) is contacted, but the understandably somber girl is nowhere to be found. Making matters worse is the fact that somehow the airline's records do not show Julia as being on the passenger manifest or having ever checked in.

As the increasing bleakness of her situation becomes more apparent, Kyle wavers into hysterics, unsatisfied by the aid offered by flight attendants and baffled by the suggestions that Julia doesn't exist and never boarded the plane. Her expertise in the E-474's design makes her eager to recommend searching even the most remote portions of the vehicle, something that neither the skeptical captain nor the tired-looking undercover air marshal Gene Carson (Peter Sarsgaard) agree to. Determined to find her daughter, Kyle more or less takes matters in her own hands as much as she can, turning this half-day flight into an unusually taxing journey for its weary passengers.
It's probably best to avoid discussing any further plot specifics in this single-thread, twist-reliant suspense film. Flightplan boasts a decent premise and capable execution, but it ultimately doesn't add up to too much. While it does succeed in recreating some of the unique hallmarks of air travel and effectively inviting you to feel among the concerned America-bound passengers, the movie progresses as basically a series of wrong turns and clues designed to throw you off

until its unsatisfyingly conventional conclusion. The palpable setting of a commercial flight and the possibility that Kyle's entire quest may be misguided is really all that distinguishes this from any other unspectacular action movie.

Jodie Foster, whose presence suggests a higher level of intelligence to the project than truly exists, is basically asked to carry the film by herself and does so pretty much as well as anyone might have, but psychological uncertainty can only take the proceedings so far. A majority of the supporting cast is dealt roles that are only interesting in their possible villainy. Character motives seem pretty flimsy and are reduced to being explained via sloppy exposition. Even the heightened fears of terror which exist in the post-September 11th world seemed summoned only to add depth to a thin and windily-resolved plot, not to genuinely ponder their validity or to relate to them.

Flightplan seems much like Disney's attempt to have a near-blockbuster Jodie Foster vehicle in the mold of 2002's Panic Room. You have a single mother played by Foster, a daughter with a particular vulnerability (in Panic Room, it was asthma; Flightplan offers grieving over father's death), and an unusually confining setting (before, the title locale; here, a large airborne plane). Admittedly, Flightplan garnered a tamer PG-13 rating (which always seems to be a desirable for studios today) and emphasized the psychological aspect of the scenario, but box office receipts illustrated little difference, less than what could be found between the black tops the leading lady wore in both quasi-action flicks. Panic Room opened with $30 million and ultimately earned $95 million domestically; Flightplan bowed in first place with $21 million and went on to (at latest count) just a shade under $90 M. Three and a half years of inflation might have led Disney to expect a bit more, but in light of last year's widely-observed box office slump, the studio still seemed to fare solidly with just an okay movie.
"Okay" is an assessment of Flightplan that I think many will agree with, although less forgiving viewers will probably be harsher. The movie's shortcomings don't seem to stem at all from its cast or technical elements, or purely from its textbook direction. Some not unwelcome flair might have come from a more daring take on the subject material, but I don't think the movie would have been significantly better with any replacements made among the talent behind the camera. In that case, the responsibility for the semi-satisfying result must lie with the script, the failures of which are fairly subtle. Most will find the final product worth one engaging viewing and then forgetting if not capitalizing on the rather slight opportunity for discussion or reflection offered.
DVD Details

2.35:1 Anamorphic Widescreen
DTS 5.1 (English),
Dolby Digital 5.1 (English, French, Spanish)
Subtitles: English (Enhanced for Hearing Impaired),
French, Spanish; Closed Captioned
Release Date: January 24, 2006
Single-sided, dual-layered disc (DVD-9)
Suggested Retail Price: $29.99
Black Keepcase
VIDEO and AUDIO
Like most modern movies with a decent budget, Flightplan looks amazing on DVD. Presented in its original theatrical aspect ratio of 2.35:1, the film is of course enhanced for 16x9 displays. (As expected, a version which butchers the visuals in the name of filling the standard 4x3 television set is sold separately under the name "Full Screen Edition.") The picture exhibits excellent amounts of detail, keen sharpness and clarity, and colors which are faithful to the film's theatrical presentation. As a critic who finds the video/audio section of DVD reviews has become rather monotonous for brand new films debuting on disc, I was looking for anomalies and shortcomings to spice up this paragraph. Nonetheless, I found none and neither will you, even nitpicky folks. In short, it's reference quality for DVD video and anyone who tells you otherwise doesn't have a grip on the realities of the format.
The disc offers 5.1 channel English soundtracks in both Dolby Digital and DTS varieties. Either one gets the job done satisfactorily. The sound design is commendable and the mixes convey that, always enhancing the film's levels of believability. On more than one occasion, I assumed the mischievous tabby cat was getting into trouble when in fact it was just the well-realized sound effects bringing to life the complicated mechanisms of a massive airplane. Perhaps the only other observation I can struggle to make is that I might have expected more bass in the tracks from what I remember of my recent bargain theater viewing. Nonetheless, both flavors offer an effective, engulfing aural experience, marred only minorly by an imperfectly-timed layer change. This occurs in the middle of the movie, when aptly enough, the frame is all black visually, but as a result, the aural break stands out all the more. French and Spanish Dolby 5.1 tracks are also offered.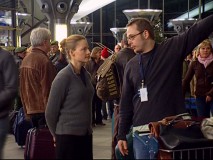 BONUS FEATURES
There are just three bonus features included. As is usually true of bonus features and especially worth mentioning on a suspense film with twists, none of the extras should be viewed before watching the movie. The one exception would be a trailer, although of course, that is nowhere to be found.
In an effort to either make it appear that there is more supplemental content or to genuinely aid the viewer in finding a specific topic that interests them, the first, "The In-Flight Movie: The Making of Flightplan" (38:30) has been broken down into five cleverly-titled parts. It's nice to get a general production documentary as opposed to a brief featurette, but though it provides serviceable coverage of the film's creation, is it not overwhelmingly unique or interesting. The first part, "Security Checkpoint: Story of a Thriller" (6:00) covers the film's evolution in script format, how it was rewritten for a female and changed following the September 11th plane hijackings. This same ground is treaded more thoroughly in the commentary. Part two, "Captain's Greeting: Meet the Director" (7:12) pays homage to the unknown in the helm, Robert Schwentke. It scores points for its raw takes and on-the-set footage, which are more interesting than the talking heads.
The third segment, "Passenger Manifest: Casting the Film" (9:20) mostly offers Schwentke's comments on the cast, leaving further raw takes and brief audition footage as the more compelling content. Fourth, "Connecting Flights: Post Production" focuses upon the technical elements that went into this "slow boil movie" (a phrase that is clearly liked and repeatedly uttered by the director), such as sound, music, and editing. Finally, "Emergency Landing: Visual Effects" (7:30) contains some neat time-lapse photography of the 1/10th-scale miniature plane being constructed but also some less gripping details about how a certain climactic sequence was amped to be more graphic. Each segment opens with a gimmicky, static/channel-changing introduction, which gets old fast. Though 38½ minutes (more than 1/3rd the length of the film) seems sufficient for documenting production, "In-Flight Movie" is only entertaining or genuinely enlightening in fits. I have a few reasons why that might be: the production was sorely lacking interesting moments (depressing), the documentary producers had a tough time selecting material that would interest people (realistic), or perhaps the studio is saving the best stuff for a future release either on DVD or one of the niche high definition formats (cynical).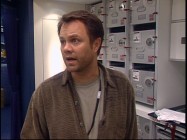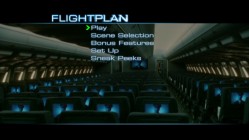 Secondly, there is "Cabin Pressure: Designing the Aalto E-474", a 10-minute featurette which details the production of the set that was used for almost the entire movie. We hear about how the entire plane was built from scratch (as opposed to using real airplane pieces), tailored to flexibility for filming, and purposefully designed. We also hear about how a product

placement deal led to getting a very expensive plane oven for free and how the morphing multi-language welcome message seen in the monitors was created in just one day.

Finally, there is a feature-length audio commentary by director Robert Schwentke, which is a little better than expected based on the other bonus features and its solo nature. His observations can primarily be classified as production anecdotes or dealing with storytelling intentions. There is some overlap with the video bonus features early on, but this provides more thorough, in-depth treatment of topics and also is consistently relevant to what is on the screen. The commentary satisfactorily covers Flightplan's origins, evolution, and filming. Schwentke recalls what changing the protagonist's gender entailed for the film, explains why he felt so strongly about shooting the opening sequences in Germany, reveals his filmmaking philosophies, and discusses the role that the September 11th terrorist attacks played in shaping the film's plot (and distressing the FBI at one point). There are very few lulls to this informative discussion, though one wishes the disc included the three deleted scenes and two extended scenes that Schwentke mentions.

Also included are the usual Buena Vista sneak peeks, which promote Disney properties coming to theaters and DVD. At the start of the disc, previews tout Annapolis, The Chronicles of Narnia: The Lion, The Witch and The Wardrobe, Proof, and the notion of not buying pirated DVDs. Additional spots from the dedicated menu look at Shadows in the Sun and Everything You Want, Touchstone TV on DVD, The Greatest Game Ever Played, and "Lost" Season 2 currently airing on ABC.

The 16x9-enhanced Main Menu wisely chooses to welcome you the same way that Aalto Airlines welcomed its passengers. So, you see the aforementioned multi-language morphing introduction, albeit in the very same way it is seen in the movie (on a bank of monitors, not full-sized). It loops through greetings in a few different languages after fading into the background, while you can choose from the usual options or pretend you are Kyle Pratt and just enjoy the Aalto. If you select a particular monitor in the row closest to you, you are treated to a none-too-exciting Easter Egg: a slow, silent, 5-minute montage of animated graphics created for the plane monitors, updating you on the status and progress of the flight in a couple of different languages. The Bonus Features menu offers the same visual from a different angle (following a brief moving transition). The rest of the menus offer excerpts from James Horner's score and still imagery from the movie.
CLOSING THOUGHTS
An airborne whodunit in which the answer may very well be nobody, Flightplan gets decent mileage out of its unique concept, but offers little else. The compelling ride is somewhat soured by an ending more trite than expected, but the movie still merits a viewing. Probably not more than one (perhaps two at most), though, since most of its suspenseful moments lose impact and there's not a lot to really take to in the way of character development, story complexities, or cinematic flair.
The feature presentation of this single disc DVD is equipped with spectacular picture and sound, which should please the demographic which seeks that kind of thing out and really liked the film. Otherwise, its standard menu of supplements seems appropriate for a movie which itself is fairly standard.