DVDizzy.com | DVD and Blu-ray Reviews | New and Upcoming DVD & Blu-ray Schedule | Upcoming Cover Art | Search This Site
The Taking of Pelham 1 2 3 (2009) DVD Review
The Taking of Pelham 1 2 3

Theatrical Release: June 12, 2009 / Running Time: 106 Minutes / Rating: R

Director: Tony Scott / Writers: Brian Helgeland (screenplay), John Godey (novel)

Cast: Denzel Washington (Walter Garber), John Travolta (Bernard Ryder), Luis Guzmán (Phil Ramos), Victor Gojcaj (Bashkim), John Turturro (Camonetti), James Gandolfini (Mayor), Michael Rispoli (John Johnson), Ramon Rodriguez (Delgado), Saidah Arrika Ekulona (Dispatcher One), John Benjamin Hickey (Deputy Mayor LaSalle), Alex Kaluzhsky (George), Gbenga Akinnagbe (Wallace), Katherine Sigismund (Mom), Jake Siciliano (8-Year-Old Boy), Gary Basaraba (Jerry Pollard), Sean Meehan (Undercover Cop), Tonye Patano (Regina), Aunjanue Ellis (Therese)
Buy on DVD from Amazon.com • Buy on Blu-ray from Amazon.com

By Kelvin Cedeno

Hollywood, like history, has a tendency to repeat itself. As if in constant rotation, it repeatedly remakes older films, adapts novels that have already been adapted, and reboots franchises to put the same characters in different storylines and tones. There's nothing necessarily wrong with this.

It can be a bit frustrating to see Hollywood milk certain profitable properties to death, but even if a newer film turns out not to be very good, the original lives on in triumph. Sometimes, the original source in question is something that doesn't necessarily have mass appeal. That seems to be the case with The Taking of Pelham 1 2 3, when went from a 1973 novel to a 1974 feature film, neither of which seem to be popular enough to garner a remake.

The story follows Ryder, a fugitive (John Travolta) who hijacks a New York City subway car and holds the passengers hostage. While communicating to the dispatcher headquarters to settle the deal, he crosses paths with Walter Garber (Denzel Washington). Walter's job is insecure due to a pending bribery investigation. Ryder uses this knowledge to play mind games on him, leaving Walter to repel them and act as an unwilling negotiator. To complicate matters, Ryder wishes to speak with the Mayor (James Gandolfini) in order to test his allegiance to the citizens. With a time limit set and passengers' lives being used as penalties, Walter must find a way to humor Ryder while working with police.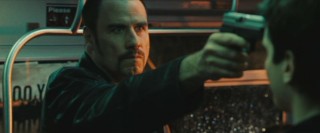 The most, and perhaps only, notable aspect about The Taking of Pelham 1 2 3 is having two powerhouses play the leads. As Walter, Denzel Washington takes a more reserved approach that sells the character's guy-next-door feel. Across from him, John Travolta makes the villain Ryder convincingly intimidating. The two are aided by a rather small-scale story that allows their performances to shine without too many detours. It's a testament to both actors that they wring drama and chemistry despite spending most of the film apart, "interacting" via microphones and walkie talkies. These may not be the most challenging roles they've tackled in their careers, but Washington and Travolta play somewhat against type and add weight to the material.
The narrow focus, however, has its detriments. While the film moves along at a steady pace, when it concludes, one feels as though not a great deal has actually happened. The story is just too thin, and even with compelling performances, the characters aren't given enough development. A subplot involving the mayor doesn't go much of anywhere, and neither do a few scant scenes of hostages reacting to their situation. Even worse, the character of Ryder is written in a rather muddled way. His motive seems simple: he wants $10 million dollars. And yet, he brags about how he's attempting such a ridiculous scheme because he's not afraid to die. If he doesn't fear his own mortality, it doesn't make sense for him to be going to such extremes of thievery. If a benefactor were revealed, it'd make his motives and desperation clearer, but otherwise, he comes across as inconsistent.
The Taking of Pelham 1 2 3 offers some decent entertainment if one takes it at face value. Thanks to a pretty tight focus on the lead actors, it can be rather engaging, but there isn't much else to distinguish it from other action thrillers. If other actors had been cast instead, this would feel more at home on television than in the realm of cinema. In fact, using this storyline as the episode for a crime series probably would've allowed it to feel tighter and more urgent than it currently does. It's still fairly tasty as is, but it never rises to anything above that.
DVD Details

2.40:1 Anamorphic Widescreen
Dolby Digital 5.1 Surround (English, French, English Descriptive Audio)
Subtitles: English, French; Closed Captioned; Extras Subtitled
Release Date: November 3, 2009
Single-sided, dual-layered disc (DVD-9)
Suggested Retail Price: $14.99 (Reduced from $28.96)
Black Eco-Friendly Keepcase
Also available on Blu-ray Disc
VIDEO and AUDIO
On DVD, The Taking of Pelham 1 2 3 is presented in anamorphic 2.40:1 widescreen. At this point, it almost goes without saying that a modern Hollywood feature shouldn't exhibit any major defects, digital or otherwise. Thankfully, this transfer doesn't defy those expectations. The image remains reasonably detailed throughout and lacking any sort of digital enhancements. Colors are cold and muted, but that appears to be the production's intended color timing. The picture remains clean throughout, leaving no qualms to be had.
The Dolby Digital 5.1 surround soundtrack is more low-key than one would expect. This is due more to the dialogue-driven nature of the film than any mastering problems, however. Dialogue sounds clear and concise, and the scenes that do happen to be effects-heavy make solid use of the surrounds. Music, for the most part, is underplayed. This isn't necessarily a demo quality track, but it succeeds in getting the job done.
BONUS FEATURES, MENUS and PACKAGING
The Taking of Pelham 1 2 3 is accompanied by a solid collection of bonus material, beginning with an audio commentary by director Tony Scott. Scott speaks about casting choices, the reasoning behind the film's design, and stories from production. He gives a decent overview of the film's creation, but there are a few too many empty spots scattered throughout, especially in the second half.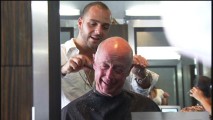 Writer Brian Helgeland and producer Todd Black join together for a second commentary track.

The two men chat about pitching the idea to the studio, the involvement of the director and actors, and bits that ended up on the cutting room floor. Both offer good notes on the shaping the story and characters and are jovial enough to make this more consistently enjoyable than Scott's track.

"No Time to Lose: The Making of Pelham 123" (30:25) is the main behind-the-scenes documentary and, unlike most DVD extras as of late, is actually quite substantial. Both cast and crew members discuss a wide range of topics including changes made to the original film, the real-life inspirations for the characters and scenarios, and the challenges of shooting on location in New York. These are joined by plenty of on-set footage to make for a well-rounded piece.

"The Third Rail: New York Underground" (16:16) acts as an extension of the previous featurette, this time focusing specifically on the actual underground locales used in the film. Various subway workers explain the mechanics of these city tunnels, and the dangers of using active ones as film sets is discussed at length. Like the prior piece, this one packs in a good deal of information.

"From the Top Down: Stylizing Character" (5:17) can only be described in one word: odd. Director Tony Scott gets his hair cut with hair stylist Danny Moumdjian, who also worked on the hair for the film's cast. Throughout this, both Scott and Moumdjian explain the links between hair styles and character. It's nice to see an often ignored aspect of filmmaking given some spotlight, but the presentation and brevity make it little more than a curious blip.

"Marketing Pelham" (7:05) sounds like it should be a featurette on how (or how not) to advertise a summer movie, but it's actually three theatrical trailers played consecutively. It's refreshing to see these included here, though having them individually accessible would've been preferred.

The disc opens with previews for 2012, Angels & Demons, Dark Country, and Hardwired, all of which are also accessible within the Special Features menu.

The main menu features a montage of film clips with footage of a speeding subway overlapping it. All submenus feature the same motif, but instead only employ promo stills with a subway caught in motion blur. Both the main and submenus contain unique pieces of score. The disc comes housed in an eco-friendly (though not exactly disc-friendly) black keepcase, with absolutely no inserts inside.
CLOSING THOUGHTS
The Taking of Pelham 1 2 3 falls on a bit on the ordinary side of the action scale, with lead performances that help save it from being a non-entity. It's the sort of film where one walks into it knowing exactly what to expect and coming out having all of those expectations met. The DVD fares similarly, with great picture and very good sound. The supplements, for the most part, offer an enlightening look behind the scenes. The movie doesn't have the replay value to merit a purchase, but those in the mood for some light action entertainment will want to rent this.
More on the DVD / Buy from Amazon.com / Buy on Blu-ray from Amazon.com


Related Reviews:
Denzel Washington and Director Tony Scott: Deja Vu • Crimson Tide (Unrated Extended Edition) | Directed by Tony Scott: Enemy of the State
Starring Denzel Washington: Remember the Titans (Director's Cut) | Starring John Travolta: Ladder 49 • Saturday Night Fever • Bolt
Body of Lies • Flightplan • Vantage Point • Zodiac (2-Disc Director's Cut) • The Cry Baby Killer • Action Packed: T.V. Sets
New to DVD: Life on Mars: The Complete Series • Whatever Works • Varsity Blues (Deluxe Edition) • Year One • The Proposal
The Supporting Cast of Pelham 123: Transformers (2-Disc Special Edition) • Miracle at St. Anna • Invincible
From Author John Godey: Never a Dull Moment
DVDizzy.com | DVD and Blu-ray Reviews | New and Upcoming DVD & Blu-ray Schedule | Upcoming Cover Art | Search This Site
Search This Site:
DVDizzy.com Top Stories:
Reviewed October 23, 2009.


Text copyright 2009 DVDizzy.com. Images copyright 2009 Columbia Pictures, Metro-Goldwyn-Mayer Pictures, Relativity Media, and Sony Pictures Home Entertainment.
Unauthorized reproduction prohibited.