In the middle of the summer of 2006, the Disney Channel gave viewers That's So Suite Life of Hannah Montana, a special crossover event that saw cast members and plot lines from the cable network's three most popular active series spill over into one another. Heavily promoted in the channel's non-commercial ad breaks, the crossover gave Disney Channel the three most-watched episodes in its 23-year history. Six months later, those linked episodes of "That's So Raven", "The Suite Life of Zack & Cody", and "Hannah Montana" arrived on DVD and handily shattered Disney's projections, exceeding first year sales expectations by a reported 200%.

If there's one thing the Disney Channel cannot be criticized for, it is giving viewers too little of a well-received thing. The network quickly planned a follow-up to the 3-series mix-up and came up with Wish Gone Amiss. Claiming 90 minutes of airtime, this special programming event also involved three series, with "Raven" spin-off "Cory in the House" taking its sister show's spot.

Rather than a crossover, which surely required some red tape even for the incestuously-produced single-minded sitcoms not to mention aligning the schedules of productions and stars, Disney concocted an even cheaper and easier way to manufacture an event. A theme would suffice and as the event's title makes clear, that theme was of wishes that are granted but yield unexpectedly troubling results.

Promoted ad nauseam, the mid-July weekend garnered more colossal ratings for the channel that in the past two years has repeatedly made headlines for the viewership numbers on original movies like High School Musical and its multi-media phenomenon "Hannah Montana." According to the Nielsen ratings that the company cites, on its first of three nights airing, Wish Gone Amiss gave the Disney Channel the largest audience of any network, handily surpassing runner-up NBC and every other network and cable TV channel. Admittedly, a Friday night in July finds the TV audience much smaller than during colder weather and the networks' on season. But the feat is nothing to scoff at, nor is the estimated average Wish audience of 5.1 million people.
For all the viewership and merchandise records they break, Disney Channel's original programming appears to be in the doldrums creatively. There's next to nothing in the way of variety: each of the three shows featured here adheres closely to a cheap format that has somehow worked to the company's favor. Multiple cameras, blurry digital video, exaggerated laugh tracks, hackneyed scripts, broad physical comedy, and little of real value to those older than 14. Ever since "That's So Raven" accepted the reigning Disney Channel king baton from "Lizzie McGuire" in 2003, we've seen its sensibilities and set up recycled in half a dozen ways. The more ambitious, costly, and widely entertaining series "Phil of the Future" was axed before even getting close to the channel's standard 65-episode run. The oft inane "Raven", however, shattered the norm and reached an even 100 episodes.
There is a little more to the Disney Channel than just the one-track live-action sitcoms. There are the Disney Channel Original Movies that operate on similar narrow mentalities but different formulas. There are some animated series that seem to spark small but ardent bases of fiction-writing fans. And there are also the Playhouse Disney series which opt for much younger viewers, wear educational values on their sleeve, and apparently earn a lot of money. But, at the end of the day, whether you're channel surfing or web surfing, the properties you're most apt to encounter are these comedy series. I've said it before and I'll say it again. As long as people to continue to watch and buy into the low-budget, low-intelligence properties being offered on Disney Channel, the company has every reason to keep churning out more. You and I can find faults and complain about them, but in this industry numbers (be they eyeballs or dollars) speak louder than mere words.
And yet, the shows do seem to be getting progressively worse, as the company struggles to find new, interesting variables to plug into the "central twist" and "two best friends of different genders" blanks that's all but required for developing a new Disney Channel sitcom. Hotel-set "Suite Life" may have a diverse and talented enough cast to coast by on outdated plots, but "Hannah Montana" rarely overcomes its hokey double life premise and "Cory in the House" can't wring any charm out of its bland, juvenile White House perspective.
Here's a look at the featured episodes: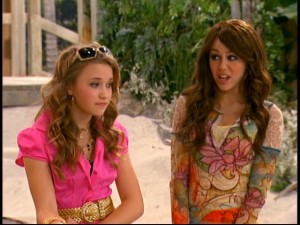 Cory in the House: "Gone Wishin'" (22:30)
After his entrepreneurial instincts lead to burnt presidential sweet potato pies, Cory (Kyle Massey) wishes he was the President and instantly gets his wish.

In this vision, kids have elected Cory into the White House, where he has put his young friends into positions of power. While he gets everything he wants, Cory still shuns responsibility, which puts everyone in danger when they start turning into an army of magnetic alien robots.

Hannah Montana: "When You Wish You Were the Star" (22:30)
Having to turn down a night out with Jesse McCartney (Disney Channel's favorite guest "star" plays himself) makes Miley (Miley Cyrus) wish she could be Hannah all the time. When she wakes up, we're treated to an It's a Wonderful Life scenario, with bodyguard Roxy (Francis Callier) filling the Clarence the angel role. Needless to say, dropping her secret has wide mixed consequences for Hannah and everyone she knows, from lax home schooling and a boyfriend to Jackson (Jason Earles) being a bearded beach hermit and Robby Ray (Billy Ray Cyrus) being married to an unloving woman (Sara Erikson).

The Suite Life of Zack & Cody: "Super Twins" (23:00)
Zack and Cody (Dylan and Cole Sprouse) wish for super powers and get them; Zack acquires superspeed, while Cody becomes telekinetic. Things get supersilly when Tipton manager Moseby (Phill Lewis) becomes the supervillain Meanager and, using hotel staff members as minions and pawns, plans to change the world with a device known as the Adultifier.

In arranging the series from newest to oldest, the DVD gets better as it progresses. By the end, you may even be able to forget how cheesy and hokey it was at its start. It's possible, because these episodes are just plain forgettable in general. The wishes granted theme pushes the three series to get a little goofier than they normally are, dabbling in low-budget effects for the higher than usual supply of physical gags. Alas, despite a few light laughs in "Hannah" and "Suite", at no point are these shows able to surpass mildly diverting and transparently moral.

VIDEO and AUDIO

In terms of data, Wish Gone Amiss is one of the lightest DVDs I've encountered from a major studio, clocking in at 2.96 GB, or just over half the capacity of a single-layered disc (DVD-5). Despite this, it's really the shows and not their transfer to the medium that provide aesthetic woes. The cheap digital video varies in how unsightly and blurry it is, but it's never apt to be mistaken for something like high-grade video or film. Getting past that, the colors are bright and the element is clean, making it comparable to a cable broadcast, only with higher resolution.

The Dolby Digital 5.1 soundtrack delivers an unextraordinary mix of exaggerated laughter, crisp but generally weak dialogue, and rare poppy music.
BONUS FEATURES, MENUS and PACKAGING

The only listed bonus is "I Wish I May, I Wish I Might: A Guide to Making Wishes" (5:15), a short featurette hosted by Jason Earles of "Hannah Montana." He goes through some basics about wishing, covering wishing wells, fairies, genies, and shooting stars. Like a sports commentator, he explains with a telestrator why the wishes of the episodes went awry. Before this, most of the clips emanate from animated Disney films and shorts, which is always fun.

The DVD doesn't designate it as a special feature, but each episode features a short 20-35 second introduction from cast members: Kyle Massey on "Cory", Jason Earles on "Hannah", and the Sprouse twins on "Zack & Cody." It's unclear if these aired with the shows, but I suspect as much.

No matter how you arrive at any of the episodes, the appropriate intro plays before it. If you're viewing via the default "Play All" method, you'll also be treated to a fourth introduction to the entire collection which bounces between the three "host" set-ups.

The 16x9-enhanced menus incorporate elements from all three series, featuring a variety of musical selections on the submenus and employing clips in stars on the main menu.

The FastPlay-enhanced disc opens with previews for High School Musical 2: Extended Edition, Wall-E, 101 Dalmatians: Platinum Edition, and Underdog. The Sneak Peeks menu holds these plus promos for The Game Plan, "Hannah Montana": Life's What You Make It, last summer's "Cory in the House" and "The Suite Life of Zack & Cody" DVDs, and Disney Channel's "Wizards of Waverly Place" (which isn't coming to DVD, at least not yet).

Inside the case, one finds a Disney Movie Rewards code card, an episode/extras listing/ads, and another booklet with still more ads.
CLOSING THOUGHTS
I don't doubt that some people will get enjoyment out of the three episodes of Wish Gone Amiss. Though far from art and unable to entertain even half your typical family, Disney Channel's low-budget, old-fashioned sitcoms have a significant following. I suspect, though, that even those who count themselves among the network's fans would agree that what may have made for a passable night of fun on a slow summer Friday doesn't really scream "buy me on DVD." The flyweight presentation and $20 list price certainly don't help things out. Disney obviously wanted to recreate the success and profitability of last year's 3-show crossover, but Wish Gone Amiss puts in much less effort by delivering three banal versions of the same hackneyed story. The message of each episode is "Appreciate what you've got." It's relevant in that you should appreciate your DVD collection the way it is (with no Wish Gone Amiss in it) and know that tween-tailored, cookie-cutter sitcoms are there for you on Disney Channel whenever you feel like tuning in.