By Aaron Wallace

With Hilary Duff and Raven Symonι bringing in big bucks with hit tween-targeted TV shows on one hand and radio-friendly pop albums on the other, it was only a matter of time before the Disney Channel sought a singular venue in which its actor/singers could double up their talents and, accordingly, Disney's profit potential. "Hannah Montana" debuted in March of 2006, just two months after the record-breaking premiere of High School Musical, a result of the network's new focus on television-music synergy. The show opened to near-immediate success and has evolved into a phenomenon amongst not only teens but the recording industry at large.

As is often the case with such sensations, however, the fuss is unmerited.

With a fourteen-year-old (sometimes) blonde in the lead role and a co-gendered pair of friends by her side, it's not unreasonable to think of "Hannah Montana" as "Lizzie McGuire: The Musical". Miley Cyrus, the starlet behind the title character, has come into her own as a heavily-marketed pop music superstar with recognition in the country market as well. Her real-life career and on-screen persona reflect one another with eerie accuracy and trying to sort out the fact from fiction requires a little focus.

Miley Cyrus is the daughter of real-life has-been country singer Billy Ray Cyrus, who plays her father on the TV show as well, though there he is known as Robbie Ray Stewart, a fictional has-been country singer. Miley Cyrus plays Miley Stewart, an otherwise normal girl who enjoys celebrity status under the stage name Hannah Montana, which is the very same stage name that Miley Cyrus uses in real life too. Where does Cyrus end and Montana begin? I suspect that Miss Miley herself doesn't have a clue but the show continues to mirror reality by centering on this very tension. Miley Stewart's primary goal is to live a normal life in spite of her immense fame, yet even though her closest friends and family know of her double life and seek to protect it, that seldom works out as planned. Conflicting schedules, hounding press, and celebrity romance frequently cause trouble for Miley, who relies on her father (who doubles as her manager), brother, and best buds to help her keep her secret in the hopes of finding balance.
Though not original, the premise is an interesting one, having obvious potential on the Disney Channel, where things like psychic ability, permanent hotel residency, and time travel are the norm. On paper, I have no problem with "Hannah Montana"... unless that paper is an actual script. The show's leap from moderately interesting to primarily annoying is the product of overexertion in the comedy department. Broad humor and broad acting produce a forced feeling that communicates a desperate ineptitude at making an audience laugh. Given that comedy is the series' foremost goal (well, if you look past money-making), that's a real problem.
Miley Cyrus is likeable enough, but only an average singer and not a particularly good actress. Emily Osment (real-life sis of The Sixth Sense's Haley Joel) plays Hannah's best friend on the show, Lilly Truscott. Osment is both funnier and less annoying than her top-billed co-star but by no means a saving grace. As for Billy Ray, well, I'd rather listen to "Achy Breaky Heart" ad infinitum than endure his acting. I'd take him any day, however, over Jason Earles. Though his real age is the subject of rampant Internet speculation, Earles plays Miley's older, high school junior brother, Jackson. With a heavy country accent and no shortage of juvenile lines or stupid antics, the loud and obnoxious Jackson sums up everything that's wrong with "Hannah Montana". While he's fortunately relegated to "B" storylines and one-liners, his segments alone are enough to send me reaching for the remote.
The show isn't completely unwatchable. In addition to the younger Cyrus' aforementioned likeability, the serious occasionally musters a clever pun. The opportunity for wit (a generous term in this setting) arises when the show parodies real-life or adopts a sense of self-referentiality. In these moments, the series is at its best. Unfortunately, they're too infrequent and too far from brilliant to justify sitting through the rest.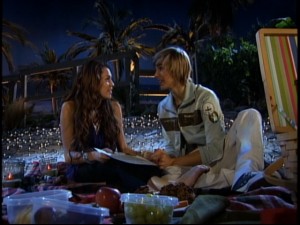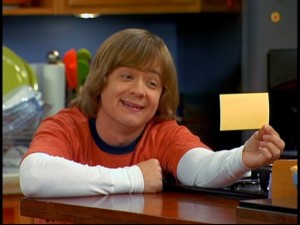 Life's What You Make It is the third single-disc compilation of four "Hannah Montana" episodes from Buena Vista Home Entertainment. All four installments originally aired as part of the second season and bear no other obvious connection with one another aside from the fact that the second episode is a continuance of the first.

While it's a poor value compared to the complete season box sets that many shows are treated to, this type of sampler and iTunes episode purchases are currently the only easy and legal options for those wanting a piece of the show in their personal collection.

The coolest thing about "Hannah Montana" is that the episode names are all spins on popular song titles. The four that are included on this DVD are listed below, along with a brief summary of each.

"Achy Jakey Heart, Part One" (22:32) (Originally aired June 24, 2007)
Jake (Cody Linley), the teen celebrity heartthrob who has been the object of Miley's frustrated infatuation returns from Rome and attempts to make up for his abrupt departure. Miley is unwilling to entertain his apologies until a red carpet mishap changes their relationship and Miley prepares herself for a major confession. Meanwhile, Jackson and Oliver (Mitchel Musso) try their hands at entrepreneurship on the beach.

"Achy Jakey Heart, Part Two" (22:32) (Originally aired June 24, 2007)
Jake tries to tone down the pressures of stardom for Miley's sake by donning a disguise while in public. Miley quickly learns that Jake doesn't share her ability to live life normally, though. Back on the beach, Rico (Moises Arias, a second season newcomer) takes desperate measures to compete against Jackson and Oliver's thriving cheese jerky business. This two-parter episode's title is a play on the signature song of Billy Ray Cyrus himself, "Achy Breaky Heart".
"I Am Hannah, Hear Me Croak" (22:32) (Originally aired April 27, 2007)
A night of many encores leaves Hannah voiceless the next morning, an obvious crisis for a professional singer. When she finds out that surgery is in order (a diagnosis that challenges believability), she worries about the potential affect on her career. She looks for comfort in an apparition of her deceased mother (Brooke Shields). The episode title is a play on Helen Reddy's 1970s women's lib anthem "I Am Woman".
"I Want You to Want Me... To Go to Florida" (22:32) (Originally aired July 21, 2007)
Eager to show up rival pop star Mikayla (Selena Gomez) and her aggressive manager (Camryn Manheim), Hannah disobeys her father and deceives her bodyguard Roxy (Frances Callier) in order to fly to Florida. The proceedings give Billy Ray a chance to showcase his current single, "Ready, Set, Don't Go". This episode's title is a play on Cheap Trick's "I Want You to Want Me".
VIDEO and AUDIO
The show is presented in its original 1.33:1 fullscreen. To no fault of the DVD itself, the production on "Hannah Montana" doesn't render a very pleasing picture. Recorded on digital video, the show is plenty colorful but excessively bright. Oftentimes blurry and visually loud, the presentation just looks cheap on the whole and betrays any sense of realism. It's not so bad as to make the episodes painful to view (though the content might be), but the quality could certainly use improvement.
Audio comes by way of a Dolby Digital 5.1 Surround Sound track, which provides 3.1 more channels than the standard network broadcasts do. That extra sound doesn't change much but the occasional rear channel sound effect, widened laugh track, and theme song all benefit.
BONUS FEATURES, MENUS and DESIGN

The disc includes two bonus features. The first is the music video (4:02) for Billy Ray Cyrus' "Get Ready, Get Set, Don't Go" (which I would retitle "Get Ready, Get Set, Don't Play").

The video finds Billy playing guitar as a montage of home video and photos of he and Miley through the years circle around him. Occasionally, a "Hannah Montana" clip abruptly interrupts the music.

"Backstage Pass: The Secrets of Hannah Montana" (5:32) is a featurette that pieces together interviews with several of the main and recurring cast members. The interviewees discuss the secrets kept by the characters, the actors themselves, and the backstage crew that dress the cast and convert Miley the brunette into Hannah the blonde.

The main menu is heavily animated, showing off an impressive amount of activity as stills and video from various episodes literally take the stage at a Hannah Montana concert. An instrumental version of the theme song plays along with the cheers of a fan-filled crowd. Submenus are accompanied by music well but are merely still screens. Each of the four episodes can be selected individually or played all together with the push of one button. Additionally, each episode is divided into around four chapters for easy scene access. The disc is equipped with Disney's FastPlay, meaning the main menu will never show up unless you make use of the "menu" button on your remote. Inside the white keepcase is a collection of ads, a Magic Code for the Disney Movie Rewards program, and an episode selection card.

The disc opens with previews for 101 Dalmatians: Platinum Edition, Enchanted, High School Musical 2, and Wish Gone Amiss. From the dedicated menu, one can also see previews for Cinderella II: Dreams Come True - Special Edition, The Aristocats: Special Edition, Johnny Kapahala: Back on Board, the Disney Channel's new "Wizards of Waverly Place", Snow Buddies, and the Disney Movie Rewards program.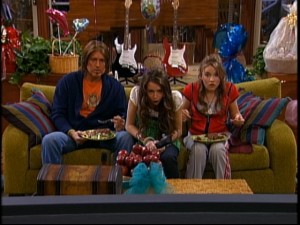 CLOSING THOUGHTS
"Hannah Montana" is not a great show. It's not even a good one. Marred by a failure to be funny, it's difficult to make it through an episode without groaning or sighing. The third DVD devoted entirely to the series presents a measly four episodes which are about as good (or bad) as any other "Hannah Montana" that I've seen. Accompanying them is a coupling of worthwhile but typical extras. Like the disc's title says, life is what you make it, so go out and do something better with your time and money than waste it on "Hannah Montana".