The Disney Channel's current programming runs a narrow gamut; its animated and live action shows primarily occupy one genre (comedy) and offer little variation on an apparently perfected formula. This formula dictates a family setting with a primary focus on a precocious teenaged (or nearly teenaged) youth and inevitably their friends and younger sibling. There's often also some sort of a twist premise, a fantastical setup or a gimmick. The show will chiefly appeal to the tweens and under market, but clever writing and a few quirks can definitely win over older viewers too.
Recognizing such a narrow and manufactured creative climate would seem to suck the fun out of every project picked up by the time it gets to air on the cable channel. But clever and diverting shows have passed through such a process to entertain wide audiences to varying degrees; looking at just this decade where the limiting guidelines have been firmly in place, "Even Stevens" and "Lizzie McGuire" (in its early days at least) both managed to deliver entertaining and well-written content that was clearly made by people who took care and pride in their creation. If audiences bite the bait, though, the shows don't even have to be clever and diverting to generate some serious revenue for the Mouse; look at how the generally underwhelming and transparently processed "Kim Possible" has developed a merchandise empire and seems to rival all but the Disney Princesses for valuable store space. Such an atmosphere which seems to demand synthetic creations is good news for the folks operating the Disney Channel but not so great for those who want quality programming rather than glossy schlock.
Fortunately, "Phil of the Future" wavers closer to quality than schlock. Though it's clearly inspired by widely-embraced earlier Disney Channel series like "Lizzie", the insipid "That's So Raven", and, to a degree, "Even Stevens", and it even shares several important crew members, "Phil" gladly doesn't feel like retread ground. This light-hearted fish-out-of-water comedy is easy to swallow and just as easy to take a liking to.
The show's premise is both interesting and silly enough to work. The "Phil" of the title is Phil Diffy (Ricky Ullman), an ordinary 15-year-old boy who happens to come from more than one hundred years into the future. His family used to live in the year 2121 AD, but time machine troubles on their cross-generational vacation left them stuck in present day America with no way of returning to their home era.

So, the easygoing Phil and his sassy younger sister Pim (Amy Bruckner) attend school and go about life as contemporary kids (such as Disney Channel viewers) know it. The only twist is that their parents (played by Craig Anton and Lise Simms) and they enjoy an additional century of technological advances, and they happen to have in their present-day possessions various mistake-fixing and life-easing devices such as the all-purpose handheld Wizard.

The series plays out precisely the way you'd expect from its Disney Channel source and promising premise, in a manner not terribly different from other shows on the channel. Time is split between school (Herbert G. Wells Jr./Sr. High School, which allows the siblings to roam the same halls and the show's creators to pay homage to The Time Machine author)and home, with the former setting providing conflict and challenges for the stuck-in-the-past student Diffys and the latter acting as the ideal location for both domestic situation comedy and "messages." In the task of dispatching this last element, the show occasionally flirts with being preachy or overly sentimental (two traits particularly passé nowadays). While "Phil" truly wears its moral lessons on its sleeve, the values it imparts are usually practical and important enough to let any noticeable staging slide.

In order to be able to slip some lessons into episodes, "Phil" first needs to have a captive audience. It succeeds in that regard, by attracting viewers with its somewhat clever writing and strong sense of humor. From the eight or so episodes that I have seen, silly disguises and over-the-top acting are sparsely called upon to provide comedy. Humor emerges primarily from character's personalities and responses to situation. Some of the show's ideas are wacky, but just wacky enough to create some laughs, such as the harmony-threatening presence of Curtis, a caveman who now amusingly lives with the Diffy family.

Still, while "Phil" is regularly entertaining, I rarely find it hilarious or of a high enough caliber to go out of my way to recommend. It is perhaps the best show currently being produced for the Disney Channel, but that is not high praise based on my feelings towards the channel's mixed bag of semi-generic output. "Phil" suffers from some of the same shortcomings other kid-friendly shows on Disney and elsewhere do, like going overboard on style to the point where every major gesture may be accompanied by a sound. However, "Phil" falters less frequently than others and its knowingly lighthearted nature makes it easy to forgive when it errs. I'd assume from this DVD release that "Phil" is one of the programs more popular with Disney Channel's primary youth-centric audience, but from what I have seen, it is also one of the most appealing for somewhat older viewers.
Though its cast is a bit smaller than most of its Disney Channel brethren, "Phil"'s core of five regular characters are aptly played. In the lead role, Ricky Ullman shows that young actors don't need to be overstated or exaggerated to get laughs; he is charismatic and has very good comic timing down pat. As the oft-cranky little sister Pim, Amy Bruckner isn't particularly likable, but chalk that up to the way the character is written and fully embodied rather than a grating performance. Alyson Michalka, who, like many a Disney Channel starlet, has launched a pop music career (via the band Aly & A.J., with her sister), stands strong in the role of Phil's best friend Keely (as far as I can tell, the only person outside the family who knows Phil's secret), although some episodes (none on this disc) seem to play up a "will-they-or-won't-they-become-lovers" angle which tends to alienate male viewers and put the show's writers into "no-looking-back" romantic snare.
The adult cast also serves dutifully, and the older actors do not come across as out of their element, nor in the midst of a career low point or bounceback. As Lloyd, Craig Anton gets to portray the source of some mild domestic embarrassment and he sufficiently does so, being silly but never (at least from what I've seen) a complete caricature. Lise Simms seems to have a motherly smile down, and her presence contributes to the show, even if she doesn't (again, from what I've seen) have a commanding amount of screentime. Though he doesn't make the opening credits, J.P. Manoux merits praise for playing two quite different characters in many episodes rather convincingly. This disc allows you to see Manoux in both roles, as both the monosyllabic caveman Curtis and the slightly nerdy and mostly bald science teacher Mr. Hackett.
Fourteen months after first airing, "Phil of the Future" now becomes the fourth Disney Channel original series to come to DVD and makes its format debut like the others did, in a 4-episode compilation. To date, twenty-seven episodes of "Phil" have shown up on the Disney Channel in the U.S. Three of the shows included on this disc are among those, having aired within the series' first seven months. The fourth, "Team Diffy", is heavily touted as being a never-before-seen episode. That's true for viewers in the U.S., but this episode has aired in Asia, Canada, and Australia. Judging from the unaired episodes of past Disney Channel DVDs, it probably won't be long before this one makes its U.S. debut as well.
This first volume is titled Gadgets & Gizmos, which could very well refer to any four episodes of the series, but descriptions follow below. Assuming "Phil" is headed towards the standard 65-episode Disney Channel run, this disc then holds less than a measly 1/16th of the entire series and just about 1/5th of the first season.
"Double Trouble" (22:21) (Originally aired January 1, 2005)
Phil suspects that Pim has a boyfriend, but the Jerry she is making lunch for is actually a girl school bully. Phil advises Pim to stand up to her foe, but this advice merely puts Phil in the path of Jerry's older brother

and fellow bully Myron. Can Phil follow his own guidance or will he remain helpless bully prey his sister previously was?

"Age Before Beauty" (22:33) (Originally aired November 12, 2004)
Keely can't resist trying out Phil's "New-Ager" to see what she'll look like at age 25. She likes what she sees...but so does her depressed and recently-dumped science teacher Mr. Hackett, who asks her out on a date. Pim and her classmate Bradley Benjamin Farmer capitalize on their status as school's televised reviewers by putting their hands out for bribes.

"My Way" (22:13) (Originally aired July 9, 2004)
After entering the school's Star of the Future competition, Keely must face her stage fright and an overconfident classmate. Phil tries his best to help his friend overcome her fear. Meanwhile, Pim and Bradley struggle in their assignment to share responsibility of a bag of flour representing a baby.

"Team Diffy" (21:58) (Previously unaired in the US; Subsequently aired October 28, 2005)
Phil's two-faced acquaintance from the future Andy Baxley (guest-star Orlando Brown, of "That's So Raven") drops in on the Diffys and promises them a ride back to 2121, to their great delight. But he threatens to renege on his word if Phil won't help him pull off a prank at Pickford's unveiling of a statue of the town's founder Friar Fred. Ninety seconds of outtakes before the end credits put the show in the tradition of the Disney Channel's "Lizzie McGuire" and its predecessors.
VIDEO and AUDIO
As is to be expected, these episodes are preserved in the 1.33:1 "full screen" aspect ratio of their original broadcasts. Likewise, such a recent show yields highly favorable results in the picture quality department. The show thankfully aspires to a more refined appearance than the semi-ghastly, low-quality digital video look of certain other Disney Channel shows (like "That's So Raven" and "The Suite Life of Zack & Cody"). This transfer showcases "Phil"'s bright but restrained color palette, and exhibits excellent sharpness, clarity, and consistency.
Audio is provided in a Dolby Digital 5.1 track, which serves the show satisfactorily. The sound mixes are not quite cinema-ready, but they are relatively potent and surprisingly active for a made-for-TV series shot primarily on soundstages. There were no noticeable problems to mention, as dialogue, music, and the excessive sound effects are all quite discernible and without flaw.
BONUS FEATURES, MENUS and PACKAGING

The disc's most notable bonus feature is an audio commentary by star Ricky Ullman on the unaired episode "Team Diffy."

The actor, who does not sound very different from his character, speaks quickly and engagingly on a variety of interesting topics pertaining to this episode and the show at large. He talks about movie magic (noting how location shooting is a rare treat, amidst the abundance of set work), working with guest star Orlando Brown, his family-like relationship with the actors who portray the Diffys, and even crew members who turn up in supporting roles. Ullman's reflections make for a funny and highly informative track which fans should gobble up. They might be wondering how his final sentence would end if not chopped off!

The other supplement is the interactive "2121 Fall Cyber Catalogue", which acts just like it sounds. The section features ten futuristic gadgets from the show and selecting any leads you to a description/sales pitch from the eager, unseen host while the item is depicted in rotation. The products highlighted include Virtu-Goggles, Invisispray, Instamorph, and the Homework Helmet. Each semi-amusing clip runs 20 to 40 seconds long; with the "Play All" option, it runs 5 minutes and 5 seconds long. Exiting the activity makes for an entertaining challenge.

The 4x3 menu screens are done well in the style of the show. The Main Menu showcases the widely-employed "Wizard" device to cycle (with appropriate sound effect) through home, school, and the Diffys' van. The Bonus Features menu animates waves emitting from the Wizard. Each menu is accompanied by an instrumental of the theme song. Before the menu loads, previews play for Valiant, this very DVD and the concurrently released That's So Raven: Disguise the Limit, and the Disney Channel's Halloweentown movie series which makes its DVD debut next month. From the Sneak Peeks menu, additional promos are offered for December direct-to-video Kronk's New Groove, "That's So Raven" on Disney Channel, and Radio Disney.

Inside the case, you'll find the standard double-sided insert which serves informational (episode selections list, specs, and extras overview) and promotional (ad for the two upcoming Halloweentown DVDs) purposes. A mini coupon booklet promotes this, that, and other Disney Channel DVDs while offering savings on the channel's soundtrack CDs and Game Boy Advance titles, Tarzan II and "Kim Possible" DVDs. A sticker on the outside of the DVD's wrapping will save you $3 when buying this title along with The Even Stevens Movie, Cadet Kelly, or either "That's So Raven" compilation.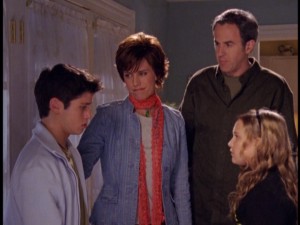 CLOSING THOUGHTS
Like other episode compilations of youth-oriented television programs, Phil of the Future: Gadgets & Gizmos is a reasonable DVD alternative to a box set for those on a restrained budget. As season sets have yet to be made available for this Disney Channel comedy, though, diehard fans are pushed to either purchase this single disc or hold hope for better treatment in the future.
The featured show offers harmless, fun entertainment, the selected episodes are certainly not a bad lot, and the commentary and cyber catalogue are nice inclusions. Still, the disc would be much easier to recommend with either a lower price tag or more episodes, since as it is, you're getting just four episodes for about half as much as a full season set would cost.