For some time now, the Disney Channel has identified two clear demographics that comprise the bulk of its viewership and has made efforts to hook both. Before full-day students get out of school, the network employs a reliable programming block for preschoolers known as Playhouse Disney, with a blend of in-house and acquired series spanning various mediums. But when the bell rings, whether homework is finished or not, the tween-oriented content is there awaiting absorption, a mix of animated and live action series, both new and "old" (in the sense that last decade can be classified as "old"). During afternoons and evenings, the Channel's primary target is the tween-to-teen viewer, aged roughly 8 to 15. When things go right, that narrow market can expand considerably, and it does so when the cable channel has a hit on their hands, like "Lizzie McGuire", "Kim Possible", or the tough-to-explain "That's So Raven."

Between the channel's near-universally enforced policy of a 65-episode limit on original series and the airtime devoted to syndicated reruns of shows like "Boy Meets World" and "Sister, Sister", new programming tends to be few and far-between. But, as the network hasn't had a serious format change since the Zoogs were abandoned earlier in the decade, the rerun route (leading up to a primetime movie and more reruns) appears to be working for Disney.

There is surely some kind of comfort in the Disney Channel, as it offers something different from any other channel. No, I'm not solely referring to the logo being in the lower left-hand corner, the young stars making the mouse outline before a show begins, or even the recurring spots on "ordinary kids." Add it altogether, though, and you've got a bright, loud alternative to the bright, loud programming that other networks gear towards kids.

Even if the Disney Channel rarely seems to play anything produced before 1993 and Walt's creations seem to have been entirely forgotten or at best reduced to filler in the "House of Mouse", the Disney name must still mean something to audiences. After all, the channel consistently boasts some of the best ratings on cable and without a subscription fee or traditional advertising, it seems in no danger of shutting down after more than twenty years on the air. Then there's merchandising, from the ubiquitous "Lizzie McGuire" and "Kim Possible" products that adorn countless stores to the growing number of home video output, which we will, of course, be focusing on for this latest review.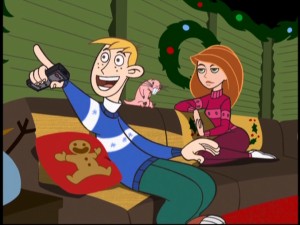 With Christmas exactly two months away from the date this sentence was written, Buena Vista Home Entertainment is pulling out all stops to make sure there is some kind of holiday-themed DVD of interest to every part of its customer base. Last month saw the release of two wintry volumes of the Classic Cartoon Favorites line, which were sure to appeal to those who appreciate samplings of the studio's vintage animation. Next week, four new Christmasy releases are issued and two feature original Disney Channel programming. As you'd expect, A Very Playhouse Disney is targeted towards the preschool sect and a review of that disc is forthcoming. But the subject of this review, Disney Channel Holiday, holds Christmas and Hanukkah episodes of the wider-appealing primetime-ish comedy series.
This single-disc compilation holds five episodes as part of its main presentation and boasts a sixth as a bonus feature (though it could easily qualify for consideration with the rest). Two of the episodes, of currently-in-production series "The Suite Life of Zack & Cody" and "Phil of the Future" (which is classified as a supplement), have never before aired. The others, -- of recent favorites "Even Stevens", "Lizzie McGuire" (the show that seems to have validated the channel's formulas and foreshadowed subsequent series in its mold), "That's So Raven", and "Kim Possible" -- first took to the airwaves from 2000 to 2003.
Any unacquainted viewer will notice plenty of similarities among the different shows presented on the disc. There is a fair amount of overlapping among the creative talent behind the camera of each series. Each show revolves around a family with characters on either side of the tween/teen age divide acting as protagonists. And of course, each selected episode is set at Christmastime, with "Even Stevens" focusing on the Jewish holiday of Hanukkah (in what is, as far as I can remember, the only reference to the family being Jewish).
Without any further ado, because I'm sure most readers are already familiar with one or more of these series, here is a look at the featured episodes and bonus material:
Lizzie McGuire - "Xtreme Xmas" (22:33) (Originally aired December 6, 2002)
Lizzie's (Hilary Duff) plans to put together a prize-winning "Rock 'n Roll Christmas" float for her school's holiday parade get sidetracked when her family encounters Nobby (guest star Shelley Berman), an old man who insists he is one of Santa's elves. When his retirement home becomes in need of some plumbing aid, the McGuires invite Nobby to stay with them. Soon, everyone -- including Lizzie's partner Gordo (Adam Lamberg) -- turns their efforts to helping Nobby and friends out of their plumbing snafu, taking time and attention away from Lizzie's project. It takes a snowy dream sequence comprised of a hodgepodge of unsubtle homages to past Christmas TV specials (from Rudolph the Red-Nosed Reindeer to A Charlie Brown Christmas to How the Grinch Stole Christmas) to open Lizzie's eyes and rearrange her priorities in accordance with contemporary Christmas morals of selflessness and goodwill.
Though this episode (which came near the latter parts of the show's run) is one of those without Lizzie's friend Miranda, it does contain appearances by Aerosmith rocker Steven Tyler as Jolly Old St. Nick and Hilary Duff's older sister Haylie as the snobby cousin of Lizzie's nemesis Kate (Ashley Brillault). While nearly a year has passed since the show's Volume One box set DVD release (with the lack of even a follow-up announcement surely disconcerting fans), "Xtreme Xmas" previously appeared on the compilation disc Lizzie McGuire: Star Struck.
That's So Raven - "Escape Clause" (22:33) (Originally aired December 5, 2003)
When Raven (Raven) sees the necklace her mother (T'Keyah Crystal Kemah) has bought for her as a Christmas present, she can't help but fake sickness and open it instead of caroling with the fam. She also can't resist wearing it to school the next day, which not surprisingly, results in disaster when it falls out the window and gets trashed. To make things right, she convinces her friends Chelsea (Anneliese van der Pol) and Eddie (Orlando Brown) to cut class with her and buy a replacement necklace at the mall. Just when they think they've pulled it off, they run into the mall Santa who they recognize as their teacher Mr. Petracelli (Ernie Sabella)...or do they?
The broad physical comedy and bafflingly ubiquitous laugh track that generally limit the show's potency are on display here. Even though it's undoubtedly the weakest episode of the set and its end offers a plainly undeserved redemption for its transgressing protagonist, this show is practically bearable as far as "That's So Raven" goes.
Even Stevens - "Heck of a Hanukkah" (22:33) (Originally aired December 1, 2000)
The mischievous Louis (Shia LaBeouf) finds his parents' treasure chest of Hanukkah presents. (Apparently, this is what the Stevens celebrate.) While the rest of the family is downstairs hearing the story of the holiday, he is busy opening everyone's gifts. Then (in what seems to be a brief theme of the disc's episodes), Louis can't keep them from falling out the window and getting ruined, much to the disappointment of his fellow Stevens. Wishing he was never born, he is treated to the old It's a Wonderful Life-type fulfillment with the host of his great-great-great-great grandmother Bubbie Rose (Donna Pescow in heavy makeup and old Jewish lady mode). In this alternate reality, Louis is surprised to find his sister Ren (Christy Carlson Romano) is wild, his brother Donnie (Nick Spano) is a wuss, and his replacement Curtis (guest star Christopher Marquette) is an overachieving creep. It takes some time, but Louis ultimately discovers the joy he brings his family.
Many have been clamoring for the oft-hilarious "Even Stevens" to come to DVD and now 1/65th of it is. Admittedly, this episode is far from the comedy series' finest moments, but it is good for a few laughs. If nothing else, this proves that Disney can release "Even Stevens" to DVD, without much difficulty. The next step is for them to treat the show to comprehensive box sets, as suggested in an audio commentary on the telemovie finale's DVD issued last June.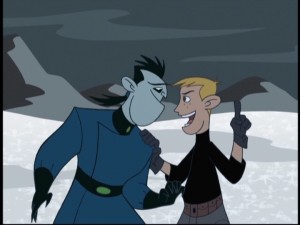 The Suite Life of Zack & Cody - "Christmas at the Tipton" (22:33) (Not yet aired)
Twelve-year-old twins Zack and Cody (Dylan and Cole Sprouse) plan to spend Christmas skiing with their dad (guest star Tom Ecobelli) while their mom (Kim Rhodes) relaxes at a Mexican spa, but both vacations are put on hold due to multiple feet of snow falling outside the Tipton Hotel. There's plenty going on inside the building to keep everyone busy for the holidays, though. Efforts taken by Maddie (Ashley Tisdale) to rig the hotel's Secret Santa gift exchange backfire even though she succeeds in assigning herself to the wealthy heiress London (Brenda Song). Cody begins to suspect that his parents are going to get back together. Meanwhile, hotel manager Mr. Moseby (Phill Lewis) tries to keep everything under control when there's no more oil for the furnace.
Assuming you can put up with the overuse of annoying, over-the-top staff member Arwin (Brian Stepanek), this episode is fairly enjoyable though familiar, like the show usually is. You may, however, desire a bit more originality when it resorts to the ole' pregnant-woman-stuck-in-an-elevator-with-the-protagonists routine, borrowing a page from "ALF's Special Christmas" (and 621 other television shows), with the expectant parents named Joseph and Mary, no less. In the end, though, it amounts to mostly harmless fun with a genuine holiday feel.
Kim Possible - "A Very Possible Christmas" (22:53) (Originally aired December 5, 2003)
Bummed that his ritual holiday television snowman has been superseded by arctic sports special "Xtreme Xmas" and wanting not to ruin Kim's Christmas with her family, Ron (voiced by Will Friedle) attempts to single-handedly thwart Dr. Drakken's evil plans for world domination. While Drakken (John Di Maggio) and Ron wind up stranded at the North Pole, Kim (Christy Carlson Romano) leaves her family to scour the planet for the escape pod that holds her friend.
With an engaging storyline and clever humor hitting most of its marks, this episode lives up to the high potential that "Kim Possible"'s premise held. It is one of the better installments of the Flash-like-animated series that I have come across and makes for a solid inclusion in the set, one which matches the others in contemporary tone despite the different medium.
VIDEO and AUDIO
All the shows are presented, as they air on the Disney Channel, in 1.33:1 "fullscreen." Some of the episodes -- especially the newer ones -- may have been created with the wider 16x9 dimensions in mind (the first DVD release of "Kim Possible" featured its shows in 1.66:1), but certainly, they are also framed for the standard television aspect ratio and as they match the broadcast, this is perfectly acceptable. The DVD's video presentation is on par with and slightly better than broadcast quality. The disc doesn't offer any great revelations over the way many of these episodes have appeared on Disney Channel (and sometimes Saturday mornings on ABC) over the past few years. Accordingly, "Lizzie McGuire" and "Even Stevens" look a bit softer and grainier than some network television series. From time-to-time "Lizzie" also uses low-grade handheld video for its brief stylized flashbacks, although its seemingly sincere employment of what is clearly stock footage for the Christmas parade is more than a little silly and stands out like a sore thumb. "That's So Raven" and "The Suite Life" suffer from their insufficient reliance on low-budget digital video. On the other hand, the animated "Kim Possible" and film-based "Phil of the Future" both look quite well. On the whole, the disc's picture quality is fine in spite of some shortcomings or inconsistencies that cannot (nor should not) be easily overcome.
Despite the fact that three of the five featured shows (and four of the six, counting the "bonus" episode discussed below) have come to DVD in the past equipped with Dolby Digital 5.1 tracks, everything is presented in Dolby Surround 2.0 here, except for the brief music video supplement. The show mixes are such that most of the elements come from the front speakers, with the surround channel being relegated to musical reinforcement and (on "Raven" and "Suite Life") steady, needless laugh tracks. Though a more active approach could have been taken to make the most of 5.1 systems, there's nothing specific to complain about. Dialogue is always intelligible, the dynamics levels are consistent, and everything sounds as it should for your standard made-for-cable television episodes.
BONUS FEATURES, MENUS, and DESIGN
Two bonus features are included, though only one is worth getting excited about. That is a not-yet-aired episode of "Phil of the Future" titled "Christmas Break" (22:33). To be fair, this could just have easily been included with all the others. That way, it would have received mention on the front cover, been a part of the "Play All" itinerary, and enjoyed the thrill of being subtitled. The only rationale which I can imagine led to it being listed as a "bonus feature" is so that the back of the cover had a bonus feature to boast.
In this episode (directed by former TV star Fred Savage), we learn through dual flashbacks how the Diffys first showed up in 2003. Phil (Ricky Ullman) is introduced to Keely (Alyson Michalka) when Pim (Amy Bruckner) and he repeatedly and inadvertently sour Keely's role as Pickford Princess by crushing the treasured star with which she is supposed to top the town Christmas tree. Even the power of being able to move back and forth in time doesn't make reversing this act too easy for Phil. Meanwhile, the Diffy parents (Craig Anton and Lise Simms) are interested in merely a tour of an "authentic 21st century house" but wind up finding their new home. Though Christmas doesn't figure too largely in this episode, it's consistently amusing, which allows us to forgive its revision of the show's history with a smile on our faces.
The other extra is a 1-minute "music video" of fan_3's "I Love Christmas" song, which appears on the recently-released CD Radio Disney Jingle Jams. You can basically think of it as a not-very-good promotion for that album, because the song is quite dreadful, which makes one not mind that it is merely excerpted here. Comprising the visuals are soundless scenes from "A Very Possible Christmas" and Christmas episodes of the Disney Channel's "Lilo & Stitch" and "The Proud Family" animated series, which could have been (but are not) included on the disc.
As is to be expected on Disney DVDs, previews for other studio projects play at the start of the disc. These promote Lady and the Tramp: 2-Disc Special (i.e. Platinum) Edition, the Disney Channel Movie Surfers' hard-hitting, forthcoming inside looks at The Wild and The Shaggy Dog, and Kronk's New Groove. Additional ads for Sky High, Toy Story 2: 2-Disc Special Edition, and Old Yeller: 2-Movie Collection can be found on the second page of the Sneak Peeks menu.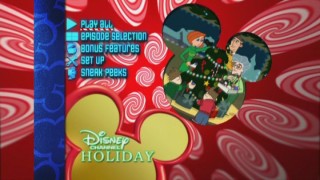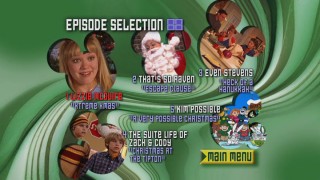 The 16x9-enhanced animated main menu cycles through a collection of brief imagery from standout scenes of the selected episodes. These montages appear in a mouse ears cutout while the background is a collage of white-and-red swirls. Basically, it's the bright and busy visuals you've more or less come to expect from the Disney Channel. A bellsy instrumental accompanies this and all sub-menus, though the only other animation comes in a lone transition.
The same artwork which adorns the front cover appears on the disc and the insert (which lists episode selections and bonus features on front, and promotes "That's So Raven" DVDs on the back). Another mini-booklet enclosed advertises various Disney DVD releases, including the delayed DVD Games planned for this November and the very one you have purchased, albeit with a slightly different Raven pose which may inspire pondering. The booklet also contains a couple of coupons for Disney Channel DVDs and CDs.
Each episode is preserved in its entirety, from the complete opening credits to the end studio logos. There is no formal introduction to this collection at the beginning of the "Play All", which results in the disc playing precisely like a holiday episode marathon you might find on the Disney Channel one December afternoon, sans all those intrusive internal commercials and kid-profiling shorts. Each episode is presented as a chapter stop, which means there is no convenient access to scenes within individual shows, save for high-speed fast-forwarding and rewinding. With each show running just 22 minutes, though, that is not a great inconvenience.
CLOSING THOUGHTS
Though episode compilations usually leave much to be desired in value and selection for diehard and casual fans alike, Disney Channel Holiday is one exception to the rule. This collection of six holiday episodes from the cable network's more popular series of the decade amounts to a fairly winning thematic bundle. Of course, liking the Disney Channel's current and recent output is a major prerequisite to enjoying the disc, but the selected episodes illustrate why that is not the most difficult thing to do. This is also the rare case where the whole is greater than the sum of its parts. While none of the individual episodes approaches the pantheon of holiday viewing material one should revisit annually, they work together to get you in the Christmas mood and let you forgive their various shortcomings. It is easy to appreciate the design and approach of the DVD.
At a modest price, Disney Channel Holiday makes for a solid gift idea for those who are fans of the Mouse's cable channel in general. The variety and volume of episodes it offers clearly put it ahead of most of Disney's DVD compilations and certainly all of the Disney Channel ones. Though you'd have to be a severely ardent fan to buy the disc for any individual episode, an appreciation of three or more of the selected series will suffice in ensuring your jolly enjoyment of the program.