Page 1: Show Discussion, Disc 1, and Disc 2
Page 2: Disc 3, Video/Audio, Bonus Features, Menus & Packaging, and Closing Thoughts

It still amuses me to imagine what the pitch sessions for "TaleSpin" must have been like. I'm sure the fact that using old characters in new situations had worked well for "DuckTales" and "Chip 'n Dale Rescue Rangers" must have come up.

Then I envision some kind of chart with popular animated Disney characters, on which Baloo from The Jungle Book must have ranked highly. Then what...?

"Picture this: we pull him out of the jungle, plop him in a port town in the vague past, and make him a for-hire pilot in a world of anthropomorphic animals! And people like King Louie, too, so we'll have a part for him as a nightclub owner. Shere Khan can be kind of a villain who is a suit-wearing tycoon. Forget about Mowgli and the rest of the gang -- we'll write in some identifiable kid parts, a few recurring baddies, and we're all set."

An unusual concept, certainly, but one which found success in the series' standard syndication run of 65 episodes as part of The Disney Afternoon, the two-hour weekday programming block that the company launched in 1990. A blend of characters, comedy, and adventure, "TaleSpin" might seem somewhat interchangeable with its Disney Afternoon kin, but it offered something unique and about as pleasing as any other kid-oriented cartoon of its time.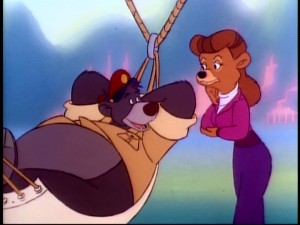 In the two years since Disney began releasing its earliest animated TV series to DVD, I've discovered that more than most media I've encountered, the shows in this class underscore the differences between viewing and reviewing. Whereas the former is done at one's leisure and pace, the latter (critiquing) introduces time demands of a deadline. Steadfast in my belief that for a DVD to be reviewed it must be watched in full, there's always been a time crunch involved in getting an over 10-hour box set seen and written about as quickly as possible. The crunch has been by Disney's predilections for releasing multiple sets on a determined day and for tightly filling the weeks of a fall DVD schedule.
Reviewing a Disney Afternoon series entails watching in bulk (typically more than two dozen episodes in a single week), a task that is unlikely to have been foreseen to the producers designing episodes for 1-a-day consumption. All of the series tend to suffer a little bit, their formulas growing weary and their hold on the critic's attention growing loose.
This week Disney gives us a Volume 2 release of "Tale Spin", arriving 14½ months after Volume 1. Somehow, my busier work schedule from this site's expansion to non-Disney reviews has been cancelled out by a slate lighter of box sets from Disney. The result? "TaleSpin" seems even better than I remember it being when I last saw it, just a little over a year ago.
A number of things about "TaleSpin" impress me.

High among them are the rich characterizations and complex stories that work well on different levels for children and adults. Perhaps even higher is the series' originality. While it's not too difficult to spot certain patterns and trends in the storytelling and an inherent order to the universe, practically every episode boasts something unique, clever, and interesting. The chronological collections of animated shorts that are so prevalent on DVD today often reveal a repetitive nature; frequently, variables were merely plugged into a formula, given a clever title, and released. If that's commonly the case among even the most praised cartoon studios that were making their films over runs of many years, how is it that the mass-produced "TaleSpin" avoids repetition so well?

Centering on an unusually tiny cast, "TaleSpin" follows the fun adventures of Baloo and his young co-pilot Kit Cloudkicker. As alluded to earlier, the laid-back bear's Jungle Book co-stars Louie the orangutan and Shere Khan the tiger both hold recurring roles. Each appears in about six of the twenty-seven episodes of Volume 2. Showing up more frequently is Rebecca Cunningham, Baloo's boss at Higher for Hire who also serves as his foil and friend. We don't see too much of Rebecca's daughter Molly; she provides a youthful presence in only two of this set's episodes including the holiday-flavored "A Jolly Molly Christmas." That is still more than most of the characters, who tend to appear in just a single self-contained episode and then be forgotten. One noteworthy exception is the Thembrian race, whose ridiculous rules and diminutive Colonel Spigot entertain on multiple occasions. Another is Don Karnage, the Spanish-sounding pirate chief who wreaks havoc on a semi-regular basis.

Volume 2 includes the two-part "For Whom the Bell Klangs" which places Baloo and Louie in globe-trotting treasure-hunting along with a newly-introduced villain and heroine. Those who like good/bad duels of mythic animated series may appreciate them, but I found the increase of action at the cost of story put this arc a little below standard episode quality.

The 27 episodes of Volume 2, which are spread across the usual three discs, reduce the number of unreleased "TaleSpin" episodes to just eleven. That number is smaller than for any other Disney animated series, suggesting a light two-disc set down the line, something "Chip 'n Dale Rescue Rangers" also needs to reach DVD completion.

A star (

) indicates my picks for the ten best episodes of this Volume 2 collection.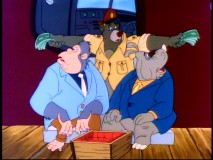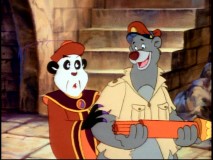 Disc 1
1. "A Baloo Switcheroo" (22:48) (Originally aired October 16, 1990)
Indiana Jones meets Freaky Friday when an idol found by archaeology professor O'Bowens causes Kit and Baloo to swap bodies. As they get a taste of each other's world via an airplane fly-off and track & field competition, Rebecca and Don Karnage also do the switcheroo.
2. "Whistlestop Jackson, Legend" (22:46) (Originally aired October 22, 1990)
Baloo's idol pilot Whistlestop Jackson begins working at Higher for Hire, prompting a vengeful Shere Khan to plot his rival's downfall.

3. "Double or Nothing" (22:46) (Originally aired October 24, 1990)
To replace Baloo's treasured rare boogie woogie record, he and Kit travel to Moolah-Boolah, where they hope odd jobs will lead to easy money.

But rather than taking cash, Baloo's acceptance of objects lead the two around the globe, with Trader Moe and his dense henchmen on their trail.

4. "Feminine Air" (22:50) (Originally aired October 30, 1990)
In the face of rampant sexist putdowns from Coolhands Luke and others, Baloo dresses in drag and, as Tan Margaret, represents the Daughters of Aviation in a scavenger contest.

5. "Last Horizons" (22:47) (Originally aired November 1, 1990)
In an effort to prove he's somebody worth throwing a parade for, Baloo finds Panda-La, but its inhabitants have mayhem up their sleeves including heat-seeking missiles. One of two or three "TaleSpin" installments reported to have been temporarily banned from syndication, the episode appears with perceived stereotypical Asian pandas intact.
6. "Flight of the Snow Duck" (22:54) (Originally aired November 5, 1990)
Using their imaginations gets Molly and Wildcat a thousand year prison sentence in snowy Thembria, but it also helps Baloo and them escape.

7. "Save the Tiger" (22:52) (Originally aired November 7, 1990)
After unwittingly saving Shere Khan's life, Baloo is offered anything he wishes to square the debt, an offer he takes advantage of to his personal gain. But Khan is nothing if not shrewd.
8. "The Old Man and the Sea Duck" (22:50) (Originally aired November 8, 1990)
A crash in Mirkle Pass messes with Baloo's memory and renders him unable to fly a plane... until he lands in a mysterious place where the fabled pilot Joe McGee trains him.

9. "War of the Weirds" (22:46) (Originally aired November 13, 1990)
Inspired by Kit's favorite radio show, Baloo hatches a plan to get vacation time by pretending to travel to Mars. By playing along, Rebecca disturbs Baloo, who responds with a prank of his own. The foolishness comes to a halt when the concerned Colonel Grog opens an investigation into what he suspects is a Martian invasion.
Disc 2
10. "Captains Outrageous" (22:46) (Originally aired November 15, 1990)
Seeking adventure to gain admittance to the Jungle Aces clubhouse gang, the rich, overprotected, nerdy Oscar Vandersnoot accompanies Baloo on a delivery, on which Kit and Wildcat are to play air pirates. The excitement moves from contained to unexpected when Don Karnage and his henchmen intrude.

11. "The Time Bandit" (22:48) (Originally aired November 23, 1990)
Baloo's scheme to advance his pay day for a night at Louie's

has major repercussions in the crazy state of Thembria, where Rebecca is quickly sentenced to be executed.

12. "For Whom the Bell Klangs, Part 1" (22:44) (Originally aired November 27, 1990)
While on vacation, Baloo and Louie find themselves in the middle of global adventure involving archaeologist vixen Katie Dodd, giant scarabs, three bells, a lost city, and a hooded villain named Thaddeus E. Klang.

13. "For Whom the Bell Klangs, Part 2" (22:57) (Originally aired November 28, 1990)
Action continues to run high as Baloo, Louie, and Katie join forces against the iron-jawed Klang.

14. "Citizen Khan" (22:54) (Originally aired December 3, 1990)
While making a cumquat delivery, Baloo, Kit, and Wildcat get pulled over in a mining town owned by Shere Khan. Having Wildcat pretend to be Khan buys the trio some temporary relief, until the overworked urgonium miners decide to kidnap their "boss"!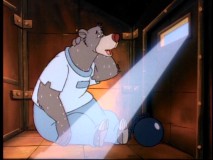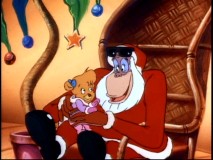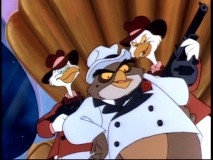 15. "Gruel and Unusual Punishment" (22:54) (Originally aired December 4, 1990)
To keep his promise to lose weight for the Pilot's Ball, Baloo heads for the Elizabeth Taper Center but ends up in the Thembrians' maximum security prison on Bedevilled Island. While Wildcat, Kit, and Rebecca try to rescue their pal, he's helping fellow inmate Professor Krackpotkin escape to his mother's 80th birthday party.

16. "A Jolly Molly Christmas" (22:50) (Originally aired December 20, 1990)
It's Christmastime and as a curious Molly spends time "at the North Pole with Santa" (i.e. Louie's with a costumed Louie), Baloo and company go to great lengths to make her wish for snow come true.
17. "My Fair Baloo" (22:47) (Originally aired January 7, 1990)
Kit trains Baloo in etiquette so that he can join Rebecca in attending a swanky community dinner on the Spruce Moose, a plane too big to fly that's been converted to a restaurant. While there, Owl Capone and his hitmen invade the gathering, giving Baloo a chance to be heroic in front of classier folk.
18. "Waiders of the Wost Tweasure" (22:52) (Originally aired January 9, 1991)
In Walla Walla Bing Bang, Baloo teams up with his old rival Plane Jane to recover ruby wings that are essential to protecting the land's throne for Princess Grace.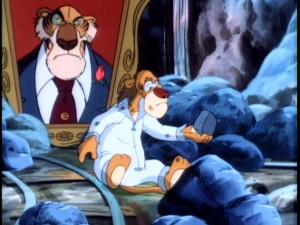 Buy TaleSpin: Volume Two DVD from Amazon.com



Page 1: Show Discussion, Disc 1, and Disc 2
Page 2: Disc 3, Video/Audio, Bonus Features, Menus & Packaging, and Closing Thoughts