Walt Disney Pictures' The Santa Clause movies are a minor anomaly in today's film industry. Sure, sequels abound and a typical year brings at least 2 or 3 Christmas-themed films to theaters. But how often do we see a series of Christmas movies? Ernest saved Christmas and then moved on to other things. Tempting though it may have been to the bank statements of Brian Grazer and Ron Howard, The Grinch hasn't returned to steal the holiday again. Even Kevin McCallister was only left alone twice before that lucrative ship took a break and a new direction.
The Tim Allen-headed franchise is rare by less specific terms as well. It's not based on a bestselling novel, a long-running comic book or cartoon series, or a video game. Some unattributable commonly-passed folklore is all that's borrowed at its origins. In this age of filming sequels back-to-back per the get-money-quick-while-the-property's-fresh-and-hot mentality, the four years that passed between the second and third films is a little strange. The eight years separating the original from its first follow-up is practically unheard of. Then there's budget, which on a typical mainstream sequel runs anywhere from 100 to 300 million dollars. While the Santa Clause flicks have always boasted magical elements, theirs have been practical or, in the case of the effects-heavy sequels, cheap, helping to keep each installment's budget well south of the $100 M mark.
All things considered, unusual or not, it made sense for Disney to continue to pursue the series with Tim Allen on board. That is exactly what they did last fall, sending The Santa Clause 3: The Escape Clause to a large number of theaters in the distant shadow of its two highly profitable predecessors.
This film is set primarily at the North Pole, where Santa Claus (Allen), previously known as Scott Calvin, is preparing for another busy Christmas while juggling a lot of issues. His wife Carol (Elizabeth Mitchell) is very pregnant with their child and she's also missing her family. Her parents, Bud (Alan Arkin, 2006 Oscar winner for Little Miss Sunshine) and Sylvia (Ann-Margret), are flown in, but in order to preserve Santa's secrets, they've got to be duped into believing they're merely at a toy factory in Canada. Of course it only seems fair for Scott's extended family to also show up at the North Pole, so reasons are generated for the resurfacing of his ex-wife Laura (Wendy Crewson), her psychiatrist husband Neil (Judge Reinhold), Laura and Scott's son Charlie (Eric Lloyd) who's now on the cusp of adulthood and largely written out, and Laura and Neil's daughter Lucy (Liliana Mumy) who still holds the focal cute kid part.
Adding to the family bustle and usual end-of-the-year workload frenzy is a matter that summons the Council of Legendary Figures to Santa's workshop. It appears that Jack Frost (Martin Short) has been quite the troublemaker. Rather than punishment, though, the smooth-talking Frost convinces Santa and, in turn, the council that he could be put to better use in community service, specifically acting as a general aid to Santa during this peak season. Naturally, though, Frost isn't much help. Instead, desperate to claim more of the public attention, he choreographs all sorts of mayhem for Father Christmas as well as his elves and human guests.
The film's subtitle, The Escape Clause, gains importance when Frost sees it as his ticket to the red suit and all that goes with it. In the process, this sequel toys with the space-time continuum, taking us back twelve years to the very scene that established the middle-aged Illinois toymaker as the next Father Christmas.
The Santa Clause 2 appeared to be made by people who hadn't seen the first film recently. It recalled a few things from the surprise 1994 blockbuster

(like Scott being a fan of Tim Allen's typical sarcasm, Neil's penchant for loud sweaters, and kids playing elves), but struck its own, decidedly different tone. It was more cartoonish, fantasy-filled, and child-oriented than its slightly edgy and reality-grounded predecessor. Unsurprisingly, Escape Clause adheres more closely to its immediate predecessor, reflecting common talent (writers Ed Decter and John J. Strauss return from SC2, as does director Michael Lembeck) and fresh memories (with just half the gap in between the first and second films).

While sequels are usually dictated by perceived demand rather than ideas, Santa Clause 3 actually boasts plenty of the latter and enough originality to easily distinguish itself from its antecedents. Santa's difficult Christmastime juggle was already a focus, but this one's concerns are new and feel less manufactured. The introduction of Jack Frost as nemesis proves fairly inspired. As do some of the movie's inventions, like a glitzy, commercialized version of the North Pole that adults may find closer to a realistic theme park experience than the magical ones advertised. If borrowing a little from It's a Wonderful Life, harking back to the first film's events also works well, while slightly underscoring how the bright sequels have offered a different, more narrowcast design. The film cheats in a couple of places and gets mushy in others, but considering the rampant possibilities for each in light of the time-bending screenplay and sugary sweet setting, one feels it could have been much worse in both regards.

The film is aided considerably by the fine performances given by the large cast. The new blood merits the most praise, as Arkin, Ann-Margret, and especially Short (in substantial screen time) all provide spirited turns. Returning actors -- quite impressively, that includes nearly every principal, each of whom is given something to do -- are mainly complacent or peripheral. For instance, likable though he is, Allen essentially is playing himself in a fat suit rather than the character he created in 1994. One glaring exception to the status quo is Spencer Breslin, whose SC2 character Curtis assumes the head elf position sadly left behind by David Krumholtz. Breslin's acting talents are an overexposed detriment and his pubescent appearance clearly pokes a hole through the idea that North Pole elves are hundreds of years old; that's a lot of change for so short a time and he's no longer the kid that Krumholtz somehow pulled off at a comparable age. Beyond him, the Legendary Figures (which include Peter Boyle in one of his final roles) appear in a reduced fashion, keeping their goofy antics to nearly a minimum, which is probably for the best.
DVD Details

1.85:1 Anamorphic Widescreen and
1.33:1 Reformatted Fullscreen
Dolby Digital 5.1 (English), Dolby Surround (French),
Dolby Surround (Spanish on Fullscreen only)
Subtitles: English, French, Spanish; Closed Captioned
Release Date: November 20, 2007
Single-sided, dual-layered disc (DVD-9)
Suggested Retail Price: $29.99
White Keepcase Housed in Holographic Cardboard Slipcover
Also Available on Blu-ray Disc
VIDEO and AUDIO
The Santa Clause 3 is among the rare breed of Disney DVDs that offer both widescreen and fullscreen presentations on the same disc. In order to choose, however, you'll have to go to the main menu and press play. By the default FastPlay method, the fullscreen version plays and once it does, you'll have to go to the audio set-up page to select one of the tracks on the widescreen version to play the 16x9-enhanced presentation of the film in its 1.85:1 theatrical aspect ratio (which the case calls 1.78:1 family-friendly widescreen).
While it's not much of a surprise, it is still very nice to be treated to outstanding picture and sound. The element is delectably pristine. The vivid colors are extremely rich. Sharpness is always where it should be. Having the two formats share a single-sided disc calls for tighter than usual compression (putting the transfers' average bit rates in the 4.6 Mb/s range), but only with hard searching and gigantic displays will one find visual imperfections. Even then they're minor, making this disc a good example for just how wonderful standard DVD can look.
The Dolby Digital 5.1 soundtrack doesn't make the same great impression as the video, but it also doesn't disappoint in any major way. Atmospheric effects go a long way to make one feel as if they really are at Santa's never-dull toy factory, the overactive score is well-realized, nothing calls for adjusting volume levels during playback, and dialogue is always entirely discernible.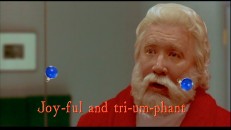 BONUS FEATURES, MENUS, DESIGN and PACKAGING

Bonus features begin with a blooper reel (2:58). The cast's breaks into laughter do provide the viewer with some amusement. Although this montage is strangely missing some of the hijinks found in a short blooper featurette distributed online last year as the most viral part of the film's marketing campaign, a bit of that content surfaces later.

Two extras fall under the Music & More heading. First is "Christmas Carol-oke" (6:25), the only supplement Disney was proud enough to mention on a slipcover sticker. It actually is pretty cool, as short instrumental versions of 7 holiday music staples

("Jingle Bells", "We Wish You a Merry Christmas", "Joy to the World", "O' Come All Ye Faithful", "Silent Night", "Deck the Halls", and "The First Noel") play over montages of clips from all three Santa Clause films. Fulfilling the karaoke part, an ornamental blue ball bounces over the lyrics. Needless to say, there's plenty of disconnect to be found between the religious, respectful verses and the typically silly images. While I can't imagine many families gathering around the TV for the intended purpose, it's still neat and cool to see the trilogy linked.

The section's other inclusion is the music video for Aly & AJ's "Greatest Time of Year" (3:12). While the end credits song won't shatter pre-conceived notions that Radio Disney music is of a one-track sound and it couldn't be further from the sensibilities of the first film, the tune lands just north of bearable. The video alternates between footage of the teen sisters rocking out on a niftily-lit set and the obligatory movie clips.
Backstage Disney holds the remaining five extras. First is an interesting alternate opening (3:33) which cuts immediately from the old Walt Disney Pictures logo into Carol's classroom, where in response to questions from a student (Abigail Breslin) she recaps the past with help from clips of the original movie and a little wooden Tim Allen doll.

The 4-minute "Jack Frost & Mrs. Claus: A Very Different Look" fascinatingly provides footage of Martin Short and Elizabeth Mitchell before their characters were given makeovers. Frost was mop-topped and messily-dressed while Mrs. Claus was made chubby as in the end credits of Santa Clause 2.

Interview comments and behind-the-scenes looks cover the decisions to re-visualize the appearances in the early days of shooting.

"The New Comedians: On the Set with Tim & Marty" (3:00) briefly explores the jokey camaraderie of the two leading men, with lots of playful antics and some interview comments.

"Creating Movie Magic" (4:02) offers a short but semi-technical look at the film's liberally-employed visual effects, with special attention given to the Hall of Snow Globes and Santa's open mouth fireplace.

Just when you think you've gotten through nearly all the supplements, the last listing is for a feature audio commentary by director Michael Lembeck, available exclusively on the widescreen version. He seems to have undergone a complete 180-degree transformation from his Santa Clause 2 track (in which he acted as if the film was shot at the North Pole with the real Santa Claus). He makes no mistake about The Santa Clause 3 being a movie and in fact, nearly all his remarks deal with the "how we did it." Though his spouting of various numbers makes him sound a little like Rain Man, the constant revelation of moviemaking tricks sustains one's interest. One wouldn't mind more on creative decisions to complement the technical talk, but at least Lembeck has a lot to share and does it in a poised fashion. If my ears aren't deceived, it even sounds like he went back and filled in any lulls with more insight.

It's disappointing not to find any more deleted scenes; one suspects the inclusion of both viewing formats meant some relevant bonuses had to be dropped. On the other hand, the lack of the theatrical trailer, while annoying, is expected. A savvier studio would have taken advantage of the fact that the in-print discs of the first two movies are both without trailers and included the trailers for all three movies. Alas, 2007 has found Disney sorely lacking in the customer-pleasing department. Though it's afforded a lot more disc space, the Blu-ray version of Santa Clause 3 delivers only one exclusive, a Virtual Holiday Decorator.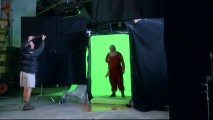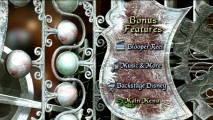 The menus are set within a small section of Santa's North Pole toy factory, with the mechanism intermittently coming to a chilly halt upon getting frozen by what we can presume is Jack Frost's breath. As is often the case, only the main and bonus features menus are animated, though all the rest maintain the motif and feature excerpts of the score by George S. Clinton (not to be confused with the P-Funk mastermind). All bonus features are subtitled in English and 16x9-enhanced, except for the music video which is neither.

The DVD opens with previews for Tinker Bell, Return to Never Land, High School Musical 2, and My Friends Tigger & Pooh: Super Sleuth Christmas Movie.

As usual, these are also available individually and as a group on the Sneak Peeks menu, where they're joined by ads for the Disney Movie Rewards program and Disney Princess Enchanted Tales.

Enhanced with FastPlay, the disc makes the hands-free playback method even more reminiscent of VHS by subjecting you to the fullscreen version. Once this has happened, your only way of switching to widescreen is to go to the audio set-up page.

The DVD comes housed in a cardboard slipcover which while offering no new artwork (save for a duplicated second spine) does add some nice holographic effects to the background, North Pole house windows, and Martin Short's hair. As on The Santa Clause 2, the DVD producers exhibit an inability to present the film's full title; they once again drop the The, rendering the movie Santa Clause 3: The Escape Clause on the spine and cover (where the subtitle actually appears to intrude before the 3). All one finds inside the case is a 4-page booklet of Disney Movie Rewards code and ads and a chapter insert which doubles as promotion for Tim Allen's "Home Improvement" and the concurrently-released Super Sleuth Christmas "Movie".
CLOSING THOUGHTS
Though it expectedly doesn't approach the heights of the original The Santa Clause, this third installment in Disney's Christmas comedy series is about on par with SC2 in quality. That puts it in a modestly-populated class of sequels that supply more entertainment than disappointment. By no means a great film, Santa Clause 3 nonetheless takes us back to a fun world and allows us to revisit interesting characters. In style, it stays closer to the kid-tailored 2002 sequel than the superior family-oriented first film, but it improves in some ways and introduces us to a trio of neat personalities, most notably Martin Short's quirky Jack Frost.
Presumably as a result of including both viewing formats on the same disc, Disney's DVD skimps on the extras but the few things it does provide -- short featurettes, an alternate opening, a music video, bloopers, a commentary, and karaoke montages -- add value to the package, while picture and sound quality are terrific. I definitely can't say that The Escape Clause belongs in every DVD collection the way I could about many great Christmas films (including the original Santa Clause). But it's a movie I'm pleased to own and if you own and enjoy Santa Clause 2, you probably should do the same for SC3 for reasons much better than just "completing the series". If you loved the first film and only thought the sequel was okay, you still ought to check out this seemingly final Clause; it provides enough entertainment to warrant a viewing this Christmas season.
More on the DVD / Buy from Amazon.com / Buy on Blu-ray Disc from Amazon.com