Page 1: Show Discussion, Disc 1, and Disc 2
Page 2: Disc 3, Video/Audio, Bonus Features, Menus & Packaging, and Closing Thoughts

By Kelvin Cedeno

Before the Disney Afternoon became a staple of most children's days as soon as they came home from school, "DuckTales" existed by itself, paving the way for future animated series.

With the show not having to fight for attention, Disney was able to put lots of time and effort into it. The series was even treated to several primetime TV movies. This Volume 3 DVD set includes those two of those films (each shown in its five-episode syndicated format) as well as the standard episodes that wrapped the 1987 year.

The two TV films (Time is Money and Super DuckTales) are notable not just for their primetime airings, but also for the characters they introduced. Time in Money let audiences meet Bubba, a caveduck from the past who means well but ends up wreaking havoc wherever he goes. Super DuckTales unveiled an even more important personality: Fenton Crackshell, a quirky average Joe who would become the superhero Gizmoduck. Gizmoduck would be a recurring presence not only in this series, but in the subsequent Disney Afternoon series "Darkwing Duck".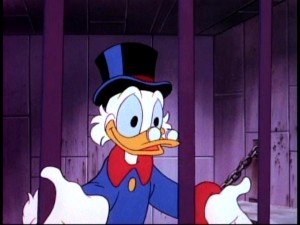 "DuckTales" has arguably been the most popular animated series Disney's ever churned out, and one can see why. Unlike other animated shows (even some from Disney itself), "DuckTales" doesn't restrict itself to a formula. It repeatedly reinvents itself and isn't afraid to take risks. Despite Duckburg being the central location, the characters travel through many different locales ranging from jungles and deserts to oceans and outer space. There's seemingly no limit to the story possibilities as the show has no set rules, and everything is free-for-all.

Of course, with such a wide open palette to create stories on, the half-hour timeslot does tend to get in the way. Conflict is usually resolved all too conveniently and usually about a minute or two before the end credits.

This is perhaps why the show has done so many TV films; adventures such as these beg for two-hour timeslots. While the standard episodes do tend to feel rushed at times, it's a testament to the series how it's able to cram so much in such little time, much more than most series aspire to.

It's almost surprising how well "DuckTales" caters to so many different genres and styles. Usually when a show or film tries this, it comes across as uneven, and in trying to please everyone, it often pleases no one. "DuckTales," on the other hand, almost effortlessly pays tribute to science fiction, history, screwball comedy, action adventure, and even film noir. It contains many references that adults would understand, yet features enough visual storytelling as to not isolate children. It's a series that's diverse enough to appeal to different tastes and remain timeless, more than most series, animated or not.

Synopses of the 24 episodes of Volume 3 follow, with a star (

) denoting ten standout episodes.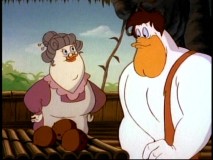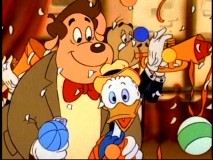 Disc 1
1. Duck to the Future (22:49) (Originally aired November 24, 1987)
Magica De Spell cons Scrooge into traveling forty years into the future. To his detriment, he finds this future has a definite Magica bias to it, and he attempts to set things right again.
2. Jungle Duck (22:48) (Originally aired November 25, 1987)
Scrooge and the gang set off for the jungle in search of silver buzzard. Instead, they find a former prince Mrs. Beakley looked after years ago, now living as a wild duck.
3. Launchpad's First Crash (22:46) (Originally aired November 26, 1987)
When Scrooge and Launchpad experience their 100th crash, they reminisce about the first time they met and the adventure they experienced on an island dominated by women.

4. Dime Enough for Luck (22:42) (Originally aired November 27, 1987)
Scrooge's nephew Gladstone is constantly showered with good luck no matter where he goes. Magica uses this to her advantage by having him steal Scrooge's lucky first dime.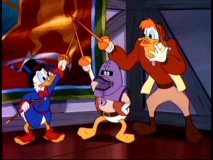 5. The Duck in the Iron Mask (22:46) (Originally aired November 30, 1987)
Scrooge goes to visit his friend Count Roy,

but both Roy and the kingdom are starkly different from what he remembers. Meanwhile, Dewey is exasperated with how he's often confused for one of his twin brothers.

6. The Uncrashable Hindentanic (22:45) (Originally aired December 1, 1987)
Flintheart Glomgold makes a million dollar bet with Scrooge involving a previously abandoned dirigible. When Scrooge restores it, Glomgold hijacks it to win his bet.
7. The Status Seeker (22:42) (Originally aired December 2, 1987)
Scrooge feels his life is not reflective of his wealth, so he decides to join an upper crust club. In order to do so, though, he must retrieve a valuable tribal mask he once disposed of.

8. Nothing to Fear (22:49) (Originally aired December 3, 1987)
Magica De Spell puts a curse on the Scrooge mansion, causing each member of the household to experience his worst fear.
Disc 2
9. Dr. Jekyll and Mr. McDuck (22:49) (Originally aired December 4, 1987)
Notorious bandit Jack the Tripper steals a formula that causes people to enthusiastically give away their money. When Scrooge is affected, the boys turn to a well-known detective for help.
10. Once Upon a Dime (22:46) (Originally aired December 7, 1987)
Scrooge tells the story of how he traveled from Scotland to America and the adventures he encountered that made him so wealthy.

11. Spies in Their Eyes (22:49) (Originally aired December 8, 1987)
When Donald Duck is stationed at Singapore, Scrooge and the boys go to visit him. Things don't go as planned, though, when Donald is framed for treason.
12. All Ducks on Deck (22:50) (Originally aired December 9, 1987)
The boys stow away on Donald's naval ship to see what a respected sailor he is. When it turns out that he's anything but, they decide to create scenarios that might earn him a medal.

13. Ducky Horror Picture Show (22:49) (Originally aired December 10, 1987)
Scrooge invests in a new convention center, but the fees turn out to be too great. He offers his mansion as a hotel towards the first convention guests, but is shocked to find them to be monsters.

14. 'Till Nephews Do Us Part (22:47) (Originally aired December 11, 1987)
Scrooge strikes a business deal with Millionaira Vanderbucks, but she soon worms her way into his personal life for the rest of his money. The boys try to stop her before it's too late.
15. Time is Money, Part 1: Marking Time (22:53) (Originally aired November 25, 1988)
Flintheart Glomgold cheats Scrooge out of business proposition, so Scrooge and the gang travel back in time to set things right. Unfortunately, they travel a bit too far back in time and end up in the prehistoric era.

16. Time is Money, Part 2: The Duck Who Would Be King (22:33) (Originally aired November 25, 1988)
The gang finds themselves in the ancient city of Tupei. While they wait for the time machine to get repaired, they help save the city from an evil tyrant.
Buy DuckTales: Volume Three DVD from Amazon.com