Review by Aaron Wallace
"That's So Raven" broke precedent when it was picked up a for a fourth season on The Disney Channel, making it the first of the network's original series to be renewed beyond 65 episodes. Its enormous popularity has made it the Disney Channel's biggest success to date, so the decision to not aribitrarily shut down a people pleaser isn't much of a surprise (though the fact that past hits have come to an end while still in the spotlight is). Unfortunately, "Raven" isn't a show that lends itself to abundance.
Centered around a young psychic girl (Raven-Symoné) whose misleading visions inspire hijinks of costuming and trickery, "That's So Raven" is as reliant on formula as algebra. A similar series of events tend to unfold in a similar sequence in each episode, with only the title star's remarkable comedic sensibilities and an interesting enough premise left to keep it afloat. Fortunately, in moving into uncharted territory, the writers finally wisened up and saw fit to introduce a change pace for the show's fourth season.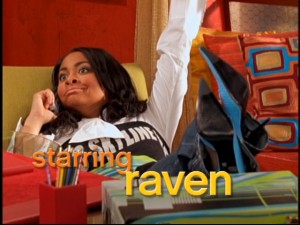 The new episodes take Raven out of high school and into a high-profile internship with fictional fashion designer Donna Cabonna (Anne-Marie Johnson), where in addition to balancing her lives as normal teenager and psychic, she also has to deal with the unending demands of her high-strung boss. As a result, supporting cast members Chelsea (Anneliese van der Pol), Eddie (Orlando Brown), and Corey (Kyle Massey) are usually relegated to their own secondary storyline.

Raven and Corey's father, Victor Baxter (Rondell Sheridian), is still around but his wife, however, is not. T'Keyah Crystal Keymáh left the show at the end of the third season as her character, Tonya Baxter, flies to London to continue her studies.

Despite the changes, the show largely retains its basic feel. The variation does, however, go a long way in giving the series a much-needed shake-up. As for Keymáh's departure, the disappearance of a cast member is always a little hard to swallow. Truth be told, though, the show's less annoying without her, and the writers are due credit for frequently writing her absence into the show rather than ignoring it all together. The changes introduced in Season Four are akin to the season-by-season alterations that are typical of most sitcoms but practically foreign to Disney Channel productions. The show's earliest days remain its best but if "Raven" has to carry on, at least it can do it with a little less monotony.

Raven's Makeover Madness is the fourth single-disc compilation of four to five episodes issued for "That's So Raven" and the first to include any of the new fourth season episodes. Par for the course, the disc's theme doesn't particularly relate to its content. While they aren't quite consecutive, they are arranged in chronological order (including the bonus episode) and flow nicely from one to the next. While there are five episodes on the DVD, only four comprise the feature program itself and those are outlined below.
Episode Descriptions
"Pin Pals" (22:37) (Originally aired February 24, 2006)
In the season premiere and easily the disc's weakest episode, Raven tries to sneak her clothing designs into Donna Cabonna's fashion show and faces the wrath of her friends (whose bowling team she deserts) for doing so.
"Dues and Don'ts" (22:37) (Originally aired March 3, 2006)
Raven lets the allure of her new internship get the best of her when she brags about her vision of a luxurious office to the entire Spanish class. They plan a trip to check out her new digs, but little does Raven know that the office she saw in her vision is far from her new workspace. Meanwhile, Eddie and Corey feud over a winning sweepstakes ticket.
"Adventures in Boss Sitting" (22:37) (Originally aired March 24, 2006)
Raven is looking forward to a romantic evening home alone with her boyfriend but when Donna Cabonna's breakup with her own boyfriend leaves her devastated, Raven is forced to entertain her date in one room and her boss in another. The episode's title foreshadow's the recently announced casting of Raven-Symoné as the lead in Disney's upcoming remake of Adventures in Babysitting.
"Hook Up My Space" (22:37) (Originally aired March 31, 2006)
Disney passes up an opportunity to tie-in their own "Extreme Makeover: Home Edition" by parodying it when Raven is granted a home makeover from the hip TV series "Hook Up My Space." Steamed after Raven nabbed his basement space for a room in the first place, Corey schemes his way into televised revenge.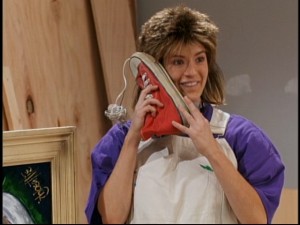 VIDEO and AUDIO
Presented in its original 1.33:1 aspect ratio, "Raven" again looks pretty good on DVD. Recorded on digital video on a less-than-bountiful budget, it doesn't present the highest production values to begin with, but the DVD presentation doesn't inhibit in any way.
A 5.1 Dolby Digital surround sound presentation is called upon for the audio -- that's 3.1 more channels than are used in its television broadcast. Anytime stereo is stretched out for a surround sound experience, the result is far from dynamic, but the audio here is at least clear and satisfactory in quality.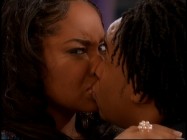 BONUS FEATURES, MENUS, and DESIGN

For no apparent reason other than to bolster the platter of extras (well,

that and its "unaired" status), a fifth episode of "Raven" is included as a bonus feature rather than as part of the feature program. "When 6021 Met 4267" (22:37) will air for the first time on August 18, 2006. In it, Raven decides to throw a party in her redesigned room and looks online for her perfect date. When Eddie turns out to be her match, their relationship enters an awkward dynamic.

The only other bonus is an interactive game entitled "So You Think You Know Raven?" By "spinning" a wheel, viewers will be presented with a trivia question in one of several categories that pertain to "That's So Raven" or its cast and crew. Surprisingly, there seems to have been quite a bit of behind-the-scenes and interview footage filmed for this, so it's a shame that only nuggets of it are presented here and that one must go through a drawn-out series of ridiculous questions to access them.

The main menu emulates the same design of the previous "Raven" releases: animated circles surround clips from the show set to the end credits music. The disc launches with sneak peeks for The Little Mermaid: Platinum Edition, Meet the Robinsons, The Cheetah Girls 2: When in Spain, and this very DVD alongside "The Suite Life of Zack & Cody": Taking Over the Tipton. The main menu also contains additional previews for Brother Bear 2, Cow Belles, High School Musical, The Wild, and the Disney Channel's "The Suite Life of Zack & Cody."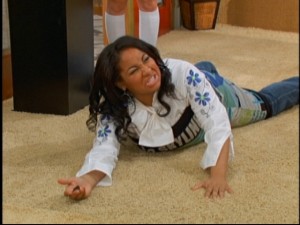 CLOSING THOUGHTS
With Raven-Symoné herself on board as producer, "That's So Raven" underwent changes in its fourth season, the loss of a main cast member and a slightly revised premise not least among them. After three years of repetition, the show was in desperate need of the spice of life and fortunately, it's gotten just a little taste. All of the episodes on Raven's Makeover Madness reflect these changes and that makes this disc stand out from its predecessors, though a single-disc compilation will never be as good a value to the consumer as the once-promised "Raven" box sets would be.