Page 1: The Movie, Video and Audio
Page 2: Bonus Features, Menus and Packaging, Closing Thoughts

Walt Disney continued to achieve wonderful things in the final years of his life and beyond. Mary Poppins, released in 1964, realized a higher caliber of live-action filmmaking, dazzling audiences and winning five Oscars in the process. That was probably the last high point Walt lived to see, but in the months following his premature December 1966 death, projects that he had worked on would posthumously delight the world.

The imaginative Pirates of the Caribbean ride Walt had previewed on TV opened the following March. The same year, construction began on the giant Florida theme park that Walt had excitedly talked up. In October of 1967 came The Jungle Book, the final animated feature that Walt was able to see close to completion.

Based very loosely on Rudyard Kipling's late-19th century Mowgli stories, The Jungle Book tells the story of a human boy who grows up in the wild jungles of India, where he's referred to as a man cub. As a foundling, Mowgli is discovered by the black panther Bagheera, who brings the young baby to a pack of wolves. The wolves raise Mowgli as one of their own, but when he starts to come of age, Bagheera decides it's time for the lad to return to the Man Village, i.e. human civilization. Disney's movie depicts Mowgli's experiences as he wrestles with the decision to reunite with his own kind or continue living the jungle life.

The film proceeds in a most episodic fashion, complete with what appear to be symmetrical fadeouts perfect for the obligatory commercial breaks of TV broadcasts. Through its very end, The Jungle Book has Mowgli encounter or re-encounter an individual animal or a group of creatures with whom he is to interact, often with danger, song or both entering the picture. Though that design may sound lacking in ambition or imagination, it allows us to meet what is unquestionably one of the movie's greatest assets: a wide cast of extraordinary characters.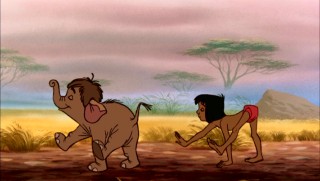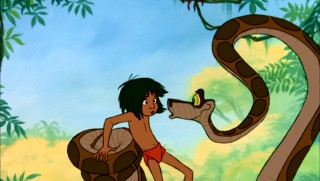 What helps make these assorted animals stand out is that morally, they're not painted black or white, but shades of gray. In Shere Khan the tiger, there is a clear villain but not one which conjures sorcery, moves broadly, or, until the end, poses much threat.

To be sure, he offers a fearsome presence, as does, to a lesser degree, Kaa the hypnotist snake who comedically falters in his calculated attempts to trap and consume his prey. There's even an ominous quality to King Louie, the scatting royal orangutan to whom frisky monkeys are loyal. Standing out amidst the complex, endearing personalities is one of the most likable characters ever committed to film: Baloo, a laid-back, large gray bear with whom Mowgli truly bonds.

Baloo and Bagheera emerge as two surrogate fathers who both want best for their spunky little ward but disagree on just what that is. "Papa Bear" sees no harm in Mowgli indefinitely taking things easy with him, while "Baggy" thinks it's essential to see the boy back to safety. Though not overplayed, this plot is enough to tie together the movie's various sequences as more than individually-diverting sketches of Mowgli and foreign animals.

Story-wise, The Jungle Book tends to be a bit more low-key than the typically epic fairy tales for which, appropriately or not, Walt-era animation is most often associated with. Still, despite a cast that is largely non-human, the movie resonates in its themes and in Mowgli's arc. It is far from faithful to Kipling's writings, but the nature of the source (magazine-published fables) certainly required some melding to fit the form of single-narrative musical Disney adventure. While only grazing the surface of the 22 tales of The Jungle Book and sequel The Second Jungle Book, the film packs just the right amount of content into its simple 78-minute runtime. It even eschews corniness or sentimentality until its overdramatic climax and bittersweet end.

The Jungle Book was extremely warmly received upon release and continues to rank among Disney's most popular cartoon features. There's good reason; the film stands above many of the talking animal pictures that had come before and most of those that have come since. Made at a time when Walt Disney's attentions were also divided with the parks and live-action comedies, released ten months after Walt's passing, and striking a far more contemporary tone than most of its predecessors, The Jungle Book doesn't often get its proper recognition in academic reviews of the Disney namesake's body of work. But while it may not have been Walt's baby or had lasting industrial effects the way his company's triumphs of the '30s, '40s, and '50s did, it is a tremendous film all the same and certainly, along with the Winnie the Pooh shorts, the apex of Disney studio animation between Walt's early masterpieces and the Eisner-era blockbusters.
Three elements that today's Disney likes to single out in bringing one of yesteryear's beloved features to a new generation are music, voices, and animation. Jungle Book is one film that merits mention in all three areas. Oscar winner "The Bare Necessities" (a play on words unrealized in the song's official title and lyrics) is the only song penned by Terry Gilkyson that survived the development process. Repeatedly reprised and still largely celebrated, the movie's theme is one of Disney's best. But some forget that it is complemented by some fine work from the studio's more frequently employed siblings Richard and Robert Sherman. "Colonel Hathi's March" and "Trust in Me" (by Kaa) are solid character pieces, while "I Wan'na Be Like You" gives birth to an unforgettable, energetic marriage of song and visuals, in which King Louie (voiced by jazz musician Louis Prima) scats his desire for fire to the man cub he sees as the key to acquiring it.
Prima is one of many entertainers recognizable in the '60s who lent their vocals to the film, a practice somewhat unusual for Disney back then. TV/radio star Phil Harris and British actors Sebastian Cabot (TV's "Family Affair"), George Sanders, and J. Pat O'Malley bring much of their already established personas to their parts. They're complemented by studio fixtures Sterling Holloway (as Kaa) and Verna Felton (as Hathi's wife Winifred), while director's son Bruce Reitherman fares well as the central man cub.
As for the animation, this was merely the next project for most of Disney's Nine Old Men, in between The Sword in the Stone and The Aristocats. Jungle Book didn't provide any original style, breakthrough technique, or revolutionary philosophy in the way of art. Some may even find the pencilly character movements lacking. But, what the movie misses in polish, it more than makes up for in vitality. One never doubts that the anthropomorphic animals are living beings.
The Jungle Book was among the first of Disney's animated features to debut on DVD, arriving on the format in the fall of 1999 during the studio's short-lived "Limited Issue" line. It is now the next-to-last title in that class to get revisited, doing so as a 2-disc Platinum Edition that customers have come to expect great things from. The DVD is also more prominently billed a 40th Anniversary Edition which is accurate, as it is forty years -- almost to the exact date -- since Jungle Book first opened in theaters.
DVD Details

1.75:1 Anamorphic Widescreen (Matted Theatrical Ratio)
Dolby Digital 5.1 Disney Enhanced Home Theater Mix (English,
French, Spanish), Dolby Digital Mono 1.0 (English)
Subtitles: English, French, Spanish; Closed Captioned
Release Date: October 2, 2007
Two single-sided, dual-layered discs (DVD-9)
Suggested Retail Price: $29.99
Black Dual Amaray Keepcase with Side Snaps,
Housed in an Embossed, Holographic Cardboard Slipcover
VIDEO and AUDIO
The Jungle Book is part of the class of animated films released by Disney from 1961 to 1981 whose "original aspect ratio" comes into question. Animated in the Academy Ratio with television broadcasts in mind, but matted widescreen for theatrical exhibitions, the movie seems to have two intended ratios, each with its own merits. The film's 1999 Limited Issue disc presented it in 1.33:1 fullscreen and the studio handled DVDs of other films from this period (like 101 Dalmatians, The Sword in the Stone, and The Aristocats) similarly. Recently, though, Buena Vista Home Entertainment seems to have undergone a change of heart; last fall's "Most Wanted Edition" DVD of 1973's Robin Hood presented it exclusively in 1.75:1 widescreen. That's also the route that has been taken for this 16x9-enhanced Jungle Book Platinum Edition.
There is no question that putting Jungle Book in widescreen introduces some compromise to the film's compositions. Quite often, elements flirt dangerously close to the top or bottom edge of the 1.75:1 frame. On occasion, they do indeed get chopped off in part. Were Disney animators actively directing for both aspect ratios and not merely safe-guarding for theatrical matting, I don't think this would be occurring. Alas, there's very little argument for the DVD not including both the featured widescreen presentation and the open-matte 1.33:1 presentation, either on the same disc or on separate ones accompanied by an even half of bonuses. More than ever before, studios cater to viewers' preferences today with the release of multiple screen formats. On a film like Jungle Book, the issue is more complicated than disliking black or gray bars. Wishing to see the fullscreen version -- not merely because it shows more but because it was consciously designed for it -- is a valid desire and the set should definitely have included both formats. While many of those with televisions in the increasingly common 16x9 dimensions will appreciate the decision that was made, it sets a poor precedent for others in this group. We won't have to wait long to see if others will have 30% of their imagery altogether dropped; Dalmatians and Aristocats are due to be rereleased next spring.
Aspect ratio issue aside, picture quality is outstanding. The element is entirely free of any detectable intrusions. Colors are rich and consistent. Sharpness and detail are excellent. There's a wide range to the movie's visuals, from deep nighttime blues to practically every shade of green, and the transfer handles it all in crowd-pleasing stride. While it's obviously quite a bit younger than his earlier feature films, Jungle Book would be a leading candidate for the best-looking DVD of a Walt-era film if not for the framing issue.
Like most previous Platinum Editions, The Jungle Book has been given a Dolby Digital 5.1 remix bearing the "Disney's Enhanced Home Theater" label. This option takes efforts to expand the aural elements. One easily notices that the instruments in the songs and George Bruns' score have been separated, though the effect feels more gimmicky than purposeful. Meanwhile, the dialogue still remains largely anchored to the front speakers. Those wanting a less dramatically altered, more faithful sound presentation should opt for the single-channel Dolby Mono track, which provides the various elements in fine, compact fashion.
Buy The Jungle Book: Platinum Edition from Amazon.com
Continue >>