Page 1: Show Discussion, Disc 1, and Disc 2
Page 2: Disc 3, Disc 4, Video/Audio, Bonus Features, Menus & Packaging, and Closing Thoughts

When it first aired in January of 2001, "Lizzie McGuire" was a promising new Disney Channel series - clever, funny, and pretty sincere. The show soon found an audience, and shortly after could be qualified as a massive hit. There was merchandising from books to clothing, a highly marketable new star, and eventually, a feature film on the big screen. In the midst of the popularity, the show would suffer from creative decline;

either that, or maybe it just couldn't ultimately live up to hype. While viewership and popularity never wavered, the show seemed to stray from the intelligent storylines of early episodes in favor of celebrity guest appearances and the standard melodrama of teen romances.

But maybe "Lizzie McGuire" wasn't destined to be an excellent show and new tween market onto itself. Maybe it was only intended to be a slick and usually entertaining comedy from the perspective of an ordinary 13-year-old girl.

Revisiting these first 22 episodes of "Lizzie McGuire" reveals a genuinely entertaining show which can pass that more reasonable second test. This is the series that connected with audiences before it became a hot commodity for Disney. Only a few episodes had been aired by the time the last episode on this set was shot, so what's here pretty much predates the marketing aspect of the show.

As its working title ("What's Lizzie Thinking?") made clear, "Lizzie McGuire" presents life through the eyes of a 13-year-old girl (played by Hilary Duff). Much of the show revolves around Lizzie's psyche, something more conducive to print than film. In this case, Lizzie's emotions and inner feelings are conveyed by an animated persona who turns up now and again throughout each episode. While the animated Lizzie removes subtlety, the device is quick to get used to and never obtrusive.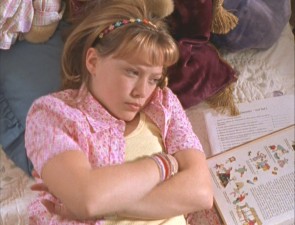 Lizzie is a pretty ordinary young teenager, or in her own words from the pilot: "not nerd, not jock, not brain, not rebel, not diva." That basic premise has been done before on TV shows and done successfully (often with a male subject), but "Lizzie" opts for its own format somewhere in between "sitcom" and "dramedy." (Similar to The Disney Channel's "Even Stevens", there is cinematic editing and camerawork and no laugh track.)
Like any 13-year-old girl, Lizzie's going through changes and is trying to find an appropriate identity and fit in at school and at home. Her two best friends are pretty much the same way. Miranda Sanchez (Lalaine) is also attracted to popularity but grounded with her own sense of being. David Gordon (Adam Lamberg), who just about everyone calls "Gordo", is less interested in being popular than in being different. When he's not quoting his psychologist parents' case files, he's offering random facts and a decidedly unconventional approach to teenage life.
Lizzie and her two best friends tread a middle ground between being popular and being geeky. The former class is represented by Kate Sanders (Ashlie Brillault), a diva who used to be friends with Lizzie and Miranda and now just revels in getting what she wants and hurting those who get in the way. Popularity is also embodied by Ethan Craft (Clayton Snyder), the somewhat airheaded guy that everyone (especially Lizzie and Miranda) seems to be gaga for. Ethan is the type of kid who acts as cool as everyone seems to think he is, and his repertoire of hip lingo is one of the more endearing comedic staples of the show.
At home, Lizzie gets to deal with her hyper 10-year-old younger brother, Matt (Jake Thomas), whose antics comprise most of the B-storylines in these episodes. Matt's passion for pranks and schemes often annoy Lizzie and get her in trouble with her parents. Those parents are Sam and Jo McGuire (Revenge of the Nerds star Robert Carradine, Hallie Todd), who are often present but strictly as parents. As far as parents go, Sam and Jo are pretty cool, but that's the last word Lizzie would use to describe them, except on the certain occasions when she sees their good qualities. More often, they embarrass Lizzie in her world where image carries a definite importance. These types of parent-child moments provide the show with some of its heartiest laughs, mostly due to Carradine's aloof father.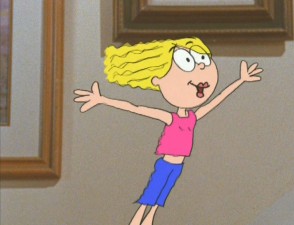 The show follows Lizzie on her adventures in and outside of school, as she tries out different images and adventures, while seeking to remain faithful to her friends and family. "Lizzie McGuire" wholeheartedly embraces its postmodern setting, with lots of references to celebrities and pop culture, an apt selection of songs, and a wide variety of movie homages.

There is an interesting mixture of characteristics (several contradictory), which work together to make "Lizzie McGuire" what it is. The show offers a slick appearance, with a barrage of neat visual techniques, sound effects, and quick cuts making for a fast pace and glossy feel. At the same time, there's a sincere sensibility to Lizzie's plights and it's clear that an effort has been made not to allow the show to fall into complete superficiality.

There are some keen observations on adolescence today, similar to the way "Seinfeld" looked at the adult world, but without the cynicism.

Still, as with any comedy show which manages to maintain a broad appeal, the show's sense of humor and subject matter never disarm its audience. The result is semi-satisfying: a bouncy show which deftly balances both the bizarre and the universal, presenting the white-washed junior high experience and also an open-mindedness to alternative ways of thinking.

"Lizzie McGuire" was previously released in overpriced single-disc episode compilations, and this Volume 1 Box Set improves upon those in every way. Presented here are the first 22 episodes apparently arranged by production order, not airdate. Like other Disney Channel shows, "Lizzie" ended its run with 65 episodes. The channel dragged out the final ten shows for a year; when the last episode finally aired earlier this year, it was nearly two years after it was filmed. Which would presumably make this the first (and best) of three box sets.

A star (

) denotes my ten favorite episodes from this set.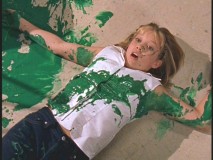 Disc 1

1. Pool Party (22:42) (Originally aired February 2, 2001)
Lizzie and Miranda are very excited about getting invited to Danny Kessler's pool party. But the party is on the day of Lizzie's grandmother's 80th birthday, so she can't go.

Things get even more frustrating for Lizzie when Miranda not only plans on still going, but starts to hang around with old best friend and now-brat Kate Sanders. With a little help from Gordo and her parents, Lizzie finds a pretty satisfying resolution.

2. Picture Day (22:34) (Originally aired January 19, 2001)
On the day of her school photos, Lizzie's parents insist that she wear a red sweater with a unicorn that her mother grandmother made for her. As Miranda puts it, "That's not 'Oops, I Did It Again', that's just 'oops!'" Miranda has her own problems when she and Kate show up wearing the same exact outfits. Ethan Craft pressures Gordo into mugging for his picture.
3. Rumors (22:32) (Originally aired January 12, 2001)
Kate makes the cheerleading team and Lizzie doesn't. Miranda takes full blame when she accidentally sends Lizzie's instant message that Kate stuffs her bra to her entire buddy list of classmates. What ensues is a back-and-forth prank war between Kate and Miranda. Lizzie feels guilty about not accepting responsibility, but she has trouble overcoming her fear of conflict. Meanwhile, Matt's lizard (who he's named Lizzie) dies on the parents' watch...or does she?
4. I've Got Rhythmic (22:32) (Originally aired February 9, 2001)
In gym class, Lizzie unexpectedly finds something she's good at. Unfortunately, it's rhythmic gymnastics, an activity she considers a little lame. Nonetheless, she agrees to represent the school in a regional competition, rigorously training with Coach Kelly. Gordo is documenting Lizzie's trials with his handheld camera, while Kate, bitter that Lizzie is better at something than her, plots to spoil her classmate's moment of glory.
5. When Moms Attack (22:30) (Originally aired January 26, 2001)
Lizzie is really looking forward to her science class overnight trip in the woods. She's not so thrilled to see her mom step in as a last-minute chaperone. Everyone thinks Lizzie's mom is cool, but Lizzie feels awkward about the whole situation. Back at home, Mr. McGuire and Matt try the improbable: cooking!

6. Jack of All Trades (22:30) (Originally aired February 23, 2001)
Lizzie and company take a career aptitude test, and each is shocked and disappointed by their results. Gordo's also frustrated that he can't seem to get anything higher than a B from Mr. Pettus in science class. He and Lizzie switch their projects to test his theory. At home, Matt decides he wants to be called M-Dogg from now on.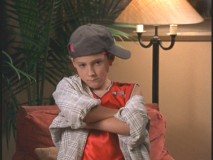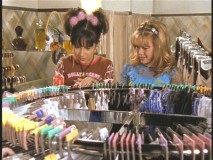 Disc 2

7. Misadventures in Babysitting (22:32) (Originally aired April 6, 2001)
In need of a last-minute babysitter, Lizzie's mother and father reluctantly agree to finally leave her home alone in charge of Matt. Miranda and Gordo stop by to help Lizzie babysit, which is good, because Lizzie needs all the help she can get. At the restaurant, Sam can't stop fidgeting, so he goes home to make sure things are alright, with disastrous results.
8. Election (22:31) (Originally aired April 20, 2001)
Encouraged by Gordo and Miranda, Lizzie runs for class president as a way of representing "the normals" in opposition of the popular crowd's favorite Claire and Larry Tudgeman who vows to eat a worm for every vote he gets. With Gordo providing guidance, Lizzie is very successful at campaigning, but she's changing in ways that disappoint Miranda. At home, Matt has made a new friend of the imaginary variety, named Jasper.
9. I Do, I Don't (22:31) (Originally aired April 27, 2001)
For a social studies project, the class is divided into married couples and assigned professions. Drama ensues as Lizzie is paired with Gordo, Miranda with dreamy airhead Ethan Craft, and diva Kate with the odd Larry Tudgeman.
10. The Untitled Stan Jensen Project (22:30) (Originally aired September 21, 2001)
Filmmaker Stan Jensen is making a documentary at Lizzie's school and everyone's excited to show up on camera. Stan takes a quick liking to Gordo. At the promise of becoming a film director himself, Gordo responds to Stan's requests to create conflict. The original thrill has worn off, and the documentary starts to pull Lizzie, Miranda, and Gordo apart. Matt is turned on by a girl in his class who even surpasses him with her love of mischief and skill at pulling off pranks.

11. Between a Rock and a Bra Place (22:31) (Originally aired May 11, 2001)
Lizzie and Miranda decide that it's time they buy their first bras, but getting to the mall by themselves with no questions asked is quite the challenge. The girls try to be vague, but when Lizzie's mom presses them about the "school supplies" they need, the three of them wind up shopping together. Complicating matters are the English teacher and classmates who show up at the store. The equally exciting subplot has Matt wanting to enter a contest to become Jet Li's sidekick. Gordo helps him direct a video with which to enter, and Mr. McGuire calls on an old friend (real-life brother David Carradine) to help them all out.
Continue to Page 2 >>

Buy Lizzie McGuire: Box Set Volume 1 from Amazon.com


Page 1: Show Discussion, Disc 1, and Disc 2
Page 2: Disc 3, Video/Audio, Bonus Features, Menus & Packaging, and Closing Thoughts