Some TV shows need time to find their footing and plenty improve in their second seasons. But, in general, after a couple of years, the only way to go is down. Writers find their wells of originality drying up while deadlines still must be met. The big choice is whether to give fans more of what they like or be creative and mix things up. Either way, you can't make everyone happy and, since some people are hesitant to join a series already in progress, audiences tend to decline in number and enthusiasm. That happens to many of the best American shows and from all I've seen,

"Hannah Montana" definitely doesn't belong to that class.

"Hannah" has been very successful, not in creativity or achievement but in viewership numbers, merchandise sold, and the media icon it's created. With all things considered, it's not surprising that Disney Channel would want to blaze past the once-firm 65-episode mark they've only let three other shows pass this century. It's also not surprising that Miley Cyrus would want to stretch her creative muscles and go beyond the one invented pop star persona she's carried for four years now.

With the sitcom's 16-month third season finally winding down and Cyrus about to test her popularity as the star of a Touchstone-branded, PG-rated Nicholas Sparks movie, Disney is putting yet another "Hannah Montana" DVD on the market, the first in nearly a year. It's almost impossible to provide a simple count of the franchise's discs, which include a 3-D concert movie, a scripted film, a DVD game, and three multi-series events.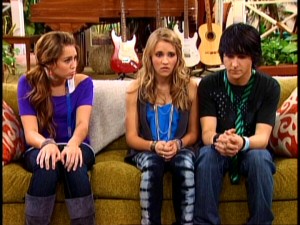 This latest DVD, provocatively subtitled Miley Says Goodbye?, fits the mold of Disney's most prevalent "Hannah Montana" release type, becoming the show's sixth random episode compilation. The studio tried the consumer-friendlier approach by issuing the show's Complete First Season back in late 2008. But like Disney's few other Disney Channel season set DVDs out there, no successor ever came. Apparently, fans (or their parents) would rather pay $15 and get a collection of four scattered episodes than do the chronological thing and get 26 episodes in order. Disney is all too happy to oblige them, even as price cuts have made the Season 1 DVD, with seven times as much content and four times the discs, sell for less than some of the 90-minute collections.
Miley Says Goodbye? does a little better by customers. It holds six episodes including a double-length one, moving the disc close to dual-layered DVD capacity without lifting the list price above the standard $19.99 point. While it'd be unusual to encounter a Disney Channel original series compilation DVD that can't boast providing a "never-before-seen episode", Goodbye? takes this tactic a step further than usual and, the studio hopes, might gain special notice for it.
By the time this disc is released next Tuesday (March 9), "Hannah Montana" viewers will be left with a cliffhanger not to be resolved until the following Sunday (March 14), when the second part of the Season 3 finale airs. That conclusion is found on this DVD, making the case's prominent tagline "What Will Miley Ultimately Decide?" answerable only by the contents within, at least for five days and only for those who won't know how to uncover spoilers on the Internet. While I wouldn't think of removing the uncertainty that so potently ends the title of this DVD, its eponymous two-part finale and some suspect the entire series, I will remind people that the last big choice Miley Stewart/Hannah Montana had to make (the basis of Hannah Montana: The Movie) didn't really end up changing anything of significance.
While I doubt you've come to this review in need of a series synopsis, some descriptions and assessments are in order since the most recent "Hannah" episode on DVD (excluding its contribution to last summer's crossover event) debuted 17 months ago. By these late Season 3 episodes featured here, the Miley/Hannah double life isn't the story generator it used to be.
It's not always clear who's in on the teenager's huge, unlikely, impractical secret, but since it's basically become ripe for throwaway jokes, it doesn't matter.

As always, the issues in the lives of Miley and her best friend Lilly (Emily Osment) are of chief interest to the show. At some point not featured here, Lilly becomes an item with the girls' gawky other friend, Oliver (Mitchel Musso), a relationship still in effect. True to tradition, Miley's immature goofball of an older brother, Jackson (Jason Earles), and her corny but loving father, Robbie Ray (Billy Ray Cyrus), usually collaborate on a B storyline that almost always involves Jackson's stupidity and laid-back Robbie's insight into it. Dad also supplies half of the show's requisite heart in tender father-daughter moments, while Jackson also gets to work for the shrewd, increasingly elfin Rico (Moises Arias) at a beach food stand.

Maybe it's due to the end being in sight, but "Hannah Montana" seems more bearable here than it's been in the past. The splatters and some of the other dumb, broad hijinks have been toned down. The show hasn't grown much more sophisticated, but cumulative experience has made the cast more comfortable with their characters. It's especially noticeable in Miley Cyrus' acting, which formerly trailed that of some co-stars but has improved even as her character has become more obnoxious. It also could be simply that the episodes picked for this DVD are better than the neighboring ones left off.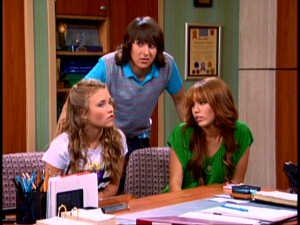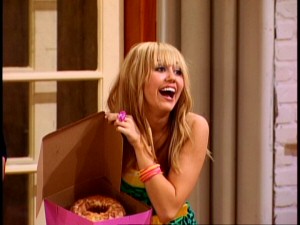 "You Never Give Me My Money" (22:34) (Originally aired November 23, 2008)
In need of cash, Miley asks her father for an allowance raise, only to get $5,000 of Hannah's earnings deposited into a checking account that she then tries not to touch. Jackson's missing cell phone poses an obstacle to his party night plans. Rico introduces empanadas.
"Papa's Got a Brand New Friend" (22:19) (Originally aired March 8, 2009)
Hannah accidentally knocks her choreographer out a window (seriously). The replacement she hires, Shawn (Philip Anthony-Rodriguez), immediately befriends Robbie Ray, but is less appealing as a choreographer. Oliver tries to get his athletic girlfriend (Hayley Chase) to dump him.
"Promma Mia" (22:34) (Originally aired May 3, 2009)
After Gabe (Chris Zylka) doesn't invite Miley to junior prom as hoped, she thoughtfully agrees to go with a nerd (Nate Hartley, doing what he do). But then "American Idol" runner-up David Archuleta comes calling to record a duet. Robbie Ray tries to get Jackson to register for community college.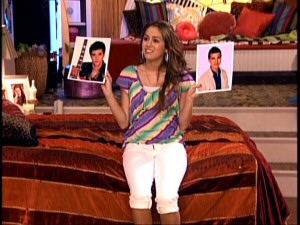 "He Could Be the One" (49:27) (Originally aired July 5, 2009)
The truth comes out that Miley has secretly again been dating actor Jake Ryan (Cody Linley) for weeks, and disapproving Dad is disappointed he didn't know about it. Meanwhile, a love triangle is formed with Hannah bandmate Jessie (Drew Roy), a bad boy guitarist.

Who will Miley/Hannah choose? Jackson and Rico narrate this hour-long episode as minstrels, experimenting with a variety of musical styles.

"Miley Says Goodbye? (Part 1)" (23:04) (Scheduled to air March 7, 2010)
Blue Jeans, Miley's childhood horse back in Tennessee, talks to her in her upsetting dreams. As a result, the Stewarts have the horse moved to California, but he won't stay put there. Also, Jackson gets his own apartment, where he and Oliver hang out.

"Miley Says Goodbye? (Part 2)" (21:49) (Scheduled to air March 14, 2010)
Picking up where last episode left off, Miley and Oliver find it difficult to tell Lilly their plans to go in different directions. Though this isn't the end of "Hannah Montana", the episode carries an air of finality, complete with a stroll down memory lane, a street that -- thanks to puberty -- feels longer than it really is.

VIDEO and AUDIO

The old-fashioned sensibilities of "Hannah Montana" are emphasized by the DVD's 1.33:1 fullscreen presentation. I can think of only one other modern program recently coming to DVD in the once-standard TV dimensions. I'm not sure that these episodes have aired in high definition or widescreen, but they'd probably be presented this way regardless. The low-quality digital video remains as unsightly as ever; it's wrong that the sparingly-watched "Jonas" looks so much better than the series that has been Disney Channel's breadwinner for years. The disc doesn't amplify the medium's shortcomings, but it does make them evident with the ever-blurry motion and never satisfactory focus.

The adequate stereo soundtracks leave less room for complaint. Oddly, although some episodes treat the French and Spanish dubs to Surround tracks with a rear channel, the English audio is always plain two-channel stereo. Why in 2010 a show about a musician is presented in basic stereo, when even "Little Einsteins" and "Mickey Mouse Clubhouse" have enjoyed 5.1-channel DVD presentations? I don't know, but I would guess that Disney's assuming viewers won't notice or care, if they're even watching these on a home theater.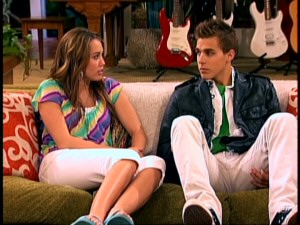 BONUS FEATURES, MENUS and PACKAGING

Extras begin with an alternate ending (3:13) to love triangle episode "He Could Be the One." This simply reverses the existing resolution with a different photo landing and two different scenes stemming from it.

It illustrates how easy it is for writers to set a fickle teen girl up with whomever they feel like and make it reasonably acceptable.

In the featurette "Sister Secrets" (8:05), Miley's older sister Brandi Cyrus takes a camera around and asks behind-the-scene questions of the cast. She also shows off the wardrobe department's holdings, unseen parts of sets, and Grandma Cyrus at work sorting through Miley's fan mail.

Finally, we get a "Hannah's Highlights" version of the episode "You Never Give Me My Money" (22:34). As on the First Season DVD, this feature involves trivial facts regularly popping up in relation to what's on screen. Here, as opposed to common player-generated subtitles, the facts are actually animated on screen and therefore look better. (In English, that is; French and Spanish subtitles of the clunkier variety can be selected to aptly cover up the English graphics.) The tidbits flow often and go off on tangents regarding presidents on US dollar bills, clothing fabrics, and clams. It certainly makes for an entertaining way to see the episode a second time.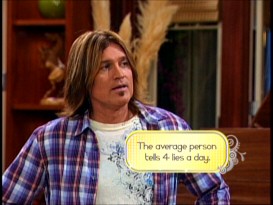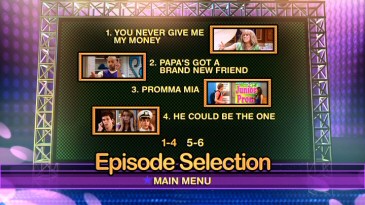 As has come to be the norm for Disney DVD, this one also finds twins Cole and Dylan Sprouse along with TV mom Kim Rhodes trying to sell us on Blu-ray's benefits (4:45) alongside a one-minute spot touting "DisneyFile" digital copy.
The DVD's one final bonus offering is a tangible one. It's a lenticular cardboard photo frame that depicts, in semi-3D, Hannah with microphone or Miley with Blue Jeans, depending on your viewing angle. Designed to hold a picture 2 inches wide and 3 inches high, the frame can be hung with its adhesive edge or displayed with its flimsy back pulled out to a standing position. Accompanying the shrink-wrapped frame in the DVD's standard white case is a booklet of tween-oriented ads and a double-sided Disney Movie Rewards code sheet.
The DVD's main menu opts for the concert imagery and colors of the show's opening credits, rotating a montage cube while an instrumental version of the theme song plays. Submenus give us different musical excerpts.
The disc opens with promos for Disney Blu-ray, Beauty and the Beast: Diamond Edition, The Last Song, and Camp Rock 2: The Final Jam. The second batch of ads, available from the Sneak Peeks menu and playing automatically with FastPlay, promote Disney Movie Rewards, genuine Disney DVDs, Wizards of Waverly Place: The Movie, Ponyo, Old Dogs, The Princess and the Frog, Toy Story and Toy Story 2 on Blu-ray, and Disney Friends for Change.
CLOSING THOUGHTS
I was pleasantly surprised to find both an improved show and an improved DVD in Miley Says Goodbye?. "Hannah Montana" still doesn't quite earn a passing grade. And the random episode compilation format is still more in the studio's interests than fans. But if you were going to buy one of these discs, this would be your best bet, carrying more episodes and bonus features than usual. At least unless/until Disney gives the complete season approach another try, picking this disc up almost makes sense.