Today's Disney Channel is all about High School Musical and "Hannah Montana", but the cable network has another "H" franchise that's been around eight years longer than either of those: Halloweentown. In 1998, while Miley Cyrus and Vanessa Hudgens were still in their single-digits, another young lady was at the center of one of the first Disney Channel Original Movies to debut with "DCOM" branding. Her name was Marnie Piper and though never popular enough to earn the type of press attention given the two present-day tween/teen empires, her adventures were deemed sufficiently compelling to carry into a sequel in 2001 (Halloweentown II: Kalabar's Revenge) and another in 2004 (Halloweentown High).

Last October saw the expansion grow to a fourth movie, Return to Halloweentown, but it did so without Marnie's thrice-portrayer, Kimberly J. Brown. Brown was reportedly committed to another film, leaving Disney to replace her with the quite younger Sara Paxton, star of Aquamarine.

Paxton steps into the role of Marnie just as the teen witch is about to go away to college. She is not, as her mother (Judith Hoag) is led to believe, going to attend the local community college, but rather Halloweentown's Witch University, thanks to an unmentioned application and full scholarship. Why Witch U? Because she doesn't want to hide her magical powers. When she gets there, however, with her slightly younger brother Dylan (J. Paul Zimmerman) in tow, she learns that magic is not permitted on campus. This was apparently Marnie's doing, as was the admission of non-witches, like goblins, fairies, and genies. But it doesn't take long for the movie to feels like it's making thing up as it goes along to suit its immediate needs.
At college, Marnie acquires a standard-issue three-course menu of acquaintances: a friend, a love interest, and a series of foes. The friend comes in the form of Aneesa (Summer Bishil), a genie who is also Marnie's resident advisor despite her seemingly freshman status. The love interest is Ethan Dalloway (High School Musical's Lucas Grabeel), returning from the previous movie with some secrets up his sleeve. The known foes are three Asian girls called the Sinister sisters, led by the rule-breaking Scarlett (Kristy Wu).
Subtlety is not in high supply as we follow Marnie on her assorted interactions, while being privileged enough to peer in on more opposition, this from a secret group called The Dominion that includes some influential Witch U faculty members. The plot plays out with a lot of exposition. Things are explained rather than witnessed, discussed rather than occurring. The shortcoming seems to reflect a budget modest even by cable television standards. What limited magic is enabled to slip by the university's faculty does so less convincingly than budgeted optical effects from Walt Disney's 1960s live-action fare. Even the Witch University campus consists of just one low-grade CGI building. The thriftiness expands to the soundtrack, where the only pre-recorded selection comes from the Radio Disney library and amounts to essentially a validation of the talents and appeal of the studio-raised Jesse McCartney.
While clearly lacking in the creativity and intelligence departments, Return to Halloweentown still manages to remain moderately diverting. The crux of the movie, as emphasized in the DVD's silly cover art, hinges on a newly-excavated locked box belonging to Marnie's family. With some help from the friendly Professor Periwinkle (Millicent Martin), Marnie traces the ownership of box back to her ancestor Splendora, whose relation is revealed to be closer than expected.
While she doesn't bear much physical resemblance to the previous Marnie even with her hair dyed Brown brown, Paxton handles the lead role capably. As her real estate agent mother, second-billed Judith Hoag (Teenage Mutant Ninja Turtles) is relegated to the limited task of worrying about her daughter from afar,

though her water-based communications with her two collegiate children give the movie some of its best comedic gags. The most accomplished cast member, Singin' in the Rain's Debbie Reynolds, happily shows up for a fourth time as Marnie's witchtastic grandmother, though her two appearances add up only to a grand total of two minutes of screentime. That's still more than what the Pipers' youngest daughter Sophie gets; her unseen character is dismissed with a single line of dialog.

As for the younger cast members who are present, they're typically unable to give their thinly-written, story-serving characters more than one dimension. There are a few exceptions. Grabeel is comfortable in the role of the charming classmate with a history. While it is obviously his past in the role rather than his looks that earned him this gig, post-pubescent Joey Zimmerman gives a good turn as Marnie's speed-reading, Sinister-whipped brother. Perhaps the most standout acting comes from a make-up-burdened Christopher Robin Miller, as a character the subtitles name "[burping and snorting] the Third", whose drooling problem and sweatshirt-embodied school spirit are perhaps the most believable things in the movie. If the conclusion didn't heavily point a sequel in Dylan's direction, this "Young Troll" might have been an appropriate choice for the focus of the inevitable Halloweentown 5.

VIDEO and AUDIO

If Return to Halloweentown is like the other Disney Channel Original Movies that have been made over the past several years, it was simultaneously framed for both 16x9 and 4x3 aspect ratios. Those wanting to see the wider presentation of the film will have to look internationally, where Return will probably take its time to show up but should surface in 1.78:1 like most of its kin. Aside from the occasional cramped and uncinematic mise-en-scθne that results from the traditional TV dimensions, picture quality is pretty fine overall, but the visuals appear to be overly grainy in some places and somewhat soft on the whole, neither that uncommon for a Disney Channel movie.

The soundtrack claims to be encoded in Dolby Digital 5.1 and it is, but the mix feels more like plain Dolby Surround, as only mild reinforcement from the speakers fail to create a living, engulfing atmosphere in spite of plenty of capabilities. A cable telemovie can't really be expected to have the same production values as a big screen affair, but this pales next to even most network dramas in terms of effective sound. Still, dialogue is crisp, the dynamics are consistent, and an English subtitles track has gladly been provided.
BONUS FEATURES, MENUS and PACKAGING

Like most recent Disney Channel movies, Return to Halloweentown's DVD is given a unique moniker. This one is called "The Ultimate Secret Edition." The secret must be that the disc is almost completely void of bonus features.

All we get is the 5-minute, 50-second featurette "Behind the Scenes Spooktacular." A typical promotional piece, it provides universally praising and superficial comments on cast members, visual effects, and magical powers.

The main menu offers a montage of scenes surrounded by magical twinkles, lighting bolts, and those spirited gargoyles. Submenus are static but like the home selection screen, they're accompanied by infinitely-looped short stretches of score.

Ads play at the start of the disc for The Jungle Book: Platinum Edition, The Nightmare Before Christmas in Disney Digital 3-D, and High School Musical 2: Extended Edition. The Sneak Peeks menu holds these three plus promos for Disney Princess Enchanted Tales, High School Musical: The Concert, "Cory in the House", and "The Suite Life of Zack & Cody": Sweet Suite Victory.

Inside the case, one should find a mini booklet consisting only of Disney Channel-related ads, a scene selection list that doubles to advertise other Disney Channel DVDs, and a code for the less-exciting-than-promoted Disney Movie Rewards program.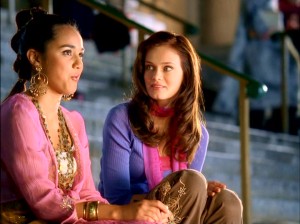 CLOSING THOUGHTS
Return to Halloweentown only merits an immediate purchase from those wanting to quickly have a complete (for now) Halloweentown DVD collection. Those passionate about the series will probably find this installment weaker than its predecessors. On its own merits, Return just seems like a mediocre TV movie that could have quite a bit better with more effort and a bigger budget. While not a terrible outing, it's more apt for a bargain bin buy than a release week purchase, even with traditional discounts and a modest list price. That's due in no small part to the DVD's shortcomings. With a second layer, the 16x9 version of the film could have easily been included and it wouldn't have taken much to do more supplementally. Instead, the movie gets the same slipshod treatment that most Disney Channel movies have received in America.