By Albert Gutierrez

I've noticed that in recent months my Disney Channel viewing has been severely depleted. Back in the good old days of 2001, I could sit for hours and bask in the glow of "Growing Pains" and "Boy Meets World" repeats, the comically original "Even Stevens", old school DCOMs like Smart House and Alley Cats Strike!,

and even more of those perennial "Boy Meets World" reruns. Over the years, I've seen shows come and go, such as the deplorable "The Proud Family" and Canadian import "Life with Derek", along with morbidly tweenish films like Pixel Perfect and Cow Belles. Rarely now do I sit and watch the Disney Channel for more than an hour a week, and I find the only show I bother to still keep up with is "The Suite Life of Zack and Cody." Even that is more out of habit and fan devotion to Kim Rhodes (ex-Cindy Harrison of the much-missed "Another World") than an actual enjoyment of the program. So sometimes I choose to miss a very special episode of "Hannah Montana" and end up passing on surprisingly entertaining DCOMs such as Wendy Wu: Homecoming Warrior and the subject of this review, Jump In!.

To say that Jump In! is surprisingly entertaining would be a vast understatement. I simply was floored by many aspects of the film, from the double dutch sequences to the tightly-edited story. While I didn't think too highly of the movie's soundtrack, even it slowly grew on me. By itself, the music largely remains forgettable schlop, but its marriage to the visuals makes it a bit more tolerable. To be blunt, Jump In! is one of the most impressive Disney Channel Original Movies I have seen since Wendy Wu: Homecoming Warrior. That may not say much considering that Jump In! premiered about six months after Wendy Wu. But given the fact that Wendy Wu impressed me after three seemingly long years of sludge like Now You See It... and Zenon: Z3, to have that quick a turnaround means there must be some Disney Channel fare still worth watching by those outside the 7-to-13-year-old female age group.

Of course, just because I'm impressed doesn't mean Jump In! is free of problems. As a DCOM, it's expected to have several recurring story elements. The multi-generational nature of the movie often relies on conflict between a child and a parent, where the parent "will always be proud" of the child. There are the heavy-handed lessons to be true to yourself. And the bad guys either get a lousy comeuppance or suddenly make nice with the protagonist. Yes, Jump In! shares these qualities. Yes, they can be seen a mile away as the film progresses. Yes, any conflicts between friends will get resolved. What I found unique about Jump In! is that it has the same message as High School Musical (that it's okay to be different) but presents it in a more believable and realistic manner. We don't need any fancy song-and-dance around the cafeteria or a ridiculous brief-encounter-turned-ongoing-relationship. The elements of the story fit naturally as something that can happen in real life and they are presented without message-preaching.
The movie is narrated by a voice we don't know until about midway through (if we have good ears, that is). This voice pops up occasionally offering little details and opinions that are supposed to sound sage and witty (like Mary Alice on "Desperate Housewives"), but often come off as quite cheesy. While the narrator is somewhat essential to the ending, I felt it could have been a stronger film without one. Anyway, this narrator begins by introducing us to Isadore "Izzy" Daniels (Corbin Bleu, High School Musical), a teenage boxer who is dedicated to his practice and committed to being the best. His father, Kenneth (David Reivers, Bleu's father in real life), makes sure that Izzy trains and practices as much as possible. He wants the best for his son, while trying to be both father and mother of the family. Though there are references to "Mom's gone" and "I wish your mother was here", it's not formally acknowledged that the mother has died until late in the film, but the implications are clear.
Izzy is an outgoing guy, often trading barbs with neighbor girl Mary Thomas (Akeelah and the Bee's Keke Palmer), a double dutch jumper and leader of the Joy Jumpers. It's all in good fun between them; their jabs are playful and joking, likely hiding their true feelings for each other. While Izzy has regular conversations with Mary, his two best friends are Li'l Earl and Chuck (Micah Williams and Mazin Elsadig, respectively). They train with him at Daniels' Gym (owned and operated by Kenneth), along with female boxer Tammy (Rebecca Lewis).
For anyone who has seen High School Musical, the plot here will seem frighteningly familiar. Simply replace "singing" with "double dutch" and "dance sequences" with "double dutch sequences", and you've got Jump In!. Izzy gets the opportunity to box in the Golden Gloves competition, which is sure to make his father extremely proud. To get there, he must first win an exhibition match against school bully Rodney Tyler (Patrick Johnson, Jr.). Naturally, he wins, which means he must train harder for the Golden Gloves competition. Of course, it also means that Rodney's got a bone to pick and challenges him to a rematch.
Izzy first encounters real double dutch when he is forced to take his sister Karin to a local competition, which Mary and her friends are a part of. He feigns disinterest, but ultimately can't hide his admiration for the sport, even though refusing to acknowledge it. Our narrator chimes in with the explanation that "it was as if someone opened a door to a whole new world."

Mary and the Joy Jumpers' disappointing finish leads one of the members to defect to another team, the Dutch Dragons. Desperate and in a bind, Shauna (Shanica Knowles) and Keisha (Laivan Greene) ask Izzy to "stand in" as a fourth member for them until they can find a proper replacement. Both Izzy and Mary are initially against the idea, but Izzy's burgeoning interest in double dutch causes him to accept, and Mary warms up to the idea as well.

Divvying time to both double dutch and boxing takes a toll on Izzy, as he begins slacking in boxing, missing several practices. He goes through the expected "what do I really want to do?" dilemma, and ends up missing an important Double Dutch Showcase to go to a boxing match with his father. Incensed, Mary kicks him off the team, and the next day, Izzy finds the school has learned of his new hobby, thanks to a few choice photos taken by Rodney. That one-two punch causes Izzy to do even worse at boxing, and Tammy notices this. She tries to get him to let it go, and not worry about what other people think. After all, she gets teased for being a female boxer.

After several delays, Izzy, feeling the need to prove himself, finally gets in the ring for his rematch with Rodney. It is his final boxing bout. The third and final act follows the double dutch track, as Mary and the newly-christened "Hot Chili Steppers" enter the citywide finals without Izzy. He shows up, apologizes, and of course is instantly reinstated on the team. This is where Jump In! reaches its creative apex, with its last twenty minutes focusing on very impressive double dutch sequences and delivering a lot of energy from the cast and audience. Expectedly, the ending is a happy one, with Izzy proud to be a double dutch jumper, his friends proud of his decision, and his father proud of him regardless what he does. And if you were spoiled by those little tidbits, then you really need to watch more DCOMs to understand the formula.
At this point, I've found that I have watched the film a total of three or four times now for reviewing, capping, and general background noise purposes. Each time, I find myself turning away from writing this review and watching a specific sequence or scene, even listening to the music again. Suffice it to say, this definitely has turned out to be one of the best Disney Channel Original Movies to come around. All the pieces seem to fit perfectly, from cast to story, from editing to the grow-on-you music. Corbin Bleu is a natural as Izzy, as is Keke Palmer as Mary. The two have an unbelievable amount of love-hate chemistry, reminiscent of couples like Slater and Jessie from "Saved By The Bell." You know the type, they argue with each other in such a playful and intense way that you can't help but feel they are perfect for each other. Thankfully, it doesn't get as giggly-poo and lovey-dovey as some other DCOM couples (*cough*Troy and Gabriella*cough*), instead serving up some real character growth.
While the movie made a huge impact on me (in a reviewer sense), it may still be an acquired taste for other viewers. After all, with so many similarities to other DCOMs, some may simply write it off as just another formulaic feel-good tween film. But Jump In! offers so much more beyond the tween category, and is a truly great family film with positive messages and a better treatment of the "it's okay to be different" types of stories that Disney has attempted in the past. I've made many comparisons to High School Musical in this review, as the most basic elements of each film are one and the same. The difference is that High School Musical tries too hard to be a nice and fun film that it comes off as annoying, while Jump In! presents the same type of story and characters in a more realistic and relatable manner for the audience.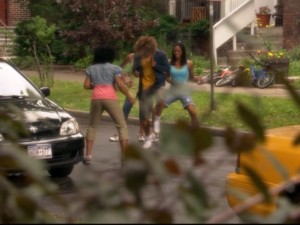 Jump In! comes to DVD in an appropriately-titled "Freestyle" Edition, as Special Edition is no longer trendy for DVDs as it was about two or three years ago. They could call it "Double Dutch" Edition or "Look At Corbin's Hair Move When He Jumps!" Edition and it still would mean the same thing:

a DVD that is light on bonus features though deserving of more. Still, the DVD offered is fine enough, though it would be worth buying if about $5 was dropped from the SRP.

VIDEO and AUDIO

Jump In! comes to DVD in the original broadcast ratio of 1.33:1. As always, the film has been filmed in dual ratios, with the widescreen version only making appearances in the making-of featurette. While some sequences aren't harmed by this dual-ratio framing, some of the more impressive double dutch moves would definitely have fared better in widescreen. As for the quality of the video itself, it is a bit less than impressive. Picture is slightly soft at times, and the hues come out strong, though there's few cases of color bleeding. That could probably be due to the quick-pace editing and the natural quickness of double dutch, rather than low-quality film stock.

Audio comes to us by way of 5.1 Dolby Digital and only in English. This bodes bad news for those wishing to hear Ebonics translated into French or Spanish. The film's soundtrack blends nicely throughout the speakers, concentrating more on the rear ones rather than front and center. It gets a bit overpowering, as most music does, but provides a pleasing aural experience.
BONUS FEATURES, MENUS and PACKAGING

Backstage Disney holds two featurettes, amounting to about twelve minutes of some valuable, if short, information. First up is "Learning the Moves" (5:17), a series of five very brief featurettes ("Intro", "Turning", "Jumping In", "Jumping Out", and "Advanced Tricks") hosted by actors Corbin Bleu, Shanica Knowles, Laivan Greene, and double dutch instructor Chris Emerson.

It's a thrifty tutorial on some basic double dutch moves, from turning the ropes to jumping in and out. The last part is more of a show-off one than tutorial, demonstrating some complicated routines such as the "Push Up", the "Donkey Kick", and the "Straddle Entrance." I think fans would have preferred something more like High School Musical's "Dance-Along" featurette, or even Disney Channel's recent "Dance It To The Limit" interstitials, which are a no-show on this disc (foreshadowing a double-dip?).

Secondly, "Inside the Ropes: The Making of Jump In!" (6:35) breezes through the production of the film, offering quick sound bites from the cast, director, producer, and choreographers. It explains how Corbin Bleu took to the script (his father too), as well as his fitness for the role. There's a bit of Corbin-praise early on, and deservedly so, as it's a gruelingly physical role demanding quite the commitment. This piece quickly dissects various aspects of the production, from an interpretation of double dutch to a few behind the scenes looks at scenes being filmed, including rehearsal footage with some "jump doubles." It ends with the typical positive messages about the film, about following your heart and doing what you love.

Two music videos fall under the Music and More banner, and as always, are an indulgence in tween pop and a cut-and-paste mix of movie clips to the singer(s) dancing. The better of the two, "Jumpin'" by Keke Palmer (3:01), finds the actress singing in various urban settings with very colorful characters dancing with and around her. The color palette and style of the video is very reminiscent of hip-hop music videos of the 90s, and works quite well. T-Squad's "Vertical" (2:59) doesn't fare as well, as it contains the young foursome dancing in the same area, again interspersed with clips from the movie. It does get creative in the clip presentation, offering some of them projected on the buildings in the background behind them. As opposed to Palmer's video, this one does feature some footage of the group doing some double dutch moves, which are actually quite impressive.

The full-color disc repeats the cover, which itself is repeated on the embossed slipcover (yes, DCOMs appear to be the latest class treated to a slipcover). The case holds a two-sided insert of chapter and bonus listings as well as the obligatory ad for DCOM DVDs. A four-page booklet holds more ads and the 100-point Disney Movie Rewards code. As if that weren't enough, there's also a $6 coupon attached to the case (expires May 30) for those who choose to pick up this DVD and another recent Disney Channel disc.

Breaking the uniformity of the slipcover/cover/disc artwork, the 16x9 Main Menu contains a montage of clips from the film, set to Keke Palmer's "Jumpin'." While the main menu is tastefully animated, all others are static, though they offer other songs from the film. Before the main menu loads, there's the skippable previews for this summer's forthcoming Ratatouille, "Hannah Montana": Pop Star Profile, and last November's The Cheetah Girls 2: Cheetah-licious Edition. In the Sneak Peeks section, you'll find promos for Disney Movie Rewards, That's So Suite Life of Hannah Montana: Mixed-Up Mashed-Up Edition, Read it and Weep: Zapped Edition, High School Musical 2, and Disney Princess Enchanted Tales.
CLOSING THOUGHTS
Often, the conclusions of a DCOM DVD review give a "best for the target audience" recommendation and tell everyone else to spend their money elsewhere. I've given such advice in the past, and likely will in the future, but rarely do I ever tell people above the age of fifteen to watch a DCOM. Jump In! is one of my rare exceptions, as I feel it's an engaging (if predictable) and masterfully-choreographed movie that's worth viewing even by those outside the core Disney Channel demographic.
The DVD expectedly offers little in bonus materials (about 18 minutes for those who judge it quantitatively), but at least they are rewatchable pieces with pertinent information. While the film definitely would have benefited from a widescreen transfer, Disney has not yet reached that stage of DVD maturity in the US, still operating under the black-bars-less "family-friendly" train of thought. Still, it's a movie and DVD worth picking up, or at least renting for a lazy Saturday.