Crossovers -- episodes of a show in which characters from another series appear -- are not new to television. But last summer, the Disney Channel made a contribution to the genre more ambitious and publicized than most. That's So Suite Life of Hannah Montana took the cable network's three most popular series -- "That's So Raven", "The Suite Life of Zack & Cody", and "Hannah Montana" -- and carved out a 90-minute programming block that flowed from one series' episode to the next, with mildly overlapping plot points and interaction between the universes of the three live action sitcoms.
It's the type of thing that might have only happened in the dreams of Internet fan fiction writers. Fully realized and heavily promoted, however, the crossover yielded the three most-watched episodes in the Disney Channel's nearly 24-year history. Almost six million viewers tuned in for the "Raven" third. The audience then climbed to 7 million for the "Suite Life" center. Viewership climaxed at 7.1 million for the hit newcomer "Hannah Montana" conclusion.
The three-show event was made easy by the fact that each series comes from the same mold, one established by the warmly-received 2003 debut of "That's So Raven." The public-approved format consists of blur-prone (and obviously inexpensive) digital video, active (manufactured-sounding) laugh tracks, and predictable, familiar, broad comedy. Such artistic and technical sensibilities don't slow down most age groups when channel-surfing. They also don't delight too many critics, even those who lauded this decade's earlier Disney Channel hits like "Even Stevens" and "Lizzie McGuire." But they really do excite many a tween (a child between the ages of 8 and 12), whose passion for Disney Channel entertainment has paved the way for tie-in books, soundtracks, iTunes downloads, multiple video games, clothing lines, board games, even Happy Meal toys and perfume.
I'm sure you already know where you stand on current Disney Channel programming, in either the Love, Like, Tolerate, or Loathe camps. In the four years since "Raven" premiered, "Disney Channel Original Series" has come more and more to mean "live-action comedy centering on ordinary young teens...with a twist." Such narrowcasting goes against a human desire for variety and freshness, but it seems to be working out just fine for the Mouse, whose conventional-ad-free airings regularly turn up near the top of cable's weekly ratings charts. Just last year, the viewerships and merchandise sales of High School Musical and "Hannah Montana" were the stuff of national news headlines. In the process, the Disney Channel has become less an outlet for story-minded family entertainment (the way it was 15-20 years ago) and more of a mass-market brand that figures very largely for a few years in the lives of youths.
Naturally, the latest addition to this brand is the subject of this review, the "Mixed-Up, Mashed Up Edition" DVD release of That's So Suite Life of Hannah Montana, arriving 5½ months after this crossover's record-setting premiere. With its silly moniker, the disc continues a trend begun in 2006 wherein Disney Channel DVDs are given a thematic edition name that almost always distinguishes the release from...nothing, since only High School Musical has been treated to a subsequent version.
Here's a look at the three episodes, each of which runs just over 22½ minutes counting all credits retained here.
That's So Raven: "Checkin' Out"

In the odd chance that you don't already know, this series centers on Raven Baxter, a teenage girl with psychic powers that regularly inspire her to prevent problems in wacky ways. For almost a year now, the show has been in its fourth and final season (Disney Channel typically likes to spread out the final episodes of a hit show), which finds Raven working as a secretary at a fashion agency.

Raven (Raven) leaps at the opportunity to accompany her boss Donna Cabonna (Anne-Marie Johnson) to an important photo shoot in Boston. With the aid of a Secretec, an all-purpose handheld gadget, she must coordinate the arrival of and accommodations for Pistache, a reclusive French photographer (guest Jasmine Guy of "A Different World") and her two foreign model boys. The trip brings Raven to The Tipton hotel (the setting for "The Suite Life of Zack & Cody"), where she confirms fears she's in over her head when she learns she's botched the reservations. With some help from new friends Zack (Dylan Sprouse) and Cody (Cole Sprouse), Raven pulls off a scam with the obligatory disguise. Back home, the opportunistic Cory (Kyle Massey) and Eddie (Orlando Brown) cheer on Chelsea (Anneliese van der Pol), who goes for a world record at one-person paddleball against Stanley (Bobb'e J. Thompson).

The Suite Life of Zack & Cody: "That's So Suite Life of Hannah Montana"

This series about twin tween brothers living in a swanky hotel with their single rock star mom feels like a cross between "Eloise Approaches Puberty" and "'Two of a Kind' in a Hotel", two projects that sadly have yet to be realized.

The cancellation of Raven's flight back to San Francisco requires her to extend her stay at the Tipton. There, she bonds with fellow working girl Maddie (Ashley Tisdale); they team up to get airheaded heiress London (Brenda Song) to wear one of Raven's designs. Meanwhile, Raven's vision makes Cody fear for his safety as he and Zack plan a surprise birthday party for their mother (Kim Rhodes), with plenty of lame jokes about how old she is. Hannah Montana (Miley Cyrus) shows up at the end, leading all to swoon.
Hannah Montana: "On the Road Again"
A career in pop music has seemingly become a requisite for any young Disney Channel actor and the line-blurring "Hannah Montana" seems to have cut right to the chase in this arena. It focuses on a 14-year-old girl whose ordinary status at school masks her secret persona as a much-celebrated pop star. Though manufactured as an icon, in-character concerts and a best-selling soundtrack suggest that real people are almost as giddy about this girl as the depicted audiences.
Prompted by Maddie's recognition of Robbie Ray (Billy Ray Cyrus) and lament for his retirement, a guilt-ridden Miley encourages her father to make a music scene comeback. With further encouragement from his smooth-talking old agent (guest Richard Portnow, entertaining as always), Dad jumps back into the game with songs like "I Want My Mullet Back." To enable the return, Hannah's sassy bodyguard Roxy (Frances Callier) keeps a close watch on the Stewart children, waking them up early and working them hard. The treatment has Miley and older brother Jackson (Jason Earles) yearning to have their father back home while not wanting to be selfish. This is unquestionably the least crossover-oriented of the three, with Ashley Tisdale's brief, bookending appearances acting as the only link to "Suite Life."
My assessment of That's So Suite Life (the entire crossover, not merely the identically-titled second third) is on par with my feeling towards Disney Channel programming in general today: it's harmless, hokey, and not nearly as clever as it should be and thinks it is. Inexpensively-produced, not challenging, and very familiar (plus usually inferior) to anyone who's seen any youngster-friendly sitcom during the past twenty years, these episodes provide over an hour of uninterrupted diversion with little staying power and zero aftertaste.
While there was a time not too long ago that I thought watching "Raven" could harm me, I can now endure an episode or two when forced for a review. It's still not very good, however, and its episode is the weakest of the crossover's three. It's disappointing that the portly lead and her equally obnoxious co-stars refuse to aspire to anything more than broad verbal and physical hijinks.

"Suite Life" is the most enjoyable of the three series. It proves that here, with the cast's plentiful charisma partially making up for a void of originality. Still, the telegraphed jokes, tired techniques, and clichιd storylines that keep the show from shining too bright all turn up as well. "Hannah Montana" is the middle ground: its silly premise and unpolished deliveries aren't enough to bring it down to the lamebrained levels of "Raven", but it always leaves plenty of room to grow into something worthy of the following it has quickly accrued.

My less than growing critique of this program makes me worry that out of nowhere, I've somehow become a jaded adult. But I don't think that's a proper conclusion, for, though I lack the fervor of today's Disney Channel fans, I can enjoy tween-oriented series with the best of the targeted demographic. On some level, I can enjoy these three episodes, while recognizing that their popularity does not give them the potency that better-made programs possess. And I must acknowledge the clever design to this television event, which paid off. Not only did these three episodes become the highest-rated in Disney Channel history, but surely they got some of those who didn't regularly watch all three at least somewhat interested in the others. Plus, there's quite a bit of the shows poking fun of themselves, revealing a good nature and delivering amusement that is otherwise not frequently found.

VIDEO and AUDIO

All three shows are presented in 1.33:1 fullscreen, which matches the aspect ratio in which they have always been broadcasted. Unlike "DCOMs" (Disney Channel Original Movies) which are known to be composed for 16x9 as well, there's no question as to the validity of the framing here. As has been said before, the digital video employed for all three series is lacking and that is still the case. But while not as aesthetically pleasing as either higher-grade video or film, any shortcomings to the presentation appear to date back to the original filming and not merely this transfer to DVD.

In the audio department, the shows all boast Dolby Digital 5.1 soundtracks. Of course, as you'd expect, this is not house-rockin', "where's the DTS?" fare. The rear speakers are sparingly utilized for intermittent music and overactive laughter. That said, the sound presentation is fine; volume levels are consistent, and dialogue (which expectedly makes up the brunt of the mixes) is always entirely intelligible.
BONUS FEATURES, MENUS and PACKAGING

Each of the three featured series gets treated to a single bonus feature.

The Hannah Montana music video is actually a concert performance (3:30) of "Who Said" (found on the DVD of the show's chart-topping soundtrack CD/DVD combo). Anyone familiar with the character should know what to expect: an energetic in-character act by Miley Cyrus;

fluffy, empowering lyrics recited in a catchy fashion and backed by a Radio Disney-ready teen rock/pop sound; and, of course, what appears to be a huge crowd of adoring young fans.

"So You Think You Know Raven? Volume 2" offers the "second installment of everyone's favorite 'That's So Raven' DVD game show." (Who knew everyone had a favorite?!) Its design appears to be identical to the first incarnation, found on Raven's Makeover Madness, but the content is new. The multiple choice questions are arranged into "Cast Questions", "Not So Trivial Trivia" (pertaining to the featured crossover), "Behind the Behind the Scenes", "What Would Raven Do?", "Name That Parking Spot", and the title category. What distinguishes this from other set-top games is that much of it offers unique footage, ranging from silly personal questions posed to the "That's So Raven" cast (the answers of which you aren't likely to predict) to behind-the-scenes views with the crew. After six random questions, your performance is assessed with labels like "Supernaturally Strong", "You So Know Raven", and "Snap." Even if, like me, you are not a fan of the show, this can be quite fun and worth playing multiple times. (Three is all you'll get before you're bombarded with repeats.)

Finally and most substantially is "Health and Fitness" (22:35), a complete bonus episode of "The Suite Life of Zack & Cody" which has not yet aired on Disney Channel. In it, the show tackles some biggies: proper nutrition and body image. Zack and Chef Paolo try to change their eating habits, with help from Carey and Cody, respectively. Meanwhile, London (who is about to host a fashion show with her stuck-up friend Francesca) begins to thinks she's fat and Maddie worries that she's too skinny; they starve and stuff themselves accordingly. Of course, the social messages are largely played for laughs that are not nearly as deserved as the robust laughtrack suggests. This is another episode which makes one think that this show works entirely from scripts that were written for TNBC in the early '90s.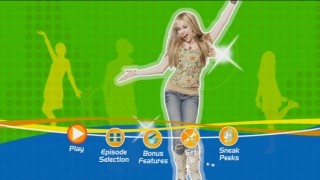 The Main Menu cleverly cycles between the three featured shows, with theme tune instrumentals coinciding with the animated imagery. The same idea is employed for sub-menus but without the shuffling and animation; "Suite Life" claims the Bonus Features menu, "Hannah Montana" takes set up, and all three again share Episode Selection. As is customary, though there are chapter stops within episodes, none of these are accessible from the menus.
As usual, inside-the-case literature offers a mix of information and promotion. A two-sided insert lists the disc's contents and promotes Disney Channel DVDs, while a 4-page booklet delivers a Disney Movie Rewards code while promoting more Disney Channel creations, as well as their CD and DVD releases.
The start-of-the-disc previews promote Peter Pan: Platinum Edition, Meet the Robinsons, Cinderella III: A Twist in Time, Jump In!, and Read It and Weep. Additional promos for Tinker Bell, High School Musical: Remix, and The Cheetah Girls 2 are found on the first page of the Sneak Peeks menu.
CLOSING THOUGHTS
Like Disney Channel Holiday, That's So Suite Life of Hannah Montana is one of the rare episode collections that makes sense to be released as is. As is true of any Disney Channel series compilation, the scales could certainly be titled more in the consumer's favor. But picture and sound are fine, each show is treated to a relevant bonus feature, and the price tag is -- as Disney's research has surely shown them -- just right for the targeted demographic. If you haven't already seen this record-setting crossover event, you're probably either uninterested or disappointed to be Disney Channel-less. If it's the latter, then an appreciation for at least two of the featured shows (and tolerance for all) sounds like a good prerequisite for purchasing this.