Few child actors have had as much impact on the entertainment industry as Mary-Kate and Ashley Olsen, the recently-turned-20 pair of multimillionaire sisters, so who can blame Disney for building one of the latest tween-targeted Disney Channel comedy series around another pair of twins? Like the Sisters Olsen, Cole and Dylan Sprouse first gained attention at a young age sharing a single role.

Their female predecessors were practically newborns when they appeared in the squeaky-clean sitcom "Full House", and the Sprouse twins did the same in the edgier "Grace Under Fire." But it wasn't until the identical Dylan and Cole were a ripe six that they really landed on the map: they did this sharing the big screen with Adam Sandler in the summer of 1999's blockbuster Big Daddy.

With sharp delivery of lines like "Kangaroo song!" and "I wipe my own ass!", the boys more than held their own with kid cuteness and contributed to the everyman comedian's biggest hit to date. Noteworthy guest appearances followed on "That '70s Show" as did a recurring role for Cole alone on "Friends." Then, Disney announced in July of 2004 a show which would give the brothers their most secure and long-term gig yet. "The Suite Life of Zack & Cody" premiered in March of 2005 to warm reception. Naturally, Cole was Cody, Dylan was Zack, and the differences between the two varied from evident to inconsequential. (Cody is more intelligent and can cook; Zack is more athletic and confident around girls.) The important thing was that the twelve-year-old twin Martin brothers lived in the fictional, upscale Tipton Hotel in Boston with their single mother Carey (Kim Rhodes), the hotel's lounge singer.

Clearly, this premise owed something to Eloise, the six-year-old protagonist of Kay Thompson's bouncy series of 1950s children's books set at New York's Plaza Hotel which Disney had adapted into two successful TV movies just two years earlier. It also seemed derivative in design of "Two of a Kind", "So Little Time", and in all fairness, anything else in the Olsen Twins' late '90s/early 2000s repertoire, which represented the girls' less memorable but apparently plenty profitable tween period. With both of those time-tested traits in place, "Suite Life" had formulas from five years of live action comedy success to fall back on, as it would hold conventions and crew members in common with other recent Disney Channel shows, most significantly, the channel's top draw "That's So Raven."
In the sixteen months since "Suite Life" debuted, the show has settled comfortably into the role of Disney Channel's second highest-rated program. Cole and Dylan have blossomed into JTT-like icons of teen magazines with increasingly long haircuts par for the course. Two other regular cast members -- whose presence helps extend viewership into a slightly older demographic -- have also followed suit. Those associating Ashley Tisdale with her role of underprivileged, overworked hotel employee Maddie may view her success as sort of rags-to-riches; her leading role in the channel's colossal hit movie High School Musical has paved the way for a budding career in Radio Disney-type pop music. Brenda Song has likewise claimed a telemovie of her own (Wendy Wu: Homecoming Warrior) and a number of A-storylines as "Suite Life"'s rich airhead Asian heiress, London Tipton, a transparent allusion to/parody of Paris Hilton.
The four charismatic young leads are complemented by two capable adult co-stars: Kim Rhodes as the somewhat hip mother who gets more punchlines than sappy messages and Phill Lewis as the ever-exasperated hotel manager Mr. Moseby, who somehow keeps his one-note character amusing. Less solid are a couple of quirky fellows on the Tipton staff -- Brian Stepanek as the over-the-top token oddball Arwin and Adrian R'Mante as goofy bellboy Esteban -- who are expected to deliver big bursts of comedy, but rarely hit the right notes. Nevertheless, the laugh track surges upon their scenes, illustrating the excessive nature of the canned audience response, a strange and increasingly-spared sitcom device.
"Suite Life" is low-budget (the cheap computer-generated hotel seen in establishing shots make that clear) and fairly old-fashioned in its methods, despite an utterly contemporary setting. As such, the show is diverting enough, but the comedy is often fairly obvious and can be broad, physical, and conventional too. It's often apparent where any given episode is going and the lesson which will be learned. You can even predict a forthcoming joke in the moments that set them up. Yet, there's something appealing in the midst of the familiar which makes watching an episode an extremely painless procedure. The act is not unlike catching an episode of a good twenty-year-old sitcom which is new to you and able to hold you for a half-hour and make enduring commercial breaks bearable. "Suite Life" may not be anything close to cutting edge and it's never as funny as the enthused laugh track makes it sound, but it is consistently entertaining and one of the less audience-dividing offerings of today's Disney Channel.
All of the above factors make it obvious for Buena Vista Home Entertainment to treat "The Suite Life" to a DVD. Unfortunately, the show arrives in the same fashion as other Disney Channel shows successful enough to merit DVD release: the random episode compilation.

This premiere volume is titled Taking Over the Tipton (which could refer to any collection of episodes from the show) and includes four episodes plus an unaired fifth as a bonus feature. The episodes stem from both Season 1 and Season 2, which were transitioned with no on-air hiatus since Season 1's episodes were broadcast in so scattered a manner.

What makes the disc's fairly paltry serving all the more frustrating is the fact that thirty-seven episodes of "The Suite Life" are currently available to purchase on iTunes, individually ($1.99 a piece) or in partial season sets (17-20 episodes, still $1.99 per). While the economics, practicality, and, therefore, audience for Apple's pay-per-download service are obviously different from that of a DVD, it's disappointing for Disney to make a fuller roster of complete, unedited episodes of the show available to buy...but only in a limited, less-bang-for-buck viewing format. There is no good reason that DVD collectors should be stuck with another episode compilation amounting to one-fifth of a season set.

"Rock Star in the House" (22:35) (Originally aired September 18, 2005)
Synergy sets up the script of this episode, as the presence of Hollywood Records singer Jesse McCartney draws fawning teenage girls to the Tipton. (The depiction of such fame seems a bit exaggerated.) To catch a glimpse of the guy, London and Maddie break into his room; Zack does the same, but he is driven by the prospect of financial gain. Meanwhile, Cody tries to invent something cool for a science competition, without having Arwin help.
"Kisses & Basketball" (22:35) (Originally aired January 1, 2006)
Zack wins a basketball game for his team and gets a kiss on the lips from his teammate Max (Alyson Stoner, Sally of "Mike's Super Short Show"). His dismissal of the act creates a problem which leads to a date that goes wrong. Back at the hotel, London must adjust her lifestyle when her father (unseen, as usual) limits her spending to "essentials"; Maddie offers to help out in this trying challenge. (Take note of the "lovely" royalty-free twists on 2 Unlimited's "Get Ready for This" and Harlem Globetrotters anthem "Sweet Georgia Brown"!)
"Odd Couples" (22:35) (Originally aired February 3, 2006)
In this, the Season 2 premiere, merit scholars show up at the Tipton. Among them is a smart, charming chap named Trevor (Zac Efron, Tisdale's High School Musical co-star), who takes a liking to London. Disbelieving Maddie offers to coach London through faux intelligence, with the help of a computer chip. In reduced screen time, the title twosome argue over cleaning the room and Cody winds up moving out...and into the closet.
"French 101" (22:35) (Originally aired February 10, 2006)
When both Zack and Cody take interest in the same French girl staying at the Tipton, Cody struggles to find the confidence (and words) to ask her out. The B storyline has Esteban feeling worthless after he fails in his attempts to heroically protect London.
VIDEO and AUDIO
All episodes are presented in 1.33:1 fullscreen, which is the original broadcast ratio, even as 16x9 continues to become the television norm. Picture quality is quite good, though there are some apparent limitations to the digital video used (but not to the degree of "That's So Raven").
The sound quality of the Dolby Digital 5.1 track offered is also fine. The surround channels are hardly used at all aside from the occasional "woooo." The aggressive laugh track is one of the most prominent qualities of the otherwise standard and serviceable sitcom mix.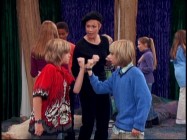 BONUS FEATURES, MENUS and DESIGN

Two supplements are found, first of which is the behind-the-scenes featurette "Hangin' with Dylan & Cole, and Guest Star Jesse McCartney" (6:18),

which finds the hair of the sibling stars at record lengths in widescreen interview footage. There are also some clips from the show and a bit of on-the-set material. The pair talks about the family-like camaraderie of filming, their favorite episode (one which isn't included, coolly enough), and low-tech visual trickery employed. True to the title, Jesse McCartney also appears, discussing his guest stint and his second album, which he then sings from in a largely falsetto voice. While far from groundbreaking, this decent featurette beats most bonus features created just for Disney Channel DVDs.

The second is longer and bound to delight fans of the series even more: it is "A Midsummer's Nightmare" (22:34), a not-yet-aired episode. In this one, the twins' mother becomes assistant director of their school's play (A Midsummer Night's Dream) and as you might expect, the students' love interests switch based on casting (paralleling the play in question). In addition, upon returning from the Japanese Tipton, London tries to instill major change into its Boston counterpart in the name of Feng Shui. This show is about on the same order in quality and tone as the other included episodes, which makes its designation as a bonus somewhat unnecessary. Pretending it's part of the program simply yields a 5-episode compilation, which does indeed conquer a 4-episode compilation.

The 16x9-enhanced main menu is kind of cheesy, but also kind of clever. It takes you inside an elevator, where the floor buttons/labels become menu listings and the door remains open for various cheaply-animated antics to be seen, such as bouncing balls and rolling twins. Sound effects and an instrumental version of the theme song spice up the still submenus. The four episodes which comprise the "feature presentation" play in succession with the "Play All" option; each is also available in full (both sets of credits included) via the episode selection menu. The episodes are not broken down into any chapter stops for quick scene access.

In a remarkable turn of events, sneak peeks do not play at the start of the disc. Oh wait, they do. And they promote The Little Mermaid: 2-Disc Special Edition (also known, more importantly, as Platinum Edition), Meet the Robinsons, Cheetah Girls 2: When in Spain (which has already dropped its subtitle), and "That's So Raven": Raven's Makeover Madness (as well as this very disc, which reveals the limitations of paired-up promos). The menu holds additional previews for Brother Bear 2, Eight Below, High School Musical, The Wild, and "The Suite Life of Zack & Cody" on Disney Channel.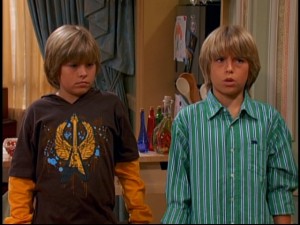 CLOSING THOUGHTS
"The Suite Life of Zack & Cody" has emerged as one of the Disney Channel's more popular comedy series, so its release to DVD isn't very surprising. Nor is the fact that it comes in a random episode compilation the way that the studio's earlier hit cable shows have. As such, Taking Over the Tipton will most please someone who doesn't care to own the series in its entirety and isn't a fan of catching the Disney Channel's regularly-scheduled reruns. If you want just a taste of this hotel sitcom and the ability to watch five okay episodes at your own whim, then this disc will serve you well and won't set you back as much as a new movie's DVD would.
Otherwise, diehard fans and discerning collectors alike will agree that Disney could and should tailor a release more to their preferences. Keeping in mind Buena Vista's overly cautious stance toward granting TV shows (especially Disney Channel ones) box set treatment as well as the issue of a crowded marketplace, it seems blindly optimistic to suggest waiting and hoping for a more satisfying "Suite Life" DVD. This leaves those fond of the show with a few options -- buy it, go without, consider iTunes, or come up with your own alternative -- none of which are as appealing as a reasonably-priced multi-disc set.