For the third time in three summers, the Disney Channel took three of its top-rated television series and turned them into a special 90-minute event. This past July's entry was a full-fledged crossover called Wizards on Deck with Hannah Montana. If you can't figure out the featured sitcoms from that hybrid title, you're probably not a faithful viewer of the cable channel, whose two biggest primetime demographics are kids 6-11 and tweens 9-14. I'm not a fan either and I sometimes wonder how much of the ongoing decline I perceive in the channel's programming merely parallels my growing distance from those targeted age brackets.

Still waiting to know what shows mix it up here? Why, it's none other than "Wizards of Waverly Place", "The Suite Life on Deck", and, uh, "Hannah Montana." You certainly needn't be a devotee of Disney's tween content to be familiar with these sitcoms. Each has already been developed into other formats. "Wizards" recently became a TV movie and a much-watched one at that. "On Deck", a spin-off of "The Suite Life of Zack & Cody" (a participant in the previous two summer's events), got its first DVD compilation a couple of weeks ago.

And I know you know about "Hannah Montana", whether from its concert documentary, chart-topping albums, and 2009 feature film, or from the eye-slanting, pole-dancing, bedsheet-wearing, seatbelt-ignoring, diabetes-dramatizing, interview-disconnecting mini controversies of star Miley Cyrus that have fueled tabloid news shows and websites.

With its third season slowly winding down, "Hannah" is by far the eldest show in this line-up. That is less a testament to newfound Disney Channel success than it is to the short shelf lives these types of programs have. The 2005 DVD Disney Channel Holiday supplied Christmas episodes of six of the network's most popular comedies at the time. Of them, only then-new "Zack & Cody" is prominently rerun on Disney today. Two others ("That's So Raven", "Kim Possible") get a half-hour of late night air and "Lizzie McGuire" only enjoys the rare, irregular marathon. Disney may be more willing to let today's shows exceed the channel's once-firm 65-episode limit. But no creation, even one as profitable as "Hannah Montana", poses any real threat of becoming a longtime fixture. Actors and audiences grow up and, within a few years, each group is no doubt ready to move onto other things.
While kids, especially boys, may not remain loyal to 2000s Disney Channel fare and its comparable competition very long in the grand scheme of things, the period when child and programming align is certain to form lasting memories, ones held with a fondness that only increases with time. But such thoughts are far from the minds of programmers and producers. They see the here and now, seizing upon the relatively brief life window and getting the most mileage they can from it. Ordinary viewers aren't apt to recognize or ponder the meaning and longevity of their appreciation, either. It's merely something to consume, chat about, and set aside in favor of extracurriculars and college applications.

The success of Wizards on Deck is not measured by how well it will be remembered years from now, but by how many eyeballs were tuned in on the weekend it first ran and, just two months later,

how many wallets will open to purchase it. By the first of those criteria, Disney has reason to celebrate. The crossover's initial airing attracted more viewers than any other cable broadcast that week, including Major League Baseball's Home Run Derby on ESPN. In fact, the 9.3 million average viewers made it cable's most-watched scripted telecast of 2009 (until Wizards of Waverly Place: The Movie handily beat it) and gave Disney Channel better ratings than all of the major networks that night (an achievable feat on a rerun-heavy, mid-summer Friday).

Arriving September 22nd, the DVD will be backed by a marketing campaign equivalent to one on a $40 M-grossing theatrical film. It will also be bolstered by chances to save an extra $6 when buying alongside the concurrent home video debut of the Jonas Brothers' Disney Channel sitcom. With minimal red tape and a budget not much higher than any three of the frugal channel's episodes, there is no way that Disney comes out of this with anything less than an exponential return.
But enough with the numbers and interpretations, just tell me what this crossover is like, you say. If you do say that, I'm going to assume you know the premises and characters of these comedies. But, oh how I'd hate to make anyone feel left out, so here is the simple version. "Wizards" centers on three New York siblings whose limited use of their magical powers helps them fit in. "Suite Life" takes the twins who used to call an upscale hotel home to a cruise ship high school. And "Hannah", of course, deals with an ordinary teen girl who's secretly a huge pop star. With the ship/school chosen as the crossover's central location, it doesn't take a great deal of imagination to bring the other universes into Zack and Cody's world. A wizard wins a contest and Hannah's around to perform a concert. Voilà. Crossovers 101.
It helps that as on Disney Channel's past two summer events, these three shows all hail from It's a Laugh Productions. Not only that, but in look and style, the shows aren't far apart. Given a random short clip featuring multiple casts, you might not be able to correctly guess what show you're watching. Active laugh tracks, broad shenanigans, multiple cameras shooting unbecoming digital video, with a few references for parents tossed in. You know the format and probably either like it or loathe it by now. It's an overdue relief to see Disney again using the palette of their best modern shows -- film, a single camera, and no audience reaction -- on "Jonas." Hurray for variety!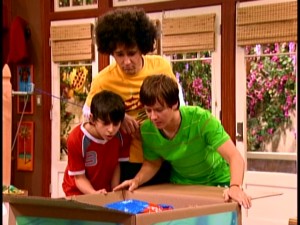 Here is a breakdown of these crossover episodes:

Wizards of Waverly Place: "Castaway (To Another Show)" (23:32)

Justin (David Henrie) wins an essay contest entitling him and his siblings to an 18-and-under Hawaiian cruise on the S.S. Tipton. Onboard, Justin pretends to be a young doctor to impress ditzy heiress London (Brenda Song), Alex (Selena Gomez) makes up a fake name to have fun, and Harper (Jennifer Stone) poses as Alex to attend her mandatory science class.

Also, Cody (Cole Sprouse) and Harper click, while Max (Jake T. Austin) and Zack (Dylan Sprouse) compete.

The Suite Life on Deck: "Double Crossed" (22:17)

Hannah Montana (Miley Cyrus) shows up on the cruise, to the excitement of teens onboard. Zack is suspected in Alex's water-dying prank that turns Justin blue. Cody vies to win Hannah concert tickets for Bailey (Debby Ryan). Max and London bond.

Hannah Montana: "Super(stitious) Girl" (22:31)

Miley loses her mother's lucky anklet, prompting her and Lilly (Emily Osment) to scour the boat for it while bad luck ensues. Back home, Jackson (Jason Earles), Oliver (Mitchel Musso), and Rico (Moises Arias) plot to open a big, exciting new package without Robby Ray (Billy Ray Cyrus) knowing about it.

VIDEO and AUDIO

The DVD presents the three episodes in 1.33:1 fullscreen. These shows aren't enjoyed for their visual flair and no effort has been taken to distinguish these crossover stories from other ones. None of the shows looks very good. "Wizards" is afflicted by grain (which doesn't make much sense considering the camera format), while "Suite Life" and "Hannah" are darker and fuzzier. As always, nothing is seen in satisfactory focus and movement is a blurry mess. "Wizards" and "Hannah" are encoded in plain Stereo sound, while "Suite Life" delivers Dolby Surround. There isn't much difference to identify and the soundtracks are unremarkably adequate.
BONUS FEATURES, MENUS and PACKAGING

A total of four bonus features are provided, only two of which probably count by your standards.

First up is the short "How to Write an Essay" (3:30), presented in-character by "Wizards" sibling Justin Russo (David Henrie).

There is genuinely useful paper advice for students in upper grades, but it has to compete with comedy bits that and cutaway clips. Interestingly, the piece ends with the notice that Season 1 of the show is now available on DVD, which might point to such a set either coming or having been cancelled but also could just be a meaningless mistake.

Next and longest is "It's a Suite Life Having Fun with Hannah & The Wizards" (5:42), in which the three series' young cast members (plus Jason Earles) talk about the crossover event and how it changes things up for them. About 90 seconds of "bloopers & blunders" appear in the middle. It's expectedly light, cheery and promotional. Probably not worth wasting a future crossover's mixed-up title on.

There's also Dylan and Cole Sprouse's "Blu-ray is Suite" promo (4:45), in which they try to persuade viewers to upgrade to the format that Disney brass has bet big on. More of an explanation and less of a sell is a 1-minute video on how to make use of DisneyFile digital copies (something not offered here).

The disc loads with trailers for Snow White and the Seven Dwarfs, The Princess and the Frog, Camp Rock 2: The Final Jam, and Wizards of Waverly Place: The Movie Extended Edition. With FastPlay enabled, the remaining ads play after the feature, otherwise you can reach them from the menu. They promote Disney Movie Rewards, Up, Tinker Bell and the Lost Treasure, Disney's Friends for Change program, Disney Blu-ray, and "Jonas."

The animated main menu combines two of mankind's greatest achievements: the opening credits of "The Brady Bunch" and Rubik's Cubes. The stars and starlets of the crossed-over series each claim one and sometimes more of the nine squares in tidy publicity stills. You could admire it all day, but after one run, playback starts. Submenus may not be animated, but they do feature theme music from all three of the shows.

Upon initial release, the DVD comes packaged with what Disney calls an O-sleeve, collectors call slipcovers, and you might call "that redundant piece of cardboard around the case." It features embossing around characters and select text and imagery. Inside the white keepcase, you'll find: a Disney Movie Rewards code sheet, a promotional Blu-ray booklet, and a booklet advertising recent and forthcoming Disney Channel DVDs.
CLOSING THOUGHTS

Wizards on Deck with Hannah Montana absolutely won't change your previous views on current Disney Channel comedies.

The methods are crude, the amusement is mild, and being between the ages of 6 and 14 seems almost mandatory to enjoying them. On the whole, I found this crossover to be pretty harmless. My first taste of "Wizards" is a benign one and its two companions have definitely had worse episodes than these.

Is there any reason to buy this DVD? Not really, especially if you have Disney Channel airing these and more narrow episodes on a regular basis. With less than ten minutes of genuine bonus features and barely an hour of feature presentation, this disc carries only half the content of recent single-series compilations. And yet, owning this event does sort of make more sense than the random sampling those compilations offer. If you're a fan of all three shows and this special event had meaning to you and you've got money to spare and you're not big on charitable causes and you're looking to save on "Jonas": Volume 1, by all means, buy this one and treasure it in the months to come.