The world proved willing to go back to a movie with just one Marvel superhero after The Avengers assembled four of the biggest in one place. Helping that transition was the fact that the hero in question was the dream team's leader by box office receipts and entertainment value. In the ongoing boom of comic book films, Iron Man has trailed only Christian Bale's Batman in commercial impact.

Everyone else, from the X-Men to the other Avengers, can only dream of the goodwill generated by Tony Stark, the sarcastic playboy, tycoon, and inventor who four times in the past six years has rung in the summer movie season to acclaim and robust ticket sales.

Critics and moviegoers preferred Iron Man (2008) to Iron Man 2 (2010) and all three of Christopher Nolan's Dark Knight movies to either, but Iron Man 3 keeps things looking up for one of Marvel Studios' cornerstone franchises. Launching a stretch of the Marvel Cinematic Universe meaninglessly dubbed "Phase Two", this latest installment fulfills Robert Downey Jr.'s contractual obligations to what has become his signature role, but both Marvel and the once-troubled indie wildcard would be crazy not to consider extending this solo franchise, with little at risk financially and artistically. Iron Man 3 completely obliterated ordinary film franchise trajectory by grossing over $400 million domestically and $1.2 billion worldwide, Avengers-like numbers substantially higher than the first two Iron Man movies.
Iron Man 3 opens at the end of 1999, with Eiffel 65's "Blue (Da Ba Dee)" getting priceless, fitting, and prominent exposure. On the eve of Y2K, Tony Stark is the carefree, self-centered bachelor we once knew. At a Swiss science convention, he relishes blowing off a nerdy admirer with bad skin (Guy Pearce) while preparing to bed a scientist (Rebecca Hall) working on a major botanical breakthrough. The episode, soon forgotten by Tony, comes back to haunt him in the present day, when the nerd is now a handsome and successful magnate who makes Stark's loyal assistant Pepper Potts (Gwyneth Paltrow) weak in the knees. The one-night stand, who now works for the reformed nerd, shows up to warn of his dealings, but not soon enough to prevent the film's first big set piece, an attack on Stark's cliffside Malibu mansion/laboratory.
Meanwhile, America is being electronically terrorized by a leader known as the Mandarin (Ben Kingsley), whose sleekly-produced warnings interrupt regularly-scheduled programming across the board to growing public fear. America's response includes rebranding the armored alter ego of Iron Man friend Colonel Rhodes (Don Cheadle) from War Machine to the Iron Patriot. But Mandarin promises an attack on the President of the United States by Christmas Day, which is fast approaching.
Christmas pervades this sequel, from colored lights and musical selections out in California to a snowy scene in rural Tennessee, where Stark goes to investigate an explosion site. The holiday season is one of many flavorful touches that distinguish this episode and make it tremendously accessible. Some moviegoers flock to superhero fare as pure escapism, to watch well-equipped heroes and multi-faceted villains, each larger than life, do battle without any real weight or relevance.

That was much of the appeal of 1978's Superman, rightfully considered the birth of the modern day superhero film. But that doesn't cut it nowadays, not when Nolan injects Batman's vigilantism with rich social commentary and genre-bending designs.

Like its predecessors, Iron Man 3 takes a lighter approach. In fact for much of its runtime, it feels like a comedy first and foremost. Defying a much-recited quote, Downey makes comedy look easy, with his seemingly effortless charisma and impeccable timing. No other actor could so easily get away with belittling a young kid lamenting his paternal abandonment, but the actor scores some of the film's biggest laughs doing just that. In contrast to someone like Captain Jack Sparrow, this characterization hasn't yet gone stale. There are also compelling stake-raising threats yet to explore.

There are a number of references to The Avengers, with mere mention of New York sending Stark into newly-developed anxiety attacks. The Avengers themselves and the agents of S.H.I.E.L.D., however, do not crossover here, save for a nicely-done post-credits tag that reveals the target of the sporadic Stark narration that runs through the film. In some ways, IM3 is more purely entertaining than The Avengers, its expectations not as high, its opposition not as pressing, its screentime not so stretched thin. There isn't the sense of urgency or number of layers of Joss Whedon's highly-regarded blockbuster. There's mostly just Tony Stark, cracking wise and standing up to threats, including most extensively a race of regenerative, fire-breathing super soldiers powered by something called Extremis.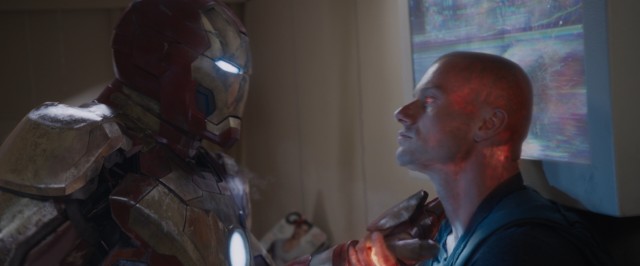 This opposing force illustrates the contradictory nature of Iron Man 3. It's a remarkably entertaining crowd-pleaser that seemingly no ordinary parent would object to their 10-year-old kid seeing. Heck, one of the film's most prominent characters (played by Ty Simpkins) is around that age. At the same time, the movie does get away with quite a bit of violence and innuendo. That little bit of edge some feared would be lost by Disney's purchase of Marvel remains firmly intact.

There's content in this film that would have been questionable for PG-13 about ten years ago and would seemingly give producers some reservation most any age. And yet, by not shying from villains' unscrupulousness or giving Tony newfound compassion, Marvel has scored the runaway #1 movie of the year for potentially the second year in a row, with only The Hunger Games' upcoming sequel posing any real threat of dethroning.

Jon Favreau accepts a more prominent role in front of the camera as Stark Industries' annoying head of security Happy Hogan, while handing over the directing reins to Lethal Weapon scribe and Kiss Kiss Bang Bang writer/director Shane Black, who also shares screenplay credit with rising Englishman Drew Pearce (the upcoming Sherlock Holmes and Mission: Impossible sequels). Black and Pearce are comfortable with the universe and largely uninterested in looking back. Their film consistently entertains and though it lays the action on thick especially, it stops just short of wearing out its welcome, with even the overlong climax showing a little more mercy and creativity than its predecessors' somewhat underwhelming finales.

Upholding Marvel's repeatedly successful early-May theatrical release and late-September home video schedule, Iron Man 3 hits discs this week in four physical editions, trailing digital availability by three weeks. For no reason more obvious than an apparent preference to do things their own way, Marvel Studios only made advance copies of the standard Blu-ray available to the press, and with a much stricter definition of "press" than most. While it's not as ideal a subject as the full final product that's available in three different combo packs, this is the most content-heavy disc Iron Man 3 has and it is clearly identical to the one you can buy tomorrow, minus the standard packaging and additional discs.
Blu-ray Disc Details

2.40:1 Widescreen
7.1 DTS-HD MA (English), 7.1 DTS-HD HR (French), Dolby Digital 5.1 (Spanish), Dolby Surround 2.0 (DVS)
Subtitles: English for Hearing Impaired, French, Spanish
Not Closed Captioned; Extras Subtitled
Release Date: September 24, 2013
Single-sided, dual-layered disc (BD-50)
Available in Blu-ray + DVD ($39.99 SRP), Blu-ray + DVD + Digital Copy ($44.99 SRP), and Blu-ray 3D + Blu-ray + DVD + Digital Copy + Music ($49.99 SRP)
Also available as DVD + Digital Copy ($29.99 SRP, Amazon Instant Video, and Amazon Instant Video HD
VIDEO and AUDIO
As one of the most expensive and the highest-grossing movie of 2013, you expect Iron Man 3 to boast the best picture and sound available on Blu-ray. It does not disappoint. The 2.40:1 transfer is sharp, spotless, vivid, and full of detail.
The 7.1 DTS-HD master audio is also mighty formidable. The soundtrack does contain some peaks and valleys that might have you lowering the volume during action sequences and raising it to hear quieter dialogue-driven scenes. But, this engaging and frequently exhilarating mix will please those wanting to give their home theaters a vigorous workout.
BONUS FEATURES and MENUS

The Blu-ray's extras begin with an unmarked arc reactor graphic which leads to what seems to be a Second Screen Experience. It's cleverly themed, with listings looking like Tony Stark's operating system and Jarvis explaining that his database needs restoring following the mansion attack and the disc instructing you to unlock encrypted files by watching other supplements, after which you're shown an image to scan. Unfortunately, as far as I can tell, without an iPhone or iPad to download the necessary app, this material is completely inaccessible to me.

Why is it that Blu-ray requires Apple devices to access bonus materials that would have been on-disc in the days of DVD? I'm not a fan of this approach, especially when there's no alternative way to access the content with a plain old computer and Internet connection.

Beyond that, there is a decent amount of supplements included on disc, all of it presented in HD.

Marvel One-Shot is a series that has quickly become an appealing staple of Marvel movie Blu-rays. This set's inclusion is more of a mini-movie than a short. Agent Carter (15:29) centers on Peggy Carter (Hayley Atwell), the British soldier in love with Steve Rogers/Captain America. Facing the workplace sexism you'd expect of the 1940s, Peggy takes a time-sensitive job designed for 3-5 agents while the guys are all out drinking. In search of Zodiac, she puts her butt-kicking skills to use in this enjoyable outing, which also features Bradley Whitfield as dismissive boss Agent Flynn, Dominic Cooper as the young Howard Stark, and, very briefly, Neal McDonough as Dum Dum Dugan. It's a nice outlet for Atwell, whose character inevitably will be left behind in sequels, save for flashbacks. It's even presented with a potent 7.1 DTS-HD MA soundtrack.

Featurettes holds three items.

"Iron Man 3 Unmasked" (10:59) takes us inside the film's making with copious behind-the-scenes looks at 2012 pre-production and filming as well as some remarks from cast and crew all the way through the red carpet at the film's premiere.
"Deconstructing the Scene: Attack on Air Force One" (8:43) obviously focuses on the creation of one major set piece, which surprisingly relies on real skydives shot with hidden parachutes and wire work as well as visual effects.
Finally, though not much of a featurette or directly related, "Exclusive Behind the Scenes Look - Thor: The Dark World" (1:53) holds obvious intrigue for fans of Marvel's superhero movies. It serves up some on-set looks and talking heads for the November sequel, but it's not much more revealing than the trailer we also find here.
Watch a clip from Iron Man 3's deleted & extended scenes:

Ten items are served up under the heading Deleted & Extended Scenes (16:20). These include extensions to the Bill Maher and Joan Rivers TV reports on the Iron Patriot rebranding, unused bits of Trevor Slattery and Iron Man's technician superfan, alternate captive Tony Stark threats, more Happy and Mandarin, a look at Harley's bullies, water tower peril (which includes more Dale Dickey), an alternate character's demise, and a scene of the fake Iron Patriot getting hit with a suit's small talk. It's good material, but one understands the movie not needing to be any longer than 131 minutes.
A gag reel (5:07) amuses with its playfulness for the cameras, giggles, bleeped profanity, and glimpses of green screen and Robert Downey Jr.'s runway to look taller than his love interests.

Finally, we get an audio commentary by director/co-writer Shane Black and co-writer Drew Pearce. They immediately establish this track as a playful one, but still speak seriously and without lull about what's onscreen, including Tony Stark's metaphorical landmines left behind, sequences conceived but scrapped, quotes from their notes that influenced them, narrowing down the villain count, finding a mythic story to tell, pulling names from the comic books,

deconstructing the effects in scenes, updating The Mandarin, their cinematic influences, shot but deleted bits you won't find here, the marketing, Gwyneth Paltrow's wardrobe choice, how to end the series if this is indeed the end, and the title being displayed as Iron Man Three. The only significant dead air in the track strangely begins after they talk about actor Thomas Jane not wearing shoes, suggesting something's been edited out. They're also instructed to sign off before the end credits roll finishes, which keeps them from commenting on the fun post-credits tag. Your interest may flag by the end, but this is a pretty good listen nonetheless.

The disc opens with trailers for Thor: The Dark World, "Agents of S.H.I.E.L.D.", the video game Lego Marvel: Super Heroes, The Lone Ranger, and Iron Man Meets Hulk: Heroes United. The menu's Sneak Peeks replays these in a varied order, adding an Audi Iron Man 3 promo, and ads for the animated series "Avengers Assemble" and "Hulk and the Agents of S.M.A.S.H." into the mix.

The menu is creatively modeled after Jarvis, with a loop of scored clips playing on a variety of screens. A Mandarin color bars screen briefly that precedes the loading language selection page. Though Marvel is its own separate entity and this film bears Paramount Pictures logo, it's still authored like a Disney Blu-ray, which means no resuming playback, no setting bookmarks, and no remembering your progress for unlocking those "classified" extras.
CLOSING THOUGHTS
Iron Man is Marvel's most popular active, solo franchise and Iron Man 3 may be the series' most fun installment to date. This highly entertaining threqueel makes you not ready to say goodbye to Robert Downey Jr. in this role or to even settle for him as the most colorful Avenger. It's another big superhero blockbuster done right and its wide appeal is tough to dispute or surpass. I have no trouble recognizing this as one of 2013's best movies so far or recommending that you add this to your collection in one form or another.
Marvel's Blu-ray delivers not only the dynamite picture and sound you expect, but a collection of bonus features that are more impressive by quality and variety than length or quantity, ignoring the app-based extras I couldn't access. While it'd have been nice to see the combo packs' additions, this sturdy disc makes a fine foundation for the three sets that include it.
Buy Iron Man 3 from Amazon.com:
Blu-ray 3D + BD + DVD + DC + Music / Blu-ray + DVD + DC / Blu-ray + DVD / DVD + DC