DVDizzy.com | DVD and Blu-ray Reviews | New and Upcoming DVD & Blu-ray Schedule | Upcoming Cover Art | Search This Site


Please Give DVD Review
Please Give

Theatrical Release: April 30, 2010 / Running Time: 90 Minutes / Rating: R

Writer/Director: Nicole Holofcener

Cast: Catherine Keener (Kate), Amanda Peet (Mary), Oliver Platt (Alex), Rebecca Hall (Rebecca), Ann Guilbert (Andra), Lois Smith (Mrs. Portman), Sarah Steele (Abby), Thomas Ian Nicholas (Eugene), Rebecca Budig (Big Back), Romy Rosemont (Carrie-Ann), Portia (Mrs. Melnick), Josh Pais (Adam), Paul Sparks (Blind Date), Jason Mantzukas (Shopper), Sarah Vowell (Shopper), Kevin Corrigan (Don), Elizabeth Berridge (Elyse), Maria Barrientos (Elena), Jamie Tirelli (Dario), Scott Cohen (Dr. Lerner)
Buy on DVD from Amazon.com • Buy on Blu-ray from Amazon.com
Bad people abound in Please Give, the new independent dramedy written and directed by Nicole Holofcener (Friends With Money).
Like Holofcener's first three films, this one stars Catherine Keener. Keener and Oliver Platt play a married Manhattan couple who own and operate a trendy, pricey secondhand furniture store. Their inventory is purchased from the newly-deceased. When somebody dies, Kate and Alex show up to offer the mourning, preoccupied offspring a decent amount of money for the lightly-used mid-century Modern chairs, couches, and shelves they'll be able to sell at a healthy profit.
The calling seems to instill a lingering guilt inside Kate. She can't walk past a homeless person without handing out cash. And she is actively trying to find a worthy volunteering opportunity.
The film complements the husband and wife with four supporting female characters who cover nearly the full lifespan in age. Kate and Alex's 15-year-old daughter Abby (Sarah Steele, Spanglish) is self-conscious about her acne and craving an expensive pair of jeans she feels good in. Next-door neighbor Andra (Ann Guilbert) is turning 91 mostly in solitude, having outlived all her friends. Kate and Alex have purchased her apartment, awaiting the inevitable with wall removal and other exciting renovation plans.
Rounding out the leads are Andra's two contrary adult granddaughters. Rebecca (Rebecca Hall, Vicky Cristina Barcelona) is a pale, mousy mammogram technician. Mary (Amanda Peet) is a tan, frank, cynical facialist, who is vocal in her dislike of caring for their grandmother.
Please Give doesn't provide much in the way of a traditional narrative plot, instead opting for a series of brief, somewhat joint minor episodes, like Andra's birthday "party" or Rebecca and Andra joining a patient and her grandson on a road trip to see the much-ballyhooed upstate New York fall foliage.

Perhaps the most significant turn is the affair that Howard Stern fans Alex and Mary begin. Oliver Platt and Amanda Peet, John Cusack's co-stars in 2012 and Martian Child, having sex again and again. We don't really see it (the nudity of the R rating refers to a film-opening mammogram montage

parading breasts of all shapes and sizes), but even imagining the liaison provides more impact than probably anything else in the movie. Has there ever been as ridiculous an onscreen couple whose connection isn't a source of comedy or commentary or anything at all? I have trouble thinking of any comparable romance in the thousands of movies I have seen.

Of course, Please Give doesn't mean for you to get hung up on the improbability of Peet-Platt adultery. But it doesn't supply anything as significant to latch onto. It is amusing in a few places and depressing in far more. Its areas of exploration -- Kate's work and guilty conscience, Andra's pitiful existence of disrespect and loud "Entertainment Tonight" episodes -- are not without interest. But the hollow film doesn't seem to have much to say about life's realities, let alone shed any light or hope on them.

The pimply teenager and the mildly compassionate granddaughter are the only ones to earn our sympathy and their few shared scenes seem to find some rhythm, energy, and spark. But then it's right back to Kate fielding with haggling or inquisitive customers. The whole thing could have very well been born out of real experience. Nothing aside from "Pleet" (that's Platt plus Peet) is unbelievable. But then, anyone could channel a couple of weeks' worth of life into a screenplay; most wouldn't be remarkably more or less interesting than this film.
DVD Details

2.35:1 Anamorphic Widescreen
Dolby Digital 5.1 (English, French, Thai)
Subtitles: English SDH, English, French, Thai, Chinese Traditional, Korean, and Spanish
Most Extras Subtitled in English, Thai, Chinese Traditional, and Korean
Not Closed Captioned
Release Date: October 19, 2010
Single-sided, dual-layered disc (DVD-9)
Suggested Retail Price: $28.95
Black Eco-Friendly Keepcase
Also available on Blu-ray Disc ($34.95 SRP)
VIDEO and AUDIO
There are no problems with the picture or sound in Sony's satisfactory DVD presentation. Digital video gives the film a soft and less than professional look at times, but more often it's got the unplanned, unshowy this-is-life feel that indie cinema loves. The soundtrack offers the occasional nice ambient noise, but the audio is often as simple and dry as the film.
BONUS FEATURES, MENUS and PACKAGING

"Behind the Scenes of Please Give" (12:05) is as ordinary a making-of featurette as its title suggests. Alongside clips and a touch of set footage,

it gathers comments from writer/director Nicole Holofcener, producer Anthony Bregman, and all the leading actors about the characters, the production, and the film's obtuse meaning.

A reel of outtakes (3:57) offers some amusement in its blown lines and ensuing jocularity.

From Film Independent's Preview Screening Series comes four short Q & A clips with Nicole Holofcener (8:25). She has interesting, candid comments about her kind of filmmaking and Please Give in particular, although the web shorts should have been combined and their loud intros and silent outros not repeated.

The final extra is Please Give's theatrical trailer (2:08), an obvious but welcome feature that I wish all studios would standardize.

The DVD loads with a Blu-ray promo and trailers for Sony Pictures Classics' Mother and Child, Micmacs, Get Low, and Wild Grass. The Previews menu holds all of these but the Blu-ray and Wild Grass spots and adds trailers for Animal Kingdom, You Will Meet a Tall Dark Stranger, Friends with Money, Eat Pray Love, and "The Pillars of the Earth."

The disc's animated main menu uses the poster/cover design as a starting point, putting scored clips in drops of blood and building windows.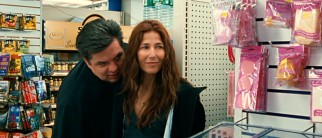 CLOSING THOUGHTS
It is tough to generate feelings of sympathy for most of the characters in Please Give and while the film isn't oblivious to this, it doesn't compensate for it in any meaningful way. Being moderately amusing and interesting on occasion isn't enough to qualify this as a good time. Sony's DVD is just fine, but unless you are really fond of Holofcener (which I doubt), Keener (somewhat more conceivable), or independent cinema, a rental isn't advised.
More on the DVD / Buy from Amazon.com / Buy on Blu-ray from Amazon.com


Related Reviews:
New: The Darjeeling Limited (Criterion Collection) • Tyler Perry's Why Did I Get Married Too? • Oceans
Catherine Keener: Into the Wild • The Soloist • Where the Wild Things Are • Percy Jackson & the Olympians: The Lightning Thief
Amanda Peet: $5 a Day • Martian Child • The X-Files: I Want to Believe | Rebecca Hall: The Prestige | Oliver Platt: Year One
Away We Go • New York, I Love You • Greenberg • Solitary Man • City Island • Julie & Julia • Middle of Nowhere
Sony Pictures Classics: Chloe • Whatever Works • The Last Station • An Education
DVDizzy.com | DVD and Blu-ray Reviews | New and Upcoming DVD & Blu-ray Schedule | Upcoming Cover Art | Search This Site
Search This Site:
DVDizzy.com Top Stories:
Reviewed October 13, 2010.


Text copyright 2010 DVDizzy.com. Images copyright 2010 Sony Pictures Classics, Likely Story Productions, and Sony Pictures Home Entertainment.
Unauthorized reproduction prohibited.